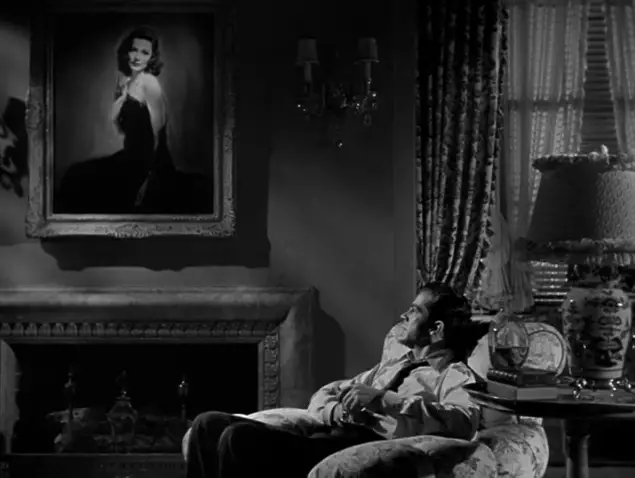 Director: Otto Preminger
Producer: Otto Preminger (20th Century Fox)
Writers: Vera Caspary (novel), Jay Dratier, Samuel Hoffenstein, Elizabeth Reinhardt, Ring Lardner Jr. (screenplay)
Photography: Joseph LaShelle

Music: David Raksin

Cast: Gene Tierney, Dana Andrews, Clifton Webb, Vincent Price, Judith Anderson, Cy Kendall, Grant Mitchell

Introduction
If you're a fan of film noir, you should get down on your knees and thank God every day for 1944. The year produced three staples of this most atmospheric of film styles — Billy Wilder's Double Indemnity from a novel by James M. Cain, Edward Dmytryk's Murder, My Sweet (Farewell My Lovely) from a novel by Raymond Chandler, and, of course, Otto Preminger's haunting whodunit Laura, from a novel by Vera Caspary. Of the three, Double Indemnity clearly takes the title of "Best Noir of '44." But Preminger's Laura at least gives it a run for its murder-mystery money.
Voted the No. 4 Greatest Mystery of All Time by the AFI, Laura features all the classic elements of both the mystery genre and the noir style: shadows, mirrors, a murder investigation, a string of suspects insisting they're innocence, competing hearts, muddled morality, the looming threat of a femme fatale and a smoking detective who lives by the motto: "Dames are always pulling a switch on you."

Plot Summary
Detective Mark McPherson (Dana Andrews) is called to investigate the death of advertising executive Laura Hunt (Gene Tierney), who was murdered one Friday night as she entered her apartment. Making the crime all the more gruesome, her beauty was shattered by a shotgun blast to the face. The first person that McPherson questions is Waldo Lydecker (Clifton Webb), a snobby columnist who claims to be the "only one who really knew her." In flashback, we see Lydecker's first meeting with Laura, and his ensuing obsession with her.
The two develop a relationship that's everything but sexual. For that, she turns to Shelby Carpenter (Vincent Price), whom she meets at a party thrown by Ann Treadwell (Judith Anderson). Laura and Shelby are soon engaged, but Lydecker uses his influence to smear him. He uncovers Shelby's affair with one of Laura's co-workers, a Diane Redfern, causing Laura to break it off with him. On the day of her murder, she cancels a lunch date with Lydecker to instead meet with Redfern. Which brings us to the present, where all of these characters are prime suspects. It's McPherson's job to figure out the culprit.
But the strangest thing happens during the investigation. Fascinated by stories of Laura's many suitors, McPherson begins to read Laura's personal letters and her diary. He sifts through her dresser drawers, fingering a silk handkerchief and sniffing her perfume. Most of all, he stares at her fireplace portrait, which casts a haunting spell over her entire apartment. For a minute, we question McPherson's intentions. As Lydecker says, "You better watch out, McPherson, or you'll end up in a psychiatric ward. I don't think they've ever had a patient who fell in love with a corpse."

Timeless Script
Originally a Collier's Magazine article called "Ring Twice for Laura," Caspary turned the story into a novel, which was then adapted for the screen by Jay Dratier, Samuel Hoffenstein and Elizabeth Reinhardt. The three earned an Oscar nomination for Best Adapted Screenplay, but Ring Lardner Jr. went unawarded, even though he helped write the second draft. The script is covered with biting one-liners, derived from a duel between the hard-boiled detective and the sophisticated journalist, groundbreaking in that one tells the other to "stop calling her a dame."
Who gets the better lines of the two? This time, it's surprisingly not the detective. It's Lydecker:
"I don't use a pen. I write with a goose quill dipped in venom."
"I'm not kind, I'm vicious. It's the secret of my charm."
"In my case, self-absorption is completely justified. I have never discovered any other subject quite so worthy of my attention."
His words frame the story for us, as he's the only one given voiceover narration. Other characters were originally afforded voiceover, but those lines were eventually cut. (A) And so we're left with only Webb's eloquent words, most memorably his opening line, "I shall never forget the weekend Laura died."
Think about that for a second. Here we are in a film called Laura, and one line in, we learn she's dead. This death setup was influential on countless films, from Letter from an Unknown Woman (1948) to Sunset Blvd. (1950) to American Beauty (1999). It also perfectly sets the stage for Laura's mystery to unravel, including one of the greatest mid-movie twists in movie history. After this twist, questions that were asked in the first half of the film suddenly rise to a whole new level of complexity.
The way it's crafted, Laura is incredibly compelling the first go-round, then beckons an immediate rewind to see how certain props were used earlier in the film and how certain characters acted in certain situations. How beautiful when a scene can serve one narrative purpose the first time and an entirely different one the second?

Tangled Webb

With the film's complex array of suspects, the presentation rests heavily on its ensemble cast, which is solid from top to bottom. Most memorable, of course, is the 54-year-old Clifton Webb, whom Preminger had to fight to get into the picture. To start, Webb had never acted in a talking picture, his last appearance coming 19 years earlier in the silent film The Heart of a Siren (1925). (E) But the bigger problem for Fox studio head Daryl F. Zanuck was the fact that Webb was an open homosexual. (C) Looking back, his sexual orientation adds a juicy layer to a character whom, according to sociology film scholar Murray Pomerance, may be "narrative cinema's first example of a man who wishes he were a woman" (D). While the other characters are infatuated with Laura, Webb's Lydecker suggests a subtext that he may actually want to become her.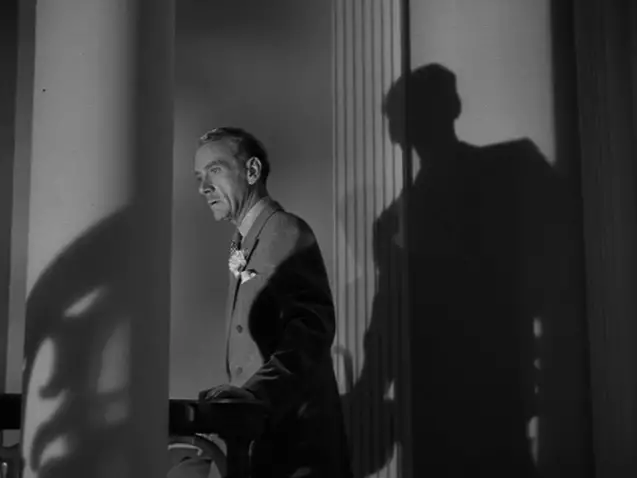 The performance was good enough to earn Webb a nomination for Best Supporting Actor, the first of three in his career. Looks like Preminger was right by bringing this guy into talking pictures. Allegedly, his Lydecker character is based off real-life New Yorker theater critic Alexander Woollcott, who often dined at Algonquin Hotel, the very place Laura first approaches Lydecker in the film. (C) Adding a little muckraking spirit was famed columnist Hedda Hopper, who actually visited the luxurious bathroom set to interview Webb on his first day of shooting. He told her they were shooting the bathtub scene first because his wardrobe had been caught in a flood. (A)

Detective Dana
Andrews' hard-boiled detective may fall short of Bogart's portrayal of Sam Spade (The Maltese Falcon) or Philip Marlowe (The Big Sleep), but it's still a fine lead performance. His fixation on a little baseball puzzle — one of those little handheld games where you have to roll little silver balls into various holes on a ball diamond — shows his character's affinity for solving puzzles, like the Laura Hunt murder.
As an actor, Andrews was already well known, having appeared across Henry Fonda in William Wellman's The Ox Bow Incident (1943). After Laura, he would continue to get good parts, including one of the haunted World War II veterans in William Wyler's The Best Years of Our Lives (1946).

Judith & Vincent
Rounding out the ensemble cast are two legends of the macabre. Judith Anderson appears just four years after her Oscar-nominated, career role as Mrs. Danvers in Hitchcock's Rebecca (1940), while Tim Burton's future idol Vincent Price appears just before being inducted into the Navy. (A) The previous year, Price had starred in The Song of Bernadette (1943), helping Jennifer Jones win the Oscar for Best Actress. When it came time to make Laura, Fox wanted to re-team the two, offering Jones the title role of Laura. When she turned it down, it opened the door for Tierney, who supposedly didn't want to make the picture either, but did so under contractual obligations (C).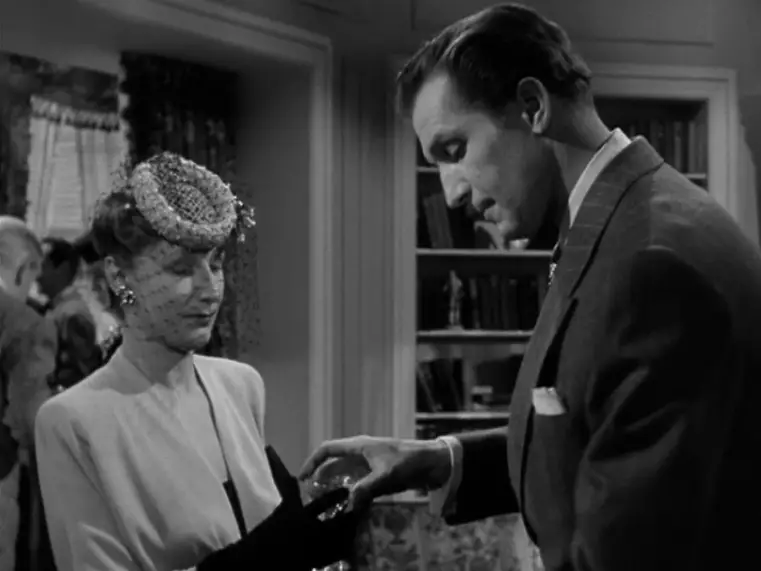 The Troubled Tierney
What a beautiful woman was Gene Tierney! And how equally tragic was her life story. She had made her screen debut just four years before Laura in Fritz Lang's The Return of Frank James (1940). After that, she tested her chops under seasoned directors like John Ford in Tobacco Road (1941), Josef von Sternberg in The Shanghai Gesture (1941) and Ernst Lubitsch in Heaven Can Wait (1943). It was then that she got pregnant by her husband and costume designer Oleg Cassini — a relationship forbidden by Warner Bros. — and took a year off from acting.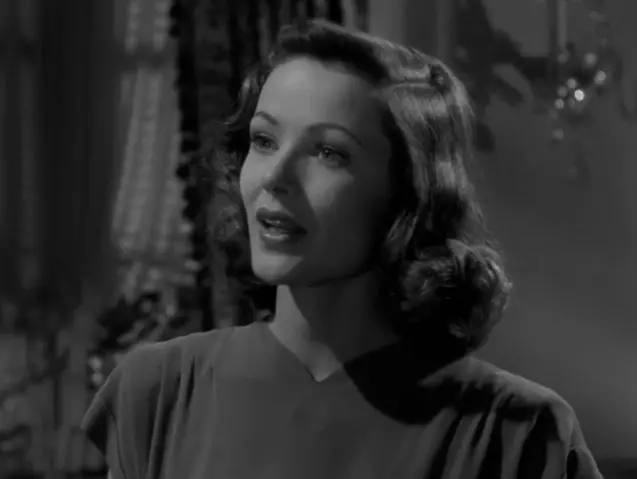 This is where her story took a bizarre turn. Greeting WWII soldiers at the Hollywood Cantine club, she contracted German measles, causing her child to be born premature, deaf, retarded and partially blind. Tierney committed the child to a mental institution and lived with extreme guilt. Years later, she met a female troop who told her she had been quarantined for measles but snuck out to see her Tierney at the Hollywood Cantine. Surely, Tierney's heart sank. Imagine learning that your own fame spawned your biggest personal tragedy. (F)
After divorcing the philandering Cassini, Tierney met a famous new crush, none other than a young John F. Kennedy. He soon broke it off because he (Catholic) and she (divorced) could never be together if he wanted a political career. Rubbing salt in the wound was the fact that her ex-husband Cassini was named as the designer for Jackie O's inaugural gown. You can't make this stuff up. (F)
Despite the turmoil of her personal life, Tierney enjoyed success on the silver screen, earning an Oscar nomination as a woman who lets a crippled boy drown in Leave Her to Heaven (1946), then playing the title heroine in Joseph Mankiewicz's The Ghost and Mrs. Muir (1947). She battled mental problems the rest of her life, even as Preminger tried reviving her career with Whirlpool (1949), Where the Sidewalk Ends (1950) and Advise and Consent (1962). Her autobiography was fittingly called Self Portrait — a nod toLaura.
Watching the film, it's hard not to think of Tierney's tragic life, this "embodiment of unattainable beauty" who could not escape a haunting Hollywood fate. (F) She is drop-dead gorgeous both on screen, in her 28 costume changes, (A) and off, where her portrait casts a spell over the entire film.

The Portrait
The portrait was a big reason why the film earned an Oscar nomination for Interior Set Decoration. It is actually a photograph of Tierney with oil paint laid over top. If you'd like to see it in color, check out Danny Kaye in On the Riviera (1951) or Webb in Woman's World (1954), where the portrait resurfaced. Still, even in black and white, the image is simply stunning.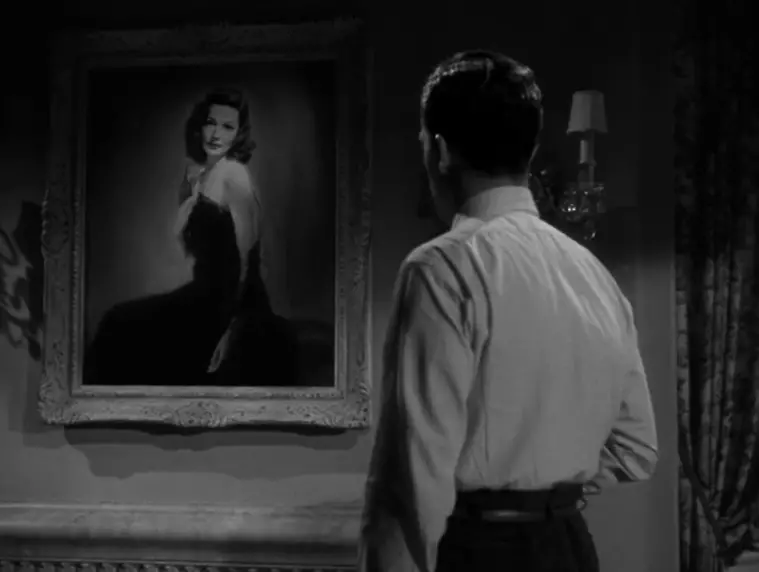 More than just the physical piece of decoration, the idea of this painting would have a ripple effect in cinema for years to come. Edward G. Robinson falls under the spell of a woman's portrait in Fritz Lang's The Woman in the Window (1945). Hurd Hatfield is haunted by a portrait in Albert Lewin's The Picture of Dorian Gray (1945). And the mysterious portrait of Carlotta Valdez leads Jimmy Stewart to fall in love with a dead woman in Hitchcock's Vertigo (1958).

Haunting Music
Laura's kindred spirit with Vertigo extends beyond the portrait into the music, as two of the most romantically haunting scores of all time. David Raksin's famous title theme was originally titled "Judy," in honor of Judy Garland, but Vertigo fans will appreciate the coincidence. Vertigo composer Bernard Herrmann was offered the job, as was Alfred Newman,at which point Preminger's idea was to use Duke Ellington's "Sophisticated Lady" for his theme. When they both turned it down, it was Raksin's date with destiny.

Inspired by a "Dear David" letter his first wife sent him while they separated, Raksin sat down over the course of a weekend and wrote a score voted by the AFI as the No. 7 greatest of all time. (C) It ranked above such greats scores as Elmer Bernstein's The Magnificent Seven (1960), Jerry Goldsmith's Chinatown (1974) and Dimitri Tiomkin's High Noon (1952). It's perhaps more impressive to note the six legendary scores ranked ahead of it: Star Wars, Gone With the Wind, Lawrence of Arabia, Psycho, The Godfather and Jaws. 
The fact that Raksin did not receive even a nomination, should be considered one of the darkest marks in Oscar history. Lyrics were later added by Johnny Mercer, making the song suitable for future recordings, like Woody Herman and His Orchestra on Columbia, Dick Haymes on Decca, Johnny Johnston on Capitol and Frank Sinatra on Columbia. (C) Raksin has been called "The Grandfather of Film Music," and this is the grand daddy of them all. (B) The biggest compliment may have come from actress Hedy Lamarr, who in describing why she turned down the leading role said, "They sent me the script, not the score." (C)

Preminger and LaShelle: Visions of Noir

Where the Academy did get it right was in awarding a statue for Joseph LaShelle's black and white cinematography. It's easy to see why. The picture is gorgeous to look at, and never more so than when a bright spotlight bakes Laura's face, only to be turned off to reveal the true beauty of the shot. LaShelle never won the prize again, but it was the first of nine nominations, including color pictures like How the West Was Won (1962), and two black-and-white Best Picture winners in Marty (1955) and The Apartment (1960).
Laura also brought Otto Preminger his first of three nominations for Best Director, followed by Anatomy of a Murder (1959) and The Cardinal (1963). Ironically, he started out as Laura's producer, leaving the direction to Rouben Mamoulian, who had directed Greta Garbo in Queen Christina (1933) and Tierney in Rings on Her Fingers (1942). It wasn't long before Preminger took over the director's chair, upped the budget, hired a new cameraman and scrapped all of Mamoulian's footage. He even replaced the Laura portrait that Mamoulian's wife had painted. (A) Some film books still give Mamoulian a shared director's credit, but Mamoulian or no Mamoulian, Laura remains Preminger's baby.
It was just the second film he simultaneously directed and produced, and thus charted the course for an entire career of doing both. This has also been his biggest criticism. As Andrew Sarris writes, "His enemies have never forgiven him for being a director with the personality of a producer." (G)
Of course, such criticism did not bubble up until the end of Preminger's career in the '60s and '70s. Most remember the '40s as the height of his directorial talent, and Laura is proof. The camera movement is fluid, from the very opening dolly along the artifacts in Lydecker's New York penthouse.
What would the midpoint be without the single take, dollying in on McPherson as he passes out drunk in Laura's chair, then dollying back in the same continuous shot?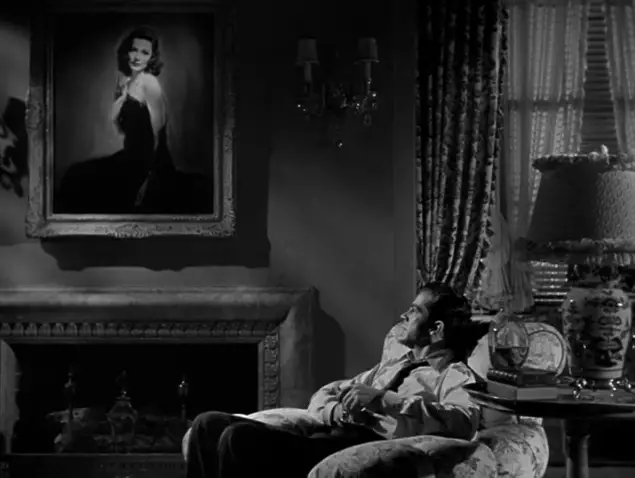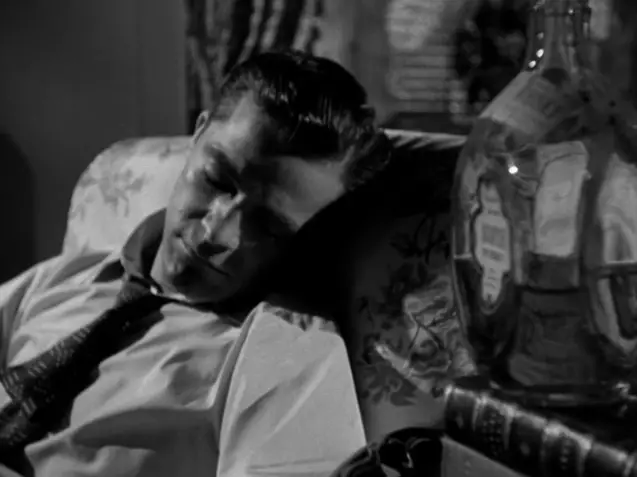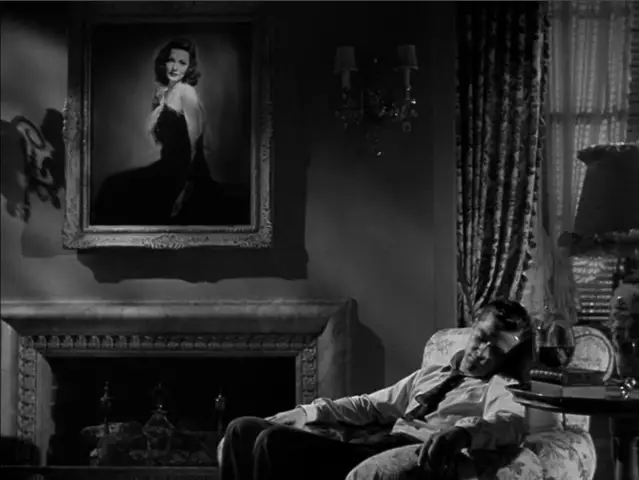 Can you imagine Lydecker's "falling in love with a corpse" charge without Preminger's camera move? As Lydecker spits the charge, the camera swings around so that we see McPherson in the right of the frame and Laura's portrait above him on the left.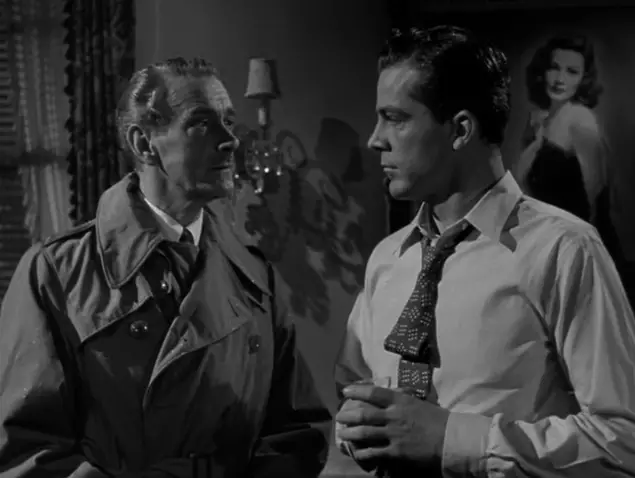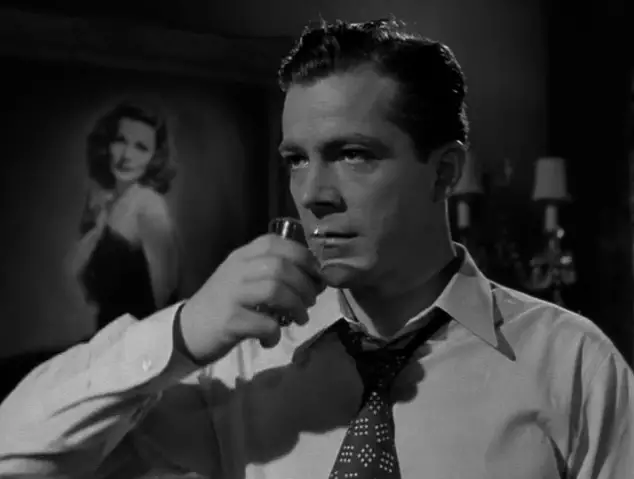 Which brings me to Preminger's mastery of mise-en-scene, tailor-made for the urban apartment interiors. The positioning of Lydecker between Shelby and McPherson at the party makes for a most telling freeze frame.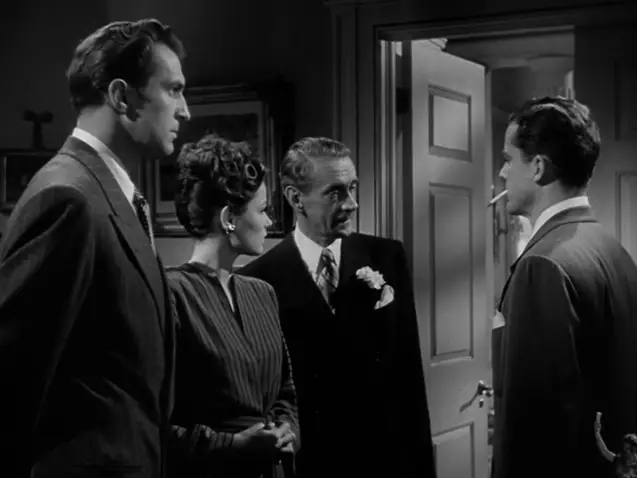 Then, of course, there's the recurring placement of the clock in the background, which makes for fun repeat viewings.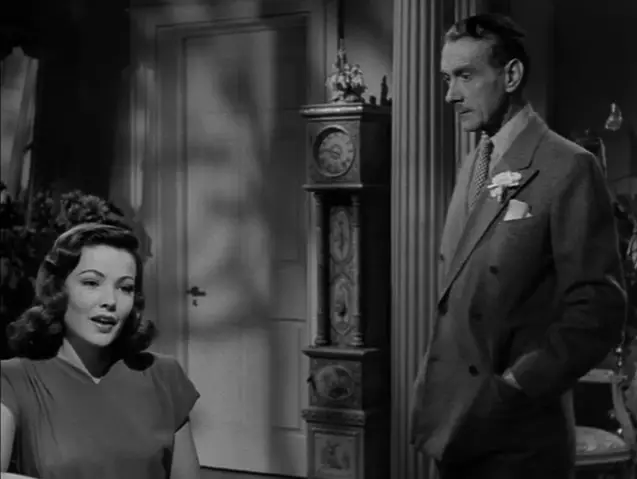 Note also Preminger's use of the on-screen radio and its interplay with the dialogue in the final scene. It's masterful use of diagetic sound.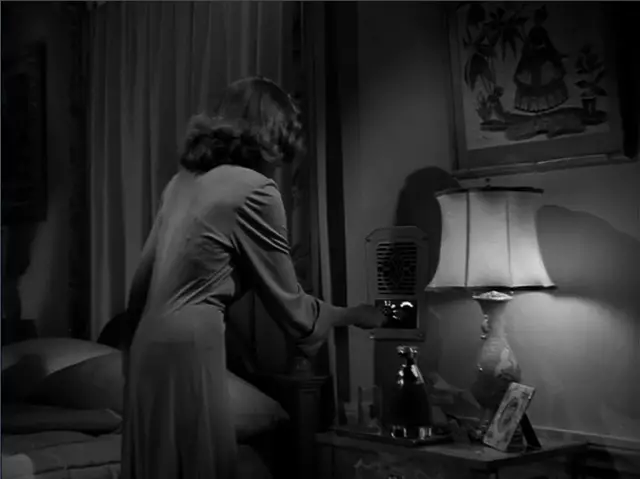 In true Preminger style, Laura pushes the "risque" envelope. The opening scene is about as daring as it gets for the Production Code era of 1944. He starts by using a typewriter to cover up Webb's nudity in the bathtub.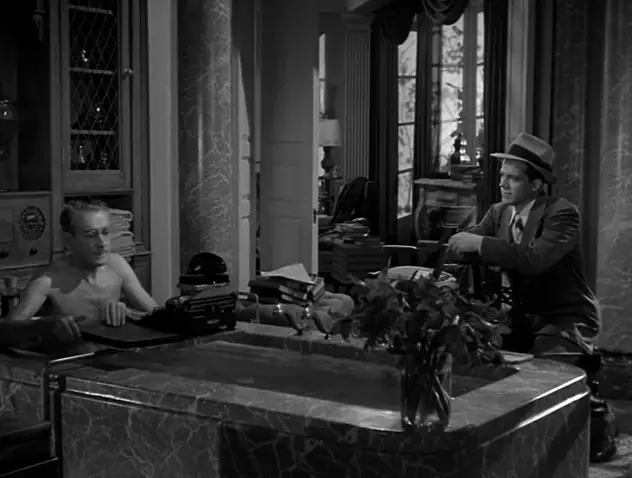 He then has him climb out of the tub entirely naked outside the frame. Watch Andrews' subtle expression as he literally looks down at Webb's privates, then later tosses him a towel outside the frame. Preminger always makes us keenly aware of the frame.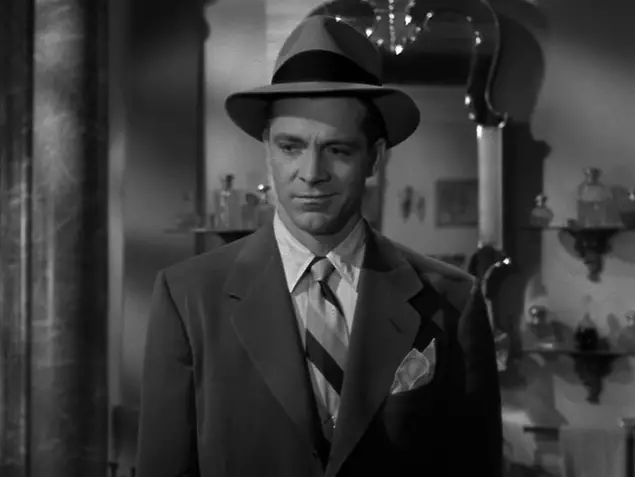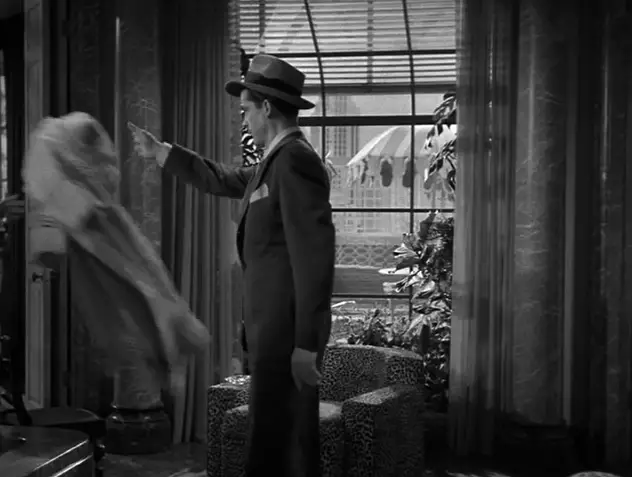 Perhaps Preminger's greatest contribution is his decision to scrap the original ending, where the whole film was revealed to have been a dream. (C) That approach worked fine for a fantasy like The Wizard of Oz (1939), but why do it here in what's been billed as a gritty mystery? The current ending is much better, as Preminger paces the conclusion brilliantly toward a shattering climax.

Legacy
For all this, the legacy of Laura will never die. It remains a favorite among critics, voted No. 4 on the AFI's Top 10 Mysteries and No. 73 on AFI's 100 Thrills. It also continues to prove effective with mainstream viewers, who still vote it in the IMDB Top 250.
Countless web and print publications will corroborate its greatness, ranking Laura in the Top 200 of AMC's Filmsite, and as high as No. 39 on TV Guide's Top 50, ahead of classics like "On the Waterfront" (1954), "Saturday Night Fever" (1977) and "Raiders of the Lost Ark" (1981). Its 1944 noir colleague Double Indemnity placed higher at No. 24.
Indeed, Double Indemnity will continue to edge it out on best lists as arguably the greatest film noir that's ever been done. If you need to represent that era on your best list, Double Indemnity is a sure bet. It has all the ingredients. But if you want seconds, Laura is a savory dish. Film buffs will continue to feel for Laura the movie what Lydecker feels for Laura the character — that "love is eternal."

 Citations:
CITE A: Laura DVD booklet (The Fox Film Noir DVD)
CITE B: http://newmusicbox.org/news.nmbx?id=00420
CITE C: IMDB Trivia
CITE D: 1001 Movies You Must See Before You Die
CITE E: AMC Filmsite.org
CITE F: DVD doc Gene Tierney: A Shattered Potrait. (I think done by Biography)
CITE G: Andrew Sarris, The American Cinema: Directors and Directions, 1929-1968, New York: E.P. Dutton, 1968, p. 103. (I retrieved from Senses of Cinema)