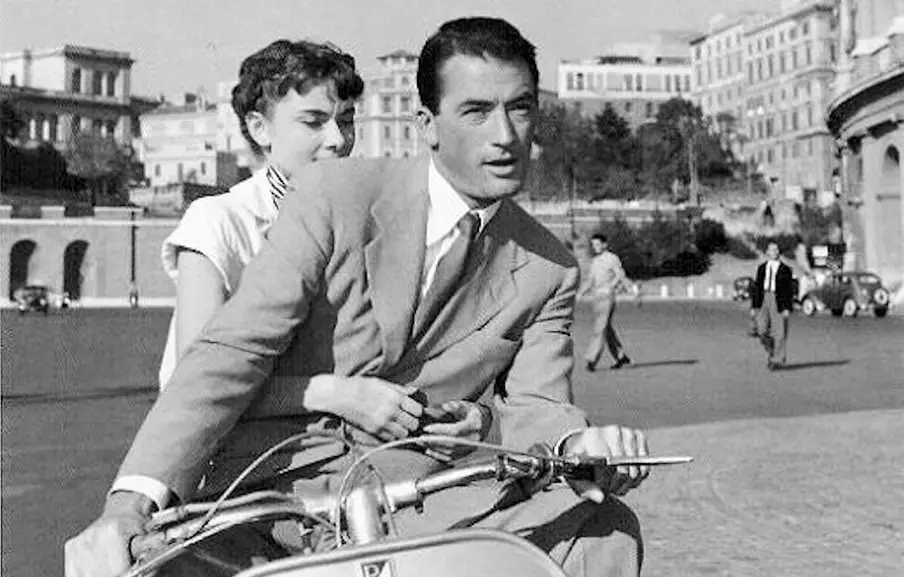 Director: William Wyler
Producers: Robert Wyler, William Wyler (Paramount)
Writers: Dalton Trumbo (story), Dalton Trumbo, John Dighton (screenplay)
Photography: Henri Alekan, Franz Planer
Music: Georges Auric
Cast: Audrey Hepburn, Gregory Peck, Eddie Albert, Hartley Power, Harcourt Williams, Margaret Rawlings, Tullio Carminati, Paolo Carlini, Claudio Ermelli, Paola Borboni, Alfredo Rizzo, Laura Solari, Gorella Gori, Heinz Hindrich, John Horne

Introduction
Aside from its stunning on-location visuals, fascinating love story and sharp William Wyler direction, Roman Holiday fills one true purpose in film history — the film that introduced the world to Audrey Hepburn. It offered the Belgium-born British actress her American debut, giving her the part over Elizabeth Taylor (A Place in the Sun) and Jean Simmons (Great Expectations). Ironically, Hepburn's on-screen coronation into Hollywood royalty came the same year as Queen Elizabeth II's actual coronation, not to mention a time when the public was fascinated with Princess Margaret's much-publicized relationship with commoner Peter Townsend. (E) For all this, the timing was right, and the rest, as they say, is history.
To this day, no actress has equaled the sweetness, elegance and beauty that Hepburn left us. Her combination of talent and likability made her a favorite in both the critical and mainstream arenas and gave her the tool set to strike with a popular hit like Breakfast at Tiffany's (1961) at one moment, and a critically-acclaimed smash like My Fair Lady (1964) the next. In all, Hepburn would earn five Oscar nominations, ten Golden Globe nods, an Emmy and a Lifetime Achievement Award from the Screen Actors' Guild. Yet none of these accolades proved more important than the first, her Academy Award win as the lead in Roman Holiday, an award that excited her so much that she later misplaced the Oscar in the restroom. She was on the steps of New York's Center Theater before she remembered. (E)

Plot Summary
Princess Ann (Hepburn) is the royal heiress to an unspecified European throne. She visits London, Amsterdam and Paris as part of a state tour of European capitals, but by the time she reaches Rome, she's in a state of depressed hysteria, exhausted from her strict schedule of appearances. When she looks out the Embassy window and sees the fun of Roman nightlife below, shes feels the same yearning as Quasimodo, wanting to be down amongst the people, living an ordinary life. But instead of granting her this freedom, her entourage tries calming her with a sleeping sedative.
Fed up with this entrapment, Ann sneaks out of the Embassy in the middle of the night to roam incognito amongst the townspeople. Of course, she is still drowsy from the sedative and falls asleep on a park wall. Enter Joe Bradley (Gregory Peck), an American newsman stationed in Rome to interview Princess Ann the next day. After a night playing poker with his fellow news buddies, he heads home early to rest up for the big interview. Ironically, he passes the sleeping Ann in the park and worries about such a beautiful girl sleeping alone in a big city at night. Like a true gentleman, he brings her back to crash safely at his place, not knowing she is the very princess he's slated to cover.
When he later discovers Ann's true identity, he views her as a monumental story scoop. Imagine, a reporter having the very subject of his interview stumble into his room the night before. He immediately schemes with photographer Irving Radovich (Eddie Albert) to follow her around town, digging up dirt.
Meanwhile, Bradley convinces Ann to take a "Roman Holiday" with him, doing all the things they've ever wanted to do: "Sit at a sidewalk cafe and look in shop windows, walk in the rain, have fun and maybe some excitement." Throughout the day, the couple does every one of these, hitting up some of Rome's most romantic spots, while revealing a liberation of Ann's spirit and a warmth to Bradley, who gradually replaces his journalistic instincts with true feelings for the princess.

Screenplay: Pygmalion Reversal
The film came smack dab in the middle of McCarthyism, and screenwriter Dalton Trumbo was one of the infamous blacklisted Hollywood Ten. So he had to write under a front, which he had already done under the disguise of Millar Kaufman on Gun Crazy (1949) and under the disguise of Guy Endore on He Ran All the Way Home (1951). When Roman Holiday arrived, he wrote the script for front Ian McLellan Hunter. When the script won the Oscar, Hunter gave a portion of his pay to Trumbo, but kept the Oscar statue. Shortly after, he was himself blacklisted.
It was not until 1993 that the record was set straight, and Trumbo's wife, Cleo, was presented with a long-overdue Oscar. Because Hunter's son wouldn't give up his father's Oscar, the Academy had to sculpt a completely new statuette, meaning that two Oscars for 1953 Best Screenplay exist. The story credit was corrected to credit Trumbo when the restored edition was released in 2002. (B) Trumbo won a second Oscar under identical circumstances for The Brave One (1956), using the producers' nephew, Robert Rich, as a front.
Trumbo's premise of Roman Holiday — that of a reporter tailing a riches-to-rags runaway — is awfully similar to Robert Riskin's script for Frank Capra's It Happened One Night (1934). Still, he adds his own touch of originality by having the privileged character actively wanting to escape the life of luxury. In It Happened One Night, Claudette Colbert's runaway heiress only mingles with the common folk as a means to get to New York and marry the wealthy King Westley. Conversely, Hepburn isn't looking to return to that lifestyle. She just wants to run away from it and see what happens. This desire for normalcy over high society offered an intriguing character construct repeated time and again — think Kate Winslet's Rose in Titanic (1997).
For Hepburn, it was the exact opposite of the Cinderella/Pygmalion role she would later play in My Fair Lady (1964). While more people have heard of Lady's Eliza Doolittle, Holiday's Princess Ann wins most head-to-head comparisons. The Academy awarded Hepburn the Oscar for Holiday, but didn't even give her a nomination for Lady. The AFI ranked Holiday #4 on its 100 Passions, comapred to Lady's #12. The critics give Holiday a 98% on Rotten Tomatoes, while giving Lady a 94%, And mainstream voters gave Holiday an 8.3 on IMDB, compared to Lady's 7.8. Perhaps this is because Roman Holiday more closely mirrors our fascination with the Hepburn the Movie Star, discovering a casual woman underneath all the glamor.

A Star is Born
The transformation from everyday girl to Hollywood goddess was underway immediately after the film. At the end of production, Paramount presented Hepburn with her entire Oscar-winning wardrobe, designed by Edith Head, including hats, shoes, handbags, and jewelry. These were intended as generous wedding presents, but soon after production, Hepburn ended her engagement to James Hanson. (E) At least she got a wardrobe out of it.
What a treat to see someone so famous in her unknown infancy. Hepburn had done films in Europe before, but her only acting experience in America had been on Broadway, where she appeared in Gigi, then won a Tony Award for Ondine, just six weeks after receiving the Oscar for Roman Holiday. The double dip made Hepburn one of only three actresses — joining Shirley Booth and Ellen Burstyn — to receive a Best Actress Oscar and Best Actress Tony in the same year.
"She was way above us," co-star Albert said. "She was so darling, she was so wonderful, so helpful. She was not Hollywoodish at all, but she could act." (C)
Her on-screen inexperience works to the film's benefit, flashing a devilish, youthful smile at the beginning, then crying real tears in the finale. While filming Ann's final goodbye to Joe, Hepburn couldn't produce the necessary tears, causing Wyler to complain at the number of wasted takes. Hearing this, Hepburn burst into tears and Wyler had his shot. (E)   

A Comet Continues
As for her leading man, Peck was already a polished actor. He had worked for Hitchcock on Spellbound (1945) and The Paradine Case (1947), Henry King on Twelve O'Clock High (1949) and The Gunfighter (1950), King Vidor on Duel in the Sun (1946) and Elia Kazan on the Best Picture winner Gentleman's Agreement (1947), where he also played a reporter.
By 1953, Peck was thrilled to do a lighthearted film like Roman Holiday, as he had yet to appear in a comedy. In his words, every comedy script he had read until then already had "the fingerprints of Cary Grant on it." He wasn't far off, considering Roman Holiday was originally written for Grant, who turned it down because he felt he was too old to play Hepburn's love interest. (E) He changed his mind 10 years later on Charade (1963), where the two became lifelong friends.
If Peck looks in love as he cozies up with Hepburn, it's because he was actually smitten with a European at the time. Before the shoot, Peck was secretly depressed about his separation and pending divorce with wife, Greta. But during the on-location shoot in Rome, he met and fell in love with a French woman, Veronique Passani, whom he married and stayed with the rest of his life. (E) Such on- and off-screen victories could feed into any star's hubris, but when it came to Hepburn, Peck showed the humility for which he's so admired.
While his contract called for him to get solo billing above the title, Peck phoned his agent after one day of shooting with Hepburn and said, "You've got to get them to put her name above the title in the same size print as mine. She's gonna steal the film and I'm gonna look very foolish if my name's up there in big letters all alone." Hepburn said it was one of the most generous things she'd ever seen an established star do for a newcomer, and the two remained such good friends that it was Peck who delivered the 1993 Oscar tribute to Hepburn just months after her death. (A)
The interplay between Peck and Hepburn is the pair of scenes surrounding her sedated stay at his apartment. The first scene depicts Princess Ann in her drowsy state, making off-the-wall comments with her eyes practically closed, looking at Bradley's apartment and saying, "Is this the elevator?" This comedic "drunk" act joins Clark Gable in It Happened One Night, Jimmy Stewart in The Philadelphia Story (1940) and Cary Grant in North By Northwest (1959) as cinema's best moments of inebriation.
The second scene comes the morning after, as Princess Ann realizes she's in a stranger's apartment and tries piecing together the puzzle, with Peck once again playing the straight man.

Roman Romance
Her "drunken" state also showcases her ability for romance, found in Ann's mindless mumbling of a poem: "If I were dead and buried and I heard your voice / Beneath the sod, my heart of dust would still rejoice." It's Hepburn who's responsible for the romance and the comedy, lifting Roman Holiday to #4 on the AFI's Top 10 Romantic Comedies of All Time.
When movie lovers think romance, it's hard for them not to think Hepburn and Peck's romantic day tour of Rome. Rather than letting her hair down, Hepburn lops it off. Her short new cut symbolizes her freedom to experience life as a commoner, a freedom is manifested in her relationship with Peck.
Together, they ride a scooter, visit the Roman Coliseum, dance on a Tiber River barge, and stick their hands in "The Mouth of Truth," where Peck improvises to pretend his hand is bit off.
Making it all the more magical is the fact that it was all shot on-location in Rome — a rarity at the time. The studio urged Wyler to shoot on soundstages in Hollywood, but Wyler fought for his location. Eventually, the studio relented, but only if Wyler would cut the budget. This forced Wyler to shoot in black and white, rather than the original Technicolor, and also led him to cast the unknown Hepburn in the lead. (D) Thus, the film became the first American movie to be shot entirely in Italy. (E)

Hollywoodism vs. Neorealism
Even while shooting on location, Wyler does not quite capture the "Eternal City" as accurately as Italian native Roberto Rossellini the same year in Journey to Italy (1953), starring Ingrid Bergman and George Sanders as British travelers who sight-see in Naples. Rossellini is, of course, the same man who won the Golden Palm at Cannes for his breakthrough film Rome, Open City (1945), the first masterpiece of the Italian Neorealist movement, which used an almost documentary-like cinema-verite approach.
Wyler's vision of Rome is much more romanticized. After all, he is the same man who presented the city for all its period piece lavishness in Ben-Hur (1959). It's as if Wyler had been inspired by the Italian Neorealists, went there to shoot on location, but couldn't entirely shed his Hollywood studio system past. Still, this "outsider looking in" mentality has a certain charm, as Wyler views Rome with a certain awe, so much that the city becomes the third lead character, every bit as beautiful as Hepburn and every bit as commanding as Peck.
Ironically, Wyler almost didn't direct it at all. Roman Holiday started out as a project for Capra, a true variation on It Happened One Night, but he had to turn it down because his Liberty Films was struggling financially. The project then went to George Stevens, who decided to instead make the western Shane (1953). Wyler was third in line and accepted the comedy with open arms, having just come off two heavy dramas in The Heiress (1949) and Detective Story (1951). (E) Low and behold, it was Wyler's second film (after Mrs. Miniver) to earn double digit Oscar nominations (10) and the first to earn Wyler two nominations as both director and producer, losing both to the Pearl Harbor romance From Here to Eternity (1953).

Pop Culture Legacy
Still, Roman Holiday remains less a work of directorial prowess as it does a piece of lasting popular culture. In Making Love (1982), Kate Jackson mentions Roman Holiday in a phone call to her father. In The Little Mermaid (1989), Ariel's nightgown and hair style mimic Princess Ann's the night she escapes the embassy. In Sabrina Goes to Rome (1998), a TV movie spinoff of Sabrina the Teenage Witch, Sabrina visits Rome and is tailed by two reporters scheming to expose Sabrina's powers.
South Park characters stay in a hotel called Roman Holiday Inn. Lois and Brian watch the movie in Family Guy. In Gilmore Girls (2004), Marty lists facts about Rome and says, "Audrey Hepburn stayed there." Russell Crowe and Kim Basinger watch it together in L.A. Confidential (1997). In The Lizzie MaGuire Movie (2003), Hillary Duff and her beau take a scooter ride similar to Hepburn and Peck. The Mandy Moore movie Chasing Liberty (2004) carries many plot similarities. In Elizabethtown (2005), Kirsten Dunst looks for a pair of shoes much like Hepburn, as Roman Holiday plays on a TV set. And in You, Me & Dupree (2006), Owen Wilson calls Roman Holiday his favorite movie.
Will it be your favorite movie? It's hard to say, considering the film's avoidance of a typical "happy ending." Some viewers may feel depressed after wanting to see the lovers get together. But just because it's an "unhappy" ending, doesn't mean it's not a satisfying one. Anyone can script a feel-good happy ending. Filmmakers have to work much harder to pull of a satisfyingly unhappy ending. Thus, the final teary-eyed exchange between Hepburn and Peck is full of double-meanings in both dialogue and glances, as the two solidify themselves as one of the screen's greatest pairs. For just as Bogart and Bergman would "always have Paris," Hepburn and Peck would always have Rome.

Citations:

CITE A: TCM Intro, Robert Osborne
CITE B: Hunter's IMDB Bio
CITE C: DVD Special Features
CITE D: TCM Intro, Ben Mankiewicz
CITE E: IMDB Trivia