Director: Fred Zinnemann
Producers: Stanley Kramer, Carl Foreman (Stanley Kramer Productions)
Writers: John W. Cunningham (magazine story), Carl Foreman & John W. Cunningham (screenplay)
Photography: Floyd Crosby
Music: Dimitri Tiomkin
Cast: Gary Cooper, Grace Kelly, Lloyd Bridges, Katy Jurado, Thomas Mitchell, Otto Kruger, Lon Chaney Jr., Harry Morgan, Ian MacDonald, Eve McVeagh, Morgan Farley, Harry Shannon, Lee Van Cleef, Robert J. Wilke, Sheb Wooley

Introduction
What's in a name? Better yet, what's in a song? The title and title song of High Noon tell us everything we need to know about Fred Zinnemann's western masterpiece. Just 13 percent of American feature films used a "title song" between 1950-1954, but the number grew to 22 percent over the next five years, and reached 29 percent by the late '60s. (A) Sparking the trend was "The Ballad of High Noon," an Oscar-winning song written by Dimitri Tiomkin and Ned Washington and sung by Tex Ritter (father of John Ritter). Not only would it become a popular country music record, it also allowed the film to both introduce the stakes of its plot and reinforce the moral of its story:
Do not forsake me O my darlin' / On this our wedding day / Do not forsake me O my darlin' / Wait, wait along. / The noon-day train will bring Frank Miller. / If I'm a man I must be brave / And I must face that deadly killer / Or lie a coward, a craven coward / Or lie a coward in my grave. / O to be torn 'twixt love and duty! / Supposin' I lose my fair-haired beauty! / Look at that big hand move along / Nearin' high noon. / He made a vow while in State's Prison / Vow'd it would be my life or his and / I'm not afraid of death, but O, / What will I do if you leave me?

Plot Summary
The film opens one Sunday morning outside Hadleyville, New Mexico, as a band of troublemakers mount their horses and head to the train station, where their recently-pardoned leader, Frank Miller (Ian MacDonald), is set to arrive on the noon train. Miller is a nasty fellow who once made it unfit for women to walk down the streets of Hadleyville in broad daylight. That was until he was locked away by the town marshal, Will Kane (Gary Cooper), who on this particular day, stands at the alter to marry his young bride Amy (Grace Kelly).
Not long after the two say "I do," Kane learns of the arrival of the Miller Gang and suspects his old enemy Frank Miller could be coming to join them. The townspeople insist that he not let it ruin his wedding day and sends him off on his honeymoon with Amy. But the moral fiber within the old marshal is too strong, as he turns around to defend his town, leaving Amy debating whether she'll stay. As the Miller Gang plans to bring its bullying influence back to the town, attempting to kill Kane for all to see, Kane risks both his marriage and his life to fulfill his duty, even if he must go it alone.

Screenplay
The plot comes from John W. Cunningham's short story "The Tin Star," which first appeared in Colliers Magazine in 1947. Writer/producer Carl Foreman joined Cunningham to adapt the story into a deceptively simple, yet morally profound screenplay, which ranked No. 75 on the WGA's Top 101 Screenplays, one spot behind Being John Malkovich (1999) and one spot ahead of Raging Bull (1980). The script is important for two key elements.
The first is the concept of the internal clock, as the conflict must be resolved under a specific time constraint. The story begins roughly around 10:30 a.m. and ten minutes into the film, the town learns of the incoming noon train at 10:40 a.m. This allows the hour and a half film to play out roughly in real time, as characters routinely stare at ticking clocks in suspense. The second is the lyrical struggle between love and duty, as Kane feels a responsibility to protect his town, while Amy offers the justifiable concern, "You're asking me to wait an hour to find out if I'm going to be a wife or a widow!" Kane replies, "I'm not trying to be a hero," but in doing so, we the audience view him as just that.
"People don't like men who come on telling you how good they are," said John Sturges, director of The Magnificent Seven (1960). "Whereas, if you are a brave man that says, 'I'm not brave … I'd certainly prefer not to get into this but I'm gonna have to get into this, but I'm not a hero,' the audience will say, 'Oh yes you are. You're a hero." (B)
Upping Kane's heroism is the fact that he sticks to his principles despite rapidly decreasing odds. One by one, he visits his peers asking for help as temporary deputies — lawmen, judges, clergy, saloon goers — and one by one, they turn him down, citing excuse after excuse.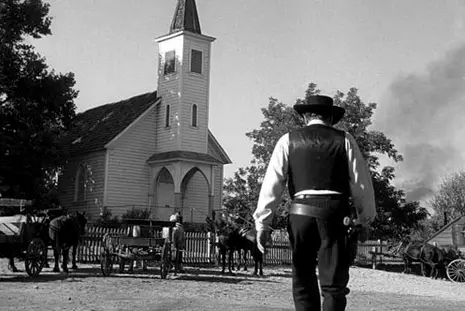 In the end, he stands utterly alone in a four-against-one fight, and yet still manages to vanquish the killers (with the help of his returning wife). As the townspeople run out into the street to see what happened, Marshal Kane simply stares at them, rips off his sheriff's badge, drops it on the ground, and rides off with his wife. It's as if to say, "Here, you can have your tin star back." If that's not badass, I don't know what is. What's more, it echoes what Kane says earlier when he pins the tin star back on his vest: "I'm the same man with or without this."
The one character who seems to understand Kane's moral reasoning is an old flame, the Latina businesswoman Helen Ramirez (Katy Jurado), who tells Amy, "If you don't know [why Kane is staying], I cannot explain it to you." She has similar words for Lloyd Bridges' character, who's a professional and romantic rival to Kane: "It takes more than big broad shoulders to make a man." At the time, High Noon was meant as a parable of the McCarthy-era isolation felt by blacklisted Hollywood filmmakers. It was Foreman's last film before being blacklisted for suspected communist sympathies, forcing him to write secretly (without credit) on future scripts like The Bridge on the River Kwai (1957).

Gary & Grace
While the writers had to go undercover, the great Gary Cooper stood tall in plain view for all to see. While no where near the technical actor of Bogart, Brando or his other contemporaries, he had a stoic screen presence that few have matched. Most often, it was playing the "good guy," a man with integrity, pressing "traditional American values," fitting for a man who got his stage name "Gary" from Gary, Indiana. Cooper is the only actor to have three characters on the AFI's Top 50 Heroes — at No. 35 was his Alvin York in Sergeant York (1941), at No. 25 was his Lou Gehrig in The Pride of the Yankees (1942), and all the way at No. 5 was his Marshal Will Kane in High Noon. That's right, Will Kane joins Atticus Finch, Indiana Jones, James Bond and Rick Blaine as the Top 5 Movie Heroes of All Time.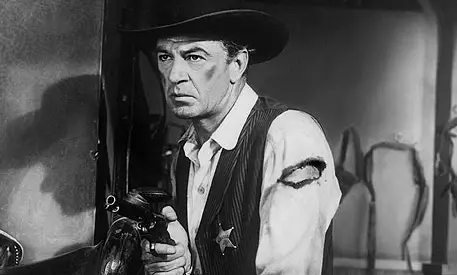 The role won Cooper the second Oscar of his career, as John Wayne had the highest of praises, "Cooper and I have been hunting and fishing for more years than I like to remember. He's one of the nicest fellas I know … And our kinship goes further than that friendship, because we both fell off of horses into pictures together. Now that I am through being such a good sport … I'm gonna go back and find my business manager, agent, producer … and find out why I didn't get High Noon instead of Cooper."
By this point in his career, it was clear that Cooper was aging, particularly in Anthony Mann's western masterpiece Man of the West (1958). The casting of the veteran Cooper proved controversial considering the casting of the much younger Grace Kelly as his newlywed bride, who was a full 28 years younger. Somehow, Cooper could pull it off, later dating 28-year-old Audrey Hepburn in Billy Wilder's Love in the Afternoon (1957). Perhaps this is because Hepburn and Kelly were such talents themselves.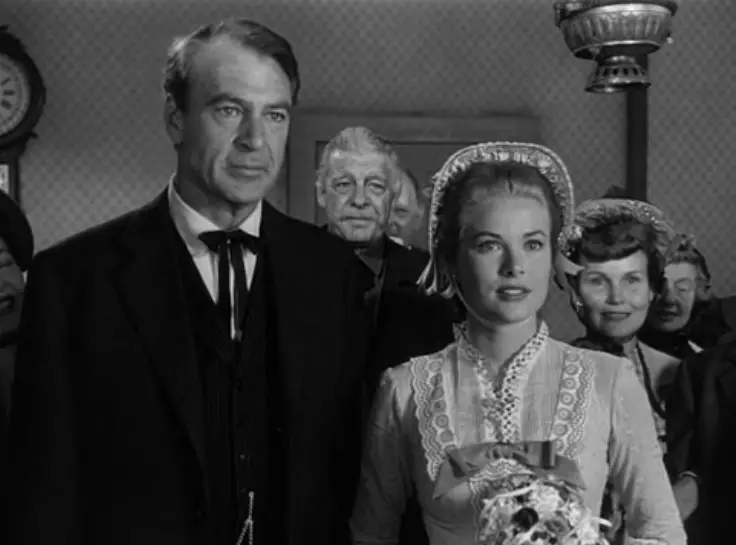 After a series of TV appearances, Grace Kelly's film debut came in the thriller Fourteen Hours (1951), where a man stands on the ledge of a high-rise for 14 hours threatening suicide. This notion of time made her a perfect cast in High Noon, which was the film that truly put her on the map. The following year, she earned her first Oscar nomination across Clark Gable in Mogambo (1953), then won her only Oscar in The Country Girl (1954). More importantly, she became one of Hitchcock's best leading ladies across Jimmy Stewart in Rear Window (1954), Ray Milland in Dial M for Murder (1954) and Cary Grant in To Catch a Thief (1955), before retiring to marry Prince Ranier of Monaco and becoming our beloved "Princess Grace."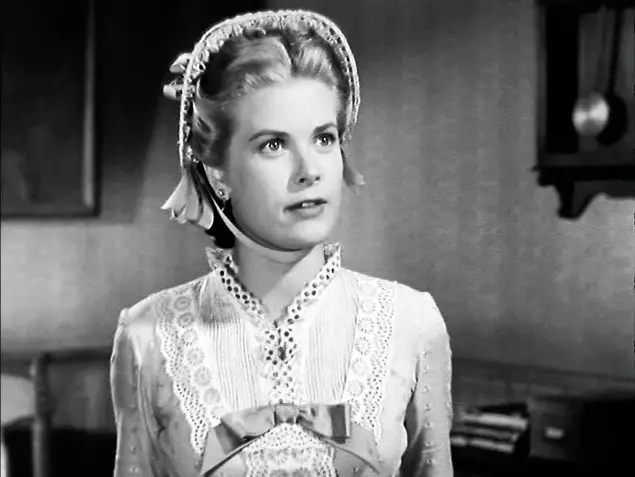 Kelly wasn't the only one whose career benefited from High Noon. The film was not only a stage for veterans like Thomas Mitchell (Stagecoach, It's a Wonderful Life) and Lon Chaney Jr. (Of Mice and Men), it was also a launch pad for fresh faces. Ian MacDonald went on to appear in Nicholas Ray's Johnny Guitar (1954), Sheb Wooley went on to record the hit song "(One Eyed, One Horned, Flying) Purple People Eater," Robert J. Wilke went on to appear in Written on the Wind (1956) and Stripes (1981), and Lee Van Cleef became legendary as the "Bad" in Sergio Leone's The Good, The Bad & The Ugly (1966).
Still, the most crucial supporting parts came from Katy Jurado, who won a Golden Globe as Helen Ramirez in High Noon before earning an Oscar nomination for Broken Lance (1954), and the great Lloyd Bridges (Airplane!), father of Jeff Bridges (The Big Lebowski), who watched his father fight Cooper in the barn brawl, but ruined a take because he was too noisy up in the rafters. (D)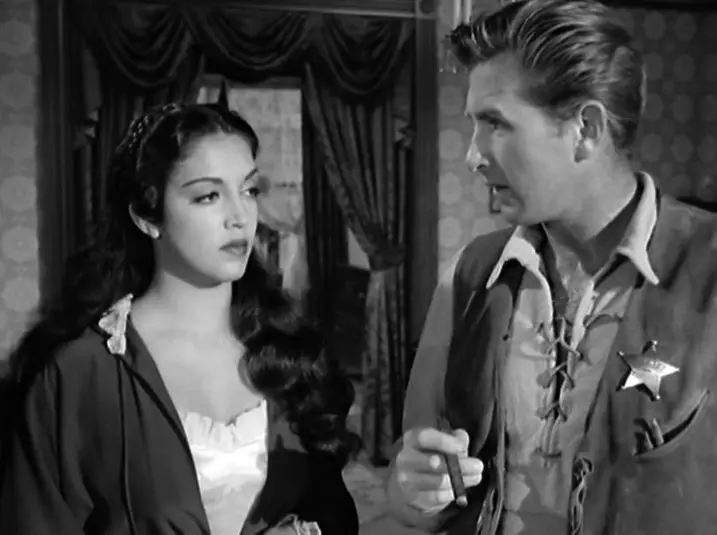 Direction: Costumes, Cameras, Cranes & Clocks
Jurado's role as the promiscuous saloon owner was the perfect contrast to Kelly's puritanical Quaker, and this duality is our first hint at Fred Zinnemann's power as a director. Note how Jurado's Helen is given dark hair and dark clothes to go with her dark past, while Kelly's Amy is given blonde hair and white clothes to go with her innocence. It's a shame that equal symbolic care isn't given to the male characters, who seem to wear a mixture of black and white hats at random. This leads me believe that Ann Peck (wardrobe artist for the women) was more talented than Joe King (wardrobe artist for the men), even though both went on to costume big movies — King dressing the casts of Witness for the Prosecution (1957), Judgment at Nuremberg (1961) and Guess Who's Coming to Dinner (1967); Peck dressing the casts of The Searchers (1956) and The Alamo (1960).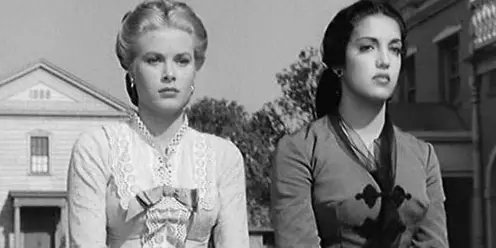 Aside from symbolic costumes, Zinnemann also expresses much with his camera moves, particularly in moments without dialogue. Watch as the Miller Gang first rides into town. People stop and stare. A woman crosses herself and runs away. A mechanic stops wiping down a vehicle and runs inside. Then, just as we think we're still in these exterior shots, Zinnemann's camera suddenly pulls back to reveal that we've been looking through a window, and we're in fact inside with Cooper getting married to Kelly.
Character sizes within the visual space also prove symbolic, particularly two great moments where Marshal Kane is left standing alone. The first occurs as he comes out into the empty street to see Amy and Helen riding off in a horse-drawn buggy. As we enter Helen's POV, Marshal Kane gets smaller and smaller in the background — physically and metaphorically. The second occurs just before the final gunfight, as Marshal Kane walks out in the town square of what has become a ghost town. Zinnemann's camera beautifully cranes up high above the town, showing just how small Kane is in this deserted space. It's easily the film's most powerful — and famous — moment.
Still, Zinnemann's greatest technique involves the script's aforementioned internal clock, as he repeatedly offers cutaways to eternally ticking clocks in a real-time experiment that would later allow such concepts at Run Lola Run (1998). It was gutsy of Zinnemann to attempt a film whose runtime matches almost exactly with the story's duration, creating a "race against time" effect, stressed by producer Stanley Kramer. Zinnemann includes places countless clocks inconspicuously in the background, but when he shows them in close-ups, he cleverly has them increase in size as we get closer to "high noon."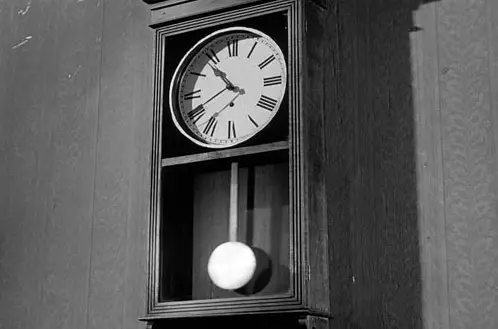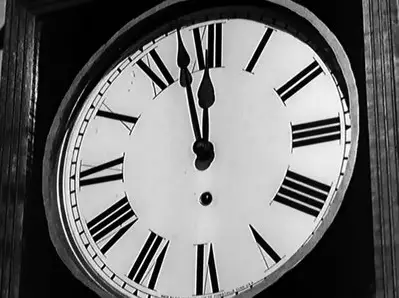 Zinnemann knew he could affect audiences in such subtle, almost subconscious ways, as death looms over the entire picture, from a fly landing on Cooper's arm when he runs into Ben Miller outside the saloon, to the undertaker building a coffin in the back room as Kane gets cleaned up at the barber shop, to black smoke billowing from Miller's train. Hell, even the hero's name Will Kane is a combination of "Last Will and Testament" and the first murderer in the Bible. Through all this, Zinnemann said he wanted to show "the menace, the threat, only in a static shot of the railroad tracks, as against the constant motion of the man who is looking for help." Visually, he confines it all to the one town, while bucking the western tradition of a filtered grey sky with pretty clouds, and instead creating a newsreel quality with no filters. He says he wanted to portray the clocks "increasing in size as the urgency grew and as time kept slipping by — pendulums moving more slowly, the whole thing finally settling into an unreal sort of suspended animation, familiar to those who had been faced with sudden death."  (C)

Soundtrack
With each swinging pendulum, Dimitri Tiomkin's music also increases with intensity, as the soundtrack seamlessly weaves in "The Ballad of High Noon," sung by Tex Ritter. The song ranks No. 25 on the AFI's Top 100 Movie Songs, in part because it pioneered the cross-promotion of movies through the music industry, opening the door to Simon & Garfunkel's "Mrs. Robinson" in The Graduate (1967), The Bee Gee's "Stayin' Alive" in Saturday Night Fever (1977), Kenny Loggins' "Danger Zone" in Top Gun (1986) and Celine Dion's "My Heart Will Go On" in Titanic (1997).
Perhaps more impressive, the instrumental version -was voted one of the AFI's Top 10 Movie Scores of All Time, ahead of Bernard Herrmann's Vertigo (1958), Max Steiner's King Kong (1933) and John Williams' E.T. The Extra Terrestrial (1982). Indeed, the instrumental version truly soars.

Legacy
Not only did the song achieve pop culture significance, the film itself had a huge impact on the next few decades of cinema. The film's impact thrust Zinnemann into a position to win Best Director the following year for From Here to Eternity (1953), which dominated the Oscars and won Best Picture. Five years later, Orson Welles revived the High Noon premise of a honeymoon cut short in his noir masterpiece Touch of Evil (1958), and the entire notion of a "high noon" showdown became part of our public lexicon, its legend growing greater over the years.
Future westerns took subversive angles on the genre — The Searchers (1956) called out racist attitudes toward Native Americans; The Wild Bunch (1969) used its violence to comment on the Vietnam War; and Unforgiven (1992) shot down the very myth of gunslingers. But before something can be subverted and recontextualized, there must be a bedrock on which to build, and in this light, High Noon joins George Stevens' Shane (1953) as the best the traditional western has to offer. Zinnemann went on to direct two other Best Picture winners in From Here to Eternity (1953) and A Man for All Seasons (1966), but it's High Noon that remains his sole entry on the AFI Top 100. There, it ranks a powerful No. 27, rising six spots from the AFI's original list in 1997 to its tenth anniversary list in 2007. It's clear that movie history will not "forsake" this one, oh my darling, no matter how long time asks us the film's final song lyrics: "wait along, wait along, wait along."

Citations:
CITE A: http://www.sensesofcinema.com/contents/03/28/ballad_of_high_noon.html…..Deborah Allison, 2003, senses of cinema
CITE B: American Cinema: The Western, the Annenberg/CPB Collection, 1994, hosted by John Lithgow and narrated by Eli Wallach
CITE C: George Stevens Jr., Conversations with the Great Moviemakers of Hollywood's Golden Age, p. 420
CITE D: AFI 100 Years…100 Movies 10th Anniversary countdown, CBS, 2007