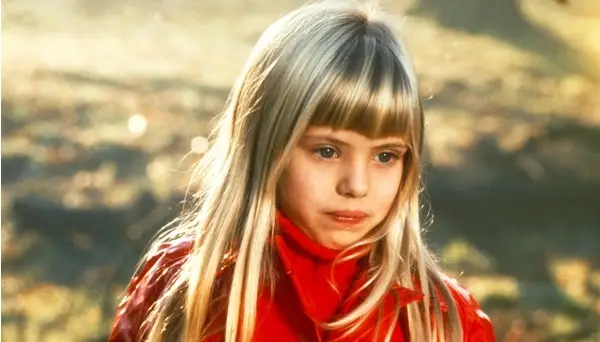 Director: Nicolas Roeg
Writers: Allan Scott, Chris Bryant (screenplay), Daphne Du Maurier (story)
Producers: Peter Katz, Frederick Muller, Anthony B. Unger
Photography: Anthony B. Richmond
Music: Pino Donaggio
Cast: Julie Christie, Donald Sutherland, Hilary Mason, Clelia Matania, Massimo Serato, Renato Scarpa, Giorgio Trestini, Leopoldo Trieste, David Tree, Ann Rye, Nicholas Salter, Sharon Williams, Bruno Cattaneo, Adelina Poerio

Introduction
How many movies can simultaneously turn you on, move you to tears and scare you to death? Don't Look Now excels on all three fronts, featuring one of cinema's most famous sex scenes, one of its most touching family tragedies and one of its most horrific climaxes. To juggle all three is the work of a master, Nicolas Roeg, a 23-year veteran of the British film industry by the time he made his debut film, the Mick Jagger vehicle Performance (1970).
In that time, Roeg trained under some of Britain's best, working up from second unit photography for David Lean on Lawrence of Arabia (1962) to lead cinematographer for Roger Corman's The Masque of the Red Death (1964), Francois Truffaut's Fahrenheit 451 (1966), John Schlesinger's Far From the Maddening Crowd (1967) and Richard Lester's Petulia (1968). It was all practice for the moment where he would leave his own mark on film history, Don't Look Now, using his title to warn audiences not to look, yet creating a story so gripping we're forced to watch through parted fingers.
Plot Summary
Based on a 1971 story by Daphne Du Maurier, who provided the source material for Hitchcock's Rebecca (1940) and The Birds (1963), Don't Look Now tells the tale of John and Laura Baxter (Donald Sutherland and Julie Christie), who lose their daughter Christine (Sharon Williams) in a tragic drowning accident. They travel to Venice, where John's company is restoring a church, and where Laura meets a creepy pair of sisters, Wendy (Clelia Matania) and Heather (Hilary Mason), the latter of whom is blind and claims to be a psychic. She claims the ghost of their dead daughter is trying to warn them to leave Venice, where a serial killer is on the loose. Laura buys into the supernatural as a means of solace, while John remains skeptical, despite the possibility that he himself shares in the gift of psychic "second sight."
John is constantly haunted by memories of his daughter's drowning in a red raincoat, and what's more, he sees a tiny red-hooded figure running through the streets of Venice. As he pursues the mysterious red figure, the film works toward a shocking conclusion that dwarfs the competition, voted by BRAVO as the #22 Scariest Movie Moment of All Time.
Two Stars and a Love Affair
Don't Look Now bolstered the careers of the already successful Sutherland and Christie. Sutherland was fresh off a Golden Globe nomination for M*A*S*H (1970) and had just helped Jane Fonda win an Oscar in Klute (1971). Don't Look Now offered a role he would later play in Ordinary People (1980), the father of a drowned child, and earned him a BAFTA nomination.
Meanwhile, Christie was hot off Doctor Zhivago (1965), an Oscar win for Darling (1965) and another Oscar nomination for McCabe & Mrs. Miller (1971). Roeg has seen her work under his mentors Lean and Truffaut, so he must have been thrilled to have her in Don't Look Now, where she earned her own BAFTA nomination.
Close Encounters of the Sexual Kind
Ironically, Sutherland and Christie had never met before the film, and Roeg was waiting with a surprise for their first scene together – an unscripted sex scene. The on-screen chemistry between Sutherland and Christie is rumored to have sparked an off-screen affair, and the two would later reteam for another sex scene in The Railway Station Man (1992).
While one of the film's most famous scenes today, the sex scene almost didn't make the film. Roeg added  at the last minute to break up numerous scenes of the couple arguing. The lengthy sex scene was unusually graphic for its time, one of the first mainstream films to show cunnilingus, and Roeg had to cut nine frames (less than half a second) to avoid an X-rating in the U.S.
Nevertheless, it is very artfully done, rivaling Bertolucci in the previous year's Last Tango in Paris (1972). This is because Roeg presents the entire scene silently with music only, while intercutting images of raw sex with images of the couple getting dressed after the deed. It appears as if Christie takes off her clothes, only to put them back on.
Roeg's Fragmentation
This sort of fragmentation is Roeg's style throughout the film, jumping around time, space and perspective, and reminding us of his intentions with a close-up of a book titled Beyond the Fragile Geometry of Space. Working with editor Graeme Clifford, Roeg ends the film a dynamic "life flashing before your eyes" montage, enough to earn him a BAFTA nomination for Best Director and for film historian Gerald Mast to put him in a class with Sergei Eisenstein and Alain Resnais.
The film begins equally as fragmented, starting with raindrops on a river showing the reflection of little Christine in her red raincoat. The shots of the daughter are intercut with the parents inside, so Roeg will show the daughter tossing a ball, then cut to John throwing Laura a pack of cigarettes. As John looks at photos he took of a church, he spots a red-hooded figure in the photo and spills his drink, leaving a mess of red liquid (blood) swirling across the photo. This motivates his psychic "hunch" that his daughter might be in danger, and sure enough, he runs discovers what Roeg has already shown us – that Christine has drowned.
Roeg further messes with time and perspective through his use of slow motion (the tragic discovery; Laura fainting) and through the use of superimpositions (Heather's psychic face), making us wonder if what we're seeing is from the objective POV of Roeg, the subjective POV of Sutherland, or the psychic subjective POV of Heather.
Foreshadowing & Slow Disclosure
Still, Roeg's favorite technique may be foreshadowing via slow disclosure: (a) the shot of a priest with his back turned, where it sounds like he's laughing, only to find out it's just the sound of a duck; (b) the shot of John taking a sack off the head of a church statue, revealing a grotesque face; and (c) the famous final reveal. Such moments speak to a running theme actually articulated in dialogue: "Seeing is believing" and "Nothing is what it seems."
Under this theme, it should be no surprise that Roeg deals heavily in reflections, both literally and figuratively. When Laura first meets the sisters, they're complaining about "something in my eye" while looking in a multiple bathroom mirror. When Laura looks through a hospital window, we see reflections of children in the other room playing with a ball similar to the one that caused Christine to drown. And John repeatedly sees the reflection of his dead daughter in the water (the child looks eerily similar to the girl from Poltergeist).
Venice Aesthetics
Roeg is genius to set this story in Venice, where the roads are literally made of water. Captured in Technicolor by cinematographer Anthony Richmond, the canals are constant reminders of little Christine's fate. The network of shadowy alleys and urbanites looking suspiciously out windows gives the film an atmosphere of menace — even during the daytime.
Adding to the aesthetic is the iconic choice to put the little girl in a red raincoat — one of the most famous wardrobe decisions in history. When we see the mysterious red-hooded figure, the red is what triggers the connection to Christine – that, and the alarming synthesizer of Pino Donaggio's score. A native of Venice, Donaggio had never before composed a film score, but Brian De Palma loved his work so much that the two became longtime collaborators.
Reception & Legacy
When the film was done, Daphne Du Maurier wrote a letter to Roeg congratulating him on making such a strong adaptation of her story. Critically, Don't Look Now was nominated for Best Film at the BAFTA Awards, losing to Truffaut's Day for Night (1973). Financially, it was the main feature of a double bill with The Wicker Man (1973), which went onto cult fame itself, dubbed "The Citizen Kane of Horror Movies" by Cinefantastique magazine. If horror fans could go back in time, this might be the double billing to see.
Of course, you didn't have to be there in '73 – a remake is slated for 2011. It's just the latest example in multiple decades of references — the yellow raincoats of Brooke Shields in Alice, Sweet Alice (1976); the red raincoat that haunts Kiefer Sutherland in Flatliners (1990); M. Night Shyamalan's use of red in The Sixth Sense (1999); his later use of a red-hooded figure in The Village (2004); the child that turns around to face to camera at the end of Dario Argento's Phenomena (1985); the red blood spiral in Tim Burton's Sweeney Todd (2007); the list goes on: Dark Water, Hostel, Silent Hill, The Omen and White Noise 2. Even James Bond gets in on the action, chasing the red-coated Vesper Lind through Venice in Casino Royale (2006).
For all this influence, Don't Look Now is recognized as not just a horror classic, but one of the seminal films in movie history. Rolling Stone voted it #25 on its list of 100 Maverick Movies, and the BFI ranked it the #8 Greatest British Film of All Time, ahead of The Red Shoes (1948) and Trainspotting (1996). Don't look now, but you're looking at a masterpiece.