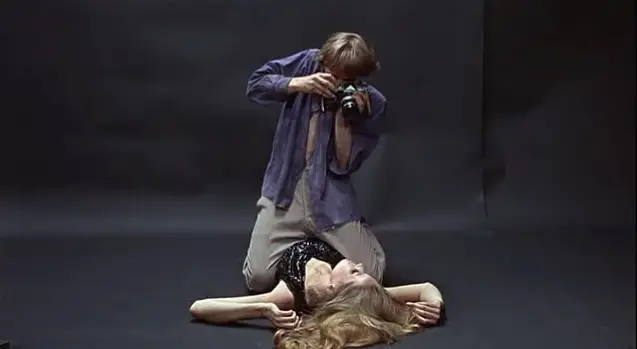 Director: Michelangelo Antonioni
Writers: Michelangelo Antonioni, Tonino Guerra, Edward Bond (screenplay), Julio Cortazar (story)
Producers: Carlo Ponti, Pierre Rouve
Photography: Carlo Di Palma
Music: Herbie Hancock
Cast: David Hemmings, Vanessa Redgrave, Peter Bowles, Sarah Miles, John Castle, Jane Birkin, Gillian Hills, Veruschka von Lehndorff, Julian Chagrin, Claude Chagrin

We've all seen those segments in Austin Powers where Mike Myers holds swinging '60s photo sessions, spitting out "fab" instructions almost as fast as he snaps photos of his beautiful female subjects. If you've ever laughed at these scenes, or understand them as part of our collective culture, you've felt the long-lasting affect of Michelangelo Antonioni's Blow-Up.
Already a respected auteur of masterpieces like L'Aventurra (1960), Antonioni was signed by producer Carlo Ponti to make three English-language films for MGM, the first of which would become an international classic. Made on a budget of $1.8 million, Blow-Up wound up grossing $20 million (about $120 million today), introducing the world to Antonioni's signature style and helping open Hollywood's bedroom door. As Time magazine wrote, Blow-Up "helped liberate Hollywood from its puritanical prurience" , becoming the first British feature film to show full frontal female nudity and containing Premiere magazine's "sexiest cinematic moment in history."
Based on Julio Cortazar's short story The Devil's Drool (1959), Blow-Up follows fashion photographer Thomas (David Hemmings), who canvasses London, holding photo shoots at his apartment, shopping for precious art pieces and attending pot parties. It's an empty existence, where he seems to get off on the control he has over the floozies who model (and perform sexual favors) for him.
Thomas' empty life is finally infused with danger when he secretly photographs a couple in a park. The woman, Jane (Vanessa Redgrave), spots him and demands the film back. When he refuses, she later comes to his place, leading to a steamy encounter. Still, the real excitement begins when Thomas blows up his photos and sees something in the bushes. It leads him to think he's captured a murder on film. But did he actually witness a murder, or is it all in his head?
The clever hook earned an Oscar nomination for screenwriters Antonioni, Tonino Guerra and Edward Bond. While the script borrows somewhat from the premise of Hitchcock's Rear Window (1954), Antonioni diverts from Hitch in his refusal to come to a neatly wrapped ending. Instead, we are left to wonder whether the murder actually occurred. Physical evidence in the park, followed by Thomas' ransacked place, suggests he was in fact onto something. But we're never quite sure.
No doubt some viewers will find the ambiguous ending maddening. As Time magazine wrote, "For audiences unable to get on the director's wavelength or into his measured rhythm, seeing his characters suffer in slow motion was like watching paint dry. Movies were supposed to move, not slouch against a wall, and the pace of Antonioni's movies was a special test for the antsy."
However, this is exactly how Antonioni wanted it. The lack of resolution is meant to pose Antonioni's thesis — that reality is perception; that anything is true if we believe it to be. This is the purpose of the final scene where Thomas watches a group of mimes play tennis with an invisible ball. As the "ball" leaves the court and Thomas fetches it, it's his acceptance of Antonioni's thesis. Even the camera pans with varying "hang time" and "bounces" of the "ball." By having the cinematic eye in on the illusion, Antonioni has reminded us that, as viewers, everything we watch in a film is perception. Thus the film's final image is fitting — of Thomas standing alone in a wide shot before suddenly disappearing. As Roger Ebert writes, "Antonioni has described the disappearance of his hero as his 'signature.' It reminds us too of Shakespeare's Prospero, whose actors "were all spirits, and are melted into air."
Antonioni sprinkles this theme throughout the film. It's no coincidence that he opens the film by intercutting the parallel action of (a) the raucous imagination of the mimes, and (b) the quiet of Thomas' everyday reality. Later, when Thomas photographs the "murder" in the park, note how Antonioni includes the sound of a tennis ball and frames an empty tennis court in the background.
Such is Antonioni's mastery of mise-en-scene. Working with veteran cinematographer Carlo Di Palma, Antonioni gets the most out of each inch of his frame, from the diagonal rows of models standing behind transparent glass, to the wooden beams and wig racks that divide Thomas and Jane, pushing them closer to the white walls that symbolize Thomas' emptiness.
The cultural impact of the film cannot be underestimated. Its plot device inspired a whole slew of films, from Gene Hackman thinking he's recorded a murder in The Conversation (1974) to Jack Nicholson taking incriminating photos in Chinatown (1974); from David Warner developing fateful photos in The Omen (1976) to John Travolta recording evidence of a murder in Blow Out (1981).
Stylistically, Blow-Up charted a new modern look and feel, in part thanks to the jazz score by Herbie Hancock and the live performance by the Yardbirds (yes, that's Jimmy Paige on stage and Jeff Beck smashing his guitar). Critic Andrew Sarris called the film "a mod masterpiece," and Playboy said it was "as important and germinal a film as Citizen Kane, Open City and Hiroshima, Mon Amour — perhaps even more so." 
Still, the most fascinating analysis of Blow-Up is to consider the protagonist as an extension of Antonioni's own being. As critic David Thomson writes: "Antonioni's world of sentimental and metaphysical dismay ought to include just such a figure as himself: a man of vast intellectual sensibility and artistic aspiration … but a visionary of emotional alienation, so morbidly convinced of the apartness of people that he sometimes ends by photographing figures in a landscape. … For if his suspicions of human dissolution are sound, then films are only an absurd response to the fretful human instinct for self-expression. Even if one cannot always share Antonioni's torment, it has been an engrossing, if humorless, prospect to see him gradually immolate himself with doubts. He is his own character, turned away from us, speechless at what has been lost."