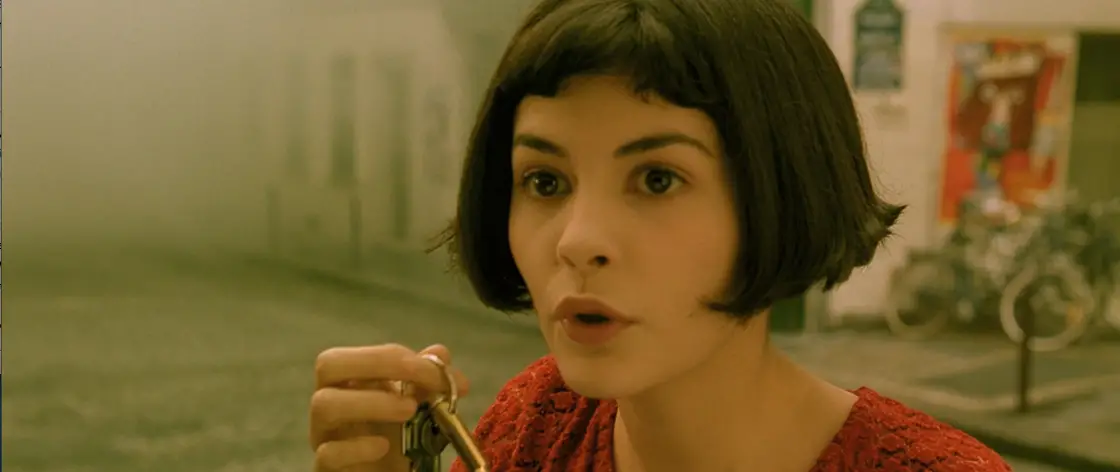 Director: Jean-Pierre Jeunet
Producers: Jean-Marc Deschamps, Arne Meerkamp van Embden, Claudie Ossard
Writers: Guillaume Laurant, Jean-Pierre Jeunet
Photography: Bruno Delbonnel
Music: Yann Tiersen
Cast: Audrey Tautou, Mathieu Kassovitz, Rufus, Yolande Moreau, Artus de Penguern, Urbain Cancelier, Dominique Pinon, Maurice Benichou, Claude Perron, Michel Robin, Isabelle Nanty, Claire Maurier, Clotilde Mollet, Serge Merlin, Jamel Debbouze

"Luck is like the Tour de France. You wait, and it flashes past you. You have to catch it while you can." So says Jean-Pierre Jeunet's tour-de-force Amelie, a film for which the timing couldn't have been better. The film was already a hit in Europe, but didn't arrive in the U.S. until just after 9/11. Critic Joshua Klein called it, "The right movie at the right time" and the film's quirky optimism was received "not as mindless escapism but as a fantastic and idealized respite from the horrors and rigors of the real world." (A) As a result, every magazine went nuts over it, until nearly a decade later, Amelie ranked #2 in Empire's 100 Best Films of World Cinema, nudging past Bicycle Thieves (1948) and Battleship Potemkin (1925), and landing behind only The Seven Samurai (1954).
The film follows Amelie (Audrey Tautou), a recluse young woman in the Montmarte section of Paris. As a young girl, she is misdiagnosed with a heart problem and deemed unfit for school. She is home-schooled and hidden from the outside world. After the bizarre death of her mother, she lives alone with her father, who does not give her the attention she deserves. As a result, she develops a longing for human contact and a penchant for practical jokes. By age 23, she's a lonely waitress in a diner, restless in seeking purpose for her life.
Then one day, an event changes her life. She hears on the news that Princess Diana has been killed in a car accident, causing her to drop something on the bathroom floor. As she leans down to pick it up, she notices a loose brick and finds a little tin can full of a treasures left by a boy who used to live there 40 years ago. She decides to find this boy and return the tin. If he likes it, she pledges to become a regular good-deed doer. As you'd expect, the man is floored yb the arrival of the tin and thinks he's been touched by a guardian angel. Amelie is inspired to keep it going, becoming the eyes for a blind man, playing matchmaker for two bar regulars and fabricating an old love letter for her elderly neighbor.
But there is a dark side. While Amelie performs secret acts of kindness to those who deserve it, she also pulls pranks on those who deserve it, like the grouchy grocer Mr. Collignon (Urbain Cancelier), who's been mistreating his delivery boy Lucien (Jamel Debbouze). Somewhere between the two is Amelie's father, whom she pranks by stealing his lawn gnome, taking photos of it at various destinations around the world and sending the photos back to her dad (the game is a real-life phenomenon pre-dating Amelie, but the film helped popularize it to the point where Travelocity adopted it for its Roaming Gnome campaign in 2004).
Seeing right through Amelie's mischief is her wise neighbor, Raymond Dufayel (Serge Merlin), nicknamed "The Glass Man" for his brittle bone condition. He accuses Amelie of meddling in others lives as a cover for her own loneliness and urges her to seek the love of her soul mate, Nino Quincampoix (Mathieu Kassovitz), who spends his time collecting discarded photos from a subway photo booth.
Juenet co-wrote the Oscar-nominated and BAFTA-winning screenplay with Guillaume Laurant. Together, they create a script that seems to follow Amelie's own mantra: "I like noticing details that no one else sees." Indeed, much of the fun of Amelie is its own affection for details, namely the pet peeves and guilty pleasures of each character, large and small. Amelie's father hates peeing next to someone else; her mother hates pillow marks on her cheek. Another man hole punches his plants, while another carries a tape recorder to make daily "notes to self." For Amelie, it's dipping her hand in a sack of grain, cracking creme brule with a teaspoon, and skipping stones at St. Martin's Canal. Why include these little nuggets? Because the writers want us to realize that we're all weird in our own quirky little ways. As the script repeatedly says, "Without you, today's emotions would be the scurf of yesterday's."
I find it fitting that Amelie came out the same year as Wes Anderson's The Royal Tenenbaums (2001). The two are kindred scripts is so many ways, narrating wacky set-ups of their characters' childhoods, swerving with oddball twists and possessing vibrant color palates. While Tenenbaums juggles the stories of an ensemble cast, Amelie focuses primarily on its title character and her interactions with the people around her. Thankfully, the screenwriters master a character study that could have easily been fumbled.
The screenplay would have gotten old if it had focused solely on Amelie's good deeds. Rather, the writers are smart enough to counterbalance the film by showing equal moments of her private pain. As The Glass Man says, Amelie tries so hard to fix the messy lives of others, but she ignores the messiness of her own life. The writers find clever ways to show this, like Amelie imagining TV documentaries about her own life (a technique copied in 500 Days of Summer), or The Glass Man painting "The Girl with the Red Glass" as a proxy for Amelie. The latter techniques allows Amelie and The Glass Man to talk about the painting, while actually revealing information on Amelie's inner thoughts.
Still, all the script in the world would not have mattered if Jeunet did not find the right actress for the part. Audrey Tautou is a revelation. Her wide eyes and pursed lips spell the disguise of innocence, while her devilish smile achieves the right blend of mischief and good intention. The Alliance of Women Film Journalists called Tautou "Olive Oyl's flesh-and-blood cousin" and said her "crooked smile could turn vinegar to honey." For all you guys out there, I dare you to leave the movie without a total crush on Audrey Tautou. Jeunet couldn't wait to work with her again in A Very Long Engagement (2004), and her success caught the eye of Ron Howard, who cast her across Tom Hanks in The Da Vinci Code (2006).
Jeunet was no stranger to strong female leads. He had just worked with Sigourney Weaver in Alien: Resurrection (1997), his first solo effort. A self-taught filmmaker, Jeunet gained notoriety as part of a directing duo, collaborating with comic book artist Mark Caro on a number of commercials, animations and music videos. Their first feature film, Delicatessen (1991), was a horror classic set in a butcher shop. Their second film, The City of Lost Children (1995), earned them a Golden Palm nomination at Cannes. Their credits read, "A film by Jeunet and Caro," so it was a break in tradition when Jeunet ventured to Hollywood to make the fourth installment of Alien, following in the footsteps of Ridely Scott, James Cameron and David Fincher (he brought Caro along as a design supervisor). While the film was critically panned, the film turned a profit, allowing Jeunet to be able to finance Amelie five years later.
What a sophomore effort. Many think Amelie's light-heartedness has to do with the fact that Caro (the darker of two) was not involved. Here as a solo artist, Jeunet demonstrates a daring approach. His camera has no bounds: tracking overtop a character's head, spinning 360 degrees so that the image turns upside-down, retreating backward out of a young boy's peephole, or dollying sideways through Amelie's door. Jeunet also messes with frame rates, using fast motion as Amelie rides on metro trains or travels up an escalator. To quote The Glass Man, Jeunet "passes time to forget how time passes."
The camera movement and changing speeds are seamlessly combined in the scene where Amelie fabricates the love letter. As she looks directly at the camera and holds up a pair of scissors, the camera pushes in closer with the whirring sound of a machine, clicks into position, then watches Amelie use the scissors in fast motion. Suddenly, we return to normal speed, as she holds up a glue stick. The camera pushes in closer, locks into position, and watches her use the glue stick in fast motion. Finally, we return to normal speed as she holds up the finished product.
The scene is also just one of many instances of direct camera address, as characters look into the camera throughout the film. At one point, a comatose woman rises from her slumber and looks at the camera to respond to the narration. At another, the grocer Collignon spits out his drink and the liquid hits the camera and runs down the lens.
The most humorous example comes after Amelie asks herself, "How many couples are having an orgasm right now?" Here, Jeunet shows a vivid montage of 15 different orgasms, after which Amelie turns to the camera and grins, "Fifteen!" The most profound example comes when Amelie is at the movie theater. Smiling up at the silver screen, she suddenly looks down at us and says, "I like looking back at people's faces in the dark." As she turns around to look at her fellow moviegoers, we realize her words also apply to us viewers. By looking directly at the camera, Amelie has just looked at us, the audience, out in the dark.
Jeunet is extremely aware of us viewing his movie, and at times, he becomes almost a filmmaking John Madden. Arrows appear on screen, pointing to various characters and locations, accompanied by on-screen text. Later, when Amelie says she likes noticing things that no one else sees, a red circle appears around a bug in the background.
Visual effects enhance the film in this way throughout. As Amelie talks to Nino's co-worker, words of their dialogue become images superimposed behind them. Later, as Amelie cooks in the kitchen, her wishful thinking of Nino coming to meet her appears as a superimposed image of parallel action, which appears to collide with reality.
We physically see Amelie's imaginary friends and her visions of animals in the clouds. Her wall photos talk to her night stand, debating whether Amelie has fallen in love. And Nino's four-frame print from the photo booth talks to him, the four images arguing amongst themselves like contestants in Hollywood Squares.
Jeunet's favorite visual motif may be an orange glowing effect. After Amelie helps the blind man, he literally glows with joy. As Amelie conducts her secret deeds, a key glows through her pocket. And when Nino sees Amelie in the subway, her glowing heart beats through her chest. This aesthetic is consistent with Jeunet's overall vision of Paris, where the surreal becomes real and inner moods manifest themselves outwardly.
Klein writes: "Amelie does not just cry, she melts in a puddle of tears. The city doesn't just glow metaphorically; it's given a preternatural tint and perpetually perfect weather thanks to some savvy computer effects." (A) Deservedly, the art direction earned an Oscar nomination and won Best Production Design at the BAFTA Awards. Lending greatly to the look was the Oscar-nominated, "acid-colored" cinematography of Bruno Delbonnel, who went on to shoot Across the Universe (2007) and Harry Potter and the Half-Blood Prince (2009). (B)
Yann Tiersen's score won international awards as well, featuring a snippet of the theme from Godard's Contempt (1963). How much does the score add to the film? Let's just say a version of Amelie without the score was sent to the Cannes Film Festival, where it was rejected by festival selector Gilles Jacob, who called it "uninteresting."
I suppose people who don't like quirky, off-beat movies might not fall for Amelie as I did, but "uninteresting" is a word I would never use. I suspect the festival directors at Cannes are at least somewhat embarrassed by the omission, going out of their way to make the point that they only saw an early print without the music. (C)
Even with the final cut, some critics knocked the film as an unrealistic representation of Paris, saying it was a candy-coated version that did not accurately depict the city's ethnic diversity. Others tried to combat the film's stunning freshness with nit-picky jabs at its originality. Indeed, Amelie's apartment "makeover" is similar to Chungking Express (1994); her succession of kisses with Nino is similar to Eclipse (1962); Nino's shredded photographs are similar to those in Love on the Run (1979) and The Truman Show (1998); and the brittle "The Glass Man" recalls Samuel L. Jackson's character in Unbreakable (2000).
In spite of all of this, the film remains a breath of fresh air. The majority of people, critics and the public, fell in love with Amelie. It won Best Film at the European Film Awards, the Czech Lion for Best Foreign Film, the People's Choice Award at the Toronto Film Festival, two BAFTA Awards and four Cesars, including Best Director and Best Film. It was also nominated for five Oscars, including Best Foreign Film. To this day, it ranks very high on IMDB, #42 on Empire's Top 201 Movies of All Time, and, of course, the aforementioned #2 spot on Empire's 100 Best Films of World Cinema.
The film is as famous on the international scene as any non-English language movie in recent memory. And while its international title has been shortened to Amelie, its original title remains Le Fabuleux destin d'Amelie Poulain. Translating to The Fabulous Destiny of Amelie Poulain, you could say that it was the film's destiny to serve the world as Amelie serves her fellow man in the movie. To paraphrase the narrator, Amelie makes us feel like its title character after that first good deed: "We have a strange feeling of absolute harmony. It's a perfect moment. Soft light, a scent in the air, the quiet murmur of the city. We breathe deeply. Life is simple and clear. A surge of love, an urge to help mankind."

Citations:
CITE A: 1001 Movies You Must See Before You Die
CITE B: Empire's 100 Best Films of World Cinema list
CITE C: Film Comment — http://www.filmlinc.com/fcm/11-12-2001/amelie.htm