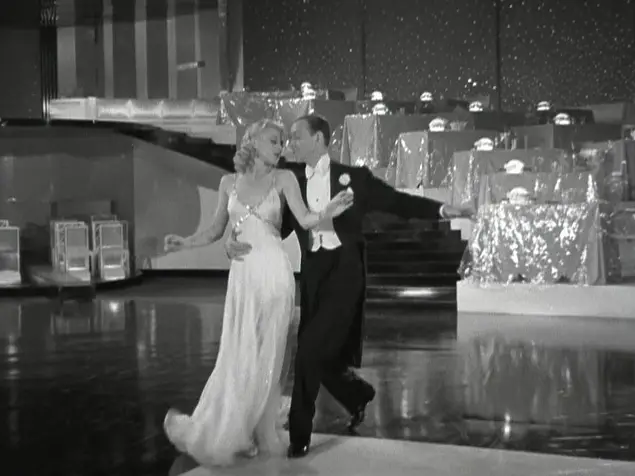 Director: George Stevens
Producer: Pandro S. Berman (RKO)
Writers: Erwin Gelsey, Howard Lindsay, Allan Scott
Photography: David Abel
Music: Jerome Kern, Dorothy Fields
Cast: Fred Astaire, Ginger Rogers, Victor Moore, Helen Broderick, Eric Blore, Betty Furness, Georges Metaxa

When many of us think Fred Astaire and Ginger Rogers, we think of them dancing "Cheek to Cheek" across that Art Deco set in Top Hat (1935). But while that flick may be more famous, the only Astaire-Rogers picture to make the AFI's Top 100 list is Swing Time. And upon further review, the latter may very well contain the best collection of dances in the entire series.
Released just a year after Top Hat, Swing Time follows a generally similar plotline. This time, talented "hoofer" Lucky Garnett (Astaire) is set to marry Margaret Watson (Betty Furness), but is deemed too poor by her father, Judge Watson (Landers Stevens, father of the film's director, George Stevens). The father's challenge: Lucky will go to New York City and, through a little tapdancing and a lot of gambling, win the necessary $25,000 to pay the dowry.
Of course, this whole plan is interrupted when Lucky brushes paths with beautiful New York dance instructor Penny Carroll (Rogers), with whom he begins a fine romance until she discovers he's engaged to a woman back home. Further complicating matters is Margaret's surprise appearance in New York and Penny's prior courting by a suave bandleader named Ricky Romero (Georges Metaxa), who refuses to strike up the orchestra if it means a chance for Lucky and Penny to dance together. But as sure as the Astaire-Rogers formula, Lucky and Penny are destined for each other's dancing arms in the end.
By now, in their sixth film together, after the Top Hat follow-up Follow the Fleet (1936), Astaire and Rogers are in their complete prime. More than just talented dancers, they have fully developed their chemistry together, as evident in that telling moment where Astaire's dressing room door swings open to reveal him with lipstick on his lips, standing next to Rogers. His proud smile is charm incarnate and sex unashamed. Such moments explain the friskiness that made Astaire the AFI's #5 male movie star of all time, and Rogers the #14 female. They also show why Swing Time is the only in the series to make AFI's 100 Passions (#30).
Perhaps some of the passion bled through from a rumored affair between Rogers and her director. (A) She would have nothing but praise for Stevens: "He gave us a certain quality, I think, that made [the film] stand out above the others," she said. (A) Indeed, there is a lightness to Stevens that would virtually disappear a decade later when he went off to experience the horrors of World War II.
Contributing just as much to the mood as Stevens is the film score. While Swing Time lacks the contribution of Top Hat's Irving Berlin, it makes up for it with the addition of Jerome Kern (music) and Dorothy Fields (lyrics). It was the second of three scores Kern did specially for Astaire, and the most famous contribution, "The Way You Look Tonight," done by Astaire on piano, edged out Cole Porter's "I've Got You Under My Skin" for the Best Song Oscar. It became an instant standard, going No. 1 for Astaire on the 1936 U.S. charts, and would be recorded by the likes of Tony Bennett for years to come.
We forget how many famous songs were actually enshrined by the Astaire-Rogers pictures. In just three years time, we got "Cheek to Cheek" from Top Hat, "The Way You Look Tonight" from Swing Time, and "Let's Call the Whole Thing Off" from Shall We Dance (1937), the lattermost leaving people to argue over the proper pronunciation of "potato" until the end of time.
The rest of the numbers allow the two stars to do what they do best: dance. "Pick Yourself Up" leads into a teacher-student romp around a dance studio, where Astaire and Rogers tap up a storm and swing arm-in-arm over a dance floor barricade. "Waltz in Swing Time," constructed and arranged by Robert Russell Bennett, earns the film its title with a syncopated waltz with tap overlays. "A Fine Romance" finds the two leads going back and forth in a snow-covered duet and catchy quickstep. And Astaire gives an elaborate performance in "Bojangles of Harlem," a tribute to his African-American teacher John W. Bubbles. It memorably ends with Astaire dancing with three enlarged silouhettes of himself, rear-projected against the back wall of the stage. The number earned Hermes Pan an Oscar nominated for Best Dance Direction.
Still, the best number in the entire film, and the one oft-cited by dance experts as the best in their career, is the finale: "Never Gonna Dance." Here, the two don formal wear atop the spotless floor of the swanky jazzclub Silver Sandal Set, designed by Carroll Clark and John Harkrider. Astaire and Rogers eventually split apart to climb separate staircases to an overhead platform, and then reconvene for a series of marvelous spins against the club's sparkling walls. It was this image that Chuck Workman chose for his 100 Years at the Movies montage, for while "Cheek to Cheek" is the most iconic song, this dance in this garb on this set is the most iconic image.
The true greatness of the dance numbers lies not just in the choreography and spectacle, but also in the dedication and perfectionism of the two leads. When Rogers was asked in 1933 what it took to make a movie star, she replied, "Intelligence, adaptability and talent. And by talent I mean the capacity for hard work." (C). Hard work is exactly the driving force of Swing Time. The dancing duo famously put in 350 hours of rehearsing for the film, a regimine amplified by Astaire's insistence on doing the numbers in unbroken pieces of footage. In this way, Astaire and Rogers, fine dancers to begin with, would appear all the more spectacular by doing countless takes until they got one long, uncut number that was absolutely amazing.
Keeping with these wishes, Stevens uses mostly long-takes during the dance numbers, craning up and cutting only once during "Never Gonna Dance," a shoot that took from mid-morning to 4 a.m. the next day, as take after take were ruined with camera mishaps, falling lights or Astaire losing his toupee. Forty-eight takes later, with Rogers' feet bleeding into her high heels, the duo finally got the dance how they wanted it: perfect.
Still, for all their strives for perfection, Swing Time, like Top Hat and the others, is far from perfect. Whilst never dating in entertainment value, the film has dated visually, from scratched prints, to the obvious rear-projection behind airplanes and stagecoaches to Astaire's horribly outdated use of blackface in "Bojangles of Harlem" (offensive now, but politically correct in 1936). On top of all this, the plot remains simple and recyclable, Metaxca's peformance is questionable, and Astaire and Rogers are far better dancers than they are actors or singers.
It's doubtful any of these reasons are why the film marked the start of a decline in public popularity for the series. (B) The film certainly wasn't dated in its own time, and any medocrity in the "acting" category is overcome by the overall performance, which includes dance. The film was still a success, grossing $2.6 million worldwide after costing just $886,000. (C) But it did mark a turning point in the series, with box office receipts falling faster than usual, after a strong opening. (B)
What is the lasting legacy of Swing Time? In 2009, the newly elected President Obama quoted a line from "Pick Yourself Up." In the face of an economic collapse, the president said we as Americans must "pick ourselves up, dust ourselves off," a line which New York Times writer Frank Rich linked to the film and called it "one subtle whiff of the Great Depression." (D) Yes, even in contemporary politics, Swing Time is a cultural touchstone worth referencing.

Citations:
CITE A: Mueller, John (1986). Astaire Dancing – The Musical Films. London: Hamish Hamilton. pp. 100–113. ISBN 0-241-11749-6.
CITE B: Astaire, Fred (1959). Steps in Time. London: Heinemann. pp. 218–228. ISBN 0-241-11749-6.
CITE C: Croce, Arlene (1972). The Fred Astaire and Ginger Rogers Book. London: W.H. Allen. pp. 98–115. ISBN 0-491-00159-2.
CITE D: "No Time for Poetry" by Frank Rich, The New York Times 1-25-09 p. WK10 of NY edition. Retrieved 1-25-09.