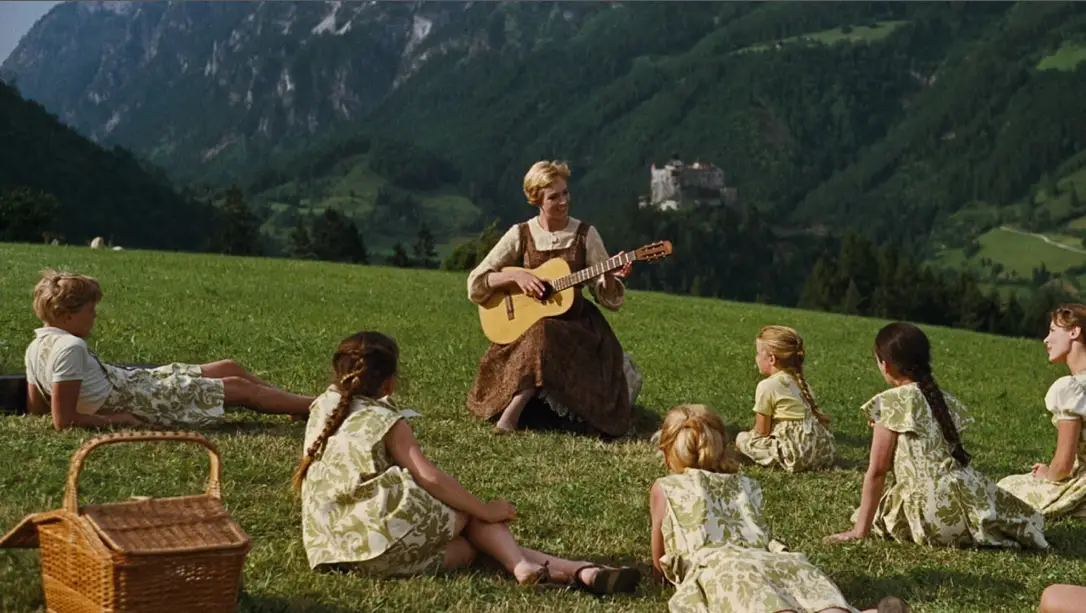 Director: Robert Wise
Producer: Robert Wise (Fox, Argyle)
Writers: Baroness Maria von Trapp (autobiography), Howard Lindsay and Russel Crouse (novel), Richard Rodgers and Oscar Hammerstein (stage musical), Ernest Lehman (screenplay)
Photography: Ted D. McCord
Music: Richard Rodgers, Oscar Hammerstein, Irwin Kostal
Cast: Julie Andrews, Christopher Plummer, Eleanor Parker, Richard Haydn, Peggy Wood, Eleanor Parker, Ben Wright, Charmian Carr, Heather Menzies, Nicholas Hammond, Duane Chase, Angelica Cartwright, Debbie Turner, Kym Karath

In 1965, famed film critic Pauline Kael was fired by McCall's magazine for a single negative review. The movie: The Sound of Music. The reason: publications don't like when their critics bash a movie which the market has deemed a phenomenon. After all, the film was nominated for a whopping 10 Academy Awards, winning five, including Best Picture. And at $158 million, it became history's biggest box office draw (a title it held until The Godfather), with a modern equivolent of $979 million today, making it the third highest grossing (adjusted) movie all time, behind only Star Wars (1977) and Gone With the Wind (1939). One can see why such success would turn off a counter-culturist like Kael, who called the film "the sugar-coated lie people seem to want to eat." She challenged the movie-going public's intelligence, writing, "we have been turned into emotional and aesthetic imbeciles when we hear ourselves humming the sickly, goody-goody songs."

Some may agree with Kael, finding the film overblown and nauseautingly wholesome. Such would be a possible explanation for its mediocre 7.9 rating on IMDB despite a vast cultural popularity. Overall, though, the film maintains a generally fond recollection, sporting a solid 83% on rottentomatoes and ever-loving support by the AFI. Between its two 100 Films lists in 1997 and 2007, The Sound of Music rose from #55 to #40, and it has turned up on just about every other list the institute has produced — #4 AFI Musicals, #27 AFI Passions, #41 AFI Cheers and #10, #64 and #88 AFI Songs. Even with detractors like Kael, The Sound of Music is so listologically adored, so widely seen, so visually rich and so ingrained in our pop culture, that it's never going away. Let's face it. This one's a classic forever.
Based on the hit 1959 Broadway musical by Rodgers and Hammerstein, their last together, The Sound of Music is set in late 1930s Salzburg, Austria, "in the last Golden Days" before its take-over by Nazi Germany. Here, a lively, young nun named Maria (Julie Andrews) is reassigned by convent Reverend Mother Abbess (Oscar-nominee Peggy Wood) to become the governess for widowed Capt. von Trapp (Christopher Plummer) and caretaker of his seven military-groomed children: 16-year-old Liesl (Charmian Carr), 14-year-old Friedrich (Nicholas Hammond), 13-year-old Louisa (Heather Menzies), 11-year-old Kurt (Duane Chase), 10-year-old Brigitta (Angela Cartwright), nearly 7-year-old Marta (Debbie Turner) and 5-year-old Gretl (Kym Karath). After some initial resistence, the kids take a strong liking to her, simply for the opportunity to finally act like kids. It's the rigid Captain that needs the most work, gradually shifting his heart from the wealthy Vienna Baroness (Eleanor Parker) over to Maria.
Complicating the romance is the Baroness' jealous attempt to make Maria (a nun) feel guilty for her romantic feelings, and Nazi supporter Herr Zeller's (Ben Wright) political pressure on the Captain during the Nazi's ongoing march. As a mouthpiece for the Third Reich, Zeller's words are haunting: "Nothing in Austria has changed. Singing and music will show this to the world. Austria is the same…Hail Hitler!"
The story is entirely rooted in history, drawing from Baroness Maria von Trapp's 1949 autobiography, The Story of the Trapp Family Singers, detailing her family of Austrian singers escaping the Nazis. Several novels, German films and a Broadway play later, 20th Century Fox brought in the best in the biz, Ernest Lehman (Sweet Smell of Success, North By Northwest), to adapt the script for Hollywood. The result was a surprisingly saccharine and simplified work for a man of Lehman's potential, but nonetheless a perfect vehicle for a larger than life lead.
Enter Andrews, the film's centerpiece, who despite the peripheral characters and plot turns, commands viewers' attention from start to finish. Though the Broadway version had starred the great stage actress Mary Martin, Andrews was chosen, seemingly, for her equal Broadway clout and distinguished new standing in Hollywood as the Academy's reigning Best Actress (Mary Poppins, 1964). As Maria, Andrews earned her second consecutive Oscar nomination, an award that went to Julie Christie for Darling (1965), mainly because Andrews had already won. This bit of Oscar politics doesn't diminish Andrews' performance for one minute. In fact, it would have been completely fitting for her to take back-to-back wins in nanny roles — her voice, charm and beauty offering two of the most memorable, nurturing performances of all time.
How many in the performing arts have mimicked her style, her grace, her delivery? Andrews' pipes were so impressive that director Robert Wise decided it best to dub over the voices of her co-stars so as not to overshadow them. Of course, much of Andrews' glory belongs to the marvelous melodic material she had to work with, as Rodgers and Hammerstein provide number after number of sheer excellence. But no doubt the same songs may not have soared to such heights without the presence of Andrews.
Together, they formed the most famous soundtrack in movie history. Along with Singin' in the Rain (1952) and West Side Story (1961), The Sound of Music tied for the most song entries (3) on AFI's 100 Movie Songs — #10 "The Sound of Music," #64 "My Favorite Things" (you know, "raindrops on roses and whiskers on kittens") and #88 "Do Re Mi" (everybody now: "Doe, a deer, a female deer! Ray, a drop of golden sun!"). These songs are not just hits, they are cultural staples. As long as there are music classes, school children will sing "Do Re Mi." And as long as there is Christmas, radios will play "My Favorite Things." You may have also heard of some others: "Maria," "So Long, Farewell (Auf Weidersehen, Good Bye)," "Sixteen Going on Seventeen," "Something Good," "The Lonely Goatherd," "Climb Ev'ry Mountain" and "Edelweiss."
Complementing these legendary songs is a beautiful, Oscar-winning score by Irwin Kostal. In this film, music is more than just a gimmick, but a way of life, of expression, of connectedness with nature. Such exuberance is captured right there in Andrews' opening spin, spreading her arms wide to embrace the majesty of the Austrian Alps, belting the film's glorious nine opening words: "The hillllllls are aliiiiive with the sound of muuusic!"
She means it, too. The hills come alive, thanks to Wise's insistence to shoot on location in Austria, where Oscar-nominated cinematographer Ted McCord has a field day in his beautiful 70 mm Todd-AO Color Deluxe. His visuals add so much to the songs — "Do Re Mi" benefits from the backdrop of Hohenwerfen Castle, "Maria" from the Nonnberg Abbey and "The Sound of Music" from those gorgeous establishing shots of Anif, Mondsee and Salzkammergut. It's hard to top this film's visual splendor, the fog-covered, snow-capped peaks, winding rivers and lush evergreens, lakes so clear that the ridges appear in mirror image and wind leaning on the tall grass of rolling green hills.
Wise allows such images to snatch viewers' breath right from the beginning, opening the film as he had with New York City in West Side Story (1961) — with big, sweeping helicopter shots, here swooping down to introduce his second heroine named Maria. Likewise, Wise took home the same pair of Oscars as he had for West Side Story, Best Picture and Director, making him one of the most successful filmmakers of the '60s. His direction is nothing for scholars to shout about. The former film-splicer may forever be in the doghouse as the assigned butcher of Orson Welles' The Magnificent Ambersons (1942). Here, he proves his penchant for placating audiences while avoiding profundity. Wise's anti-Nazi themes are poignant, but for technical artistry, a much better example is Bob Fosse's Cabaret (1972).
Still, something must be said for Wise's eye for audience appeal. Realistically, he doesn't need any deep directorial concepts, because he already has a winner in the music. Legions and legions of fans marched to the tunes, unable to remove them from their heads, and at the 1988 London Gay and Lesbian Film festival, the film was first screened as a sing-along event (A). This idea has made its way into a bonus feature for many a DVD, viewers having the option to display song lyrics across the bottom of the screen (just follow the bouncing von Trapps). The willingness by so many to desire such interactive participation speaks volumes to the film's enormous popularity, and its unique success was cruial for 20th Century Fox. Having just released the infamously overbudget, over-hyped flop Cleopatra (1963), Fox used The Sound of Music for the most practical of purposes — to avoid bankruptcy. As such, who can blame them for the super-sugary product for the masses?
After 1965, the studio tried to further cash in on the film's success, rushing to release three more big-budget musicals in the remainder of the decade — Dr. Doolittle (1967), Star! (1968) and Hello, Dolly! (1969) — none of which did nearly as well. It seems someone forgot to tell them that The Sound of Music was the end of an era, not the beginning. By1966, Hollywood was changing course, and wholesome, epic musicals like The Sound of Music were on their way out, thanks to the arrival of films like Who's Afraid of Virginia Woolf (1967), Bonnie and Clyde (1967), The Graduate (1967), Easy Rider (1969) and Midnight Cowboy (1969). But for the throwbacks in all of us, the nostalgic and the unashamedly sentimental, The Sound of Music will always have a place. It emotes cheer, inspiration and total exuberance of the senses. If we call a spade a spade, but still enjoy singing along, what can be so wrong with that?

Citations:
CITE A: Tim Dirks, AMC Filmsite.org
CITE B: Purdum, Todd (2005–06-01). 'The Sound of Music':40 years of unstoppable success. International Herald Tribune. Retrieved on 2008–04-03.