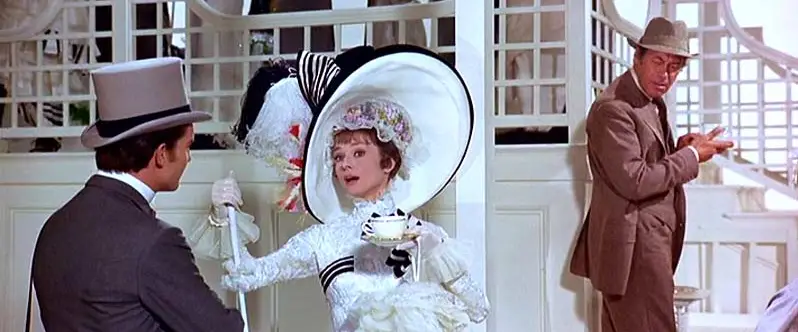 Director: George Cukor
Producer: Jack L. Warner (Warner Bros.)
Writers: George Bernard Shaw (play), Alan Jay Lerner (book of musical play, screenplay)
Photography: Harry Stradling Sr.
Music: Frederick Loewe
Cast: Audrey Hepburn, Rex Harrison, Stanley Holloway, Wilfrid Hyde-White, Gladys Cooper, Jeremy Brett, Theodore Bikel, Mona Washbourne

In the decade between 1958 and 1968, five of the Academy Award winners for Best Picture were musicals, including Gigi (1958), West Side Story (1961), The Sound of Music (1965) and Oliver! (1968), a feat that will likely never happen again. This should give some indication as to the mindset of Jack L. Warner when he paid $5.5 million for the rights to My Fair Lady (A), material that had helped George Bernard Shaw become history's only Nobel and Oscar winner, with the 1913 play and 1938 film Pygmalion, and that had been successfully adapted into a Tony-winning Broadway production in 1956. Producing the first movie musical version of the tale, Warner full expected to be next in line for the honors when the Academy showered his film with eight Oscars, including Best Picture and Best Director (George Cukor).
Director Vincente Minnelli was first offered the reigns to the film, but when his salary demands were too high, the job went to Cukor, who had directed Minnelli's wife, Judy Garland, a decade earlier in A Star is Born (1954), and like Minnelli, made musical magic out of his gay sensibility. For Cukor, the material was familiar, having already directed a non-musical version of the story in Born Yesterday (1950), and he couldn't have asked for a better collaborator that Gigi's Oscar-winning costume designer, Cecil Beaton, who took two Oscars for My Fair Lady, one for art direction, bringing London to life with gigantic set pieces, and one for costumes, cloaking Audrey Hepburn in the most glamorous of outfits. At a cost of $17 million, the most expensive Warner Bros. film to date, it would be the only Best Director Oscar Cukor would win in his storied career. (C)
Eliza Doolittle (Hepburn) is a street rat, a flower girl panhandling for money in a London church courtyard. Upon hearing her ultra-thick British accent, wealthy linguist Henry Higgins (Rex Harrison) is appalled, insisting that it is her speech, not her birth status, that determines her social class. Their chance meeting is as inconspicuous a relationship-starter as it gets, hate at first sight. Before long, Higgins is betting his upper class friend, Col. Pickering (Wilfrid Hyde-White), that he can transform Eliza into a presentable high society girl in time for the king's embassy ball. For six months time, she is to live with Higgins in his mansion, practicing her phonetics and manners day in and day out, in which time pupil and teacher begin to show signs of feelings for one another. But all that goes out the window when, after her successful blending in at the ball, Eliza is shown no gratitude by the gloating, selfish Higgins. Despite worries that she may have to return to a life of rags, she runs away and thinks of marrying a young admirer, Freddy (Jeremy Brett), while Higgins is left scratching his head, wondering what he did and if there is time to win back her affection.
If the Oscar-winning Harrison seems perfect for the part of Higgins it's because it was, having played the snobbish millionaire on Broadway, across stage from then-unknown Julie Andrews. When it came time to do the film, Harrison wanted Andrews to return as Eliza, but Warner, thinking he needed for starpower in his lead, cast Hepburn instead. In the end, Andrews would get the last laugh, winning Best Actress for Mary Poppins instead, and thanking Warner during her acceptance speech "for making this possible." (C) Hepburn went without nomination.
Initially, Warner didn't want Harrison to reprise his stage role either, originally pulling for Peter O'Toole, but settling for Harrison, the future Dr. Doolittle, upon seeing O'Toole's salary demands (A). In addition, the part of Mrs. Higgins, played on Broadway by Cathleen Nesbitt, was instead offered to Oscar-nominee Gladys Cooper, who had recently played the role in a 1963 TV production of Pygmalion. They tried to do the same for the part of Alfred Doolittle, offering it to James Cagney, who pulled out at the last minute and was replaced by Oscar-nominee Stanley Holloway, who had played the part on Broadway (A). Can you imagine Cagney trying to get to the church on time? In hindsight, Holloway seems like the perfect fit, as did Harrison, and one wonders how My Fair Lady would have faired had Andrews been allowed to play the part alongside her Broadway co-stars.
Despite Harrison's initial misgivings about co-starring with anyone other than Andrews, he and Hepburn undeniably clicked for one of the great screen romances in history. The romantic construct is of mythical proportions, the Pygmalion myth dating all the way back to the Greeks. As such, My Fair Lady feels like the fulfillment of a classic rags-to-riches tale that should be told time and again, ironic, considering Hepburn won her first Oscar playing just the opposite, a riches-to-rags tale in William Wyler's Roman Holiday (1953). After dueling hearts with Gregory Peck in that film, with Humphrey Bogart and William Holden in Sabrina (1954) and with George Peppard in Breakfast at Tiffany's (1961), Hepburn was so beloved as a romantic pairing that the mainstream public would've eaten up her performance regardless. As much as the plot follows her transformation into a lady, her romance with Higgins is a tale of his transformation, from a mysogynist asking "why can't a woman be more like a man," to a regretful blaok realizing he's grown accustomed to her face. The story, which carved a path for Richard Gere and Julia Roberts in Pretty Woman (1990), landed as high as #12 on AFI's 100 Passions.
Simultaneously, My Fair Lady stands #8 on AFI's 25 Greatest Musicals, a love story told largely through song, mostly through Harrison's memorable speak-song approach of non-singing singing. As for Doolittle's songs, Warner brought in voice substitute Marni Nixon (West Side Story) to sing all of Hepburn's songs except "Just You Wait," in which Hepburn sang the harsh chorus and Nixon sang the bridge. The dubbing is noticable but not crippling, earning an Oscar for sound director George Groves, who spearheaded the innovation of implanting a wireless mic in Harrison's neckties, the first time such a technique was ever tried on film. Of course, the technical clarity only advanced the achievement so far. Most of the credit belongs to songwriters Frederick Loewe (music) and Alan Jay Lerner (lyrics), a duo who had previously shared an Oscar for their Gigi title song, and who enjoyed My Fair Lady as the first movie musical not to omit any of their stage songs. The numbers roll off one after the other — "Wouldn't It Be Loverly," "With a Little Bit," "The Rain in Spain," "Just You Wait (Henry Higgins)," "On the Street Where You Live," "Show Me," "I've Grown Accustomed to Her Face," "Get Me to the Church on Time" and, of course, "I Could Have Danced All Night," voted #17 on AFI's 100 Movie Songs.
For me, the My Fair Lady songbook is unique, drilled grudgingly into my head in 7th grade drama class, yet oddly catchy enough for my teammate and I to sing "pull out the stopper, let's have a whopper" after football practice (don't ask). Point being, anyone with even the slightest exposure to the arts can recite at least a couple of the songs, the name Eliza Doolittle and the quote "The rain in spain stays mainly in the plain." Even lame reality shows like My Fair Brady keep the references alive, as do notorious spoofers like The Simpsons, where Lisa memorable makes a bet with Bart that she can turn Groundskeeper Willie into a gentleman for the Springfield Elementary science fair. A 2010 remake, written by Emma Thompson and staring Keira Knightley, is currently in the works.
The fact that 46 years later, My Fair Lady is desired to be remade in Hollywood's newly revived obsession with musicals says a lot about the film's cultural impact. As such, in 1997, the AFI voted the film #91 in its Top 100 films, though it was curiously dropped from the AFI's 10th Anniversary list. Perhaps this is because, in hindsight, Mary Poppins seems instead like the best musical of 1964, or that My Fair Lady feels like the complete antithesis of Kubrick's Dr. Strangelove (1964), considered by scholars the best film of that year. Perhaps also My Fair Lady has dated that much, itself seeming a relic of its era, doused in formaldehyde in a certain, almost repellant, demand for reverence. What was once extravagance now seems like dead screentime. And cinematic space that was once called by Cahiers du Cinema's Andre Techine an "astonishing vacuum" nows seems like an empty void that threatens to swallow the entire picture (B). Still, there's no denying My Fair Lady as an important piece of movie history, a snap shot of the way business was once done, a must-see for fans of movie musicals and one of the most memorable of the towering queens of the Oscar night.

Citations:
CITE A: IMDB Trivia
CITE B: 1001 Movies You Must See Before You Die
CITE C: Tim Dirks, filmsite.org