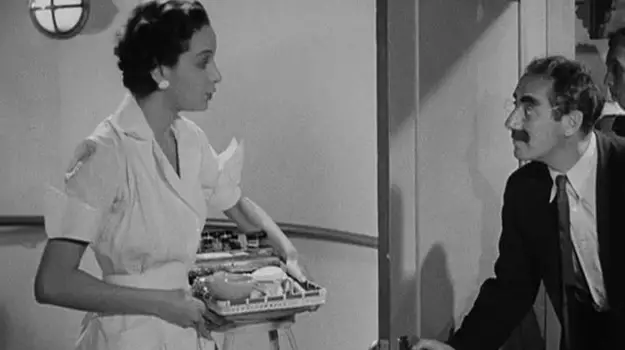 Director: Sam Wood
Producer: Irving Thalberg (MGM)
Writers: James Kevin McGuinness, George S. Kaufman (screenplay)
Photography: Merritt B. Gerstad
Music: Nacio Herb Brown, Walter Jurmann, Bronislau Kaper, Herbert Stohart
Cast: Groucho Marx, Chico Marx, Harpo Marx, Kitty Carlisle, Allan Jones, Walter Woolf King, Sig Ruman, Margaret Dumont, Edward Keane, Robert Emmett O'Connor

On most every best list, the default Marx Brothers selection is Duck Soup (1933). And rightfully so; it's hands down their funniest film. So when the AFI named its Top 100 Films of All Time in 1997, Duck Soup was an obvious shoe-in. Then, in 2007, when it came time for a 10th Anniversary List, the AFI again tapped Duck Soup for the list, only now there was an exciting new addition, yet another Marx Brothers film, the always entertaining and yet odd pairing of music and madcap, A Night at the Opera.
Made just two years after Duck Soup, it came at a rough time for the Marx Bros. Duck Soup had just flopped at the box office and, as a result, Paramount had just terminated their contract. On top of that, the fourth Marx Brother and youngest of the bunch, Zeppo, was out of the gang, leaving just Groucho, Harpo and Chico, which was OK by practically everyone. Enter producer Irving Thalberg, who approached Groucho with the idea of switching to MGM, telling him, "I can make a film with you that would have half as many laughs as your Paramount films, but they will be more effective because the audience will be in sympathy with you." (A) And so A Night at the Opera was born, a comeback of sorts for history's most talented group of comedians.
Back were writers George S. Kaufman, who had made the Marxes stars on Broadway with hits like The Cocoanuts and Animal Crackers, and Morrie Ryskind, who had co-written the play Animal Crackers (along with Kaufman, Bert Kalmar and Harry Ruby), adapted The Cocoanuts for the screen in 1929, and teamed with Kaufman again to adapt Animal Crackers into a 1930 film. Also back was Margaret Dumont, nicknamed "the fifth Marx Brother" for her constant appearances in their films.
Yet even with these familiar players, Opera would veer from the Marxes' usual gag-a-minute approach in favor of a much more "Hollywood" structure, as Thalberg promised. The new format featured musical numbers attached to a romantic subplot of committed love interests — played by opera star Allan Jones, one year before Show Boat (1936), and theater star Kitty Carlisle, who would later become nationally known for her appearances on a series of game shows in the '50s.
Here, the two play lovers and opera singers in Milan. Rosa Castaldi (Carlisle) is already a leading lady, while Ricardo Baroni (Jones) is a talented tenor, yet still "nothing more than a glorified chorusman" still waiting for his big break. Rosa would love for  Ricardo to be her on-stage partner, but instead she has to put up with the sexual advances of her arrogant co-star, Rodolfo Lassparri (Walter Woolf King). Enter finacial adviser trickster Otis B. Driftwood (Groucho Marx), who convinces a widowed millionairess, Mrs. Claypool (Dumont), to invest $200,000 with the New York Opera Company, which allows the managing director, Herman Gottlieb (Sig Ruman), to hire Lassparri and Rosa for a show in New York.
As he and Rosa prepare to make their American debut, Rosa almost gets her wish of Ricardo joining her when Driftwood mistakes Ricardo for Lassparri, thanks to Ricardo's opportunistic manager, Fiorello (Chico Marx). The confusion is straightened out, and Rosa, Lassparri, Driftwood, Claypool and Gottleib embark on an ocean liner across the Atlantic. Little does Driftwood know that Ricardo, Fiorello and Lassparri's fired wardrobe dresser Tomasso (Harpo Marx) are stowed away in his giant trunk. Needless to say, hilarity ensues.
By the time the ship arrives in New York, Lassparri has convinced Gottleib to fire Rosa, simply because she will not return his love for her. So, on the night of Lassparri's grand opera debut, in Verdi's Il Travatore, Driftwood, Fiorello and Tomasso (the Marxes teamed up in all their glory) launch a plan to sabotage the show, drag Lassparri off stage and insert Rosa and Ricardo in his place. The rousing finale finds Groucho in a balcony seat, mocking the play as it goes along, Harpo and Chico inserting themselves as extra conductors, slipping "Take Me Out to the Ballgame" into the sheetmusic and playing baseball with violins, as police and theater security chase Harpo to the point of swinging from the backstage cords and tearing his way down a backdrop.
The anarchy of the finale is classic Marx Brothers, and the new trio (rather than quartet) are at the top of their game. For those who enjoyed Groucho's sexual come-ons and clever put-downs of Margaret Dumont in previous movies, the opening scene of Opera does not disappoint. As she waits for him at a dinner table, we come to find out that he's sitting right behind her, with another woman. When she calls him on it, Grouco replies, "That woman? Do you know why I sat with her? … Because she reminded me of you. … That's why I'm sitting here with you, because you remind me of you. Your eyes, your throat, your lips, everything about you reminds me of you, except you." In the same scene, he tells Gottleib, "I saw Mrs. Claypool first. Of course, her mother really saw her first but there's no point in bringing the Civil War into this." And when Gottlieb promises Claypool, "All of New York will be under your feet!" Groucho jumps in, lifts the tablecloth and says, "Well, there's plenty of room." No one hits 'em like Groucho.
As for Chico, his best scene comes alongside Groucho as the two go over their respectivie copies of a contact and launch into the classic tongue-twisting "Party of the First Part" routine. Rivaling even the best of Abbott and Costello, Groucho and Chico put on a masterclass of comedic acting, tearing off pieces of the contract they don't understand — "the party in the first part shall be known in this contract as the party in the first part." Such a blunt mockery of legalese ends with them both holding tiny slivers of paper and Groucho reading the last line in the document, a sanity clause, to which Chico looks at him and says, "You can't fool me! There ain't no Sanity Clause!" The great irony is, of course, that the Marxes had just had their contract ripped up by Paramount and that Zeppo went on to become an agent.
Which brings us to Harpo, the silent one (an inspiration on South Park's Kenny?). Unlike Groucho and Chico, Harpo does not need the script to feed him dialogue. He only needs it to put him in enough humorous situations to let him do his slapstick thing. Alec Baldwin says that Harpo, in A Night at the Opera, is good enough to make you cry. (D) If you're an actor, perhaps, yes, you'll cry at the brilliance. If you're a regular joe, maybe you'll cry, but only out of laughter, as Harpo torments Lassparri by trying on his costumes; pleases children by smashing his hand in a piano and spinning his stool; trims the beards off three famous Russian aviators, makes breakfast sandwiches out of cigars and coffee cups, and literally runs up an opera house backdrop in a feat that will forever blow my mind.
Amidst all this mayhem, Carlisle and Jones seem lost, even while lending their fine voices to all their own songs. As the ocean liner leaves port with Carlisle on deck and Jones on shore, they sing the duet "Alone," written by Nacio Herb Brown (music) and Arthur Freed (lyrics). And, while a stowaway, Jones launches into "Cosi Cosa," written by Kaper and Jurmann (music) and Ned Washington (lyrics), a song that gets the whole deck dancing and sets up Chico to tickle the ivories and Harpo to play the harp.
Still, to be quite honest, the musical numbers, no matter how good, seem out of place with the Marx Bros. antics. Roger Ebert admits even to fast forwarding through such nonsense. Now I'm not advocating it, except that I am. It's one of the biggest criticisms in the career of director Sam Wood. While he brought us Goodbye Mr. Chips (1939) and The Pride of the Yankees (1942), he also hamstrung the Marx Bros. with the constraints of highbrow music and romance, stuff that was only there in mockery in the Paramount days. In fairness, Wood does provide some directorial touches that help the comedy. On several occasions, he employs a fast-motion, as Harpo descends a spiral staircase, or as the guys come crashing out into the hallway in the famous stateroom scene. But more than this, he cleverly constructs the adjoining rooms scene, where the camera sits back and looks at a cross-section of the two rooms, as a plainclothes cop follows Groucho back and forth between the rooms desperately trying to figure out how Harpo and Chico keep rearranging the furniture (through a fire escape). If only Wood kept the camera at the cross-section the whole time, rather than cutting in for medium shots. Can you imagine it in long take?
It's in part due to Wood and Thalberg that the screenplay was adapted into a stage version that could be taken on the road to test various scenes on audiences before the film was actually released. (A) This concept, while ambitious, almost proved detrimental to the film, as it almost led to the cutting of the film's greatest scene, the aforementioned stateroom scene. It begins with a bellhop pushing Groucho's massive trunk (with him riding it) to the tinest of rooms. With the trunk occupying half the room, Groucho hilariously says, "Wouldn't it be simpler if you just put the stateroom in the trunk?" When he opens the trunk to reveal Harpo, Chico and Jones as stowaways, it's only the beginning. One by one, they are joined by various, and hilariously random, guests, including two maids, a manicurist, an engineer, an engineer's assistant, a girl looking for her aunt, a janitor ready to mop up and four waiters each carrying a tray of food. By the time Claypool arrives to open the door, the occupants come barreling out into the hallway. Silent film comedian Buster Keaton is believed to have contributed to the choreography of the scene, as he had performed a similar changing room bit in The Cameraman (1928). (C) Needless to say, it's the Marx Brothers' scene that became legend.
Rarely does one comedy scene ever become so engrained in our pop culture. But flip on the TV and there's a good chance you'll see the stateroom scene spoofed. The finale of the Michael Keaton movie Mr. Mom (1983) copies the scene quite overly. In an episode of Seinfeld, the four main characters become jammed into a closet in a clear homage, and in episode of The Bob Newhart Show, a bunch of people crowd into Bob and Emily's tiny oceanliner cabin, which prompts Howard to say, "Has anyone here seen A Night at the Opera?" Even children's shows make reference, like The Suite Life of Zack and Cody, where a bunch of people come flying out of a packed closet, or That's So Raven, which titled an episode "A Fight at the Opera."
Elsewhere, Night Court had an episode "A Night Court at the Opera." Rob Zombie named a character Otis B. Driftwood in The Devil's Rejects (2005). In Woody Allen's Love and Death (1975), in the scene where Boris and Sonia meet Napoleon and bow to say "it is a greater honor for me," it's a loving homage to the scene where Groucho introduces Mrs. Claypool to Gottleib. Cyndi Lauper recreated the stateroom scene in her music video for "Girls Just Want to Have Fun," as did Sting for his music video for "All This Time." And perhaps most intriguing, after watching the film one night at the recording studio, Queen decided to name their 1975 album "A Night at the Opera," an album that include monster hits like "You're My Best Friend" and "Bohemian Rhapsody."
The continued pop culture references only signify how funny the film's classic moments remain even today. Some 70 years later, it's hard to fully imagine the hillarity of such moments to audiences in the 1930s. For a glimpse, here's Jean-Michel Frodon, Senior Editor on cinema at the French daily Le Monde: "I was very young, not much more than ten years old, when I walked into a cinema in France to watch A Night at the Opera–or, more precisely, was sent there by some adult who knew as little as I did about the Marx Brothers. At my age, reading the subtitles was still rather difficult, especially when this jumping character with a moustache and a cigar was shouting words to the audience like a crazy machine gun. But I had very little time to worry about this problem: I was lying on the floor, laughing so hard, so irrespressibly, and, if I may say, so absolutely that I spent most of the movie on the ground beneath the seats." (B)
Still, I can't help but feel that today's audiences are less enthused about A Night at the Opera, at least judging by their voting in the IMDB Top 250 and the Empire Top 201, where the film is absent. Still, the most disappointing absence comes on BRAVO's 100 Funniest Films, for while mainstream voters of IMDB and Empire are almost expected to leave out classics, a network of programmers should have more responsibility. The BRAVO list does not include a single Marx Bros. film, while the AFI's 100 Laughs includes five: #5 Duck Soup, #12 A Night at the Opera, #59 A Day at the Races (1937), #65 Horse Feathers (1932) and #73 Monkey Business (1931).
The irony is that A Night at the Opera is itself a rebellion against the very highbrow art that a list like BRAVO also appears to rebel against. Note Groucho's disdain for high art as his horse-drawn carriage pulls up to the opera house and he asks a doorman, "Is the opera over  yet?" When he learns it is not over, he turns to the carriage driver and says, "Hey you. I told you to slow that nag down. On account of you I almost heard the opera!" Seeing as Groucho is such a champion for lowbrow humor (clever, but still lowbrow), perhaps the problem is not BRAVO's disdain for the highbrow, but rather a bias against old films. Shame on you. Your list could have inspired a new generation to seek out timeless treasures.
So let me grab the ear of all who will listen. If you have the opportunity to watch only one Marx Bros. film, make it Duck Soup, simply because it's more likely to please the vast majority with its zany, laugh-a-minute set-up. However, if you have patience enough to sit through a few opera numbers, or know how to work a fast forward button, you may prefer A Night at the Opera. That stateroom scene is just too golden. As is the "party in the first part" bit. As is the opera house sabotage. At the very worst, you'll have become more cultured just by watching it, more in tune with the history of comedy. At the very best, you'll have found a new favorite film as you fall on the floor in fits of laughter. Say hi to Frodon while you're down there.

Citations:
CITE A: Criterion Collection laserdisc, MGM, Janus Films, 1987, Leonard Maltin exerpt
CITE B: 1001 Movies You Must See Before You Die
CITE C: Tim Dirks, filmsite.org
CITE D: Turner Classic Essentials intro with Robert Osborne and Alec Baldwin