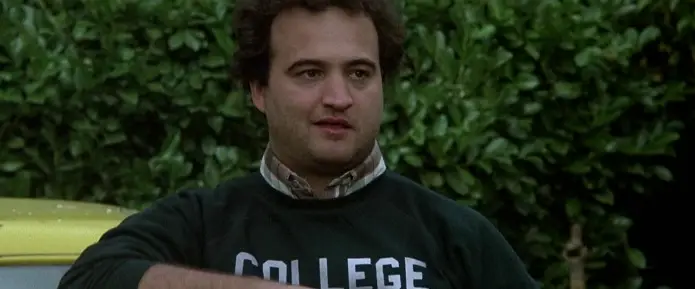 Director: John Landis
Producers: Ivan Reitman, Matty Simmons
Writers: Harold Ramis, Douglas Kenney, Chris Miller
Photography: Charles Correll
Music: Elmer Bernstein
Cast: John Belushi, Tom Hulce, Stephen Furst, Mark Metcalf, Mary Louise Weller, Martha Smith, James Daughton, Kevin Bacon, Douglas Kenney, Chris Miller, Bruce Bonnheim, Karen Allen, Donald Sutherland, James Widdoes, Tim Matheson,  Peter Reigert, Bruce McGill, Joshua Daniel, John Vernon, Verna Bloom

"OK, don't write this down, but I find Milton probably as boring as you find Milton," says Donald Sutherland's Prof. Jennings while teaching poet John Milton to his class. "He's a little bit long-winded, he doesn't translate very well into our generation and his jokes are terrible."
Roughly the same thing could be said for many classic comedies, today's youth finding them slow, unfunny and out of touch with their current generation. Thankfully, the exact opposite is true for Animal House, a comedy that remains as funny and relevant today as it was in 1978. Even in the 21st century, one can take a tour of any college and still find Animal House DVDs on the dorm shelves, John Belushi posters on the apartment walls and  "C-O-L-L-E-G-E" sweatshirts parading around campus.
This kind of lasting appeal is largely because the film presents a timeless subject, in that as long as there is college, there will always be frat parties. And no party will ever compare to those thrown by the fictional Faber College's 1962 Delta fraternity in John Landis' beloved comedy.
We get twin fishbowls standing in as a pair of boobs on a wall painting, a motorcycle gunning it up the frat stairway, kegs flying out the upstairs window and a live cow making its way out the front door. Over the last 30 years, this literal "animal house" has earned an almost mythical place in pop culture, serving as both the definitive spoof of, and homage to, the college party scene.
Fittingly, its roots trace back to Harvard University's controversial humor magazine, the Harvard Lampoon, co-founded by Animal House screenwriter Douglas Kenney. In 1970, the publication became National Lampoon magazine and soon began exploring other media outlets, including The Radio Hour, which launched such careers as Chevy Chase, Gilda Radner and Bill Murray, while laying the groundwork for Saturday Night Live (1975).
But just about the time Kenney was ready to quit show biz, fellow SNL-alumnus and former Playboy joke editor Harold Ramis came to him with the idea of doing a movie (CITE DVD). After a script about high schoolers titled Laser Orgy Girls was rejected, the story was moved to college, where Kenney, Ramis and former Lampoon writer Chris Miller recalled all the wild experiences of their collective college pasts. The result was Animal House, a film loosely based on guys they knew, but moreover based on guys we all know in a sense. (A)
There's the innocent freshmen having to deal with sudden freedom, Flounder (Stephen Furst) and Pinto (Tom Hulce, Amadeus), the former of which nervously asks a poker table, "You guys playing cards?," the latter of which undergoes a side-splitting battle of conscience when a girl passes out in his room. There's also the ultimate ladies man, Otter (Tim Matheson), who famously seduces the dean's wife in the supermarket using a cucumber. And, most memorably, there is the overweight, drunken pig, Bluto (Belushi), who sets new standards for failure with a G.P.A. of 0.0.
Belushi became an instant star after the show-stealing role that provided so many memorable antics — impersonating a zit in the cafeteria, "stealthily" creeping up to a campus building for a prank, silencing a kumbaya guitarist, crushing beer cans on his head and delivering a hilariously misguided inspirational speech, "Nothing is over until we decide it is! Was it over when the Germans bombed Pearl Harbor? Hell no!" (Note: his post-speech run is just as funny as the speech itself).
Of course, some of the film's antics — especially the climatic homecoming parade sabotage — are way over-the-top and utterly hard to believe. However, it's a style viewers must accept, for in the world of the screwball comedy, exaggeration a given. And even if there are naysayers on that front, even they can't doubt Animal House's place as a true trend-setter. Not only did it launch the careers of countless actors — Belushi, Matheson, Hulce, Peter Riegert, Karen Allen, Bruce McGill, Mark Metcalf, Kevin Bacon  — it also launched a new genre entirely in the teen sex comedy. Its plot points are emulated repeatedly — students making out on the football field (you're welcome Fast Times at Ridgemont High); young guys going to great lengths to see nude girls (you're welcome American Pie); a spontaneous weekend trip to another college (you're welcome Road Trip); and the university dean trying to revoke their charter (you're welcome Old School).
The most oft-copied aspect may be the film's central plotline — the "us vs. them" clique set-up (Breaking Away, Revenge of the Nerds) — here featuring dueling frat houses in the laid-back Deltas and the up-tight Omegas. Viewers are presented both sides from the viewpoint of potential pledges, and the contrast immediately draws favor with the Deltas. Honestly, who would prefer Bacon's paddle-spanking initiation over a toga party? The latter even featured a hot doo-wop band, the fictional Otis Day & The Knights, performing a cover of the Isleys' "Shout." The show-stopping performance is one of many great oldies on the soundtrack, from Sam Cooke to The Kingsmen, though the catchiest of all may be The Knights' original "Shama Lama Ding Dong." Legendary composer Elmer Bernstein rounds it all out with his mockingly triumphant "Faber College Theme."
This issue of mockery, as opposed to sheer glorification, is vital to any analysis of the film, as it opens the discussion to the difference between reality and fantasy. When Bluto complains, "Man, seven years of college down the drain," it's both wildly funny and sadly pathetic. We know it's not what we want to do with our lives, but it humors us to see the personification of recklessness in this fantasy film world. Tragically, the reality of the situation is ever-sobering, Belushi dying of a drug overdose less than four years later, and a suicidal Kenney falling to his death off a cliff during a downward spiral of cocaine addiction. At some point, a choice faces all of us — to drink up or grow up — and in the end, only moderation prevails. The great thing about the movies is that reality doesn't always matter, allowing us to enter a world where anti-moderation is the law of the land and a well-timed joke is king. Thank you Animal House, for delivering on both.

Citations:
CITE A: DVD Special Features