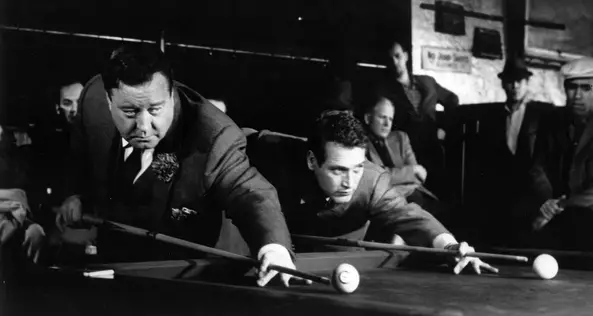 Director: Robert Rossen
Producer: Robert Rossen (Fox)
Writers: Walter Tevis (novel), Sidney Carroll and Robert Rossen (screenplay)
Photography: Eugen Schufftan
Music: Kenyon Hopkins
Cast: Paul Newman, Jackie Gleason, Piper Laurie, George C. Scott, Myron McCormick, Murray Hamilton, Michael Constantine, Stefan Gierasch, Clifford A. Pellow, Vincent Gardenia, Willie Mosconi, Jake LaMotta

"You have the best excuse in the world for losing; no trouble losing when you got a good excuse. Winning… that can be heavy on your back, too, like a monkey. You'll drop that load, too, when you got an excuse. All you gotta do is learn to feel sorry for yourself. One of the best indoor sports, feeling sorry for yourself. A sport enjoyed by all, especially the born losers."
There's something almost lyrical in the whole concept of pool: that crack of a clean break, balls clanking into the pockets and rumbling down the return chutes, the smell of chalk wafting into a cloud of smoke, rising above the low-hanging table lamps, a pile of cigarette butts collecting at the feet of an eager watcher with money on the line, and two tested sharks, with oil in their arms and nerves in their cues, matching eachother ball for ball, straddling that thin line between winner and loser, greatness and goat, the poolhall as both a quiet sanctuary and a gambler's morgue where "those tables are the slabs they lay the stiffs on." Director Robert Rossen had always liked the game as dramatic material, penning the play Corner Pocket. But when Walter Tevis published his novel The Hustler 20 years later, Rossen bought it right up and took it to Fox, where a young Paul Newman got his breakthrough in the type of role that used to go to Brando, the type that would have gone to James Dean if he were still living then, the role of a self-destructive, anti-hero pool hustler, "Fast" Eddie Felson.
Working under elderly manager, Charlie Burns (Myron McCormick), Eddie has a con routine going of faking himself a drunk, sure-to-miss pool player who chalks his surprisingly masterful shots up to luck before taking the poor suckers' money. Bursting with confidence, Fast Eddie arranges a showdown with fellow shark Minnesota Fats (Jackie Gleason), who carries both the ability to "shoot the eyes right off them balls" and the reputation of being "the best in the country." Within a few seconds of watching Fats, Eddie is visibly impressed — "Look at the way he moves. Like a dancer. … That stroke, like he's playin' a violin" — and his admiration for his opponent only fuels his own confidence. In a 36-hour match, Eddie wipes the felt tables with Fats, that is for the first half, before cockiness and greed move him to a druken, exhausted man squandering away the game, his savings and the frienship of long-time partner Charlie.
Cue sleazy entrepreneur Bert Gordon (George C. Scott), who swoops into Eddie's life for a 75-percent-of-all-profits managerial job, telling Eddie that his lack of character and self-control are hindering his amazing talent, a positive message for any sports movie, but a crock out of Bert's mouth, seeing as he himself is the ultimate characterless weasal. In the meantime, Eddie strikes up a less-than-healthy relationship with an alcoholic, aspiring writer, Sarah Packard (Piper Laurie), who wants more than a sex-based relationship she describes as "a contract of deprivity; all we have to do is pull a blind down." She wants to be more than just another of Eddie's hustles, to change Eddie's nature and in turn heal herself. This, of course, draws the battle lines between she and Bert over the rights to Eddie's soul, a conflict that moves toward a tragic conclusion during a climatic gambling trip to Louisville.
With such themes of Eddie's lifestyle, "The Hustler" seems the only suitable choice for the title. Interestingly, Fox executives changed the name to "Stroke of Luck" and later "Sin of Angels," fearing audiences would get the impression that it was a movie about prostitution. In the end, the original title made a comeback, and The Hustler became the surprise hit of 1961. The film earned nine Oscar nominations, but winning only two in a year dominated by West Side Story.
Those two wins were fitting, however, going to cinematography and art direction in a film thriving on its atmosphere. Eugen Schufftan's Cinemascope photography is arguably the most memorable aspect of the film, capturing in stark black-and-white the moody space of the pool halls, all shot on-location in and around New York, most famously at the Ames Billiard Academy at 44th and Broadway. Adding to the authenticity are cameo appearances by boxing great Jake LaMotta (as a bartender) and 14-time billiards champ Willie Mosconi (as a character named Willie). Credited as the film's "Technical Advisor", Mosconi is the one who performed the tricky "masse shot" (where the cue ball knocks two object balls into the same pocket), though he left the rest of the shots in the film to Newman and Gleason, whom he trained throughout.
With several of the shots unfolding in long-takes, one really gets a sense of just how skilled these two actors were with the cue sticks, a popular story telling of Newman's confident challenge of Gleason to a $50 game, in which Gleason ran the table 50 balls in a row (A). That the actors would be so accomplished at the table only mirrors their brilliance throughout, as The Hustler earned a rare four acting nominations (Newman, Gleason, Scott and Laurie). For Laurie, it was the first of three Oscar nominations, as the mother in Carrie (1976) and later in Children of a Lesser God (1986).
For Gleason, it was a chance to show audiences a different side, casting against type from his "Baby you're the greatest" role in the TV sitcom The Honeymooners. For Scott, in just his third film (The Hanging Tree, Anatomy of a Murder), it was further seasoning on a rising career, his persona described by Newman as " electric, unpredictable, with a marvelous sense of threat and danger." And then there was Newman himself, who, on the rise after his Oscar-nominated Cat on a Hot Tin Roof (1958), used "Fast Eddie Felson" to make his iconic stamp, launching a powerful decade that saw title roles in Hud (1963), Cool Hand Luke (1967) and Butch Cassidy & The Sundance Kid (1969). Though Newman criticized himself for "working too hard, showing too much" in The Hustler, he would get a second chance at the role in Martin Scorsese, Tom Cruise sequel, The Color of Money (1986), which after seven empty nominations finally bagged him the Oscar. Such may be why Newman bigorapher Eric Lax wrote," Newman is Fast Eddie, and no one else ever could be." (A)
After the success of its sequel and the triumph of Newman, The Hustler would forever have its place in pop culture, adding the term "born loser" into the English language and becoming a watermark film for sports fans (Voted in Sports Illustrated's Top 25 Best Sports Movies). But rather than a superficial, trick-shot pool movie, The Hustler would take it to a level beyond most sports films, entering the realm of a deep thematic work, achieved by careful direction and a dynamite script. The screenplay was voted No. 96 on the WGA's Top 101 Screenplays, partly for its snappy dialogue — "There's no tomorrow, not with you. You own all the tomorrows because you buy them today, and you buy cheap" — but more-so for its exploration of self-destruction, lifestyle choices, inner demons and redemption through tragedy. In this film, hustling is more than a means of profit. It's a way of living, of treating women, of masking one's own "perverted, twisted, crippled" soul, as Sarah says to Eddie, warning of his ways and his company before ultimately succumbing to those things herself, writing that damning trifecta of words in fatal lipstick on a mirror.
That particular mirror shot, implying Sarah's own intraspection that causes her to condemn herself by writing those words on top of her own reflection, is one of many beautifully-crafted shots throughout the film. Granted, Rossen will never go down in history as one of the preeminent filmmakers of his day, more remembered for his naming-of-names during the McCarthy investigations. But one can't deny his occasional hits, like writing The Roaring Twenties (1939) and directing All the King's Men (1949) to the Academy Award for Best Picture. And even if the overall Rossen "vibe" is one of a second tier filmmaker, then he at least steps up to a momentary level of brilliance in The Hustler.
In addition to his shaping the film's seedy atmosphere, his cutting of the pool sequences, his long-takes revealing a real degree of difficulty and skill, his brutal shot of Eddie's face being smashed up against glass and the low-angle dominance he gives George C. Scott, Rossen shines extra bright in all scenes related to Eddie and Sarah, giving extra attention to the doomed relationship at the heart of the film. One particular love scene stands out, the camera looking into through a pair of window shutters which Eddie opens to begin the scene (a long-take) and then closes to end the scene. At another point, Sarah finds Eddie in a coffee shop, her subjective camera looking across a row of empty tables to see Eddie alone in the far right of the frame, an example of Rossen's ability to use the frame's horizontal space to convey the idea of Eddie's loneliness (such compositions would not work if the film were shown in anything but widescreen).
Similarly, Rossen also demonstrates an ability to convey meaning with his depth of field (the three-dimensional space). The best example of this, of course, comes in the scene where Sarah is sexually tempted by Bert, he opening his bedroom door to peer across the hall and see Sarah, small in size and dressed all in black, sitting on her bed in her room. Essentially, the composition seperates the two by two doorways, barriers that up the sexual tension (as John Ford does in The Searchers). But adding into the sexual equation is an image of sadness and manipulation, Bert large in the foreground, Sarah small and vulnerable in the background. It's these images of Sarah that really stick, and where Rossen really succeeds. It's hard to shake that image of her, obviously inebriated, taking a slow walk down the stairs, enveloped in the shadows of the railing as she makes her literal and figurative descent.
While the doomed Sarah angle provides plenty of themes for Rossen to mine, it will have a slightly different impact on first-time audiences. In fact, the entire film may be surprisingly less accessible than one would first think about a "sports film." This is because the story essentially follows a group of flawed, unlikable, anti-heroic characters on its way toward a tragic downer just before the final pool game, at which point any redemption on Eddie's part is immediately clouded in glum overtones. But what makes a slightly unsettling first viewing often times is the very reason it is a masterpiece in the long run, and the same holds true with The Hustler. Viewers will no doubt come away from the first viewing recognizing Newman as a power performer, but it almost takes a second viewing and further contemplation to find the thematic significance in this talk of masks, flaws, losers, excuses and lives devoted to the hustle.

Citations:
CITE A: DVD booklet