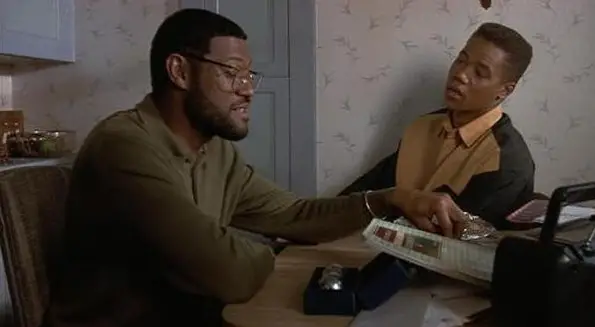 Director: John Singleton
Producer: Steve Nicolaides (Columbia)
Writer: John Singleton (screenplay)
Photography: Charles Mills
Music: Stanley Clarke
Cast: Laurence Fishburne, Cuba Gooding Jr., Ice Cube, Angela Bassett, Morris Chestnut, Nia Long, Regina King, Tyra Ferrell, Kenneth A. Brown, Ceal, Darneicea Corley, John Cothran Jr., Na'Blonka Durden, Susan Falcon, Jessie Lawrence Ferguson, Dedrick D. Gobert, Regi Green, Tammy Hanson, Desi Arnez Hines II, Baha Jackson, Donovan McCrary, Valentino D. Harrison, Dee Dee Jacobs, Don Nelson, Kirk Kinder, Meta King, Alysia Rogers, Lenear Lane, Leonette Scott, Vonte Sweet, Baldwin C. Sykes, Raymond D. Turner, Yolanda Whittaker

Many experts have made strong cases that HBO's The Wire (2002-2008) is arguably the greatest television drama of all time. Indeed, you won't find another show that so brilliantly dissects an American city like this show did for my beloved Baltimore. Its influence was blatantly apparent in 2013 cinema, as Stringer Bell starred in Mandela: Long Walk to Freedom, Wallace starred in Fruitvale Station, Bubbles starred in The Spectacular Now and Omar starred in Twelve Years a Slave.
In fact, it was Omar himself, actor Michael K. Williams, who made this admission during the 2014 SAG Awards: "I knew I wanted to become an actor the first time I saw Boyz n the Hood by John Singleton. I wanted to speak to, speak for and touch people in my community the way that movie touched me." (A)
Boyz n the Hood is a spirited, realistic and surprisingly sentimental look at youth growing up in a world of violence in South Central Los Angeles. Looking back a quarter century later, the plot may feel predictable, where you can guess which characters are going to die. But this is only because it's been repeated by countless imitators: Juice (1992), South Central (1992), Menace II Society (1993), Poetic Justice (1993), Dangerous Minds (1995), Friday (1995) and the Wayans Brothers' spoof, Don't Be a Menace to South Central While Drinking Your Juice in the Hood (1996). In order for something to be cliche, it must have been done time and again. Boyz n the Hood was the trend setter.
The story centers around young Tre Styles (Desi Arnez Hines II), who constantly acts up in school.
Soon, his mother (Angela Bassett) sends him to live with his father, Furious Styles (Laurence Fishburne).
Once there, Tre receives all the fatherly nurturing he needs, from the tangible discipline of household chores to the subtle cultural lessons of singing "O-o-h Child" on the car radio with his dad.
The most memorable father-son moment comes during a fishing trip where Furious quizzes Tre on his three rules: (a) always look a person in the eye, (b) never be afraid to ask your father for anything, and (c) never respect anyone who doesn't respect you back. The conversation also includes a lesson in parental responsibility: "Any fool with a dick can make a baby, but only a real man can raise his children." This same message was given by then-candidate Barack Obama in 2008: "For the African-American community… it means taking full responsibility for our own lives — by demanding more from our fathers, and spending more time with our children." No matter what you think of his presidency, we can objectively view this speech, titled "A More Perfect Union," as the turning point in his election.
These words of wisdom bear fruit with Tre, who manages to grow into a handsome, intelligent young man (played by Cuba Gooding Jr. in his debut role). He develops a loving relationship with sweetheart Brandi (Nia Long) and tries to balance friendships with positive influences — like the polite high school football star Ricky Baker (Morris Chestnut) —  and negative influences like the gun-slinging Doughboy (Ice Cube), who runs with a crowd of 40-drinking, trigger-happy street gangs.
As the gang violence increases, tragedy strikes Tre's circle of friends, forcing Tre to make a decision to either join in the killing or stay above the fray. All that Furious can do is sit back and see if Tre's upbringing made enough difference for him to pass a moral test. And we the viewers sit in waiting, too, sharing the same anxiety as Furious shuffles metal stress balls in his hands, awaiting the outcome.
Tre's journey is the crux of the story, and thus the entire success of the film hinges on the performance of young Cuba Gooding Jr., who carries the film in his debut role. There's no way he would have beaten Anthony Hopkins' Hannibal Lecter for Best Actor that year, but his lack of at least a nomination is shameful. When he won the Oscar five years later for Jerry Maguire (1996), it was a celebration of a bright young career that had started in Boyz n the Hood.
Still, one could argue that Boyz in the Hood benefited Cube even more than Cuba, laying the blueprint for Ice Cube's entire Friday series (1995-2008) and enabling the success of Barbershop (2002) and Barbershop 2 (2004). The successful leap from N.W.A. rapper to big-screen star paved the way for countless other rapper-turned-actors, including 2Pac (Juice), LL Cool J (Any Given Sunday), Snoop Dogg and Dr. Dre (Training Day), Eminem (8 Mile), DMX (Cradle 2 the Grave), 50 Cent (Get Rich or Die Tryin'), Nelly (The Longest Yard) and Ludacris (Crash). And yet, no matter how many followed, none could top Ice Cube's signature line, "Domino motherfucker," which became the stuff of urban legend and the stuff of Dr. Evil spoof in Goldmember (2002).
Viewers will also recognize countless other familiar faces: Nia Long (The Fresh Prince of Bel Air), Regina King (Friday), Morris Chestnut (Ladder 49), Tyra Ferrell (White Men Can't Jump), even Chris Tucker (Rush Hour) as Gangster #3. The influx of this new talent represented a long overdue moment where young black actors finally got a chance to shine.
It also allowed many mature black performers to find more quality roles. Then 33-year-old Angela Bassett quickly became the best black actress of her time, finding success under John Sayles in City of Hope (1991) and Passion Fish (1992), as well as a huge box office draw in Waiting to Exhale (1995) and How Stella Got Her Groove Back (1998). She went on to play a series of real-life women in important black biopics: Michael Jackson's mother in the TV movie The Jacksons: An American Dream (1992), the wife of a civil rights icon in Spike Lee's Malcom X (1992), the Emmy-nominated lead in The Rosa Parks Story (2002) and an Oscar-nominated turn as Tina Turner in What's Love Got to Do With It (1993).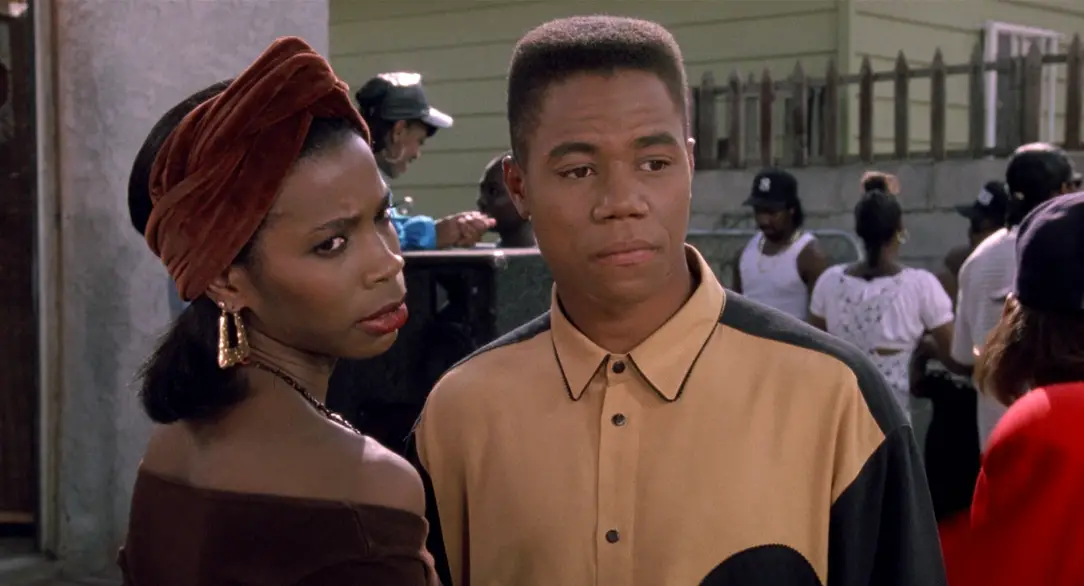 The Ike to her Tina was Laurence Fishburne, whose Oscar nomination was a makeup for Boyz n the Hood. Fishburne's career had begun at age 14 as the doomed boat gunner in Francis Ford Coppola's Apocalypse Now (1979). He went on to appear in Rumble Fish (1983), The Cotton Club (1984) and Gardens of Stone (1987), but it was Boyz n the Hood that cemented him as one of the best adult actors of his generation. Even after The Matrix (1999) and Mystic River (2003), his career role will forever be Furious Styles, as millions of viewers looked to him as the ultimate father figure, whether it was youth growing up without a father, or young daddies trying to follow his example. It was a "tough love" alternative to the more goofy approach by Bill Cosby in The Cosby Show (1984-1992), proving you could still be a good father without the doctor/lawyer money of the Huxtables.
While Boyz n the Hood stands as an important commentary on the black father-son relationship, the film can't escape feminist critique. One of the big knocks on Boyz n the Hood, and the genre it created, is that it suggests the only answer to a proper upbringing is the presence of a strong male parent. Vivica A. Fox mocks this idea in Don't Be a Menace to South Central While Drinking Your Juice in the Hood (1996), saying, "God forbid there be any strong women in these films."
This argument is fair when taking the genre as a whole. But in Singleton's defense, he does include several moments of feminist truth, including Regina King's complaint, "Why every time you talk about a female you gotta say 'bitch' or 'ho' or 'hoochie?'" You should also note Bassett's reminder to Fishburne, "What you did is no different from what mothers have been doing from the beginning of time. It's just too bad more brothers won't do the same." 
Thus, it appears Singleton's heart is in the right place. His material may simply slant toward the male perspective because the story is based on his own experience of going to live with his disciplining father at age 12. Singleton earned Oscar nominations for both writing and directing, a landmark in its own right, instantly joining Spike Lee as the two most important black directors since Gordon Parks (Shaft). While actor Sidney Poitier had broken barriers in a world of white directors, Lee and Singleton were now creating their own films and bringing a voice to a group of people who until then had none.
The late '80s and early '90s were just waiting for Lee and Singleton to come along. Things had reached a real breaking point in the black community, as the country was on the verge of Rodney King and the L.A. riots of 1992. It was amidst this racial tension that Singleton emerged from film school and, at the young age of 23, wrote and directed Boyz n the Hood as his filmmaking debut. For many black viewers, the film was a long-awaited presentation of the lives they lived everyday. For many white viewers, it was a journey into an inner-city world that they had never seen, full of street-corner dialogue, in-your-face violence and a corrupt LAPD, hauntingly present with the sound of overhead choppers — a technique copied in the French film Ma 6-T va cracker (1997). (B)
This awareness factor alone makes the film worthy of Entertainment Weekly's ranking as No. 66 in its Greatest Movie Moments. As Cal Poly professor Josh Sides writes in his essay Straight into Compton, "The novelty of the 'hood films of the 1990s was their naming and claiming of specific places, and in this sense, the genre served as the visual counterpart to the hip-hop music of the era." (C) You'll notice that Compton, Crenshaw and other neighborhoods pop up in dialogue and on T-shirts throughout the film. Even the film's title is taken from a track off the first N.W.A. album, maintaining a keen connection between the street, its music and now, for the first time, its films.
Not only does Singleton serve as filmmaker, he also plays the role of political activist. In the beginning of the film, a group of kids discover the body of a young black male gunned down in front of campaign posters for Reagan-Bush '84. Regardless of whether you voted for this ticket or not, it's Singleton right as filmmaker to express his view that many poor folks were left out of trickle-down Reaganomics and encumbered by the War on Drugs. This message also appears in The Butler (2013), as Ronald Reagan (Alan Rickman) tells Cecil Gaines (Forest Whitaker) that despite doing what he thinks is right economically, he fears being on the wrong side of history when it comes to race relations.
Such statements are clearly controversial, but they display cinema's power in expressing a point of view. This activism is most obviously on display as Fishburne gives Tre and other street-corner youths a lecture on gentrification, drug presence and gun control:
RICKY: I don't know about all this, Furious. Walkin' around motherfuckin' Compton and all, man.
FURIOUS: Rick, it's the '90s. Can't afford to be afraid of our own people anymore, man.
FURIOUS: Would you two knucklehads come on? I want you all to take a look at that sign up there. See what it says? 'Cash for your home.' You know what that is? … It's called gentrification. It's what happens the property value of a certain area is brought down. They bring the property value down, they can buy the land at a lower price, then they move all the people out, raise the property value, and sell it at a profit. Now what we need to do is keep everything in our neighborhood, everything, black. Black owned with black money. Just like the Jews, the Italians, the Mexicans and the Koreans do.
OLD MAN: Ain't nobody from outside bringin' down the property value. It's these folks, shootin' each other and sellin' that crack rock and shit.
FURIOUS: Well how you think the crack rock gets into the country? We don't own any planes. We don't own no ships. We are not the people who are flyin' and floatin' that shit in here. I know everytime you turn on the TV that's what you see, black people, sellin' the rock, pushin' the rock, pushin' the rock. Yeah, I know. But that wasn't a problem as long as it was here. It wasn't a problem until it was in Iowa and it showed up on Wall Street where there are hardly any black people. And if you wanna talk about guns. Why is it that there's a gun shop on almost every corner in this community?
OLD MAN: Why?
FURIOUS: I'll tell you why. For the same reason that there's a liquor store on almost every corner in the black community. Why? They want us to kill ourselves. You go out to Beverly Hills, you don't see that shit. But they want us to kill ourselves. Yeah, the best way you can destroy a people is if you take away their ability to reproduce themselves. Who is it that's dyin' out here on these streets every night? Y'all. Young brothers like yourselves.
YOUNG KNUCKLEHEAD: What am I 'posed to do? Fool roll up and try to smoke me, I'll shoot the motherfucker if he don't kill me first.
FURIOUS: You're doing exactly what they want you to do. You have to think young brother. About your future.
While various political parties will disagree on how to go about it, all viewers can rally around Singleton's central message to "increase the peace." He achieves this theme in the very opening, slapping everyone in the face with a horrifying statistic: "One out of every 21 Black American males will be murdered in his lifetime," followed by a pleading symbol of a bright red "STOP" sign.
Boyz n the Hood calls for changes in both policy and parenting, helping young kids like Tre grow from boyz to men. And yet, despite the film's hope for Tre, it can end in no other way but tragedy, as Ice Cube says, "Either they don't know, don't show, or don't care about what's going on in the hood." Singleton made sure to show it; now it's up for us to care.

Citations:
CITE A: 2014 SAG Awards broadcast
CITE B: p. 273 of Cinema and the City
CITE C: p. 101, John Sides' "Straight into Compton" from the anthology Los Angeles and the Future of Urban Cultures, edited by Raul Homero Villa and George J. Sanchez. A special issue of American Quarterly, the Johns Hopkins University Press, Baltimore and London, 2005