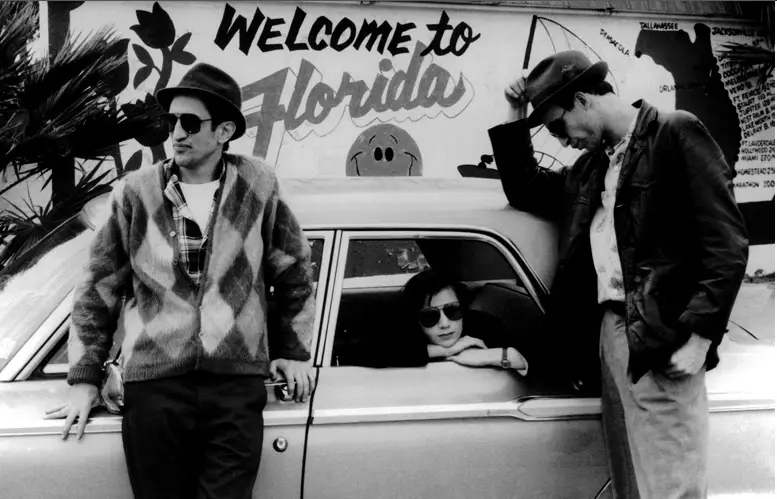 Director: Jim Jarmusch
Writer: Jim Jarmusch (screenplay)
Producer: Sara Driver (Cinesthesia, Grokenberger, ZDF)
Photography: Tom DiCillo
Music: John Lurie, Screamin' Jay Hawkins
Cast: John Lurie, Eszter Balint, Richard Edson, Cecillia Stark, Danny Rosen, Rammellzee, Tom DiCillo, Richard Boes, Rockets Redglare, Harvey Perr, Brain J. Burchill, Sara Driver, Paul Sloane

After John Cassavetes invented modern independent cinema in late the '60s, there was no more important figure in the movement's growth than Jim Jarmusch, a pioneer who rose to cult fame during the '80s and the infancy of Sundance. Jarmusch got his start as an assistant under the invaluable mentors Nicholas Ray and Wim Wenders, at which point he decided to forgo his NYU film school graduation and put the rest of his scholarship money toward his first film, Permanent Vaction (1980). With great reviews, Jarmusch went onto his next project, taking leftover stock footage from Wenders' Der Stand der Dinge (1982) and creating his own 30-minute short subject film, Stranger Than Paradise.
When the film hit the festival circuit, including the 1983 International Film Festival Rotterdam, Jarmusch used its warm reception to raise money to turn it into a full-length feature. The result was a piece of film history, playing at the first annual Sundance Film Festival, where it won the Special Jury Prize but lost the Grand Jury Prize to the Coen Brothers' Blood Simple (1984). Jarmusch got a measure of retribution at the 1984 Cannes Film Festival, where Paradise won the Camera D'Or on the same night his mentor, Wenders, won the top prize, the Golden Palm, for Paris, Texas (1984). For the rest of the '80s, there were few more internationally renowned "art" filmmakers than Wenders and Jarmusch.
Jarmusch has since defined himself as a social commentator on the basic human similarities shared by international cultures, leaving a trail of fascinating works from his short Coffee and Cigarettes (1986) to features like Down By Law (1986), starring Tom Waits, Night on Earth (1991), starring Gena Rowlands, and Dead Man (1995), starring Johnny Depp. His continued underground rise makes it all the more important, and telling, to go back and look at Paradise, in which many of these seeds were sewn. And beyond origin, Stranger than Paradise may still very well be his most important work.
To get the film to 90 minutes from its original 30, Jarmusch added two additional half-hour segments, allowing the film to play as three different episodes, each marked by a title card on screen.
The first, "The New World," takes place in a cramped New York apartment where hipster Willie (jazz musician John Lurie of the Lounge Lizards) wastes the days away. One day he gets a call from a relative saying his 16-year-old Hungarian cousin Eva (Eszter Balint) is flying in from Budapest to stay with him for 10 days on her way to her aunt's house in Cleveland. At first, Willie hates the idea, but when the 10 days are up, he actually hates to see her go. It's as if he's realized the banality of his own existence without her.
Enter Act Two, "One Year Later," as Willie and best bud Eddie (former Sonic Youth drummer Richard Edson) decide to road-trip it to Cleveland to see Eva. She is delighted to see them and invites them to stay at the home of her Aunt Lotte (Cecillia Stark).
Before long, boredom again overtakes them, and the trio embark on another road trip, this time to Florida, as the Act Three title reads, "Paradise." When they get there, they find it to be just as boring as everyplace else, only a bit sunnier. And as Willie and Eddie gamble away their money, Eva is left to decide whether she really wants to stay or leave their company for good.
If you're looking for plot points, that's about it right there. Not much else "happens" throughout the entire film, save for a couple little twists at the end. They watch TV, play cards, vacuum, go to a movie. At one point Willie tries telling a joke but can't remember how it goes. At another, Eddie even complains to Willie, "We're not doing anything." And when they go visit scenic locations, like Lake Erie or the Florida coast, a calm silence threatens to overtake the characters.
This set-up will no doubt annoy a majority of the mainstream viewing population, who expects things to happen in their movies. Thus, Stranger than Paradise is not the most accessible film, but rather one that requires the right mindset going in. If you come in expecting plot twists, action sequences or crazy revelations, you'll be left feeling much like the characters in the film: bored and wanting to try something else. But if go in with this notion of watching their boredom, even laughing at it, you won't be bored a single bit. The mainstream public did adopt Seinfeld for its concept of "a show about nothing," but even that was "nothing" tailored for a mass audience with plot devices piling on as the seasons progressed. Paradise is truly an exploration of nothing. And in doing so, it's also about everything.
As Jarmusch has said, "The beauty of life is in small details, not in big events." (A) The moment Willie stumbles over his own joke, it's a clear acknowledgment by Jarmusch that he's aware of his characters' sad, lifeless existence. The movie is eventless because it is intentionally so. Jarmusch has long crusaded against the commercial American film, seeking his funding outside the United States, mostly from German producer Otto Grokenberger. Thus, his audiences are made up of international cinephiles more than popcorn munchers. While Jarmusch has maintained some shred of art cred in American cinema, he's also done so by breaking international borders, making a "grass is greener" argument across cultures. (B) Stranger Than Paradise serves as a leveler of mystiques, including that of the American "paradise."
Jarmusch seems to be saying we're all part of the same human experience. The settings may change, but when you get down to it, we're all living on the same rock with the same questions of our own existence. These themes are especially crucial to Paradise. About midway through the film, Eddie says to Willie, "You know last year before I met your cousin, I never knew you were from Hungary or Budapest or any of those places. I thought you were an American." Willie responds, "Hey, I'm as American as you are." Fittingly, it's later in the film that Eddie comes to the following conclusion, "You know, it's funny. You come to someplace new and everything looks just the same." Through a consistent boredom of his characters, Jarmusch has taught them much, but we are not sure they have listened.
From a director's standpoint, his work is altogether groundbreaking. As much as the eventless script defied convention, so did the minimalist editing and camerawork. Aside from the side tracking shot of Eva's arrival to New York City, the camera remains stationary, fixed to a point, and panning only rarely. Using this static camera, Jarmusch tells his story in a series of long-takes, allowing viewers to register the composition of each shot, like the depth of field as Eddie approaches Eva on the street corner, and causing each frame of Tom DiCillo's cinematography to appear as if a beautiful black and white still photograph.
Note that each scene plays out in a single shot, divided by a few seconds of black "slug" leader. The only editing required by Jarmusch was to put these long-takes back to back. In other words, there is no editing within the scenes themselves, none of the "invisible editing" that flourished in the run-up to the Hollywood studio system and is still used today. This greatly reduces the number of cuts in the actual film, which, excluding the opening credits and the cut to the end credits, totals just 65. This means longer, uninterupted screentime, where each cut is blatantly signified by seconds of black screen, as if changing the image in a slide projector. And carrying us through these transitions are snippets of conversation, ambient sound and music.
Speaking of music, Jarmusch's most memorable directorial touch is his decision to line the soundtrack with "I Put a Spell on You" by Screamin' Jay Hawkins. It remains the perfect example of the perfect song choice, not because the song is so spectacular (even though it does kick ass), but because it jives so well with the material. Is this because Eva puts her own spell of intrigue on the boys? Is it because the boys, in turn, but their own spell of boredom on her? Or is it because Eva relies on the song as a sort of constant in her various geographical changes? Perhaps we should just leave it to Eva, who gives a better answer than any I can provide: "It's Screamin' Jay Hawkins and he's a wild man, so bug off."
That one quote captures the entire feel of Stranger than Paradise — edgy, quirky, independent. I use those words because Jarmusch himself can't stand them, and I get some kind of joy out of bucking the bucker. But Jarmusch's point is valid in hating those words. "Those words are now becoming labels that are slapped on products to sell them," he says. And they've continued to be used to market the type of filmmaking that Jarmusch carved for his many followers, from Finland's Aki Kourismaki to America's Kevin Smith, the latter of whom gives Jarmusch a "Special Thanks" in the credits of Clerks (1994) (C).
It's always been one of the most fascinating ironies, this idea of cult following, in that one can purposely deviate from convention, yet for being so "independent," become labeled as such and sold as such. There's no doubt Jarmusch is a key figure in this cult class, with Stranger than Paradise voted #12 on Entertainment Weekly's Greatest Cult Films and #14 on Empire's Greatest Independent Films. But more than anyone else, he's striven to keep his independence and veer away from the box office bucks in favor of his own personal vision.
Does this mean he is flawless? No. The very idea of defying convention can leave holes in other aspects of filmmaking, like the narrative. Scholar David Thomson admits Jarmusch's importance, but is convinced he can't hold a narrative for a feature length film. As Thomson writes, Jarmusch seems more comfortable working in vignettes, by now seeming "like a born maker of episodes" (D). Perhaps this is why his shorts like Coffee and Cigarettes (1986) are so compelling. This is the area in which he most excells. But even when applied to feature-length ventures, there's something to be taken from this emphasis on the common, the everyday. After the movie's over and you go back to your everyday life, things seem a little slower, a little more cinematic, a little less important. Jim Jarmusch is onto something. Are our lives not made up of a series of episodes?

Citations:
CITE A: IMDB Bio
CITE B: Joshua Klein, 1001 Movies You Must See Before You Die
CITE C: Rotten Tomatoes summary
CITE D: David Thomson, New Biographical Dictionary of Film