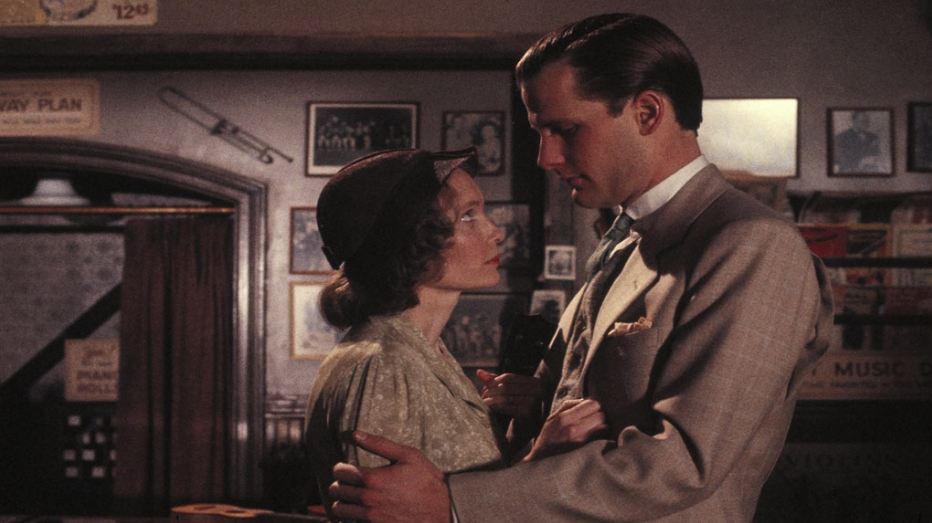 Director: Woody Allen
Writer: Woody Allen
Producers: Henry Rollins and Charles H. Joffe
Photography: Gordon Willis
Music: Dick Hyman, Irving Berlin
Cast: Mia Farrow, Jeff Daniels, Danny Aiello, Dianne Wiest, Irving Metzman, Stephanie Farrow, David Kieserman, Edward Herrmann, John Wood, Deborah Rush, Van Johnson, Zoe Caldwell, Eugene J. Anthony, Ebb Miller, Kitty Haynes

Introduction
Woody Allen remains the most prolific writer/director of the last 30 years. When scholars sit down to examine his work, they cannot single out any one masterpiece. I dare you to choose between '70s classics like Sleeper (1973), Annie Hall (1977) or Manhattan (1979); '80s masterpieces like Hannah and Her Sisters (1986), Radio Days (1987) and Crimes and Misdemeanors (1989); '90s gems like Bullets Over Broadway (1994) and Deconstructing Harry (1997); and new millennium hits like Match Point (2005), Midnight in Paris (2011) and Blue Jasmine (2013).
Yet of all his masterworks, Allen claims his own personal favorite is The Purple Rose of Cairo, probably because it represents everything he loves about the movies to begin with, the power of this "world of celluloid and flickering shadows" to give a necessary escape from the harshness of the real world. Because, after all, Allen is first and foremost a movie lover, finding his ultimate expression of that love here in this underrated gem.
Plot Summary
Allen's movie-loving proxy is Cecilia (Mia Farrow), a New Jersey waitress living a disparaged, Depression-era life full of financial troubles and embarrassments from her abusive, two-timing husband Monk (Danny Aiello). Her one escape from this life, and from a film-hating Monk, is the local movie theater, the marquee of which touts its latest attraction, a romantic adventure picture called The Purple Rose of Cairo.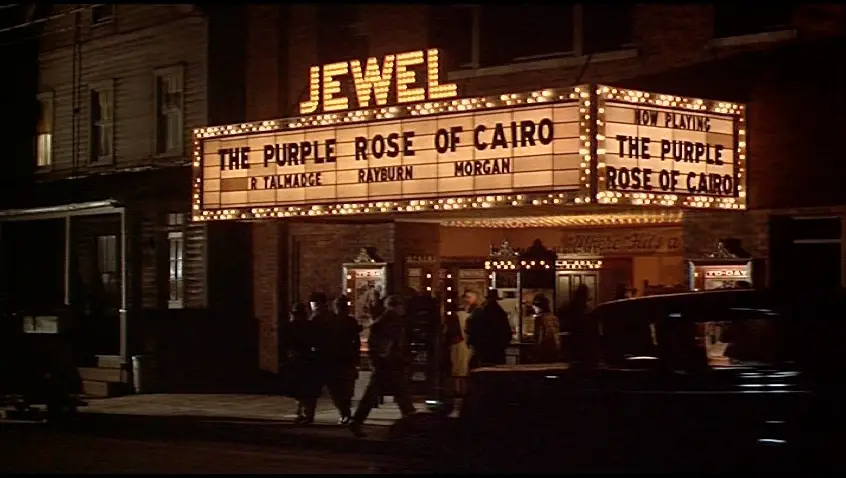 Falling absolutely in love with the movie, Cecilia sees it a total of five times, the last of which changes her life. Mid-way through the picture, she is keeping close watch on her favorite supporting character, cheerful archaeologist Tom Baxter (Jeff Daniels), when suddenly he returns her gaze. "My god, you must really love this picture," he says, before literally coming off the screen to meet her.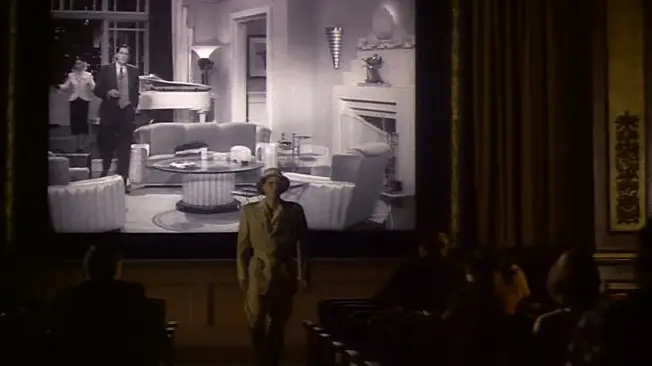 With the audience in shock, and the rest of the screen characters appalled at having been left high and dry, Tom and Cecilia strike up a fantastical romance between movie character and real-life woman. While Cecilia is busy lying to Monk in order to have secret meetings with Tom, Hollywood is in an all-out panic trying to figure out how one of its fictional characters could escape the screen. Adding to their frustrations, Tom's escape has also caused hundreds of other Tom Baxters to leave the screen in theaters nationwide.
It's here that the man assigned to play Tom, well-known actor Gil Shepherd (also played by Daniels), flies to New Jersey on a quest to find his come-to-life character and force him back onto the screen. But before that can happen, he runs into Cecilia, and the two begin their own separate romance. Who will Cecilia pick, the famous actor Gil or the come-to-life Tom? How will this decision affect her marriage with Monk? And, as a result, will Tom choose to remain in the real world or return to the screen and finish the movie?
Screenplay Fantasy
As one might guess, this magnificently enchanting premise makes for the kind of experience that has you cocking your head to the side in wonder, plastering a smile on your face all the while. Allen gets the very most from his genius premise, exhausting all the hilarious and touching possibilities of the colliding real and fantasy worlds.
Tom's "fish out of water" innocence in the real world creates endless possibilities, similar to Will Ferrell in Elf (2003). We laugh as Tom naively follows a prostitute (Dianne Wiest) back to her brothel and tries to understand Cecilia's concept of God by discussing his two screenwriter "creators." We sigh with romance as he gives Cecilia the chance to reenact her favorite movie scene with him. And we bust a gut as the other on-screen characters realize their own freedom at no longer having to follow the script, causing a nightclub waiter to erupt in glee — the best part of the movie, hands down.
It's a work of astounding creativity, expanding upon Buster Keaton's legendary Sherlock Jr. (1924), where a film projectionist imagines his own life playing out on screen, and laying the groundwork for Cinema Paradiso (1988), which remains the most nostalgic film about a movie house.
The whimsical result earned Allen a nomination for Best Screenplay, but seeing as he had previously won the award for Annie Hall (1977), the honor this time went to Earl W. Wallace and William Kelly for their Amish romance thriller, Witness (1985), voted No. 80 on the WGA's Top 101 Screenplays of All Time. Oscar politics aside, one can't argue with The Purple Rose of Cairo as one of Allen's most fabulous exercises in imagination and pushing the boundaries of the medium.
Breaking Visual Barriers
Matching Allen's creative genius was the technology and craft necessary to visually interpret such an off-the-wall film. The Purple Rose of Cairo features an impressive display of period visuals, recreating the bleak look and feel of the Depression-era '30s. Meanwhile, cinematographer Gordon Willis (The Godfather) continues his collaboration with Allen after Manhattan (1979) to bring to life the black-and-white world of the movie screen. This not only shows up on the screen in the movie theater (as a movie within a movie), but also by taking over the entire frame in its own unique narrative sidebar.
Beyond all this, Purple Rose boasts some vital work in the realm of special effects, having Daniels literally emerge from the screen in a shift from black-and-white to color (a regular Dorothy from Kansas), and having him appear simultaneously with himself in several scenes, like the Winklevoss Twins in The Social Network (2010).
Daniels & Farrow
Such groundbreaking situations also provided an amazing opportunity for Daniels to expand as an actor in a double role. In the role of Tom, Daniels is an adorable fish out of water. In the role of Gil, he is impossibly charming. Fresh off his unsympathetic Flap Horton in James L. Brooks' Best Picture winner Terms of Endearment (1983), Daniels gives the performance of his career, winning him comedy parts in the years to follow, from Arachnophobia (1990) to Dumb and Dumber (1994), all the way up to his Emmy-winning role in Aaron Sorkin's HBO series The Newsroom (2012). Daniels himself adored the movie, becoming executive director of the Purple Rose Theater Company.
Still, the rock of the picture is Farrow, who must maintain the combination of despair, wonder and inner desire that will have the most skeptical of audiences buy into the fantasy and believe the dreamlike love triangle Cecilia is caught in. Seventeen years after Rosemary's Baby (1968), The Purple Rose of Cairo was Farrow's fourth film with Woody Allen, cementing herself as the new Diane Keaton in Woody's on/off-screen romance. The relationship produced several children and a decade of annual collaborations — A Midsummer Night's Sex Comedy (1982), Zelig (1983), Broadway Danny Rose (1984), The Purple Rose of Cairo (1985), Hannah and Her Sisters (1986), Radio Days (1987), September (1987), Another Woman (1988), New York Stories (1989), Crimes and Misdemeanors (1989), Alice (1990), Shadows and Fog (1991) and Husbands and Wives (1992).
While their relationship ended nastily in court hearings and a bizarre case of Woody falling in love with his stepdaughter, there's no doubt that Farrow remains a key collaborator through the master stretch of Allen's career.
Bittersweet Ending
The unflattering ending to Allen and Farrow's real-life relationship may reflect some viewers' reaction to the end of The Purple Rose of Cairo. After an entire film of fairy-tale whimsy, Allen purposely punches viewers in the gut, bringing us back to reality. Some viewers may resent this, feeling cheated out of an enchanting ending to match the enchantment of the preceding film. But these viewers are missing the point. The ending is Allen's statement as to the harshness of the real world, simultaneously accenting the escapist power of the movies.
This is a consistent theme throughout Allen's career. In Play it Again, Sam (1972), Humphrey Bogart appears as an imaginary friend and dating adviser to Allen's character. In Annie Hall (1977), Allen's dialogue says, "Unlike real life, art is perfect." That's because art is staged, interesting, eloquent and reliable. You can go to a movie once and come back again expecting to see the same thing six times later. Thus, viewers can have a rare feeling of control over the world, at least for the two hours they're watching through purple rose-colored glasses.
Allen cleverly comments on this phenomenon throughout Purple Rose, especially after Tom initially emerges from the screen. Rather than feel excitement for this rare moment of spontaneity, a female moviegoer gripes about her unexpected experience: "I want what happened in the movie last week to happen this week. Otherwise, what's life all about anyway?"
This same theme — fearing the world's unpredictability — is most memorably expressed in Annie Hall when Allen's boyhood self expresses concern over the expanding universe. These fears are deep-rooted within Allen, but his genius is his ability to call himself on his own neurotic insecurities. He recognizes that this is why he loves the movies so much, as both an escape and a means of control, while at the same time admitting the danger of living in this fantasy world of the movies. This danger that is ever-present in Cecilia's life. Throughout the film, she becomes so caught up in her fantasy lovers that she neglects the fact that the real world can be harsh, a fact she is tragically reminded of in the end.
This "unhappy ending" is both realistic and beautifully bittersweet. It's the final stamp on a powerful movie message: that movieland fantasy can be a dangerous temptation, but an obsession that's well worth it if you're willing to pay the price. This bittersweet tone is reflected upon the face of Farrow in the final scene, as she watches the famous Astaire-Rogers "Cheek to Cheek" number from Top Hat (1935). As a smile slowly builds across her face, her real world melts away, leaving only the fantasy that exists on screen. This is the power of The Purple Rose of Cairo, Allen's celluloid reminder to all of us that no matter how hard life gets, we will always have the movies.