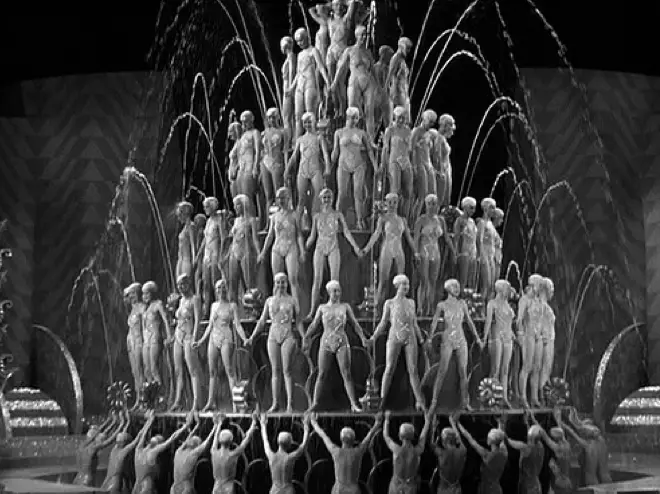 Directors: 42nd Street & Footlight Parade: Lloyd Bacon; Gold Diggers of 1933: Mervyn LeRoy
Producers: 42nd Street: Hal B. Wallis, Darryl F. Zanuck; Gold Diggers of 1933: Robert Lord, Jack L. Warner, Raymond Griffith; Footlight Parade: Robert Lord
Writers: 42nd Street: Bradford Ropes (novel), Rian James and James Seymour (screenplay); Gold Diggers of 1933: David Boehm, Erwin S. Gelsey (screenplay); Footlight Parade:  Manuel Seff and James Seymor (screenplay)
Photography: 42nd Street & Gold Diggers of 1933: Sol Polito; Footlight Parade: George Barnes
Music: 42nd Street: Harry Warren; Gold Diggers of 1933: Harry Warren; Footlight Parade: Al Dubin, Sammy Fain, Irving Kahal, Harry Warren, Walter Donaldson, Gus Kahn
Cast: 42nd Street: Warner Baxter, Bebe Daniels, George Brent, Ruby Keeler, Guy Kibbee, Una Merkel, Ginger Rogers, Ned Sparks, Dick Powell, Allen Jenkins, Edward J. Nugent, Robert McWade, George E. Stone; Gold Diggers of 1933: Ginger Rogers, Warren William, Joan Blondell, Aline MacMahon, Ruby Keeler, Dick Powell, Guy Kibbee, Ned Sparks; Footlight Parade: James Cagney, Joan Blondell, Ruby Keeler, Dick Powell, Frank McHugh, Ruth Donnelly, Guy Kibbee, Hugh Herbert, Claire Dodd, Gordon Westcott, Arthur Hohl, Renee Whitney, Barbara Rogers, Paul Porcasi, Phillip Faversham

"Money? You? Say, with all the hits you've had, you oughta be worth plenty."
"Yeah, I oughta be, but I'm not. Did you ever hear of Wall Street?"
Six years into the era of talking pictures, the cold front of the Great Depression had swept all the way from Wall Street to Hollywood, with several studios teetering on the verge of bankruptcy. While King Kong (1933) proved the savior of RKO Pictures, Warner Bros. climbed out of financial ruin with a most unique creative process that produced the first landmark moment in the timeline of movie musicals.
Mervyn LeRoy, future studio head of MGM, was then a hot director for the Warners, helming such hits as Little Caesar (1930) and I'm a Fugitive from a Chain Gang (1932), when he developed the idea of a grand backstage musical, but upon falling ill, he would have to defer the project to fellow contract director Lloyd Bacon. That project was 42nd Street, such a huge spring success for Warner Bros. that the studio would rush to release two more by the fall, Gold Diggers of 1933, directed by LeRoy, and Bacon's own follow-up Footlight Parade, forming the so-called Gold Diggers Trilogy.
Under the leadership of Bacon and LeRoy, the hit series would feature a consistent collaborators: screenwriter James Seymour, musical composers Al Dubin and Harry Warren and recurring stars Dick Powell, Ginger Rogers, Guy Kibbee and Ruby Keeler, wife of Jazz Singer star Al Jolson. But undeniably the biggest shared influence for The Gold Diggers Trilogy was the coming out party of Busby Berkeley, cinema's most famous choreographer who single-handedly turned 42nd Street, Gold Diggers of 1933 and Footlight Parade into kaleidoscopic displays of eroticism, while lifting Warner Bros. out of dispair and on course to be an impact player in the decades to follow.

42nd Street
The Depression-era despair of the trilogy's own making is painted right into the plot of 42nd Street. It's 1932 New York, where two Broadway producers (Robert McWade and Ned Sparks) decide to put on a show called Pretty Lady. They cast the gorgeous Dorothy "Dot" Brock (Bebe Daniels) and hire the ailing, exhausted stage director Julian Marsh (prior Oscar-winner Warner Baxter), who pins his hopes to this one last-ditch effort at success. Short on funds, the producers turn to Dot's sugar daddy, industrialist Abner Dillon (Guy Kibbee), making it key for Dot to keep Abner happy. This is further complicated by her covert relationship with ex-vaudeville partner Pat Denning (George Brent), an unemployed lover long neglected by Dot's career-driven mindset. Also heating up backstage is a romance between the film's young male lead, Billy Lawler (Dick Powell, in a career-launching performance) and one of the show's countless chorus dancers, wholesome newcomer Peggy Sawyer (Ruby Keeler).
On the night before the show's opening, Dot suffers a freak ankle injury, forcing the producers to replace her with the spunky Anytime Annie (Ginger Rogers, LeRoy's girlfriend at the time, cast just nine months before her first pairing with Fred Astaire). In an act of admirable humility, Annie pushes instead for Peggy to get the part. With 200 jobs on the line, Peggy must take the stage alongside her off-stage lover and deliver an underdog performance to save the show.
This "backstage" concept had been done before in MGM's first sound film, The Broadway Melody (1929), but screenwriters Rian James and James Seymour moved the ball further down the field with 42nd Street, enabling others like Bob Fosse to create masterpieces like Cabaret (1972) and All That Jazz (1979) decades later.
Their story concept of a last minute substitution provided the film — and the trilogy — its most memorable line, as stage director Julian pulls Sawyer aside seconds before taking the stage: "Sawyer, you're going out a youngster, but you've got to come back a star!" The line was voted No. 87 on the AFI's Top 100 Movie Quotes, ahead of such memorable lines as Ronald Reagan's "Win one for the gipper," Tom Cruise's "I feel the need, the need for speed" and Abbott and Costello's "Who's on first?"
The line is not only a great quote within the movie plot, it transcends the screen by capturing the real-life desperation on the Warner Brothers lot. You can imagine LeRoy saying it to Bacon, after taking ill and asking him to replace him as director: "Lloyd Bacon, you're going out a youngster, but you've got to come back a star!" Of course, the real "star is born" moment belonged to Busby Berkeley, whose blissful choreography leads many to forget that Bacon even sat in the director's chair.
"Now wait a minute, who's directing this show?" Julian asks on screen, a question viewers may also apply to 42nd Street, where Bacon and Berkeley are so intertwined as to be indecipherable between director and choreographer. The same is true of many movie musicals, but particularly so here because of Berkeley's revolutionary new ideas for the way his dances should be shot.
Even if you don't know his films, you know his style through homages like The Dude's bowling alley acid trip in The Big Lebowski (1998). It's a flashy, orgasmic style of legs, faces and kicklines overlapping on screen in kaleidoscopic images, of countless chorus girls aligning in geometric shapes and concentric circles, captured from above in overhead shots or penetrated by ground-level cameras dollying between their legs.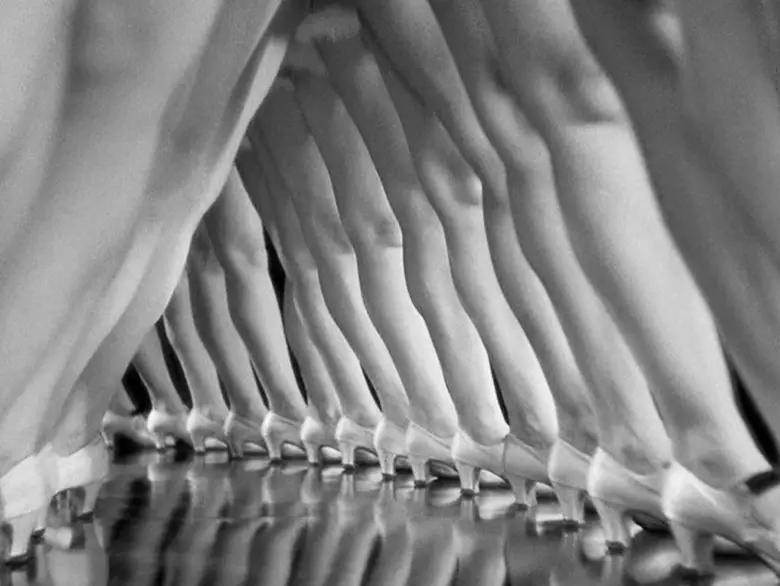 "What he did was come up with the ideas for dance routine, creating marvelous rhythms by having one line of chorus people dancing in one kind of meter, and having another group dancing in another kind of meter," film historian Miles Kreuger says. "So the assembly of these Berkeley visions existed only in his mind. Only he knew what he wanted and how the final musical number would come out." (F)
Perhaps the most eloquent description of Berkely's genius comes from film professor Jean Comolli: "[Berkeley] is not a choreographer: people do not dance in his films, they evolve, they move about, they make a circle, the circle tightens or is released, bursts forward and forms again. The syntactical unit of this ballet of images is not the "pas de deux" but the "pas de mille," the dance of a thousand. And one can suspect Busby Berkeley of having given himself the ballet as an alibi for his mad frenzy … to show in all possible fashions, in all situations and playing all parts, the largest possible number of uniformly dressed blonde girls, in the splendor of an impeccable alignment of their legs, making love in all the fan of poses with a shameless camera that forces the imagination to the point of passing, dollying in, under the arch of their thighs stretched out infinitely, forming a tunnel of dreams where it was desirable, once at least, that the cinema be engulfed." (A)
It's further testament to Berkeley that these iconic numbers make up only the last 20 minutes. But when they come, boy, do they come, from "Shuffle Off to Buffalo" to "I'm Young and Healthy." The entire thing builds to the film's tour de force title number, where dancers uniformly hoist building cutouts to form a skyline, and the camera moves in and out of apartment windows to create, as the lyrics say, "The rhapsody of laughter and tears, naughty, bawdy, gaudy, sporty 42nd Street."
This catchy music was the work of Harry Warren and Al Dubin, who were teamed for the first time in their career on 42nd Street after Warner Bros. used its Jazz Singer (1927) success to buy several publishing houses in New York City. The Warren-Dubin partnership would become legendary, writing 23 film scores together in just five years! Look for them on screen as the two composers approaching the stage director saying, "You mean you don't like this number?" (D)
These blurred lines between fiction and reality are what make 42nd Street so endlessly fascinating. Of course, the movie-goers of 1933 didn't know the studio needed them to fulfill this scripted role of a savior audience, but they came out in droves anyway, making 42nd Street one of the most profitable films of the year at $2.3 million. Their draw to the film was a subliminal shared sympathy with the Depression-bitten characters on screen.

The Gold Diggers of 1933
While many forget Berkeley didn't officially direct 42nd Street, many also forget that the tune most associated with the film — "The Gold Diggers Song (We're in the Money)" — wasn't even in the movie! Rather, it was the opening song of the next Warner-Berkeley production, Gold Diggers of 1933.
The "We're in the Money" confusion no doubt began in 1980, when the song was added to the Tony-winning Broadway version of 42nd Street, a show that became the second longest-running show in history, behind A Chorus Line. (B) This decision culturally meshed Gold Diggers of 1933 with 42nd Street, leaving the former tragically overshadowed. The confusion was exacerbated by Chuck Workman's incredible Turner Classic Movies montage "100 Years at the Movies," which laid he song "We're in the Money" under a title card of 42nd Street.
If you are checking off your film history best lists and see only 42nd Street and Footlight Parade, don't forget to go back and watch the middle flick. The opening lyrics tell everything you need to know about the trilogy's role in combating viewers' depression over the Great Depression: "We're in the money, that sky is sunny / Old Man Depression you are through, you done us wrong. / We never see a headline about breadlines today / And when we see the landlord, we can look that guy right in the eye."
Least we forget that Ginger Rogers sings the song against a backdrop of giant coins, while wearing a coin bikini, including a giant "chastity coin" covering her crotch. As Rogers sings directly into the camera, it's a display of sexual escapism that's never since been matched. The fact that she sings part of the song in jibberish only further draws our attention to her overtly sexual mouth.

Footlight Parade
While The Godfather and Star Wars trilogies faded in their third installments, The Gold Diggers Trilogy culminates in its most mesmerizing chapter, Footlight Parade. The film may lack the name recognition of 42nd Street and the song recognition of Gold Diggers of 1933, but if the former was foreplay and the latter was intercourse, Footlight Parade earns its sexual tagline: "Climaxing Warner Bros.' glittering parade of musicals!"

In addition to being the most subversively sexual movie I've ever seen, it also joins Sunset Blvd. (195) and Singin' in the Rain (1952) as the best movies about the shift from silent films to talkies. The movie opens with a marquee's crawling horizontal text: "Motion picture producers announce only talking pictures will be made in future — silent pictures are finished," to which James Cagney dismisses: "What a laugh. It's a fad." The big joke, of course, is that it was Warner Bros. that released the first ever talking picture, The Jazz Singer (1927), and that it was Cagney who benefited most by spitting gangster lines in Warners' The Public Enemy (1931). In this new cinema era, Footlight Parade celebrates the possibilities of sound, while maintaining the gorgeous visual storytelling of the silent era.
As with most Berkeley films, the plot exists only as an extended build-up to a string of musical numbers at the end. Here, we follow Broadway director Chester Kent (James Cagney), who's staged 50 musical comedies and pledges to stage 50 more. That is until producers Al Frazer (Arthur Hohl) and Silas Gould (Guy Kibbee) announce they're through with stage productions and are going into the talking movie business: "You can't give the public what they don't want. … People ain't paying for shows no more. Talking pictures is what they want. … They deliver the show in tin cans and we got nothing to worry about." Desperate to save his stage career, Kent embarks on a new business venture in "prologues," short live-stage productions performed in movie theaters to warm-up audiences for the screening.
Kent finds instant success, though a spy keeps sending his best ideas to rival company Gladstone, which is competing for the same 40-theater deal offered by chain owner George Apolinaris (Paul Porcasi). On the side, Kent is taken by a gold-digging floozy, appropriately named Vivian Rich (Claire Dodd), all the while overlooking the affection of his loving secretary, Nan Prescott (Joan Blondell). Another fiesty love triangle burns between Kent's secretary-turned-dancer, Bea (Ruby Keeler), his lead tenor Scotty (Dick Powell) and Gould's own philandering wife Harriet (Ruth Donnelly). The romantic subplots converge in the film's three-part musical finale, where Kent must impress Apolinaris by performing three prologues within three hours in three different theaters! And when the star of the final performance turns up drunk, Kent must step in himself and deliver a knockout performance.
This last little twist allows Cagney to steal the show, as his stage director possesses many of the same qualities as his starmaking gangster in The Public Enemy, combining Bugsy with Busby, to the point of saying, "Why that dirty, low-down…" Cagney is insanely charismatic, mocking his annoying choreographer by anticipating his words, "It can't be done, Mr. Kent, it can't be done!" And he's every bit as much a ladies man, with multiple girls wanting him at the same time. The fact that he and Blondell are lovers by the end makes perfect sense. Their careers had risen together. She was a star in the same Broadway play and followed him to Hollywood, where she co-starred in his debut, Sinner's Holiday (1930), and subsequent films like Public Enemy and Blonde Crazy (1931). Their best scene together in Footlight comes when Blondell imagines herself with Cagney as she rests her head on his shoulder. Priceless tenderness.
Still, Footlight's key to Cagney's career is that it allowed him to showcase his dancing skills on screen. Without this, he may have never won the Oscar for Yankee Doodle Dandy (1942), and many of those same stiff-legged moves appear first here. Note Cagney's demonstration about how a cat should dance, jumping backward and bending forward simultaneously, only to rise up with the straightest of legs. You smile just thinking about it, and upon seeing the finished cat number, one can't help but ask — did this plant the idea for Andrew Lloyd Webber? Is Cats actually an extension of Cagney?
In many ways, Cagney is the on-screen proxy for Berkeley, who choreographs all the film's musical numbers. He shares a uniquely large title credit beneath director Lloyd Bacon, further commenting on the theme of clashing cinema and theater direction. It's all a commentary on the changing performing arts landscape, on the differences between film and live theater, between silent films and talkies, and between mass consumption of a product and the individual performance of it. We see both the cons of live performance (travel, unscripted mistakes) and the advantages (more personal and more unpredictable).
Bacon and Berkeley balance the two mediums as well as any ever have. As in 42nd Street, the first two acts are simple and economical under Bacon. But by the third act, when Berkeley takes over, the direction explodes into brilliance, overshadowing Bacon and making Footlight Parade seem a magnificent director's piece. It helped that during production, the box office returns from 42nd Street and Gold Diggers of 1933 were still coming in, convincing Warners to expand Berkeley's budget and allowing his full vision to be realized in his finest moment of carte blanche (complete control).
The plot device of Kent's triple production allows Berkeley room for an opus of musical pageantry, slapping audiences with three powerhouse numbers back-to-back-to-back. The trifecta makes the last half hour of Footlight Parade one of history's most amazing stretches of film, so amazing that no one really cares if it's actually impossible for it all to fit on Kent's prologue stage.
It begins with the bubbly "Honeymoon Hotel," written by Warren and Dubin, and focusing on Powell and Keeler as they check in for a post-wedding romp. Highlights include a newspaper photo of a bellhop dissolving into a real-life actor; the illusion of one long take as the camera pans rapidly to the right to see various hotel employees; letters in mailboxes forming an animated image of marriage vows; an almost Rear Window cross-section of the hotel rooms; synchronized arms reaching out into the hallway to hang "Do Not Disturb" signs; and the bizarre use of a little person running around the hallways, six years before The Munchkins in The Wizard of Oz (1939).
The second number, "By a Waterfall," written by Sammy Fain and Irving Kahal, is the film's most famous piece. It plays out as if one of Powell's dreams, as he imagines a bunch of long-legged wood nymphs sliding down a waterfall. Berkeley had done a similar number under Sam Goldwyn in The Kid from Spain (1932), but Footlight Parade blows that one out of the water (pun intended), featuring a 20,000-gallon-per-minute waterfall. (D)
From here, we change locations to an Art Deco pool, allowing for a spectacle of synchronized swimming. Bodies come together like interlocking fingers, separate as a woman swims through them, and reform as she backstrokes back through. Countless bodies dive into the pool in unison, the splashes shown from an overhead view. From this vantage point, we also see the girls form the illusion of a slithering snake and a flower blooming in kaleidoscopic beauty. Lights from outside the pool alternate with lights inside the pool to form silhouettes. The overhead shots give way to underwater shots, even under-underwater shots, looking up from beneath the glass bottom of the pool. (D) It's here that we see the closest homage to 42nd Street, this time someone swimming beneath the women's outstretched legs.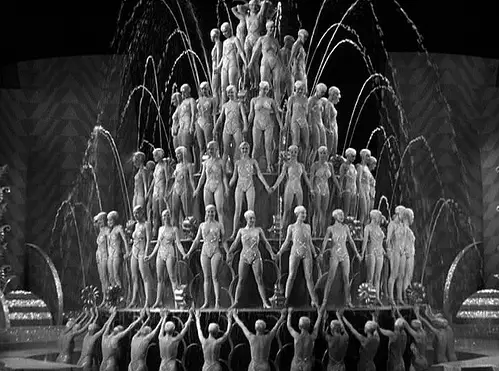 The "By the Waterfall" number concludes with the film's most famous image, a rotating fountain stacked with women who squirt streams of water. Berkeley quickly ups the ante by cutting to a wider shot of this same image, now appearing in the reflection of the pool! But he's not done yet. He cuts to an overhead shot of that same fountain, with legs spinning round and round; the seminal image of Berkeley's career.
His repetition of circular formations also create the letter "O," as in O-ring, a tactic later used by Arthur Penn in Bonnie and Clyde (1967), which also had "We're in the money" stuck in Bonnie's head during a hideout scene in a movie theater. Film scholar David Thomson called the sexual metaphor "a lofty survey over lagoons of water-lily vaginas opening and closing with delirious facility." (A) How ironic that Disney replicated the fountain image in its "Great Movie Ride" at Walt Disney World.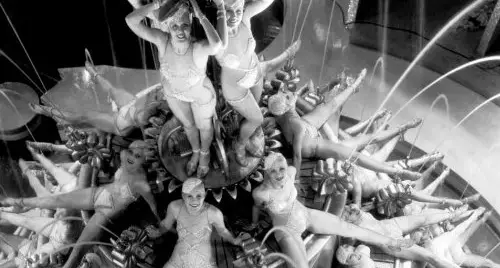 Unfortunately, Kent's "idea" for the waterfall scene comes in a moment of dated racism. As Cagney says, "That's what the wood nymph prologue needs! A mountain waterfall splashing on beautiful white bodies," Bacon cuts to a bunch of black kids playing in a gushing fire hydrant. Such socially outdated ideas are also found in the film's third and final number, "Shanghai Lil," with music by Warren and Dubin. The piece follows Cagney looking high and low "for his Shanghai Lil," an Asian woman played by the white Keeler in a reference Marlene Dietrich's Shanghai Express (1932).
Despite these now controversial overtones, the dance number itself is a choreographed delight, with Cagney in a Navy uniform, tapdancing across a bartop with Keeler. Look for the initial set-up of not seeing Cagney's face; the one-minute long-take dolly down a bartop, beginning on Cagney, hearing a few words from each of the bar's patrons, then finishing on Cagney; the illusion of Cagney and Keller hoofing across "the arms" of Naval officers from the bar to a table; the low-angle shot of a military parade marching straight into the lens; and the overhead shots of soldiers forming an American flag, an image of FDR and the eagle symbol of the New Deal's National Recovery Association. Such images remind us that Berkeley learned from coordinating formations in the military. (F)
A racial reading of the film proves almost a valuable as a gender analysis. Is the film sexist for depicting women as gold-digging sexual objects? Or is it an early battle in the ongoing feminist fight for bra-burning sexual liberation? The fact that we're even asking this question was a result of the film's arrival just a year before the Hays Code went into effect, allowing Footlight to feature a naughtiness that disappeared from Hollywood a year later.
Unlike Lucy and Ricky having separate beds in TV's I Love Lucy in the '50s, Footlight Parade provides a shot of Powell and Keeler under the covers of the same bed, as the camera pans to a photograph of a baby. We also get Blondell walking into room to see a woman's butt, and saying, "That looks vaguely familiar." Blondell's jealousy toward Miss Rich also provides another naughty gem, as she almost lets the word "bitch" slip from her mouth when Kent introduces them, saying, "I know Miss Bi…Rich." And Kent tells an actress to go the extra mile to learn her dance moves from her male teacher: "Well sleep with him! You've gotta get it." The whole thing predicts and mocks the coming censorship, ultimately putting the film's censor character (Hugh Herbert) in a censorable position.

Legacy
As censorship took over, musicals also became more grounded, and the streaking comet that was Berkeley quickly gave way to more static camera setups. As film historian Miles Kreuger said, "Berkeley's career burned out because the vision of what a musical number is in film changed. It changed largely because of Fred Astaire. Fred Astaire didn't need choruses behind him." (F)
No matter. Film historians keep returning to The Gold Diggers Trilogy for the same reason it mesmerized audiences in 1933. The series transports us in a uniquely trippy sexual experience — like popping an ecstasy pill without ever doing drugs. Martin Rubin, film programmer at Chicago's Gene Siskel Film Center, compared Berkeley's psychedelic experience to Kubrick's most abstract space venture: "You can have the 'Star Gate' climax of 2001: A Space Odyssey. When it comes to consciousness-expanding cinematic trips, I'll take a plunge into Berkeley's 'Waterfall.'" (E)
Indeed, watching the musical numbers is like losing yourself into something unimaginable. The fact that it was imagined by someone, Berkeley, is mind blowing in and of itself. "In an era of breadlines, depression and wars, I tried to help people get away from all the misery … to turn their minds to something else. I wanted to make people happy, if only for an hour," Berkeley said. (C)
In addition to making people happy, he just so happened to make Warner Bros. a lot of money. Not only did it spawn the rest of The Gold Diggers Trilogy in 1933, it inspired follow-up efforts like Gold Diggers of 1937 (1936). It also gave the studio a whole collection of fantastic Warren-Dubin songs that they could re-purpose all over the place, right down to Merrie Melodies cartoons. (D) These copyright resources continued to feed the beast. So every time you watch your favorite Warner Bros. movies, including the IMDB chart-topping The Shawshank Redemption (1994), be sure to tip your hat to The Gold Diggers Trilogy (1933) for saving the company's butt. And as best lists continue to rank Citizen Kane (1941) and Casablanca (1942) at the top, let's never forget that it was Kong that built the empire of Kane and Gold Diggers that printed letters of transit for Casablanca.

Citations:
CITE A: David Thomson, New Biographical Dictionary of Film
CITE B: Tim Dirks, AMC Filmsite
CITE C: Busby Berkeley IMDB Bio
CITE D: Footlight Parade DVD Special Feature: Footlight Parade: Music for the Decades
CITE E: Martin Rubin, 1001 Movies You Must See Before You Die
CITE F: Turner Classic Movies documentary Moguls and Movie Stars: A History of Hollywood, segment "Brother Can You Spare a Dream?"