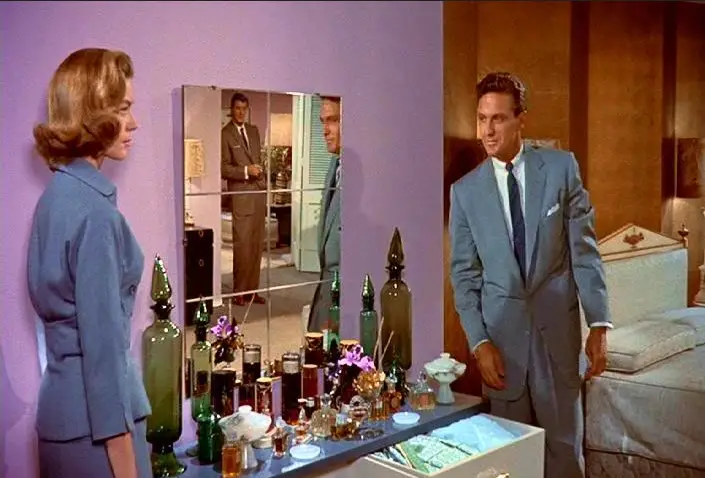 Director: Douglas Sirk
Producer: Albert Zugsmith (Universal)
Writers: Robert Wilder (novel), George Zuckerman (screenplay)
Photography: Russell Metty

Music: Frank Skinner, Victor Young
Cast: Rock Hudson, Lauren Bacall, Robert Stack, Dorothy Malone, Robert Keith, Grant Williams, Robert J. Wilke, Edward Platt, Harry Shannon, John Larch, Joseph Granby, Roy Glenn, Maidie Norman, William Schallert

Introduction
"Our night of stolen bliss was written on the wind."
When Douglas Sirk introduced his brand of "women's weepies" in the '50s, they were instantly regarded as trash, by critics and audiences alike. It wasn't until the early '70s that his work was rediscovered at various film festivals, and it wasn't long until academics were citing his films as overlooked works of lyrical genius. Like Laughton's The Night of the Hunter (1955), Sirk's work was expressionistic, stylized, surreal. With such words, an instant red flag should jump up, warning that only a select group of viewers will enjoy this film. Many will find it corny, even laughable to a degree. But for each of these, there is a film professor somewhere, pleading audiences to give Sirk his due.
Along with Max Ophuls (Letter from an Unknown Woman), Sirk deserves full credit for pioneering melodrama and inventing the modern soap opera, through a string of films like All I Desire (1953), Magnificent Obsession (1954), All That Heaven Allows (1955), The Tarnished Angels (1957) and Imitation of Life (1959). Of all his work, I keep coming back to Written on the Wind.  If you look closer at the lurid melodrama, you'll find some real, serious filmmaking going on between the lines.

Plot Summary
Based on Robert Wilder's fiction novel about the real-life scandal of a tobacco magnate, Written on the Wind unravels the spoiled Hadley family through luxury's unrivaled potential to bring people down. The family consists of Kyle Hadley (Robert Stack), the insecure, alcoholic son of a Texas oil tycoon, and his wild, nymphomaniac sister, Marylee (Dorothy Malone).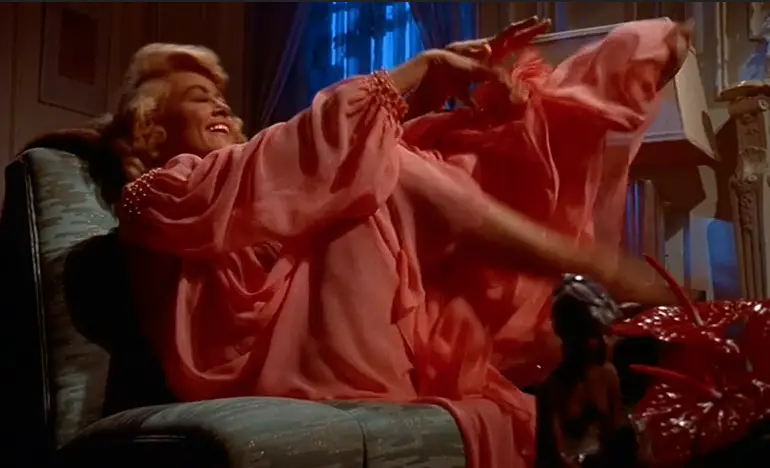 Marylee has her eye on her brother's childhood friend, Mitch Wayne (Rock Hudson). But when both Kyle and Mitch fall for New York secretary Lucy Moore (Lauren Bacall), it ignites a jealous rage within Marylee that stirs up a heap of trouble. As the passions cook and their lives further intertwine, Written on the Wind swells into a conglomeration of suspicion, deceit, inner demons and ultimate self-destruction.

Stacked Cast
Such swollen emotions were ripe material for all involved. For Hudson, his role as Mitch was similar to his role as Bick in George Stevens' masterpiece Giant (1956) that same year; both grand films about Texas oil barons. For years, Hudson had been a favorite of Sirk, this being their sixth of eight films together, including All That Heaven Allows. The fact that Hudson would click so well in Sirk's weepies makes all the more sense today, knowing Hudson's hidden homosexuality.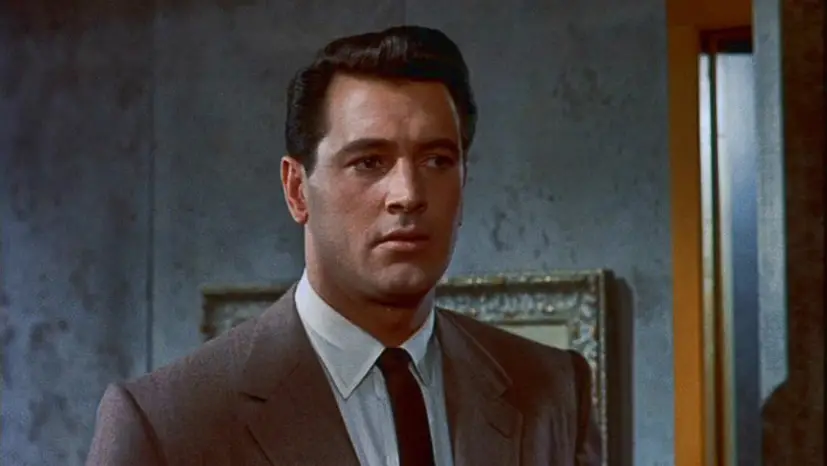 As for Bacall, the film came 10 years after The Big Sleep (1946) and eight years since her last collaboration with husband Humphrey Bogart (Key Largo). The '50s would be Bacall's decade to venture out on her own, sharing the screen with other leading men, even taking the role of Lucy against the wishes of Bogie, who died shortly after the film's release.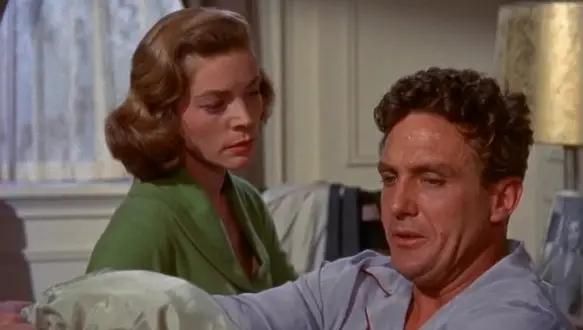 But even these A-listers were overshadowed by the supporting players, namely Stack, whom you know for his comedic role in Airplane! (1980) and his host gig on TV's Unsolved Mysteries. Here, he's at his career best, earning a nomination for Best Supporting Actor, but unjustly losing to Anthony Quinn's 10-minute performance in Lust for Life (1956). Stack forever claimed he lost because of a sabotage by 20th Century Fox, who had loaned him to Universal International, and did not want one of their contract actors to win at a different studio, and thus organized block voting against him. (A)
His female counterpart fared much better. In her sole career nomination, Malone won the Oscar for Best Supporting Actress, becoming one five actors Sirk directed to Oscars in his career. Previously cast only in small parts  — most famously as the bookstore employee seduced by Bogart in The Big Sleep (1946) — Malone transformed herself with platinum blonde hair and a new attitude in Written on the Wind, simultaneously transforming her career. The Oscar finally gave her legitimacy in the entertainment industry, and she went on to land big parts, including TV's Peyton Place (1964-69), playing the TV version of Lana Turner's Constance MacKenzie.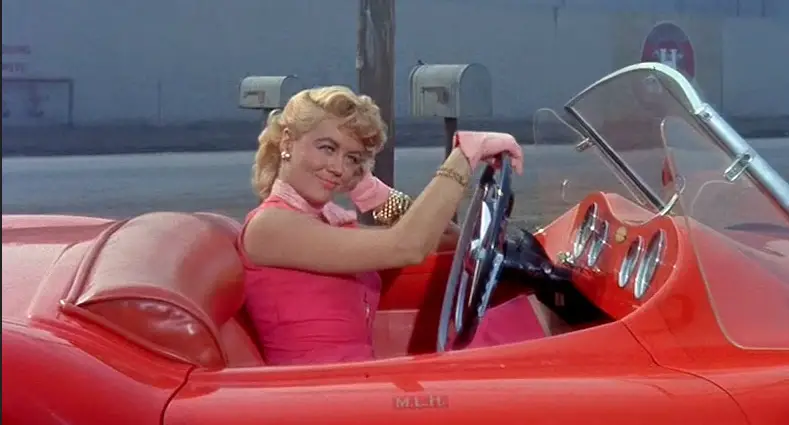 Stylized Directing Style
While Stack and Malone garnered acclaim, some may view their performances as overly dramatic. This is merely a product of Sirk's stylized approach, which reeks of melodrama from the very title, which doubles as an Oscar-nominated song written by Sammy Cahn and Victor Young and performed by The Four Aces, who a year earlier topped the pop charts with "Love is a Many Splendored Thing" (also made into a film staring William Holden). The song, with its lyrics and melody set to dramatic images, is what the word "melodrama" is all about.
Within this stylized framework, Sirk is free to examine truly deep social themes in the most flamboyant of manners. "It was a piece of social criticism, of the rich and the spoiled and of the American family," Sirk said. "And since the plot allowed for violence, it allowed for power of presentation also. A condition of life is being portrayed and, in many respects, anticipated, which is not unlike today's decaying and crumbling American society." (B)
The film's tagline matches Sirk's aim: "The story of a family's ugly secret and the stark moment that thrust their private lives into public view!" Is this not what draws us to all movies? The fulfillment of our voyeuristic desire to enter a dark room and watch the private lives of others up on that screen? Sirk once said this was "a film about failure," and for some reason, viewers love to watch people fail, perhaps to make them feel better about themselves.
Thus, the very work that was initially discarded as pop trash was resurrected after Sirk's retirement by an explosion of pioneers in feminist and psychoanalytic film theory. (B) Most important were the critics of Cahiers du Cinema in Paris, namely Godard, who began to stress a film's mise-en-scene over the superficial quality of acting or script. (C) Under this criteria, Sirk was a god, a master of the cinematic language, using a scene's visual content to express his characters' emotions. And he was even more beloved for doing it under the constraints of the Hollywood system.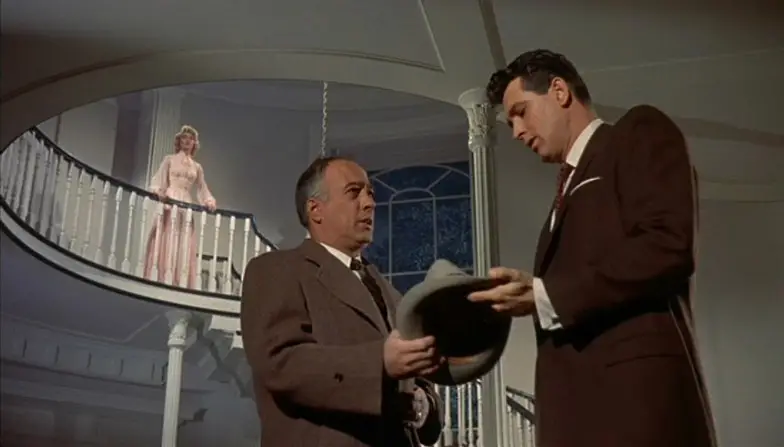 With the backing of independent producer Albert Zugsmith (Touch of Evil), Sirk enjoyed as much autonomy as possible for Written on the Wind, breaking sexual barriers in his seventh collaboration with cinematographer Russell Metty (Touch of Evil, Spartacus). The two achieved a vibrant visual world with a depth of field rare for Technicolor. (C)
"Almost throughout the picture I used deep focus lenses, which have the effect of giving a harshness to the objects and a kind of enameled, hard surface to the colors," Sirk said. "I wanted to bring out the inner violence, the energy of the characters which is all inside them and can't break through."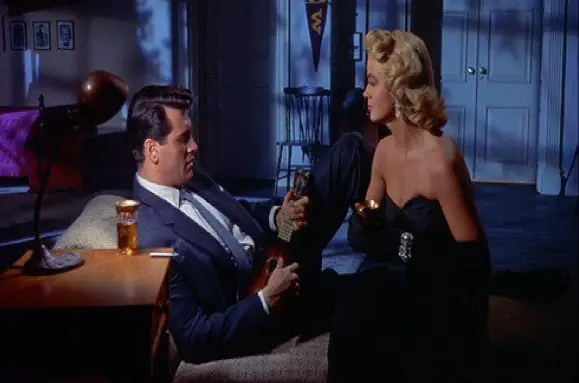 Sirk's flourishes of artistic genius are all over this baby. He maintains a great irony throughout, of characters perceiving their lives much differently than his audience, himself serving as a distant figure laughing at these poor individuals. He has the power to portray things they cannot even grasp. Look at the way he color codes his characters. As Lucy transfers her love from Kyle to Mitch, her clothes change from blue-grays (Kyle's colors) to various browns (Mitch's colors). (C) Note also how the portrait of Kyle and Marylee's oil tycoon father literally watches over their shoulders.

The oil derrick becomes a phallic symbol, rubbed by Malone. "Malone has lost everything. And I have put a sign there indicating this — Malone, alone, sitting there hugging that goddamned oil well, having nothing. The oil well which is, I think, a rather frightening symbol of American society." (C)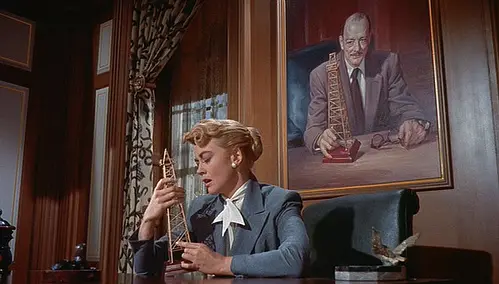 Beyond these individual moments of symbolism, Sirk orchestrates the entire picture with phenomenal pacing, particularly during the father's final staircase climb. It's truly masterful stuff, pioneering a new approach to storytelling, to pace, to dramatic rhythm.

Pop Culture Legacy
Whether people knew it or not, Written on the Wind had a profound impact on future culture. Sirk himself so liked the teaming of Hudson, Malone and Stack that he reunited them a year later for The Tarnished Angels, and two years later Jean Negulesco re-teamed Bacall and Stack in The Gift of Love (1958), her first film since the death of Bogart.
Cinematically, countless directors would pull from Written on the Wind, be it German master Rainer Werner Fassbinder or American filmmakers like Martin Scorsese, Todd Haynes, Jonathan Demme, John Waters and Quentin Tarantino, who all cite Sirk as a major influence. You may remember the Jack Rabbit Slims scene in Pulp Fiction (1994) where Uma Thurman orders a "Douglas Sirk burger." (C)
His impact is everywhere, and one need only turn on the tube to see it. What he did was mainstream the idea of melodrama for decades to come, his construct of a backstabbing oil family revived in several primetime soaps, be it the Ewings in TV's Dallas (1978-91) or the Carringtons in Dynasty (1981-89). (A) In the world of soap, there's no bigger name than Sirk, not even Lava, Zest or Dove. Written on the Wind is his finest achievement.

Citations:
CITE A: Tim Dirks, AMC Filmsite
CITE B: Turner Classic Movies "The Essentials" online summary
CITE C: Criterion Collection DVD booklet, Laura Mulvey introduction