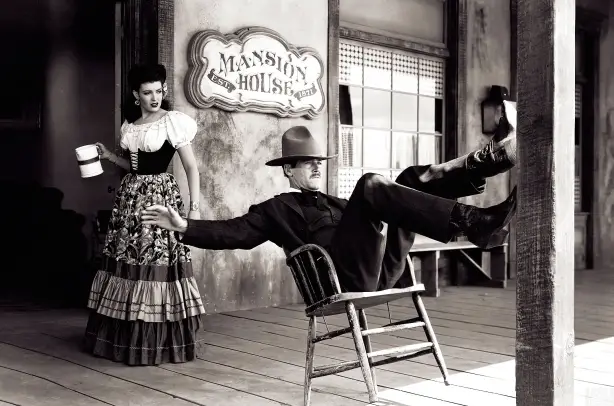 Director: John Ford
Producers: Samuel G. Engel, Darryl F. Zanuck (20th Century Fox)
Writers: Stuart N. Lake (book), Sam Hellman (story), Samuel G. Engel and Winston Miller (screenplay)
Photography: Joseph MacDonald
Music: Cyril J. Mockridge
Cast: Henry Fonda, Linda Darnell, Victor Mature, Cathy Downs, Walter Brennan, Tim Holt, Ward Bond, Alan Mowbray, John Ireland, Roy Roberts, Jane Darwell, Grant Withers, J. Farrell MacDonald, Russell Simpson, Don Garner
Introduction
"That's a sucker game, Doc. There's probably 50 fellas around town just waitin' to see you get liquored up so they can fill you full of holes, build themselves up a great reputation: the man that killed Doc Holliday."
Is there a more famous story of the Old West than that of Wyatt Earp, Doc Holliday and their famous showdown with the Clanton Gang at the O.K. Corral? It's a story that's graced Hollywood screens too many times to count, be it Burt Lancaster and Kirk Douglas in Gunfight at the O.K. Corral (1957), James Garner and Jason Robards in Hour of the Gun (1967), Harris Yulin and Stacy Keach in Doc (1971), Kurt Russell and Val Kilmer in Tombstone (1993) or Kevin Costner and Dennis Quaid in Wyatt Earp (1994). But ask any film historian to name the definitive version of the story and you will get a resounding cheer for Henry Fonda and Victor Mature in My Darling Clementine, which Roger Ebert called "John Ford's greatest western." I personally think that's an overstatement, considering the brilliance of Stagecoach (1939), The Searchers (1956) and The Man Who Shot Liberty Valance (1962). But fourth place in that wild bunch isn't bad.
Plot Summary
The film follows former Dodge City sheriff Wyatt Earp (Henry Fonda) and his cattle-herding brothers as they arrive at the new frontier town of Tombstone, where Wyatt is offered the job of town marshal. It's a role he initially turns down, until he finds his family's wagon ransacked, their cattle scattered and his 18-year-old brother, James (Don Garner), murdered.
Suspecting the work of the lawless Clanton Gang, led by Old Man Clanton (Walter Brennan), Wyatt rides back into town to accept the marshal badge on the condition that his remaining brothers, Virgil (Tim Holt) and Morgan (Ward Bond), sign on as his deputies. It's here that Wyatt crosses paths with legendary surgeon/gambler Doc Holliday (Victor Mature), both of whom have heard of each other and who form a mutual respect over a few drinks. Their new-found relationship is strained, however, with the arrival of Doc's former lover, Boston schoolteacher Clementine Carter (Cathy Downs), who not only incites jealousy from the town's easy saloon singer, Chihuahua (Linda Darnell), but has the stoic Wyatt googly-eyed at first sight. This love triangle — or "love square" if you count Miss Chihuahua — drives the plot until more killings occur, at which point Wyatt and Doc put aside their differences and team up with the rest of the Earp family for a climatic gun battle against the Clantons at the O.K. Corral.
Fact vs. Fiction
The script for My Darling Clementine was based on the book Wyatt Earp: Frontier Marshal by Stuart N. Lake, who reportedly compiled thousands of recounts of the Old West. (A) But by the time it was adapted to the screen, the only historically accurate piece remaining was the final shootout. As it was, the actual O.K. Corral fight occurred on Oct. 26, 1881 (not 1882 as the film depicts), lasted only a few seconds, was fought over Clanton accusations of stagecoach robbery (not over sibling murders), and did not feature Old Man Clanton, who was actually killed before the gunfight. (B) Doc Holliday was not a doctor at all, but a dentist who died of tuberculosis six years after the events of the film, and Wyatt's younger brother James, was actually Wyatt's older brother, who was not murdered by the Clantons but actually lived long after the gunfight. (B) It seems the idea of "you're the guy who shot my brother, and I'm the guy who's gonna kill you" was a more compelling storyline, as was a poetic hero's death for Doc in the battle.
It's ironic that director John Ford would opt for so much creative license in Clementine, as Ford knew the real Wyatt Earp and once had him visit a past film set. Apparently, Ford knew enough to know that historical accuracy doesn't seem to matter much in a genre so absorbed in its own myth. And so, Ford created a title character out of the popular 1884 folk tune "My Darling Clementine," a compelling love interest to arrive 40 minutes into the movie and come between Wyatt and Doc.
Power Performances
Still, no matter how much Ford stretches the truth, the performances carry a resounding authenticity. My Darling Clementine features a deep bench, from Mature's commanding bar-room entrance, to Darnell and Downs as contrasting love interests. The biggest treat is watching Walter Brennan in a rare villainous role that's totally different than his trademark comic relief in Red River (1948) and Rio Bravo (1959). Brennan proves why he's the only actor in history to win three Oscars for Best Supporting Actor.
Still, it's Fonda's tough-but-tender lead performance that carries the film. Ford had previous cast him as Honest Abe in Young Mr. Lincoln (1939), a young colonial in Drums Along the Mohawk (1939) and dust-bowl farmer Tom Joad in The Grapes of Wrath (1940). After Fonda's superb western turn in William Wellman's The Ox-Bow Incident (1943), it was only a matter of time that he and Ford would reunite in the genre. Wyatt Earp provided his first role since returning from service in WWII, and rarely has Fonda been better, save maybe for his villain in Sergio Leone's Once Upon a Time in the West (1968). Fonda is utterly convincing in each aspect of his character's layered persona — tender during an emotional visit to his brother's graveside ("18 years. You didn't get much of a chance did you, James?); endearing in his bashfulness asking Clementine to dance ("Oblige me ma'am?"); and the definition of cool, sitting in front of the saloon on a chair, rocking back on its back legs and propping his feet up against a post. As leans on the post, his stoicism gives way to a lovable goofiness, sticking his arms out in a balancing act and switching his feet back and forth on the post.
Master Director
The fact that such a simple little thing as a chair became part of the film's lore is a testament to Ford. The master filmmaker labors to get all the details right: the opening and shutting of swinging doors; the sound of piano keys over the rumble of saloon patrons; shot glasses and sixguns sliding down a bar toward the camera and back up again; and the all-important silver cross medal, which becomes a key plot device.
Ford reveals himself as a perfectionist, turning a bar-side conversation between Doc and Chihuahua into a 30-second single-take as Darnell delivers emotional dialogue, walks over in a slow pan and heaves a beer mug at a hanging lantern (nailing it with great aim, I might add). Ford's perfectionism is also apparent in the final gunfight, pacing together the sun's slow rise the morning of the fight, the extreme wide shots of the empty town street, the ominous sight of three miniature figures approaching from the distance, the visual chaos of flying dust and horses running in front of the camera, and, of course, Fonda's slow walk past the camera, earning increasing dominance along the way.
Enhancing these camera schemes is the sheer visual beauty of it all. Not only does Ford return to the cacti and rock formations of his favorite shooting locale, Monument Valley, he captures the landscape in beautiful contrasts of light and shadow, thanks to low-key lighting by cinematographer Joseph P. MacDonald (less light on the actor's face, and more light from behind). I beg you to hit the pause button as the Earps first ride up on the town of Tombstone. Admire the Rockwellian beauty that Ford has created — three silhouetted cowboys off to the right, their shadows stretching downward to the bottom of the frame, dust swirling out from under the feet of their horses, the lights from several buildings glowing in the distance, the mountains stretching across the horizon, and the dark clouds parted ever-so-perfectly by bits of light. It's stunning to look at. But it can also be useful.
Throughout, Ford uses this light to paint his characters' empowerment and detriment, depending on the situation. This creates both a legend in Wyatt's silhouetted walk down a porch, and a monster in Doc's drunk stagger into his room as a mere silhouette against his bedroom window. The latter anguish allows Ford's true genius, as Doc addresses his own reflection in the glass of his framed medical degree hanging on the wall. His face imposed over the diploma, it's a brilliant dichotomy of what he once was (a respected doctor) and what he has become (a drunk). This transformation is also seen in Doc's relationships with women, forsaking the beautiful, fair-haired schoolteacher from the east (Clementine), and moving into bed with the dark-haired, western prostitute (Chihuahua). All this must be going on in Doc's mind as he mocks his own name and smashes his own image in the glass. Fewer film characters are as tragic as Doc Holliday in My Darling Clementine, his inner demons causing his deteriorating health, and his health causing his demise.
Wyatt, on the other hand, is the film's source of hope. It is he who gradually becomes more civilized as the film progresses, starting with a beard before shaving it down to a mustache, rising from his laid-back rocking position on the chair to stand erect at attention for the classy Clementine, transforming himself into a well-groomed man with "sweet smelling" hair tine so that he can square-dance with "his lady-fair."
Genre Legacy
It's at this lattermost moment that Wyatt finally breaks free, fittingly occurring during the town's own move toward civilization — the dedication of Tombstone's first church, as the town folk gather to dance on the elevated floor of the skeletal church-in-progress. As the town deacon says, "I've read the Good Book from cover to cover and back again, and I never found one word against dancin'. So we'll commence by havin' a dag-blasted good dance!"
Few scenes capture the western genre like Ford's church dance in Clementine, where frontier settlers gather in a half-built church with American flags waving overhead. It's the entire western idea — that spirited frontiersman "go west young man," tame the wilderness to create a community of laws, and build lives for future generations that reflect the hope of Wyatt's speech to his buried brother: "Maybe when we leave this country, young kids like you will be able to grow up and live safe."
Whether this dream is beautifully realized or tragically misguided was the subject of Ford's greatest films in the decades to come. The Searchers (1956) explored the racist demons that cowboys must overcome, while The Man Who Shot Liberty Valance (1962) contrasted Jimmy Stewart as the Eastern lawyer who strives to build schools and other social contracts (liberalism) vs. John Wayne as the Western gunslinger with rugged individualism (conservatism). Considering this career trajectory, does the ending of My Darling Clementine become bittersweet? Having ensured the safety of Tombstone, Fonda's Wyatt Earp opts for the fate of the classic western hero, as would Shane and Ethan Edwards, riding alone back out into the wilderness, with no true destination but that horizon line.
Citations:
CITE A: DVD booklet, 20th Century Fox Studio Classics
CITE B: Tim Dirks, AMC Filmsite