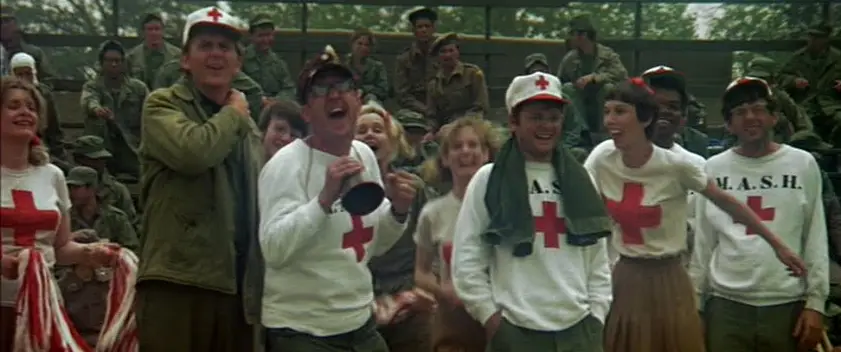 Director: Robert Altman
Producer: Leon Erickson, Ingo Preminger (Fox, Aspen)
Writers: Richard Hooker (novel), Ring Lardner Jr. (screenplay)
Photography: Harold E. Stine
Music: Mike Altman, Ahmad Jamal, Johnny Mandel
Cast: Donald Sutherland, Elliot Gould, Tom Skerritt, Sally Kellerman, Robert Duvall, Roger Bowen, Rene Auberjonois, David Arkin, Jo Ann Pflug, Gary Burghoff, Fred Williamson, Michael Murphy, Indus Arthur, Ken Prymus

"This isn't a hospital, it's an insane asylum!"
Ask any TV-loving adult about the experience of Feb. 28, 1983, and watch them fondly recount how city streets were emptied by the 105 million people tuning in to watch the finale of M*A*S*H, an episode that to this day remains the most-watched TV event of all time. Yet because of the show's own phenomenon, it's easy to forget that M*A*S*H actually started with Robert Altman's 1970 movie, a film deemed strong enough to merit a TV spinoff two years later.
The gang's all here, from Hawkeye to Hot Lips O'Houlihan, from Trapper John to Major Frank Burns. But before Alan Alda there was Donald Sutherland (Ordinary People). Before Loretta Swit there was Sally Kellerman (Brewster McCloud). Before Wayne Rogers there was Elliot Gould (Friends). And before Larry Linville there was that king of the supporting actors, Robert Duvall (The Godfather). If you prefer the film version, by all means keep it close to your heart as the definitive M*A*S*H. If you prefer the TV show, tip your cap to the film that made it all possible.
Based on Richard Hooker's novel recounting his own service in the Korean War, the film follows the everyday lives of Army surgeons in the 4077th M*A*S*H (Mobile Army Surgical Hospital) stationed in Korea. We follow the operations — and antics — of Capt. Benjamin Franklin "Hawkeye" Pierce (Donald Sutherland), Capt. Augustus Bedford "Duke" Forrest (Tom Skerritt) and Capt. John Francis Xavier "Trapper John" McIntyre (Elliot Gould). But this is no ordinary medical unit. The three captains are a trio of rebels, bound and determined to buck the order of their overly religious officer, Major Frank Burns (Duvall), and their up-tight head nurse, Major Margaret O'Houlihan (Kellerman).
These battle lines lead to a number of raunchy, womanizing, yet hilarious pranks, broadcasting Burns and O'Houlihan's sexcapades over the camp's loudspeakers, or tearing away her shower curtain to see if her "carpet" matches the drapes. It may very well be cinema's second most famous shower scene after Psycho (1960). Not to worry, "Hot Lips" got the last laugh, as Kellerman was the only actor to earn an Oscar nomination.
Similar antics follow in episodic fashion involving countless members of an ensemble cast, from Roger Bowen to David Arkin to Gary Burghoff (the only actor to stay on for the TV program). It all  culminates with an outrageous football game against the rival EVAC hospital that includes former NFL defensive back Fred Williamson as "Spearchucker" Jones and a brief cameo by Johnny Unitas, shown taking a hit off a joint at the end of the game.
With all of these individual "episodes," the film feels more like a collection of scenes rather than a single cohesive plotline. This disjointed structure may puzzle some viewers, a problem Altman realized shortly after shooting wrapped. He devised a plan to connect the scenes as best he could with various transition shots of the camp's speaker system, shot by a second unit crew, coincidentally the same night of the U.S. moon landing. (A) Whether it's enough to tie it all together is a judgment best left up to each individual viewer.
But just as these speaker transitions were added, speculation continues over just how much of Ring Lardner Jr.'s script script was used, thanks to rumors of heavy drug use off set and heavy improvisation on set. The portion that did make it into the film was worthy enough to win the Oscar for Best Adapted Screenplay, the film's sole victory in a year dominated by another war film, Patton (1970), which took home seven Oscars, including Best Picture and Original Screenplay (Francis Ford Coppola and Edmund H. North). Lardener's Adapted Screenplay Oscar was his second statue, 28 years after his first for the Hepburn-Tracy comedy Woman of the Year (1942). To this day, many believe it to be an apology award for Lardner's blacklisting during the McCarthyist era, where he was listed as one of the original "Hollywood Ten." (C)
Academy voters no doubt wanted to recognize M*A*S*H for being unlike anything the movies had ever seen. It was the next great landmark in the evolution of the war satire, building upon past efforts like Duck Soup (1933) and Dr. Strangelove (1964) to create a new beast for the modern age. The script for M*A*S*H influenced countless war comedies to follow: Stripes (1981), Good Morning, Vietnam (1987), Full Metal Jacket (1987), In the Army Now (1994) and Major Payne (1995).
Woven into this framework of originality is a string of biting wit, earning a #7 spot on the AFI's 100 Laughs with exchanges like: "I wonder how a degenerated person like that could have reached a position of responsibility in the Army Medical Corps?" "He was drafted."
It's important, however, to underscore that the humor is the epitome of dark comedy, having fun at the expense of others and making light of ultra-grim situations. Underneath every joke is a bitter cynicism toward the prospect of war, specifically the Vietnam War, which was still in full thrust by 1970. By setting his film during the Korean War, Altman was able to fool studios into thinking he was making a patriotic war picture, all the while satirizing the current situation in Vietnam. (B) When Fox found out the director's true aims, the powers-that-be considered shelving the project altogether, until preview audiences showed very positive responses. Thus, many scholars view M*A*S*H as the moment that the anti-establishment spirit of the sixties broke into the mainstream, affecting audiences whether they realized it or not.
We the viewers are subliminally affected by Altman's juxtapositions, meshing the laughter and wisecracks of various surgeons with an otherwise glum pan across three different operating tables, each as bloody as the next. Note Hawkeye's lighthearted request for a fellow nurse to scratch his nose during an amputation operation, the image of the scratching finger almost syncopated with the audible sounds of a man's leg bone being sawed off. This is the mood Altman creates throughout, a cinematic quest for sanity in an insane environment.
His opening credits of helicopters with painted red-crosses and wounded bodies draped over the side was cinema's first hint of what Coppola would do with Apocalypse Now (1979). In this same vein comes the film's theme song, "Suicide is Painless," with music by Johnny Mandel and lyrics by Altman's 14-year-old son Mike. The song reached #1 on the UK charts and later became the theme for the TV show.
With this tone of melancholia established right off the bat, Altman would try his own experimentation with the camera, pioneering his trademark style of sensory storytelling. Altman often begins with a massive wide-angle shot, populated with numerous actors speaking over top one another, then zooms in on a particular focal point. Think of the zany overlapping dialogue of His Girly Friday (1940), only with wider shots, larger crowds and many more zooms.
The zooms come jagged and often, constantly tricking our perceptions of depth and place, making us think we're inside a tent when we're really outside, or vice versa. It's a blatant reminder that our viewing experience is at the mercy of a director's manipulation of space. At any moment, Altman can place a fire barrel beneath the camera to create symbolic flames rising in front of Duvall's face to express his slip into madness. When these zooms interact intimately with an actor's face, starting close and pulling back to a wide shot, or vice versa, they stress the individual's place in the overall world, making each war casualty all the more tragic.
The most daring zoom comes during a conversation about "mortal sin," as Altman zooms to an obvious bit of Last Supper imagery.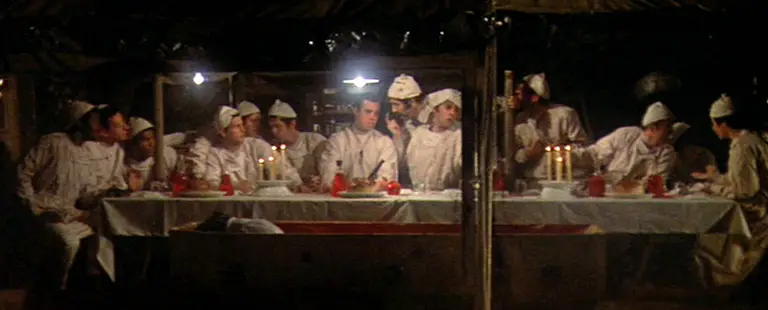 This bold approach of countless zooms performed by a relative newcomer like Altman felt threatening to many insiders, including cast and crew who tried having him fired. They said a rookie had no right trying these unorthodox methods and could very well ruin the film. In the end, Altman was vindicated, receiving an Oscar nomination for Best Director, which he lost to Patton's Franklin J. Schaffner, and winning the prestigious Palme d'Or at the Cannes Film Festival — the top international art prize a filmmaker can receive.
In all, M*A*S*H earned five Oscar nominations, including Best Picture (Erickson, Preminger), Director (Altman), Editing (Danford B. Greene), Supporting Actress (Sally Kellerman) and Screenplay (Lardner). It was the third highest grossing film of 1970, behind only Love Story (1970) and Airport (1970), grossing $81.6 million domestically, far more than the $10 million of Nashville (1975).
Yet to fully measure the film's societal impact, one must take into account the success of the television series, which grabbed audience attention for 12 loyal years. Was M*A*S*H a contributor to our desensitization to war through the movies and television? Perhaps. But just as powerfully, it exposed an authentic human reflex, the idea that one will do just about anything to keep his or her sanity in the face of a crisis, and that sometimes the only response to sheer horror is to laugh your politically incorrect ass off.

Citations:
CITE A: "Enlisted: The Story of M*A*S*H" (making-of documentary), Twentieth Century Fox Home Entertainment, 2001
CITE B: 1001 Movies You Must See Before You Die?
CITE C: Tim Dirks, AMC Filmsite