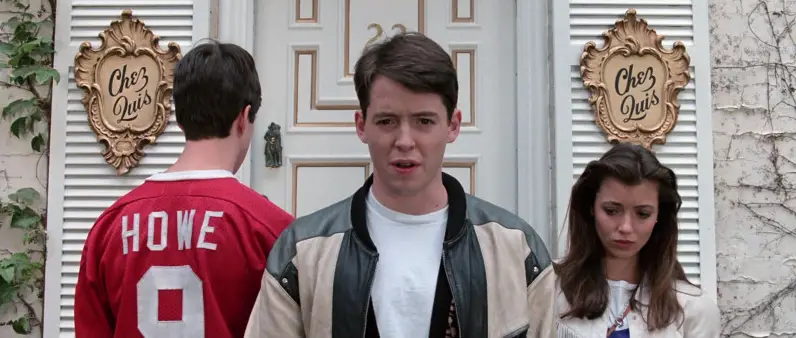 Director: John Hughes
Producers: John Hughes, Tom Jacobson (Paramount)
Writer: John Hughes (screenplay)
Photography: Tak Fujimoto
Music: Ira Newborn
Cast: Matthew Broderick, Alan Ruck, Mia Sara, Jeffrey Jones, Jennifer Grey, Cindy Pickett, Lyman Ward, Edie McClurg, Charlie Sheen, Ben Stein, Del Close, Virginia Capers, Richard Edson, Larry Flash Jenkins, Kristy Swanson

Introduction
"Bueller?…..Bueller?…..Bueller?….Bueller?"
Ben Stein's monotone teacher, calling roll for a title character not at his desk, is one of those instantly imitable moments from perhaps the best-loved of all John Hughes teen comedies. Ferris Bueller's Day Off feels like the grand finale after Sixteen Candles (1984), Weird Science (1985), The Breakfast Club (1985) and Pretty in Pink (1986), marking the end of the teenage innocence before Hughes moved onto Planes, Trains and Automobiles (1987), Christmas Vacation (1989) and Home Alone (1990).
It also stands out from the Brat Pack crowd, casting fresh faces other than Molly Ringwald and Anthony Michael Hall, with the closest thing being Emilio Estevez's brother, Charlie Sheen, in a bit role. But different is good, earning the title of #1 Teen Movie of All Time by Empire magazine in 2005.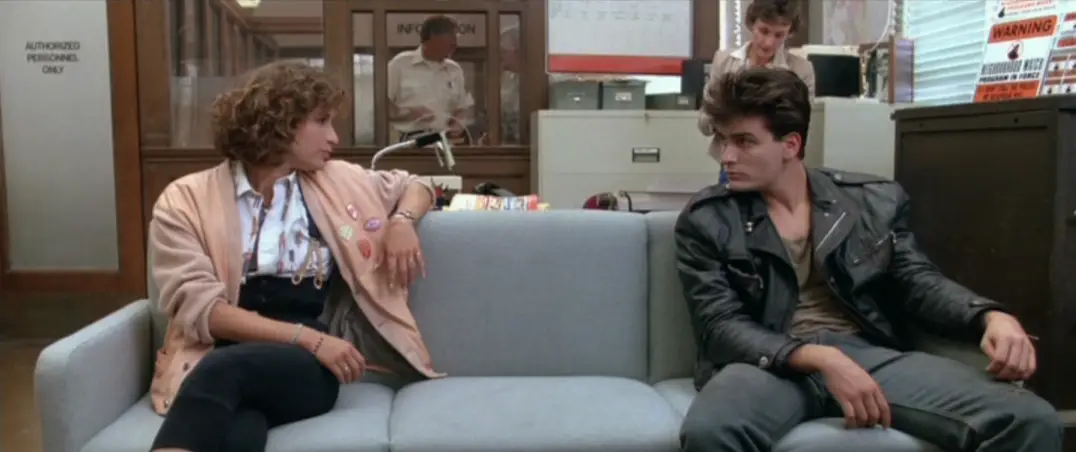 Plot Summary
The film chronicles one high-schooler's day of hookie in Chicago. Seventeen-year-old Ferris Bueller (Matthew Broderick) is the most popular kid in school, beloved by "the sportos, motorheads, geeks, sluts, bloods, wastoids, dweebies and dickheads," who all think "he's a righteous dude." So righteous, in fact, that he's mastered the art of cutting class, missing a total of nine days in his last semester. His younger sister, Jeanie (Jennifer Grey), is jealous that Ferris gets away with everything, and his arch rival, principal Ed Rooney (Jeffrey Jones), leaves school in an attempt to finally catch Bueller in the act.
After duping his parents into letting him stay home "sick," Bueller rounds up his reluctant buddy Cameron (Alan Ruck) and cheerleader girlfriend Sloane (Mia Sara) for a joy ride in the prized possession of Cameron's father — a red 1961 Ferrari 250 G-T California. Together, they visit the Sears Tower, dine at a swanky downtown restaurant, take in a ballgame at Wrigley Field, hit an art museum and join a city parade, where Bueller lip-syncs "Danke Schoen" and "Twist and Shout" atop a float.

The Cast
No doubt about it, the power of the film lies in the individual performances, the most underrated of which belongs to Alan Ruck, who pulls off a teenager despite being 30 years old at the time. His Cameron character remains the film's most important character in that he undergoes the most growth, starting just like his father's license plate — "NRVOUS" — and appearing "so tight that if you stuck a lump of coal up his ass, in two weeks you'd have a diamond." Bueller describes him as "a little keyed up," made that way by his neglecting parents. To see Cameron's growth is to catch the entire point of the movie, moving from comic to catatonic, from Three Stooges gestures to shock at the end of a diving board.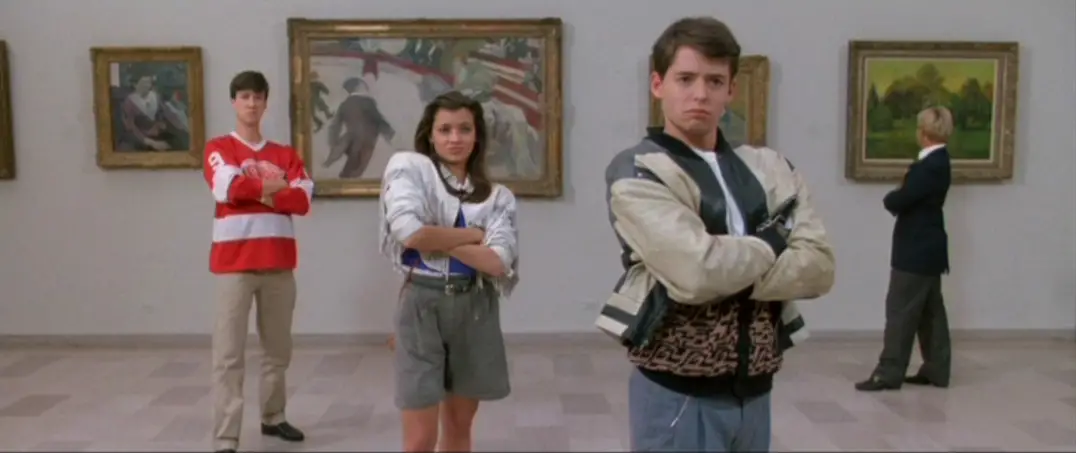 The success of the film earned Ruck a part in TV's Spin City (1996) a decade later, while  the irresistibly cute Jennifer Grey saw her popularity explode a year later in Dirty Dancing (1987). Mia Sara didn't amount to much after this, but she's absolutely beautiful here. And Jeffrey Jones is the perfect adult foil for the Hughes formula, channeling Paul Gleeson's principal in The Breakfast Club, but creepily being outed as a sex offender years later.
Of course, none of this casting would have mattered if Hughes didn't get the lead actor right, and it's safe to say, Matthew Broderick steals the show. The 24-year-old Broderick nailed the teenage mentality by packing more charisma into the role than most do in a career — case in point, using keyboard cough sounds to form the "Blue Danube Waltz." Broderick got his start three years earlier, playing a kid in Max Dugan Returns (1983) and then hacking Pentagon computers in WarGames (1983), the perfect practice for Bueller changing his absentee records.
There's no doubt that Ferris Bueller is the role that made Broderick a household name, earning him a Golden Globe nomination and leading to parts in such films as Glory (1989), The Lion King (1994), The Cable Guy (1996) and Election (1999). It's no coincidence that such parts are beloved by young viewers. Broderick always maintained a sort of connection with them — Glory as their history lesson, Lion King as an appeal to their inner child, Cable Guy as their mindless humor, and Election as a return to high school politics. Ferris Bueller lives on.

Comedy Directing
Can lighthearted teen comedies also boast effective directorial techniques? Yes! Genre is no excuse to ignore clever craftsmanship, and Ferris Bueller reveals a director's eye that's rare for teen comedies. Part of the reason Bueller is so charismatic is Hughes' decision to "break the fourth wall" with direct camera addresses. The film opens with Bueller speaking directly at the screen, relaying his teenage philosophy on life, which he continues throughout the film. Even after the end credits, the camera lingers inside his home so that Bueller can come in to say, "What are you still doing here?" This directorial decision is smart of Hughes, allowing him to directly address his teenage audience through Bueller.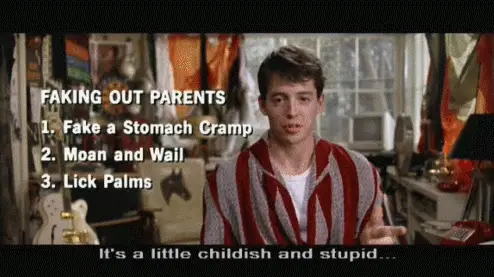 Notice also the POV shots from Ferris in bed; the "keys to faking out parents" text appearing on screen; the cross-tracking of Mrs. Bueller approaching his bedroom; the mise-en-scene of Rooney in the foreground, looking away from a TV showing Bueller at the Cubs game; the low-angle shot of the Ferrari flying overhead in slow-motion to the Star Wars theme; the dolly shot down a long school hallway to see Jeannie standing against a wall deep in the field; the museum montage of Bueller, Cameron and Sloane posing as statues; and the shot-reverse shot technique as Cameron stares at a little girl holding her mother's hand in a painting, the camera moving in closer with each cut until finally Cameron stares at the individual dots (pixels) of the painting.

Life Themes
The aforementioned painting scene shows Hughes' continued attempt to drive at some deeper moral point. Could the girl in the painting symbolize Cameron's need for his own parental love? Consider Cameron's breakthrough moment in his dad's garage. The message of the film lines up directly with Cameron's statement: "I am not gonna sit on my ass as the events that affect me unfold to determine the course of my life. I'm gonna take a stand. And I'm gonna defend it. Right or wrong, I'm gonna defend it."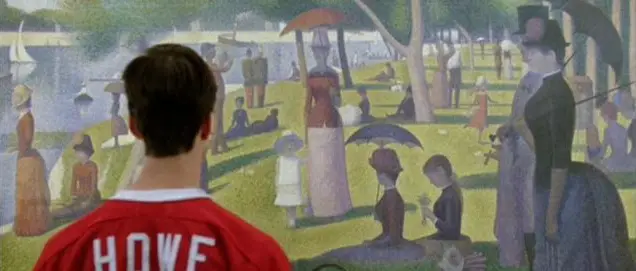 There's plenty of philosophy to go round in Ferris Bueller, mostly dished out by its titlular character. That Hughes wants his young audience to adopt these philosophies is obvious by the direct address, the main message coming during the film's bookend quotes: "Life moves pretty fast. If you don't stop and look around once in a while, you could miss it."
Hughes places heavy emphasis on individual self-confidence, captured in Bueller's advice: "A person should not believe in 'isms.' He should believe in himself. I quote John Lennon, 'I don't believe in The Beatles. I just believe in me.'" His stance on "isms" explains his rationale for missing his school lecture on European socialism, concluding that, "They can be fascist anarchists and it still wouldn't change the fact that I don't own a car."
This is Hughes' brilliance in capturing the teen scene. He comments on stiff adults' inability to reach impatient students, as the history teacher (Ben Stein) tries desperately to elicit some sort of response out of his bored students, who are passed out and drooling during a boring lecture on tariffs. Just try not laughing as he offers obvious hints followed by the delicious catchphrase, "Anyone? Anyone?"

Legacy
The Ben Stein scenes are more than just hysterical; they're deceptively profound. As we hear Stein's monotone voice, the camera lingers in the hallway to see Bueller pull away in the Ferrari– a breakaway moment on multiple fronts. The characters themselves are breaking away from a school daze, while the film itself is breaking away from a high-brow academia that often underestimates the importance of the mainstream. Thus, Ferris Bueller falls right in sweet spot of The Film Spectrum.
The movie grossed $70 million, a full $30 million more than its '86 rival Pretty in Pink, to become a Top 10 grosser that year. It was proof to Hughes that certain elements would work, as his biggest moneymaker Home Alone would expand upon Bueller's homemade contraptions and Rooney's "robber" mishaps trying to get into Bueller's home. Like Home Alone, Ferris Bueller is forever embedded in our pop culture. It inspired a short-lived TV series with Jennifer Aniston as Jeannie, found a sure-fire spot on VH1's I Love the '80s and put The Beatles' "Twist and Shout" back on the charts after 22 years. Is Cameron's signature "drop" sound the same one used by AOL? Is it possible to hear Yello's "Oh Yeah" and not think of a red Ferrari? And would TV shows like Saved By the Bell (1989) even exist if it weren't for Ferris?
The fact that Ferris Bueller didn't make the AFI's 100 Laughs is itself laughable, though it did place #54 on BRAVO's 100 Funniest Movies. To me, both lists are flawed. BRAVO is irresponsible for not choosing older comedies, lacking even one Marx Brothers film, while the AFI is irresponsible for not choosing newer comedies, like at least one John Hughes film. Can't someone call it down the middle?
In the meantime, Bueller fans will have to enjoy its place on newer genre specific lists, like Empire's Greatest Teen Movies (#1), Entertainment Weekly's Greatest High School Movies (#10) and Total Film's Greatest Comedies (#23). Indeed, comedies are the hardest to judge, thanks to the array of different funny bones. But is Ferris Bueller's Day Off not one of the most entertaining teen movies ever made? Sure, some parts are "a little childish and stupid, but then, so is high school."