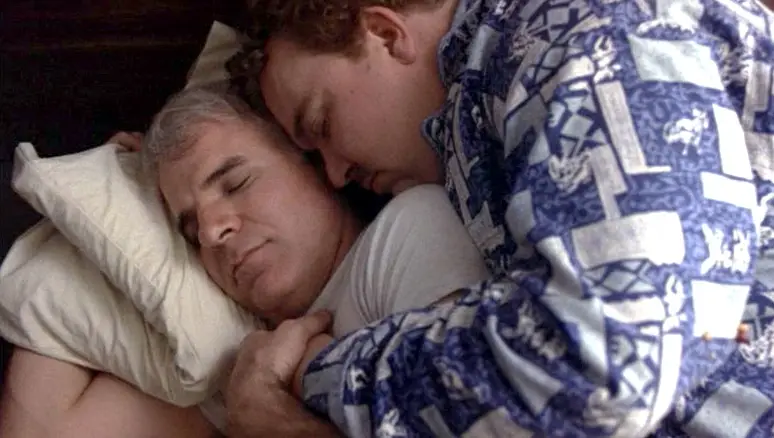 Director: John Hughes
Producer: John Hughes
Writer: John Hughes
Photography: Donald Peterman
Music: Ira Newborn
Cast: Steve Martin, John Candy, Laila Robins, Michael McKean, Kevin Bacon, Dylan Baker, Ben Stein

Certain comedies surprise us, not simply for their premise or plot or funny gags, but in their overflowing heart, blinding truth and how good they make us feel. Planes, Trains and Automobiles is one of those movies. Though it does feature its own special twist, the real surprise is left after the revelation, a movie with more perspective on life than anything we've come to expect from a road trip buddy comedy of its kind. Then again, should we expect anything less from writer/director John Hughes?
Two days before Thanksgiving, over-stressed workaholic Neal Page (Steve Martin) tries to get from his business trip in New York City back home to Chicago so he can be with his family for the holidays. The trip can't start soon enough, as Neal endures an excruciatingly slow day at the office, then loses a mad dash for a cab to Kevin Bacon. The rest of the film is six degrees of "are we there yet?"
Neal finally arrives at the airport, only to learn that his flight has been cancelled due to a snowstorm. With his patience already stretched, he encounters the last thing he desires: a shower-curtain-ring salesman who won't shut up named Del Griffith (John Candy in his best role).
Fate brings them together as side-by-side passengers on the next available flight, where Del ironically says, "The last thing I want to be remembered as is an annoying blabbermouth." He also introduces the sore foot phrase "my dogs are barking," which I've heard women in high heels quote to this day.
Sure enough, the flight is unexpectedly grounded due to inclimate weather, forcing Neal and Del to stay the night in remote Wichita, Kansas, and share a shoddy motel room together — with only one bed. Note Martin and Candy's simultaneous realization that "those aren't pillows," followed by their awkwardly hilarious attempt at masculinity: "Did you see that Bears game?"
The cramped space causes Neal to snap and ream out his new travel companion. The conflict gives both actors the perfect platforms for their respective personae. Martin nails the pissed off traveler, rattling off a diatribe of comedy: "Honey, I'd like you to meet Del Griffith. He's got some amusing anecdotes for you. Oh, and here's a gun so you can blow your brains out."
Candy answers as the consummate charmer whose feelings have been hurt, countering with a few heartfelt words of his own: "Yeah, you're right, I talk too much. I also listen too much. I could be a cold-hearted cynic like you, but I don't like to hurt people's feelings. Well, you think what you want about me. I'm not changing. I like…I like me."
If viewers were withholding judgment on Candy's character, this one seals the deal. Del Griffith may not know when to shut his mouth, but his heart is as good as gold. Martin seems to understand this, feeling badly as he climbs back into bed. The rest of the film dares him to overlook Candy's blunders if for no other reason than his good intentions. The comedy comes in how hard this is for Martin to do, considering the countless mishaps that befall the two on their progressively ill-fated journey on planes, trains and automobiles.
Having already hit the "holiday road" in his script for National Lampoon's Vacation (1983), Hughes dreams up every road-trip mishap imaginable for Planes, Trains & Automobiles, inspiring all buddy road comedies to follow. As Candy and Martin shiver down the road, you can see the seeds of the human icicles of Jim Carey and Jeff Daniels in Dumb and Dumber (1994).
As they ride in a sabotaged car, you can bet they inspired the post-deer remnants of the car driven by Chris Farley and David Spade in their own odd-couple road trip Tommy Boy (1995).
Martin's rampage against a rental car receptionist likely inspired Jerry Seinfeld's rant in Seinfeld and later Ben Stiller's encounter in "Meet the Parents" (2000), only Steve Martin unleashes a hilarious string of "F-bombs."
During the legendary "You're going the wrong way!" highway scene, Candy's brief transformation into a red devil inspired Norm MacDonald's bizarre hallucination of Adam Sandler in Dirty Work (1998).
Most obviously, the notion of Candy on a road trip was repeated by Hughes himself in Home Alone (1990), where Candy approaches Catherine O'Hara at an airport (just like Del does with Neal) and helps get her home via a Budget moving van. Only here, he's no shower curtain ring salesman. He's the self-proclaimed "Polka King of the Midwest."
But while such scenes have become classics, they aren't the chief reason why the film is beloved by both the public (7.5 on IMDB) and the critics (94% on Rotten Tomatoes). The real reason becomes touchingly obvious during its memorable conclusion. After hitting us with a barrage of screwball comedy gags, Hughes offers a twist that suddenly makes us aware of the important details we blindly overlooked (i.e. Candy's trunk). As Martin rides the train home, he wakes up to a possibility he never considered, as Hughes inserts a Sixth Sense style montage of flashbacks — a diner scene, a motel scene toasting their wives — that makes viewers instantly want to go back and watch the film again.
And we should review it again. A second viewing will bring a newfound respect for Candy's performance, and how much better the film is because of it. It's this element that gives Planes, Trains & Automobiles the key ingredient of all the best holiday films — an intangible, unmistakable warmth.
The final shot of Candy's smiling face, freeze-framed and fading out to the song "Every Time You Go Away," wasn't his last with Hughes (Uncle Buck, Home Alone), but it's the most fitting, considering that Candy died of a heart attack several years later at the young age of 43. Planes, Trains & Automobiles remains a memorial to the man, who was so similar to the Del Griffith character he played. The late Roger Ebert experienced this during a chance meeting with Candy at the bar:
One night a few years after "Planes, Trains and Automobiles" was released, I came upon John Candy (1950-1994) sitting all by himself in a hotel bar in New York, smoking and drinking, and we talked for a while. We were going to be on the same TV show the next day. He was depressed. People loved him, but he didn't seem to know that, or it wasn't enough. He was a sweet guy and nobody had a word to say against him, but he was down on himself. All he wanted to do was make people laugh, but sometimes he tried too hard, and he hated himself for doing that in some of his movies. I thought of Del.  (A)

Citations:
CITE A: Roger Ebert, rogerebert.com, "Great Movies" review