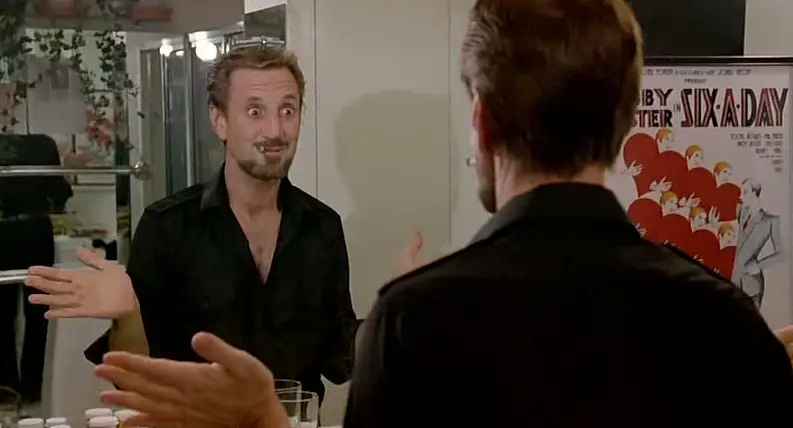 Director: Bob Fosse
Producer: Robert Alan Aurthur (Fox, Columbia)
Writers: Robert Alan Aurthur and Bob Fosse (screenplay)
Photography: Giuseppe Rotunno

Music: Ralph Burns
Cast: Roy Scheider, Jessica Lange, Leland Palmer, Ann Reinking, Cliff Gorman, Ben Vereen, Erzsebet Foldi, Michael Tolan, Max Wright, John Lithgow, William LeMassena, Irene Kane, Deborah Geffner, Kathryn Doby, Anthony Hollan, Robert Hitt

Introduction
"To be on the wire is life. The rest is waiting."
Until Charlie Kaufman's directorial debut Synecdoche, New York (2008), which Roger Ebert called the film of the decade, Bob Fosse's All That Jazz was the only American film that even came close to matching the brilliance of Fellini's 8 1/2 (1963). Fosse's work mirrors Fellini's masterpiece in premise — a  struggling director trying to make a hit — and personal inspiration — Fellini was dealing with a crisis of creativity, while Fosse was just off open-heart surgery. (A)
Though Fellini's masterpiece deals with a film director and Fosse's a stage director, both feature the same driving force: an artist's agonizing and potentially fatal journey of creating a perfectionist work of art. All That Jazz is a semi-autobiographical work for Fosse, with many of his own doubts, struggles, fears, highs and lows played out through his lead character.

Plot Summary
Joe Gideon (Roy Scheider) is a self-exhausting, self-destructive, chain-smoking, pill-popping, alcoholic, sexaholic Broadway director. He's busy auditioning, choreographing and directing his latest theater production, while editing a feature film about a standup comedian on the side. He is both a workaholic and a womanizer, his all-powering job putting him in a position to take advantage of countless young dancers willing to sleep their way onto the stage. But his exploits come with a price, straining his relationship with his daughter (Erzsebet Fold) and ruining any chance he has at actual love.
The two most prominent women in his life are based off real-life Fosse flames. Leland Palmer plays an ex-wife based on Fosse's third wife, Broadway star Gwen Vernon, while Ann Reinking plays herself as the director's late-life lover, who tells him, "I just wish you weren't so generous with your cock." The film originally included a third real-life lover, Julie Hagerty, but her scenes were ultimately cut. (B)

The Players

Still, Gideon's most dangerous lover may be a fantasy one, the so-called "Angel of Death," Angelique (Jessica Lange), who's turned on by Gideon's life-threatening habits and symbolizes his literal flirt with death. Lange is unshakable as the temptress grim reaper, foreshadowing the macabre fantasy that earned her an Emmy on TV's American Horror Story (2011). The role also launched a stretch where she would earn six Oscar nominations over a 12-year span, including two wins for Tootsie (1982) and Blue Sky (1994).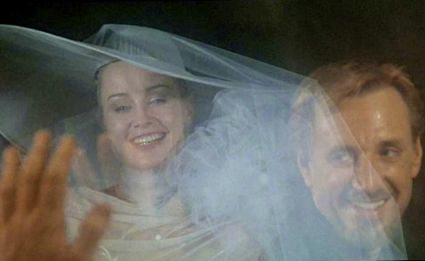 But she wasn't the only one in the supporting cast that would go on to fame. John Lithgow, who plays a loose version of Fosse's rival Michael Bennett (Dreamgirls), went on to star in TV's 3rd Rock From the Sun (1996), while Max Wright later starred as the father in TV's ALF (1986). (B)
But make no mistake about it, the show belongs to the Roy Scheider, who remains one of the most underrated actors in movie history. The amount he accomplished from 1971-1979 is incredible: earning an Oscar nomination for Best Picture winner The French Connection (1971), supporting Jane Fonda and Donald Sutherland in Klute (1971), anchoring Spielberg's ultimate summer blockbuster as the police chief in Jaws (1975), playing sidekick to Dustin Hoffman in Marathon Man (1976) and playing Fosse's on-screen proxy in All that Jazz (1979).
In fact, Scheider took over the role of Gideon in Jazz when his Jaws co-star Richard Dreyfuss left the project in the rehearsal stages. What a break for Scheider, who achieves a sort of career culmination.

Bob Fosse: Visionary
What courage by Fosse to put himself out there for his own self-critique. Let's face it, it's not a pretty picture he paints. But there must be some therapeutic effect in such self-analysis, getting it all out on film, so to speak. The high-strung epileptic was infamous for suffering seizures during dress rehearsals. But boy was he good, in literally every realm of entertainment he tried.
His theater career is the stuff of Broadway legend, winning an unprecedented eight Tonys for choreography, including Damn Yankees and Chicago, and one more Tony for stage direction on Pippin. But his genius couldn't be contained to just a stage, and his film director career began with a Fellini screenplay on Sweet Charity (1969). His sophomore effort, Cabaret (1972), was the one that took Hollywood by storm, snatching Best Director from the hands of Francis Ford Coppola, who was heavily favored to win for The Godfather, but fell to Fosse in one of the biggest upsets in Academy Award history.
Throughout the rest of the '70s, Fosse proved to be a versatile threat on stage and screen, directing films like Lenny (1974) just before delivering a powerhouse stage musical like Chicago (1975), which featuring the number that would eventually become the title for the film All That Jazz (also sung to Oscar gold by Catherine Zeta-Jones in the 2002 movie musical Chicago). It was precisely this divided time, balancing Lenny and Chicago, that many believe inspired the premise of All That Jazz, though his Sweet Charity star Shirley MacLaine claims she was the one who suggested he should do "a musical about his death." (B)
Regardless of the roots, Fosse had found his last great project, and, safe to say, he knocks it out of the park. From the opening cattle call set to George Benson's "On Broadway," we know this is going to be a hard-hitter on all fronts: sights, sounds, movement and staging.
Not a bit of music is out of place, from Ralph Burns' Oscar-winning Score, to Ethel Merman's "There's No Business Like Show Business," to Harry Nilsson's "Perfect Day," earning the distinction as the first VHS release with a stereo soundtrack.
I dare you to leave the film without humming, for at least a month, Ben Vereen's spoof of the Everly Brothers' "Bye Bye Love," switching the lyrics to "Bye Bye Life" and "I think I'm gonna die." The scene is a glorious assault on the senses, with Albert Wolsky's Oscar-winning sparkling wardrobes and anatomical fabric covering dancers in a disco-lit, metallic-papered studio in just one of many brilliant sets that won the Oscar for Art Direction.
All this, of course, is but a stage for Fosse's choreographing genius, which is never better than the "air-otica" number. It opens in typical Fosse razzle-dazzle fashion with gloved hand gestures, then evolves into a sensual display of flash-lit figures, wearing little more than fog, and performing some of the most physically demanding, utterly sexy moves in the history of movies.
As soon as the number is complete, Fosse switches his hat back over to film director, where he is equally genius. As Gideon approaches a set of producers who have found the dance too risque, he symbolically "crosses the line" by stepping over a piece of red tape down the center of the frame. This is the level of directorial thinking on Fosse's part, a depth he pushes the entire film.
His compositions are meaningful, like an extreme long shot of an empty dance floor with a small Gideon hunched over in the distance, utterly alone. Likewise, his techniques are mastered, using zoom lenses to portray the overwhelming nature of the cattle call, beginning his shot with Gideon leaning against the rear stage wall and slowly zooming out to reveal countless dancers prancing in front of him.
Most effective in portraying Gideon's lifestyle is the film's feverish pace, with jolting cuts by Oscar-winning editor Andy Heim that turn Gideon's morning routine into close-ups on fizzing water, bloodshot eyes, pill bottle labels and his signature phrase "It's showtime, folks!"
Fosse's narrative knows no bounds, putting a shower in slow-mo (before Spike Lee did it in Do the Right Thing), muting all voices to focus in on the smallest sound effects, or cutting a montage of Gideon, reaching for Angelique, checking his pulse and lying in an oxygen mask. Back and forth we go between flashbacks and hallucinations, cutting from the earthly narrative to fantasy conversations with the Angel of Death, always cloaked in a white veil and often reflected over top his image in a mirror. Fantasy constantly overlaps reality, as Gideon imagines his mother in the burlesque where he worked as a child. He later imagines his ex-wife and girlfriend talking to him on his gurney. And he imagines his film's lead actor talking to him in the hospital room, telling him, "I got real insight into you. There's a deep-rooted fear of being conventional." As a movie, All That Jazz is anything but "conventional."

Reaction & Legacy
This unconventional approach may challenge some viewers, as TV Guide wrote, "All That Jazz is great-looking but not easy to watch. Fosse's indulgent vision at times approaches sour self-loathing." Besides this tragic character study, the film's break-neck pace may also overwhelm mainstream viewers, especially those who can not understand Lange's character as symbol of death.
Still, Hollywood insiders, journalists and academics hail the film as a masterpiece. It earned nine Oscar nominations, including Best Picture, once again pitting Fosse in a Best Director battle against Coppola (Apocalypse Now). Somehow, both lost to Robert Benton for Kramer vs. Kramer (1979), a fine Best Picture, but far less daring in its direction than Coppola an Fosse in Apocalypse and All That Jazz. Perhaps the Academy wanted to give its directing Oscar to someone new, considering Fosse had already won for Cabaret (1972) and Coppola had already won for The Godfather: Part II (1974). The result reminds me of Tom Hooper winning Best Picture and Best Director for The King's Speech (2012), when really the directing statue should have gone to either David Fincher (The Social Network) or Darren Aronofsky (Black Swan).
No matter. Fosse and Coppola got the ultimate vindication when both they tied for the coveted Palm d'Or at the Cannes Film Festival, the world's crowning achievement in cinematic art. Decades later, it's remembered one of the finest films in the genre's history, ranking #14 on the AFI's Greatest Movie Musicals, just behind 42nd Street (1933), which also followed an ailing Broadway director's last chance at glory.
Whether you find the film a stroke of genius or a bit too much, whether you love it for its dance or loathe it for its abstractions, you will most certainly leave the experience with an understanding of what it's like to be this type of artist, and what it must have been like to be Fosse in the last years of his life. For that, the film succeeds. All That Jazz exudes a truth that only the most personal stories can. Unbeknownst to him, he was creating his own eulogy eight years in advance with his own "Angel of Death" hovering close by. Fosse would direct just one more film, Star 80 (1983), about the murder of Playboy centerfold Dorothy Stratten, before dying of a heart attack in 1987. Fittingly, the nine-time Tony winner dropped dead just as a revival of Sweet Charity was about to open. He was just 60 years old. All That Jazz is his story.

Citations:
CITE A: 1001 Movies You Must See Before You Die
CITE B: IMDB trivia