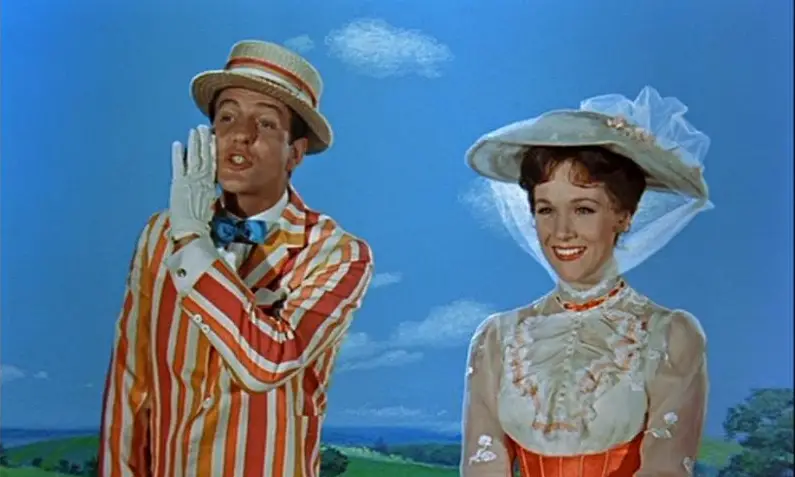 Director: Robert Stevenson
Producer: Walt Disney (Disney)
Writers: P.L. Travers (books), Bill Walsh and Don DaGradi (screenplay)
Photography: Edward Colman
Music: Robert B. Sherman, Richard M. Sherman, Irwin Kostal
Cast: Julie Andrews, Dick Van Dyke, David Tomlinson, Glynis Johns, Karen Dotrice, Matthew Garber, Elsa Lanchester, Reta Shaw, Hermione Baddeley, Arthur Treacher, Reginald Owen, Ed Wynn, Jane Darwell

Introduction
With a name so synonomous with animation, Walt Disney rarely receives the credit he deserves for his company's mid-20th Century collection of live action classics — films like Davy Crockett (1955), Old Yeller (1957), The Shaggy Dog (1959), Swiss Family Robinson (1960), The Parent Trap (1961) and The Love Bug (1968). These are all well known and widely beloved films, but certainly none was better, or more successful, than Mary Poppins.
With five Oscars and a total 13 nominations, some critics, like Leonard Maltin, go as far as calling Poppins the high point of Disney's entire career: "If he had made no other film in his lifetime, Mary Poppins would have earned Walt Disney the gratitude of the world — and the envy of his Hollywood colleagues. Instead, this was the pinnacle of an already fantastic career."

Plot Summary
Based on a series of children's books (1934-1988) written by P.L. Travers and originally illustrated by Mary Shepard, Mary Poppins parts the fog of 1910 London to find the Banks home at 17 Cherry Tree Lane. The home is a most unpleasant place under the rule of banker father George W. Banks (David Tomlinson, Tom Jones), who pompously sings, "It's the age of men! I'm the lord of my castle, the soverign, the liege. I treat my subjects, servants, children, wife, with a firm but gentle hand."
His family would emphasize the word "firm," with his activist wife Winifred (Glynis Johns) obviously disrespected, and his two children, Jane (Karen Dotrice) and Michael (Matthew Garber), feeling unwanted.
At the film's outset, the family nanny Katie Nanna (Elsa Lanchester) has quit and left a wonderful opening for the "practically perfect" Mary Poppins (Julie Andrews) to swoop in as the Banks family savior. With her magical powers, and the help of versatile friend Bert (Dick Van Dyke), Mary Poppins brightens the lives of the kids, turning their chores into games, and creates the center of a film where nothing's impossible and anything can happen.

Visual Delight
At its most basic level, Mary Poppins is a joy to the senses, from Oscar-nominated London sets to Oscar-nominated costumes (Tony Walton). These visuals really pick up with a number of breakthrough special effects, from Mary's umbrella flight across the clouds of London, to a pair of men floating along the ceiling of a house. The best effect comes during the park sequence with a combination of live action and animation, a far cry from Walt's earlier Alice pictures, an improvement on the "Zip-a-dee Doo-Dah" of Song of the South (1946) and a worthy precursor to Who Framed Roger Rabbit (1988), which homages Poppins with the same animated penguins from this sequence.
Most impressive of all may be Mary's magical clean-up of Jane and Michael's bedroom, pulling oversized objects out of her tiny carpet bag and moving objects across the room with the snap of a finger. This landmark in stop-motion photography was made possible by Oscar-winning editor Cotton Warburton and the Oscar-winning Special Effects team of Peter Ellenshaw, Hamilton Luske and Eustace Lycett.

Musical Delight
Still, no matter how splendid the visuals, Mary Poppins most captured our imagination with its legendary soundtrack, provided by legendary brothers Richard M. and Robert B. Sherman. In addition to winning an Oscar for Best Score, the Shermans compose a songbook for Poppins that rivals The Wizard of Oz (1939), West Side Story (1961) and The Sound of Music (1965) for the most classic songs in any film.
"A Spoonful of Sugar," is the cheeriest cleaning song since "Whistle While You Work" in Disney's Snow White and the Seven Dwarfs (1937).
"Jolly Holiday" was the perfect tune for Disney "sing along" videos. Just follow the bouncing ball.
I dare you not to smile during "I Love to Laugh."
"Let's Go Fly a Kite" will be stuck in your head the rest of the day.
"Chim-Chim-Cher-ee" won an Oscar for Best Original Song.
"Supercalifragilisticexpialidocious" was voted No. 36 on the AFI's Top 100 Movie Songs and has since become an official word in the English language.
"Step in Time" is a powerhouse number thanks to choreographer Mark Breaux.
Finally, and most importantly, there's "Feed the Birds (Tuppence a Bag)," which Walt Disney called his favorite song from any of his films. (B) The song carries a message of charity and generosity, as Andrews describes a Bird Lady, fittingly played by Jane Darwell, the impoverished mother from The Grapes of Wrath (1940).

Fun with Dick and Julie
It's impossible to imagine these musical numbers without Julie Andrews and Dick Van Dyke. Because of his stint on The Dick Van Dyke Show (1961), many may forget his amazing musical talent, from "Put on a Happy Face" in Bye Bye Birdie (1963) to the title number in Chitty Chitty Bang Bang (1968), also written by the Shermans. In Mary Poppins, we get Van Dyke's two most memorable images, first in a red and white striped vaudeville outfit, then in a nice thick coat of chimney sweep soot. With a lovably over-the-top British accent, Van Dyke's Bert remains the epitome of charm.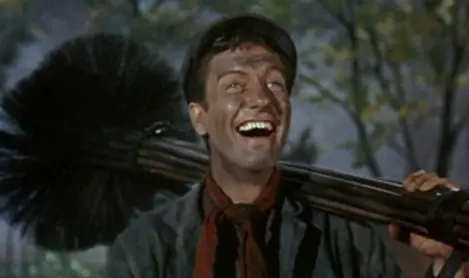 Still, the film belongs to Julie Andrews. She is attractive, mysterious and a slight bit vain (who can blame her, she's Mary frickin' Poppins), with a voice to match her physical beauty. A former Broadway star, this was the film that broke Andrews into the movie industry, setting up what many call her career role in The Sound of Music (1965). But was that really her career role? Or was it Mary Poppins, a character that turned Andrews into an international superstar and garnered her only Oscar, over such leading ladies as Anne Bancroft and Sophia Loren?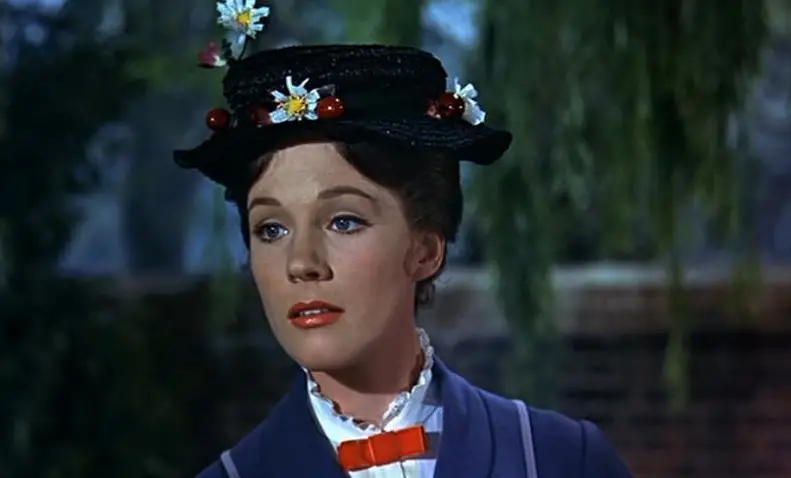 Ironically, her casting almost did not happen. The role of Mary Poppins was originally considered for Bette Davis, while Andrews appeared poised to join George Cukor's film version of My Fair Lady (1964) after she earned a Tony nomination as Eliza Doolittle in the 1956 Broadway production.  When Hollywood decided that Audrey Hepburn would be a more bankable leading lady, Andrews was the only major player not invited to join the film, forcing her to focus exclusively on the role of Mary Poppins. When Oscar night arrived, Hepburn was not even nominated, while Andrews won Best Actress. At one point in the night, she thanked My Fair Lady producer Jack Warner "for making this possible" (A). 

Legacy
While Andrews had bested Hepburn for the Oscar gold, the highbrow My Fair Lady predictably won Best Picture over the popular Disney movie. Forty years later, though, Mary Poppins may be getting the last laugh, topping My Fair Lady as No. 6 on the AFI's 25 Greatest Movie Musicals, and placing higher than countless other renowned productions, from The King and I (1956) to Grease (1978) to Chicago (2002).
If these accolades are not enough to earn Mary Poppins a second look, than nothing is. No doubt everyone has already seen it, remembers the song and dance, the effects and the performances. But check it out again as an adult. You may be surprised that not only are the songs better than you remember them as a kid, but that the film features a wonderful story based on timeless themes of hope and generosity, played out as Mr. Banks learns the error of his ways and becomes both a better father and a better man. Thus the title of Saving Mr. Banks (2013), a film about the "making of" Mary Poppins starring Tom Hanks as Walt Disney and Emma Thompson as P.L. Travers. Many films get "making of" documentaries, but only a select few (i.e. Psycho) become the subject of narrative feature-length films.
You could say the same about films receiving Broadway treatments, which Poppins did in 2007. I had the opportunity to see it during its first run, and my jaw dropped as Bert (on wires) literally walked up the side of the theater and walked upside-down across the rafters.
Whether on film or Broadway, Mary Poppins is a popular and artistic treasure. It's a whimsical joy that can hold kids' attention for 2 1/2 hours, while wowing adults to say, "How'd they do that?"

Citations:
CITE A: Tim Dirks, AMC Filmsite
CITE B: Broadway playbill