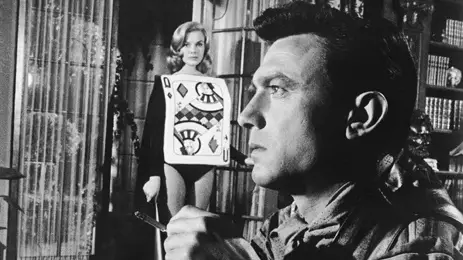 Director: John Frankenheimer
Writers: Richard Condon (novel), George Axelrod (screenplay)
Producers: Howard W. Koch, George Axelrod, John Frankenheimer (M.C. Productions)
Photography: Lionel Lindon

Music: David Amram

Cast: Frank Sinatra, Laurence Harvey, Angela Lansbury, Janet Leigh, Henry Silva, James Gregory, Leslie Parrish, John McGiver, Khigh Dhiegh, James Edwards, Douglas Henderson, Albert Paulsen, Barry Kelley, Lloyd Corrigan

Based on Richard Condon's best-selling novel, The Manchurian Candidate instantly became one of the most controversial films of all time. Before its release, Frank Sinatra had to ask President John F. Kennedy for permission to make a film about a political assassination. When that very president was assassinated in Dallas the following year, Sinatra pulled the film from circulation for the next 25 years, haunted at the similarities of life imitating art.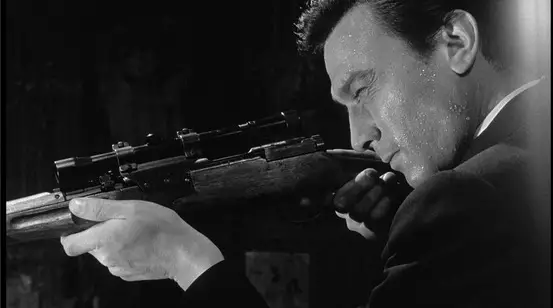 Indeed, it was a film for its time; an equal opportunity offender released during the height of the Cuban Missile Crisis. It was both banned in the Communist bloc for what the Soviet press called "the most vicious attempt yet made to cash in on Soviet-American tensions," and condemned by a branch of the American Legion, who called it "a vivid example of an attempt to undermine Congressional committees." Whatever your political take, the film is so entrancing that you will walk out with sweaty palms, a stunned face, haunted eyes and lips barely curling to state in monotone voice, "Raymond Shaw is the kindest, bravest, warmest, most wonderful human being I've ever known in my life."
Set in 1952, Manchurian opens with the capture of several American G.I.s during the Korean War, including Maj. Bennett Marco (Frank Sinatra) and Raymond Shaw (Laurence Harvey), the latter of whom is given the Congressional Medal of Honor for saving the lives of nine members of his patrol. Or so we think. A different picture emerges during a series of flashbacks, presented as the dreams of the surviving POWs. We quickly learn the U.S. troops were shot down and became subjects of a Soviet brainwashing experiment, based in Chinese Manchuria, designed to build Shaw into a Soviet hitman to advance the Communist agenda in America.
Further complicating matters is Shaw's diabolical mother, Mrs. Iselin (Angela Lansbury), who deals her son into hypnotic trances using simple playing cards, using the Queen of Diamonds as a "trigger mechanism." All the while, she wheels and deals with delegates to gain her senator husband (James Gregory) the V.P. spot on the presidential ticket, amid much darker ambitions to assassinate and usurp the party nominee during the upcoming convention. If you like Netflix's House of Cards (2012), you ain't seen nothin' yet.
Today's viewers may find the Cold War fears and voice-over narration slightly dated, but the film's excitement level does not budge an inch, even after all these years. People magazine called it "the most poundingly suspenseful political thriller ever made," ranking right up there with All the President's Men (1976) as the best of its kind, only far darker with themes of brainwash, murder, manipulation and subtle incest.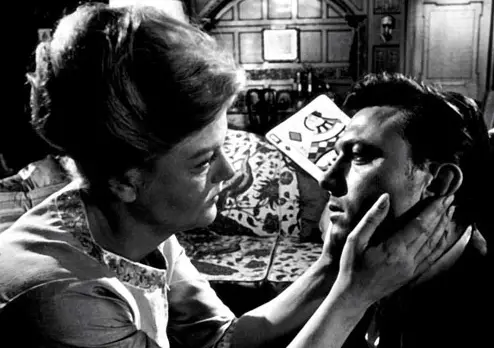 Most of the darkness is channeled through Lansbury, who earned an Oscar nomination in the creepiest mother role in film history, save maybe for Hitchcock's Notorious (1946) and Psycho (1960). It was Lansbury's third nomination, the first of which came at age 17 in her debut as the sinister maid in Gaslight (1944). In Manchurian, she's utterly chilling as a cut-throat political insider, the head of 15 patriotic organizations, ginning up McCarthyist fears and manipulating her closest family members to conduct murder for her own power's sake. It is indeed "murder she wrote," a Mrs. Potts tea kettle steaming over as she says, "Why don't you pass the time by playing a little solitaire?" It's hard to believe there were ever doubts in casting her, but the producers worried about her age because she was only three years older than the actor playing her son. Director John Frakenheimer insisted she play the part, having directed her previously in All Fall Down (1962), and Lansbury turned Mrs. Iselin into the AFI's #21 Greatest Villain of All Time.
Of course, Lansbury's effectiveness as the villain was only as good as the performance of her tormented son. Here, Laurence Harvey is at his career best, taking a new slant on past patriotic roles next to Davey Crockett and Jim Bowie in John Wayne's The Alamo (1960). In Manchurian, he is tragically divided in a dual role, at times a sympathetic man who "loathes and despises" his mother, and other times an entranced minion of that same mother.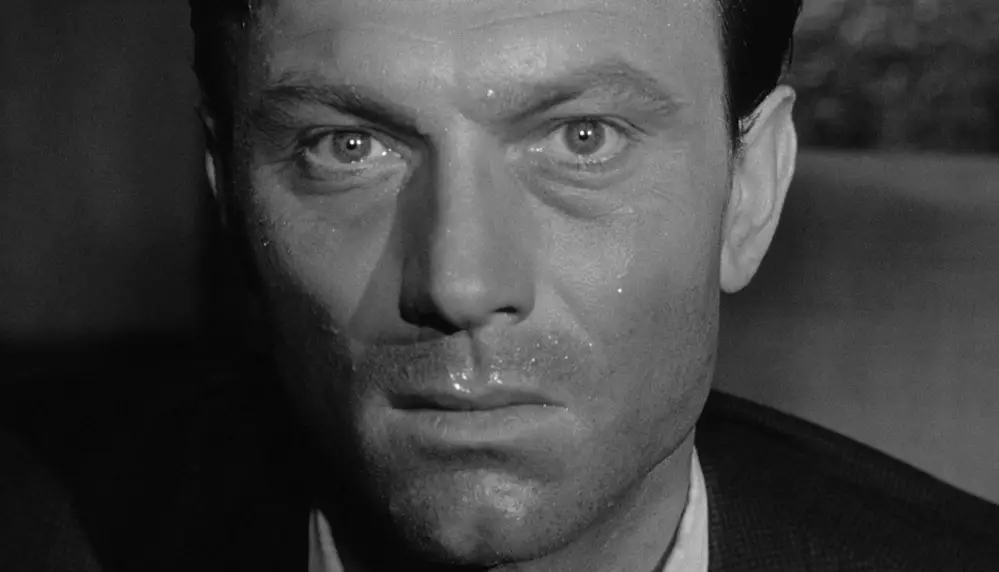 The former is achieved in part due to the talent of Sinatra, who plays Shaw's only true friend. Despite breaking his hand during a fight scene with Henry Silva, Sinatra gives arguably the best performance of his career after dancing with Gene Kelly in On the Town (1949), winning the Best Supporting Actor Oscar as Monty Clift's Pearl Harbor pal in From Here to Eternity (1953), earning a Best Actor nomination as the addict in Otto Preminger's The Man with the Golden Arm (1955) and singing "Luck Be a Lady" across Brando in Guys and Dolls (1955).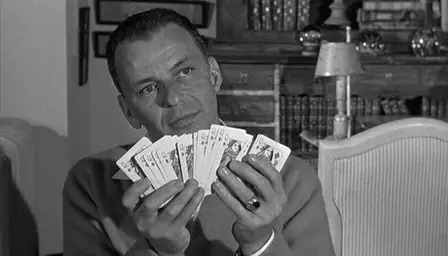 In Manchurian, he is the "guy" to Janet Leigh's "doll." Just two years after Psycho, Leigh plays Sinatra's blonde love interest in a minor but crucial part. Or is there more to Leigh's role than meets the eye? Critic Roger Ebert theorized that Leigh's train conversation with Sinatra (a la North By Northwest) is so odd that it might suggest she is actuality a Communist spy, a claim Frankenheimer neither confirmed nor denied, admitting he shot the scene straight from the book.
Indeed, Frankenheimer sticks very closely to the original work of Condon, whose Prizzi's Honor was also made into a successful 1985 film by John Huston. As Frankenheimer said, "The Manchurian Candidate is a classic example of the old adage — you are no better than your material. Richard Condon wrote a great book. Everything that critics praise in the film is in this book — the dream sequence, the scene in the train, the character of Raymond's mother and so much more … George Axelrod wrote a marvelous screenplay, which I followed faithfully. The cameraman, Lionel Lindon, was the finest I ever worked with. In short, The Manchurian Candidate was one of those experiences where everything went right." (A)
Frankenheimer and Axelrod had actually been the original team tapped to adapt Truman Capote's Breakfast at Tiffany's (1961), but Frankenheimer left the project after Axelrod called him to say, "Have you ever read a book called The Manchurian Candidate?" The result provided Frankenheimer his best in a trio of classics, along with the touching prison flick Birdman of Alcatraz (1962) and the tense political thriller Seven Days in May (1964), which includes the premise, "I'm suggesting Mr President, there's a military plot to take over the government of these United States, next Sunday." The fact that this sounds so much like Manchurian cements the power of Frankenheimer's 1962 masterpiece, a film which critic Jonathan Rosenbaum called "the only commercial American film that deserves to be linked with the French New Wave." (B)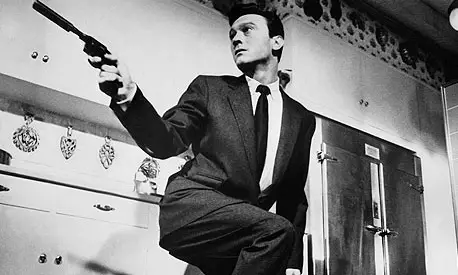 Frankenheimer may not go down in history like Godard, Truffaut or the other French New Wave masters, but his directorial touches are highly apparent in Manchurian, particularly in Shaw's hypnotic hit jobs, overtaking the frame in Mr. Gaines' bedroom or in that low-angle in the Jordans' kitchen. As a veteran TV director, Frankenheimer often places TV screens in his shots, but he is no static "traditionalist" with his shots. Quite the contrary. Manchurian features numerous jump cuts, used for humor with a Heinz 57 bottle, or for symmetry in cutting from Sinatra's empty hands dealing invisible cards to a shot of real hands dealing cards.
But the real triumph of Frankenheimer, and Oscar-nominated editor Ferris Webster (The Great Escape), comes in the much lauded brainwash dream sequence, in which Frankenheimer uses a 360-degree pan around what appears to be a ladies garden club, but which suddenly transforms into the Manchurian brainwashing session. The editing is seamless in jumping back and forth from the Manchurian brainwash reality to the ladies club illusion.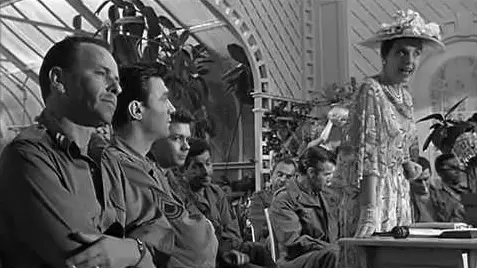 This sequence is rivaled only by the film's Hitchcockian finale at the Madison Square Garden political convention, the utter silence of the sniper set-up, the subjective cross-hairs like Peter Bogdonovich's Targets (1968), the cuts between the faces of Sinatra, Harvey and Lansbury, and the tension of the audience already having been told the exact phrase upon which the sniper is supposed to fire.
Still, some doubters dismiss Frankenheimer's work as "visual hysteria" better suited for television. (C) Likewise, The Manchurian Candidate fell out of the AFI Top 100 list in 2007 after ranking No. 67 in 1997. No matter. The film continues to hold an 8.1 on IMDB and only looks better compared to Jonathan Demme's remake, which altered the ending:
While the remake is inferior, it says a lot that two of the greatest actors of all time, Denzel Washington and Meryl Streep, would agree to a remake. It only means the original was that good. Frankenheimer's refusal to compromise and insistence on sticking to Condon's tragic novel makes the original Manchurian Candidate one of the most exciting political thrillers to date.

Citations:
CITE A: DVD booklet
CITE B: 1001 Movies You Must See Before You Die
CITE C: David Thomson, New Biographical Dictionary of Film