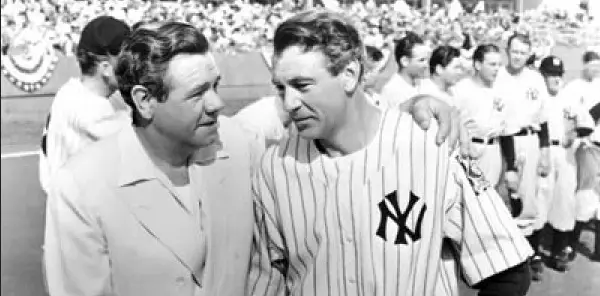 Director: Sam Wood
Producer: Samuel Goldwyn (The Samuel Goldwyn Company)
Writers: Paul Gallico (story), Jo Swerling, Herman J. Mankiewicz (screenplay)
Photography: Rudolph Mate
Music: Leigh Harline
Cast: Gary Cooper, Teresa Wright, Walter Brennan, Babe Ruth, Dan Duryea, Elsa Janssen, Ludwig Stossel, Virginia Gilmore, Bill Dickey, Harry Harvey, Bob Meusel, Mark Koenig, Bill Stern

    "Is it three strikes, doc?"
    "It's three strikes."
    "Doc, I've learned one thing. All the arguing in the world can't change the decision of the umpire. How much time have I got?"
That's Gary Cooper's Lou Gehrig in The Pride of the Yankees, using baseball metaphor to digest his diagnosis with an unknown disease. Today we know it as ALS — Amyotrophic Lateral Sclerosis — a tragic disease that atrophies muscles until the body shuts down. It's a disease that's affected many, including Stephen Hawking, but carries the name of only one. Lou Gehrig's Disease came as a shock to 1940s America, a different time when baseball still had a firm grip on the title of National Pastime.
Try imagining today, a seven-time All-Star, six-time World Series Champion and two-time MVP, struck down and deteriorating right before our very eyes. That was Gehrig when he was diagnosed in 1939. He died two years later, and just like that, we were robbed of one of our great heroes. But oh, the quality of time we got to share: 37 years, 16 seasons and a then-record 2,130 consecutive games.
That last number is particularly special to me. As a Maryland boy growing up a Baltimore Orioles fan, my favorite sports memory came as Cal Ripken Jr. broke Gehrig's consecutive games streak in 1995. And while I could never wish anything good upon the New York Yankees, I've long understood their pride in this man, The Iron Horse, back when iron pumped from something other than a syringe. As much as The Pride of the Yankees conjures special emotions for me, I can only imagine what it meant for actual Gehrig fans when the film was released just 17 months after his death. It may have indeed been Hollywood not letting a good death go to box office waste (a la Knute Rockne: All American), but it's a damn fine tribute to a true American hero and a man of great dedication, optimism and priorities.
The film opens with Gehrig's childhood as the son of poor German immigrants in 1900s Manhattan. Even at an early age, he belts backyard baseballs through store windows, but his controlling mother (Elsa Janssen) wants him to become an engineer like his uncle. So as a young adult, Gehrig (Gary Cooper) does both, playing college ball and studying engineering at Columbia University. When a couple Major League Baseball scouts offer him a contract with the New York Yankees, he takes it. And as hard as his father (Ludwig Stossel) tries, he cannot hide the Yankee news from Mama Gehrig for long.
After weeks of riding the bench, Gehrig is finally tapped by manager Miller Higgins to play first base, and he never lets go of the job. We see his rise as the clean-up hitter for Murderers Row, joining Babe Ruth as the greatest one-two punch in baseball history, and his durability continues as captain of Joe McCarthy's Bronx Bombers. All the while, sportswriter Sam Blake (Walter Brennan) touts his place as a true role model, squaring off with Hank Hannerman (Dan Duryea), who'd rather cover the flashy Babe. Foremost in Blake's admiration for Gehrig is his devotion to wife Eleanor (Teresa Wright), a Chicago girl he met on the road as a rookie. She is his biggest fan, and he is hers.
It's during their playful wrestling match that Gehrig first realizes something is wrong. His muscles are sore and he's losing strength and stamina. Gehrig thinks he's merely in a slump, and pulls himself out of the lineup, worrying he's becoming a detriment to his team. It's then that he learns the true gravity of his situation — he's dying of an incurable disease.
With his wife watching from the tunnels of Yankee Stadium and the baselines lined with old and new teammates, Gehrig strides out to home plate in pinstripes one last time for a special "Lou Gehrig Day" ceremony. After receiving awards he's too weak to hold, he steps up to the microphone to deliver history's greatest line of optimism and perspective, 13 words that have echoed into the corners of Yankee Stadium and American history forever: "Today…I consider myself…the luckiest man…on the face of the earth."
The film made every effort to stay true to Gehrig's life story, casting real-life sportscaster Bill Stern and Gehrig's actual teammates — Bob Meusel, Mark Koenig, Bill Dickey and, of course, Babe Ruth. Needless to say, he's the most realistic Babe in movie history, giving Pride of the Yankees a unique advantage over even the best Bambino imitations, from Joe Don Baker in The Natural (1984) to John Goodman in The Babe (1992) to Art LaFleur in The Sandlot (1993). There's just something so cool about seeing Cooper in the on-deck circle in the foreground, and the real Sultan of Swat at the plate in the background.
The real Ruth proves as charismatic as legend has it. Still, every time I see this movie, I wonder whether Ruth was aware just how less of a man he looks compared to Gehrig? The film aligns Ruth with the "antagonist" of the two baseball writers and seems the antithesis of Blake's hero argument for Gehrig. No matter, the casting of all these actual ball players boosts the film's claim as the AFI's #3 Greatest Sports Movie of All Time.
Adding to the authenticity is a bracelet loaned to the film by the real Eleanor Gehrig. Currently on display at the Baseball Hall of Fame in Cooperstown, N.Y., the fourth wedding anniversary gift is made from 17 medallions from Gehrig's seven World Championships and six All-Star games. (B) When Wright puts this piece of history on her wrist, it's her final transformation into Gehrig's lover, a love we believe from the first time she calls him "tanglefoot" and grows with every rendition of Irving Berlin's "Always." The Oscar-nominated performance came during the biggest years of Wright's career, beginning with her first nomination in The Little Foxes (1941), continuing with an Oscar for Mrs. Miniver (1942), her career role in Hitchcock's Shadow of a Doubt (1943) and her memorable performance in The Best Years of Our Lives (1946).
Joining in the Oscar fray was Cooper, who earned his third nomination just a year after winning for Howard Hawks' Sergeant York (1941). It was two times in a row that Cooper had portrayed real American heroes, and he likely would have won again if it weren't for James Cagney's legendary turn in Yankee Doodle Dandy (1942). When you watch Pride of the Yankees, you don't feel like you're watching Gary Cooper. You feel like you're watching the real thing, partly because Cooper looks so much like the real-life Gehrig, except for being skinnier and totally unbelievable playing a college-aged guy. Not only does Cooper look like Gehrig, his story is very similar. Both were sons of American immigrants, died of disease relatively young, and got their big breaks when others pulled out — for Gehrig it was first baseman Wally Pipp asking to sit out; for Cooper it was the original actor pulling out of The Winning of Barbara Worth (1926). (C)
The one key difference is the fact Cooper wasn't a big fan of baseball. (B) Gehrig's teammate Lefty O'Doul helped him hone his batting stance, but there was one thing Lefty couldn't cure — the fact that Cooper wasn't a lefty. Knowing that fans wouldn't buy a right-handed Gehrig, director Sam Wood found a way around it. His answer — to have Cooper wear uniforms with reverse type and run to third base, then reverse the film prints in post-production. (B) Those who know this will appreciate Wood's joke when a Gehrig figurine bats right-handed on top of a birthday cake.
It's no secret that Wood was one of Cooper's favorite collaborators. Perhaps this was because he had a history of directing actors to Oscars, including Robert Donat in Goodbye Mr. Chips (1939) and Ginger Rogers in Kitty Foyle (1940). The Pride of the Yankees became the first of four collaborations in four years for Cooper and Wood, including For Whom the Bell Tolls (1943), Casanova Brown (1944) and Saratoga Trunk (1945).
Like so many other directors of Hollywood's Golden Age, Wood was a solid, reliable filmmaker who never verged on "greatness." The Pride of the Yankees is, after all, little more than a feel-good movie, but there are some directorial moves to admire. The mise-en-scene of a portrait of Gehrig's Uncle Otto is simple but effective. There's also nice use of familiar image, first with a flower pressed in a book, then with a straw hat. There's also a meaningful change of perspective as Wood tracks with Gehrig from inside the dugout looking out. It's the first time the camera has been placed in this position, underscoring the fact that it's the first time Gehrig has left a game. The framing is nice when Sam and Ellie first learn of Gehrig's disease, Sam's hands fidgeting to the point that Ellie knows he's lying. And that wide shot of Gehrig coming out of the tunnel and into the light to deliver his final speech is just as poetic as the wideshot of #4 walking off into the distance in the end.
Wood was not nominated for the film, but his editor, Daniel Mandell, won the Oscar. This was no doubt a tribute to the film's baseball montages, which look routine today, but were some of the first sports montages in movie history, superimposing various jerseys, stadiums, train tracks and player faces. You're welcome, Major League (1989).
Also nominated was the film's original story by Paul Gallico, and screenplay by Jo Swerling, who went uncredited on Gone With the Wind (1939) and It's a Wonderful Life (1946), and Herman Mankiewicz, hot off his masterful script for Citizen Kane (1941). Here, Mankiewicz's objective was not to villify his subject, as he had William Randolph Hearst, but to glorify him. Like most biopics, the script makes heavy use of irony, using hindsight to show regular folks taking things for granted. For instance, young Gehrig is mocked for wanting to hold onto a Babe Ruth rookie card. When he gets hit in the head with a ball and begs to stay in the game, the manager says, "What do we have to do, kill you to get you out of the lineup?" And when Gehrig is first called up to the pros, Hank bets Sam, "Five'll get ya ten you don't remember any part of him next year."
Some of this is used for tragic irony, but it's mostly for laughs. Adding to the humor is Gehrig's mother asking dumb questions at her first ball game, pointing to the bases and asking, "What do they do with those pillows?" It's quite similar to Katherine Hepburn in that same year's Woman of the Year (1942). Aside from that, though, her character is sure to annoy. The over-the-top mother is just one of the film's several flaws.
In trying to be morally archetypal, the film seems to forever date itself as '40s motivational corn. Sure, it's nice that Gehrig tells a bedridden kid, "Billy, you know there isn't anything you can't do if you try hard enough." But if that were written in a script today, critics would bash the writers for being hokey. And when Gehrig belts homers, it's almost painful to listen to shouts of, "Whoopee!" This was definitely before movies got their "cool," but classic Americana it certainly is. For this, Seinfeld deemed it worthy to spoof in the Paul O'Neil episode, where Kramer overpromises a sick kid that a New York Yankee will hit home runs just for him.
Whether you find it corny or not, the script really develops Gehrig into a character we can give our full support. When his mother steps on his wife's feet one too many times, he mans up and tells her there can't be two coaches on the same team. As the film progresses, we see just how much he has his priorities in order. When others want to talk about his batting titles, he just wants to talk about his new wife. Proper perspective was always Gehrig's motto, and the reason we buy the line, "Today I consider myself the luckiest man on the face of the earth." It's one of only three real-life quotes to make the AFI's Top 100 Movie Quotes, and it's because the screenwriters have earned it.
The line is the perfect bookend to the film's prologue by Damon Runyon, future inductee into the writer's wing of the Baseball Hall of Fame. Imagine reading this prologue just months after Gehrig's passing: "This is the story of a hero of the peaceful paths of everyday life. It is the story of a gentle young man who, in full flower of his great fame, was a lesson in simplicity and modesty to the youth of America. He faced death with that same valor and fortitude that has been displayed by thousands on far-flung fields of battle. He left behind him a memory of courage and devotion that will ever be an inspiration to all men."
The "ordinary" nature of Gehrig the man makes him a hero along the lines of To Kill a Mockingbird's Atticus Finch, in that he's a hero we can all be. All we have to do is work hard, love our spouses and face hardships with courage and optimism. This is why Gehrig ranks #25 on the AFI's 50 Greatest Heroes and why the film ranks #22 on the AFI's 100 Most Inspirational Movies. The inspirational aspect is the reason Michael J. Foxx wrote his book about dealing with Parkinson's and named it "Lucky Man." (D)
Summing up Gehrig's heroism requires us first to define what true heroism means. And in Pride of the Yankees, Sam lays it right out for us: "Let me tell you about heroes, Hank. I've covered a lot of 'em, and I'm saying Gehrig is the best of 'em. No front-page scandals, no daffy excitements, no horn-piping in the spotlight, but a guy who does his job and nothing else. He lives for his jobs, he gets a lot of fun out of it, and 50 million other people get a lot of fun out of him, watching him do something better than anybody else ever did it before."
Perhaps this explains why in 1999, when Major League Baseball selected its All-Century team, Gehrig received more votes than anyone else in the history of the game. (A) No doubt he was fresh on their minds after Ripken's recent breaking of his consecutive games streak. But Ripken or Gehrig, it didn't matter. It was the type of ballplayer they both represented that Major League Baseball wanted to honor. The game's recent plummet into scandalous juice makes us appreciate the man, and the film, all the more.

Citations:
CITE A: All-Century Team final voting". ESPN. 2007-10-23. http://assets.espn.go.com/mlb/news/1999/1023/129008.html. Retrieved on 2009-01-08.
CITE B: IMDB Trivia
CITE C: David Thomson, New Biographical Dictionary of Film
?CITE D: AFI 10 Top 10