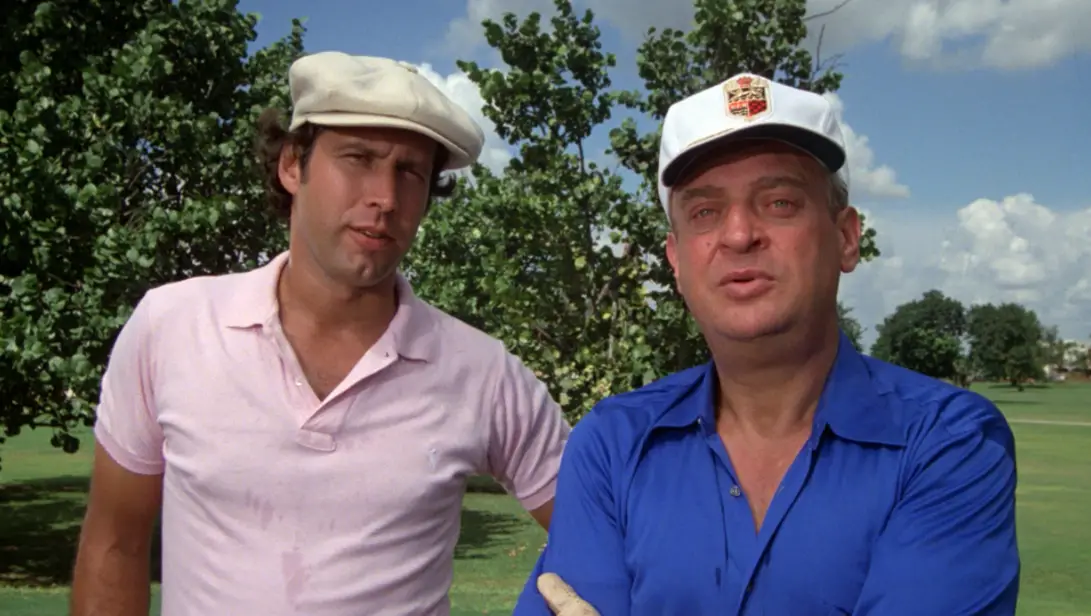 Director: Harold Ramis
Producer: Douglas Kenney (Orion)
Writers: Harold Ramis, Brian Doyle-Murray and Douglas Kenney (screenplay)
Photography: Stevan Larner
Music: Johnny Mandel, Kenny Loggins
Cast: Chevy Chase, Rodney Dangerfield, Ted Knight, Bill Murray, Michael O'Keefe, Sarah Holcomb, Scott Colomby, Cindy Morgan, Dan Resin, Henry Wilcoxon, Elaine Aiken, Albert Salmi, Ann Ryerson, John F. Barmon Jr.

"He's the Cinderella boyyy, uh, tears in his eyes I guess, as he lines up this last shot. He's got about 195 yards left and he's gonna, looks like he's got about an eight-iron. This crowd has gone deadly silent. Cinderella story, out of nowhere, a former greenskeeper, about to become the Masters champion. It looks like a mirac…It's in the hole!"
Bill Murray's Caddyshack rant is not only one of the AFI's Top 100 Movie Quotes, the film itself has become an institution to anyone who came of age during its 1980 release. Each time this age group comes together to compile comedy best lists, Caddyshack is a given, ranking #71 on the AFI Top 100 Laughs and #2 on BRAVO's 100 Funniest Films, behind only Animal House (1978). George Clooney goes beyond just the comedy genre and claims it to be his own favorite movie of all time. So what is the best way to convince today's Happy Gilmore generation to appreciate Caddyshack?
The first step is to realize that Harold Ramis' film lacks much of a cohesive storyline, instead playing out like a series of Saturday Night Live sketches. How fitting that it stars two of SNL's "Not Ready for Primetime Players" in Chevy Chase and Bill Murray, whose movie careers launched right alongside Ramis, who directed Chase in National Lampoon's Vacation (1983), starred with Murray in Ghostbusters (1984) and directed Murray in Groundhog Day (1993). If you're slow to come around to Caddyshack, try appreciating its punchlines and performances more than its plot. If, however, you're one of the film's adoring fans, nothing need be said other than "gunga gunga galunga."
Danny Noonan (Michael O'Keefe) is a lower class teen trying to make it in the high society world of the Bushwood Country Club. While working as a golf caddy at the local "caddy shack," Danny thinks a golf scholarship is his only possible shot at going to college. For this, he must get in the good graces of Judge Elihu Smails (Ted Knight), the country club owner who will award the scholarship. In doing so, he finds himself right in the middle of an insanity-filled cast of characters:
Maggie O'Hooligan (Sarah Holcomb), his poor Irish girlfriend who fears she's been knocked up.
Lacey Underall (Cindy Morgan), the Judge's sexy niece volunteering to show him his "saliva line."
Spaulding (John F. Barmon Jr.), the Judge's dim-witted, disgusting grandson who throughout the movie vomits and eats a booger.
Ty Webb (Chevy Chase), a playboy golf guru with a few loose marbles and odd practicing methods.
Al Czervik (Rodney Dangerfield), a motor-mouthed real estate who's always the center of attention.
And most memorably, Carl Spackler (Bill Murray), the sloppy greenskeeper who perpetually hunts a dancing gopher that's destroying the golf course.
While the story leaves plenty to be desired, the performances do not. How many films can say they have three of their era's funniest comedians all at their peak?
Known primarily as a stand-up comic at the time, Rodney Dangerfield provides the film with all its "bells and whistles." His loud statements, exagerated mannerisms and wild movements command attention with a relentless barrage of zingers — "Did somebody step on a duck?;" "I should've yelled two;" "I bet you get a free bowl of soup with that hat. It looks good on you, though."
Much less in-your-face, but the most enjoyable on repeat viewings is Chevy Chase's incredibly bizarre Ty Webb. If you liked Kevin Nealon's "feel the flow" character in Happy Gilmore, go back and watch Caddyshack to see how much it was influenced by Chase's "be the ball" mentor. Ty's bizarre date at his home makes my stomach hurt, and his blindfolded "nunna nunna" technique is priceless. It's easy to take for granted how much this performance meant to his film career, forgetting that before Caddyshack he was sharing bills with the likes of Benji in Oh Heavenly Dog (1980). Indeed, Chase was a well-known comedy figure, splitting sides on late night with pratfalls and Weekend Updates on SNL. But it was Ty Webb that allowed him to jump to the big screen, finally making him ready for prime time.
Making the jump with Chase was Bill Murray, fresh off his film debut in Meatballs (1979) and still best known from SNL. He steals the show with his instantly imitable performance as Carl Spackler, from his unkempt, cammo hat appearance to his dummy speech pattern with mouth cocked to one side. In 2007, Premiere magazine voted Spackler the #18 Greatest Character of All Time, third highest of any comic character, behind only Diane Keaton's Annie Hall (Annie Hall) and Sean Penn's Jeff Spicoli (Fast Times at Ridgemont High). All you need to know about Spackler can be found in his explanation of a golf match he once had with the Dalai Lama:
CARL SPACKLER: "So we finish the eighteenth and he's gonna stiff me. And I say, 'Hey, Lama, hey, how about a little something, you know, for the effort, you know.' And he says, 'Oh, uh, there won't be any money, but when you die, on your deathbed, you will receive total consciousness.' So I got that goin' for me, which is nice."
Still, Murray's performance wouldn't be complete without the Elmer Fudd sideplot, hunting a purposely fake-looking "varmint," which becomes a lovable character itself, peering out of its hole, shaking off dust and swaying to the music.
Speaking of which, is there a catchier comedy tune than Kenny Loggins' "I'm Alright?" The contribution began a decade of movie-themes-turned-chart-toppers for Loggins, from the title song in Footloose (1984) to "Danger Zone" in Top Gun (1986). Like those two, "I'm Alright" went straight to #1, and it became so popular that many may forget that it was actually written for Caddyshack, as the lyrics clearly show: "No, no, cannonball it right away. Some Cinderella kid!"
Hearing such lyrics, one is instantly taken back to two of Murray's best scenes, first "cannonballing" with Chase, who "plays through" Murray's house, then delivering his famous "Cinderella Story" speech, visualizing his own Masters victory while whacking plants.
These are just two of many unforgettable moments in the film, each bringing a smile just thinking about it — a pair of elderly golfers trying pathetically to hit the ball (also copied by Happy Gilmore); Dangerfield's gigantic, fully-stocked golf bag, allowing you to golf "Any Way You Want It;" Spaulding hacking away at his ball with the foulest language he can think of ("Double terds!"); a terd-like Baby Ruth scattering swimmers to the theme from Jaws, only for Murray to eat it; the old bishop playing through a tarrential downpour because he doesn't want to ruin the best round of his life; Spackler cackling after sculpting clay varmits packed with dynamite; the Judge's horribly flubbed boat christening; the Judge chopping through the bathroom door a la The Shining, allowing an elderly couple to receive their long-awaited tea; and screenwriter Brian Doyle-Murray playing the golf official, standing with hands on his knees, watching a ball teeter on the edge of the cup as chaos ensues around him.
The film was so popular that it inspired a less profitable, inferior sequel, Caddyshack II (1988). It was the inspiration for countless gags in Adam Sandler's Happy Gilmore (1996). And it continues to add fans each time a father sits down to show his son the comedy he loved as a young man, his generation's Dumb and Dumber (1994), Wedding Crashers (2005) or The Hangover (2010). As sure as Bill Murray keeps playing celebrity golf tournaments in real life, his Carl Spackler will remain timeless, forever watching a man get struck by lightning, then slinking out of the frame to escape certain scrutiny.