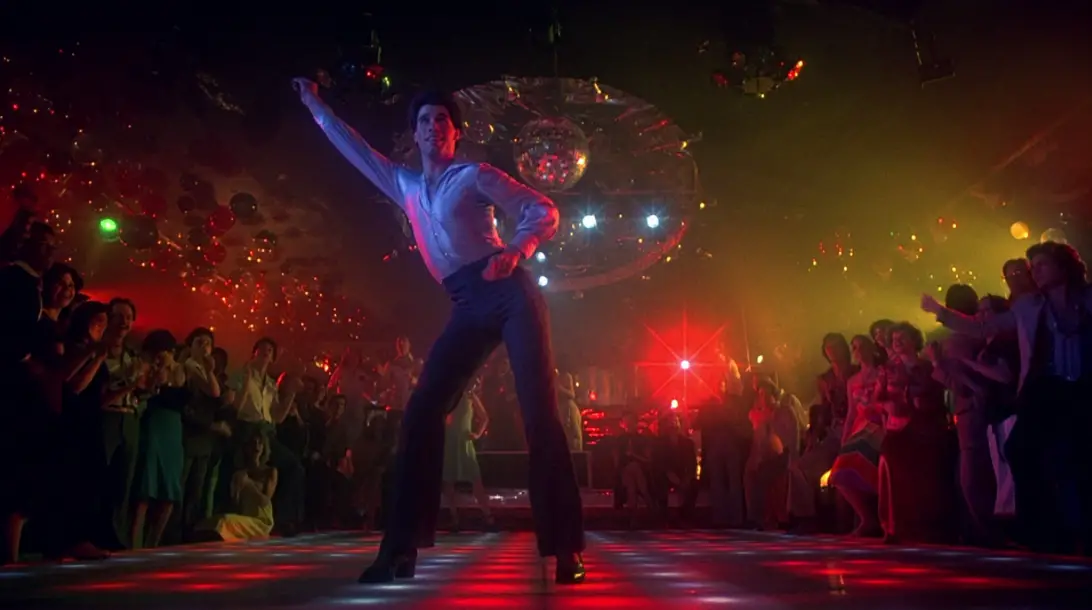 Director: John Badham
Producers: Mitt Felsen, Kevin McCormick, Robert Stigwood (Paramount, RSO)
Writers: Nik Cohn (magazine article), Norman Wexler (screenplay)
Photography: Ralph D. Bode
Music: The Bee Gees
Cast: John Travolta, Karen Lynn Gorney, Barry Miller, Joseph Cali, Paul Pape, Donna Prescow, Bruce Ornstein, Julie Bovasso, Martin Shakar, Sam Coppola, Nina Hansen, Lisa Peluso, Denny Dillon, Bert Michaels

There's John Travolta, strutting down that Brooklyn street, camera starting at his shoes and tilting up to his unbuttoned red shirt, collar sticking out over his black leather jacket, met by a gold medalion around his neck, a dimpled chin, horse smile and slicked hair, a rare configuration of movie heartthrob bobbin' to the Bee Gee's catchy "Stayin' Alive."
There's Travolta, on the wooden floor of that dance studio, layin' down the tango hustle with a ballet dancer, drawing her close and sending her away in front of a wall of mirrors.
And there he is once more, in the middle of that disco crowd, tearing up the dancefloor in those platform shoes, tight pants and Qiana shirt, knees bent, body cocked to the side, hips thrusting and finger pointing from waist to sky in a movement that define a generation of music and dance.
"Can you dig it? I knew that you could."
As flawed as it is, Saturday Night Fever remains one of the biggest pop culture phenomenons in American history. It immediately packed the nation's discos with folks wanting in on this "new" '70s dance craze. It also inspired movie studios to crank out a decade of dance films, including Flashdance (1983), starring Jennifer Beals and Michael Nouri; Footloose (1984), starring Kevin Bacon and Sarah Jessica Parker; and Dirty Dancing (1987), starring Patrick Swayzee and Jennifer Grey.
Ironically, all of these films only muster mediocre ratings on IMDB today (5.9, 6.2. and 6.6 out of 10). While Saturday Night Fever's 6.7 rating may be a relative compliment, there's no shaking the fact collective society has a hard time looking back on this decade of dance as anything but cheesy. As it is bluntly put to Travolta early in the film: "You can't f*ck the future. The future f*cks you. It catches up with you and it f*cks you."
Of course, this has something to do with changing tastes and an evolving pop society, but it also the result of this breed's insistence on hackneyed narratives. Saturday Night Fever is the type of film where, as scholar David Thomson wrote, "You could go out for popcorn and hot dogs, knowing that the beat would bring you back in time." Here, the story revolves around Brooklyn paint salesman Tony Manero (Travolta), a typical '70s teen with posters of Pacino and Stallone adorning his walls, but also a hopelessly poor urbanite beat down by ashamed parents and hanging with small-time hoods who are mixed up in a street rivalry with a group of thugs called the Barracudas.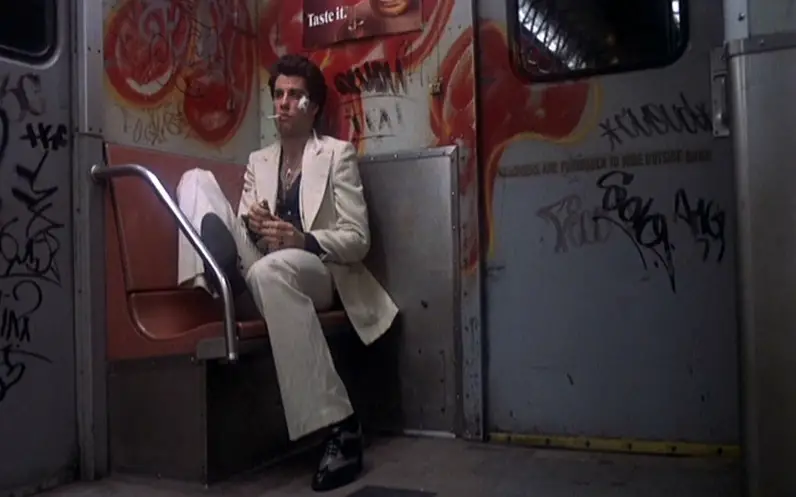 In his most quiet moments, sitting and gazing at the Brooklyn Bridge, Tony admits wanting to escape this lifestyle, and the only way he knows is to spruce himself up for the nightlife and become king of the dancefloor at the 2001 Odyssey disco. Even then, Tony realizes this won't last forever, and he desires something else in his life that can give him "the same high" as the dance floor.
Enter cultured ballet dancer Stephanie Mangano (Karen Lynn Gorney), whom Tony courts to be his partner for an upcoming dance contest at the 2001. The two are a hit, but the contest doesn't resolve all of Tony's problems, due to an unexpected tragedy and an all-night train ride to ponder his own morality.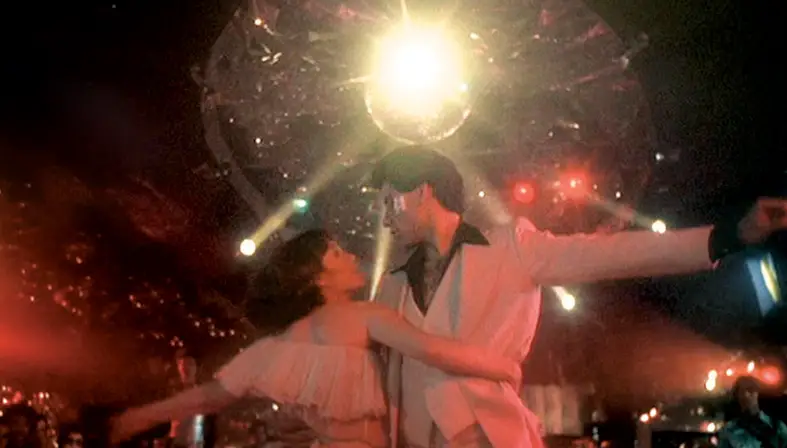 No doubt a comment on class warfare, the film plays out like a stale cross between Mean Streets (1973) and Rocky (1976), of New York slumming, religiosity and hopes of escape, only throwing in dances to popularizing a new sort of genre that would later provide a platform for both Eminem (8 Mile) and Channing Tatum (Step Up).
The story itself was based on Nik Cohn's magazine article "Tribal Rites of the New Saturday Night," which he has since admitted was fabricated. (A) This is where the lines fascinatingly blur between fiction and reality. How big was the disco craze before the film, and how much was ignited as response to this hugely popular film? Somewhere in this blurry territory lies a dance style that moved from a strictly urban phenomenon to a mainstream craze across the nation, all on the back of John Travolta.
Already known at the time as Vinnie Barbarino on TV's Welcome Back, Kotter (1975), Travolta became a full-fledged, teeny-bopper heartthrob after the film. With two versions of the film released — one Rated R and one Rated PG — adults could see the raunchy, drug and sex culture of the '70s discotheques, while countless adolescents could swarm to the theaters, gawking with eyes fluttering as they ask, "Tony, can I wipe off your forehead?"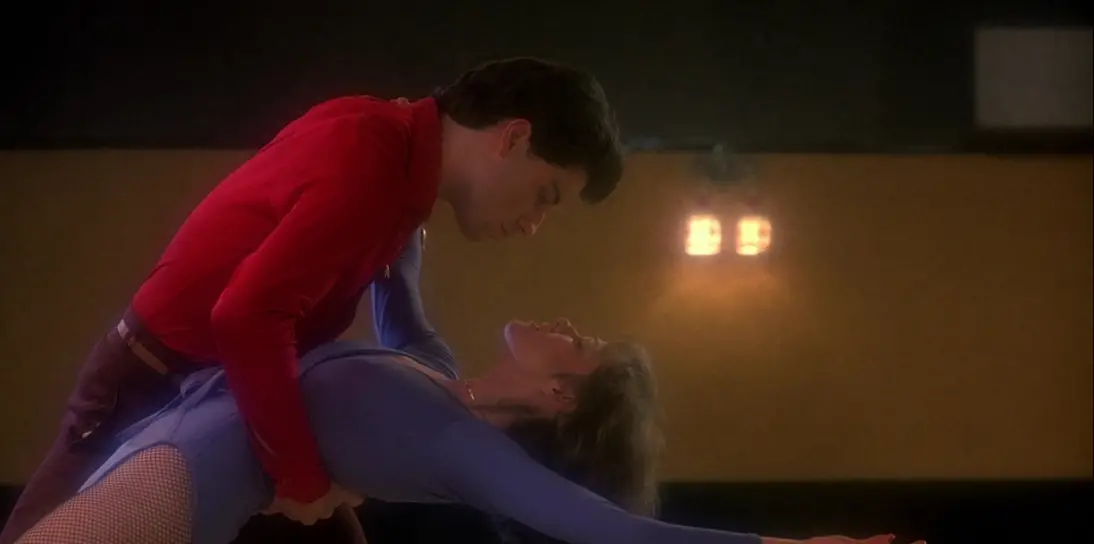 Travolta's performance was truly iconic, earning him an Oscar nomination for Best Actor and a Best Actor award from the National Board of Review. Today, it ranks #73 on Premiere magazine's 100 Greatest Movie Performances and #76 on Premiere's 100 Greatest Movie Characters. When Scarface (1983) arrived shortly after, one could even see a bit of Tony Monero in Tony Montana, an ironic reversal of the Travolta-Pacino comparison in this film, as Travolta quotes Pacino's Dog Day Afternoon (1975) by shouting "Attica! Attica!" After Fever, there was no turning back for Travolta, who was immediately cast as Danny Zuko in the musical blockbuster Grease (1978) and later in the Saturday Night Frever remake, Staying Alive (1983), directed by Stallone. It was a sort of typecasting that almost ended his career, until Quentin Tarantino reinvented him as a gangster in Pulp Fiction (1994).
Travolta's commitment to the Fever part is something special. He famously urged director John Badham (older brother of Mary Badham of To Kill a Mockingbird) to shoot the dance sequences in wide shots so as not cheat routines on which he had worked nine months to perfect. As Travolta said, "Here, this is dancing. Not that Fred Astaire thing. I just move and strut, and that's dancing!" Of course, classically trained dancers would object, Astaire saying, "He's not a dancer. What he did in those dance scenes was very attractive, but he is basically not a dancer. I was dancing like that years ago, you know. Disco is just jitterbug." (B) Either way, the Fever dance scenes are pure magic, with a combination of disco balls, fog machines and color-changing floor tiles, all set to the glorious soundtrack of The Bee Gees.
Most of the credit goes straight to Barry, Robin and Maurice Gibb, who created a powerhouse soundtrack with never-before-heard instant classics. As Mike Myers said in Wayne's World (1992), "Zeppelin didn't write tunes that everyone liked. They left that to the Bee Gees." Boy, was he right. Saturday Night Fever remains the best-selling soundtrack of all time, and in 2003, was voted by VH1 as the 57th greatest album of all time. Read that again. One of the greatest albums of all time. How many times do you hear that about a movie soundtrack?
Rather than write songs for their upcoming album, The Bee Gees were asked by producer Robert Stigwood to contribute original songs to Saturday Night Fever. When original director John G. Avildsen (Rocky) refused to use their music, he was fired by Stigwood in favor of Badham. What a gaff by Avildsen. The Grammy-winning soundtrack would send three singles to #1 (the title song "Night Fever," "Stayin' Alive" and "How Deep is Your Love") and feature a number of additional hits by the Bee Gees, including "You Should Be Dancing," "More Than a Woman" (performed by Tavares) and "If I Can't Have You" (performed by Yvonne Elliman). Rounding out the collection are massive hits like "Disco Inferno" by the Trammps and "Boogie Shoes" by KC & The Sunshine Band.
Fittingly, the film became the highest grossing dance movie of all time, at long last bringing worldwide attention to a dance style that had been around since the late '60s. However, the minute it went mainstream, in came the backlash. Immediately, the style moved from something edgy to something packaged and safe, prompting "Disco Sucks" shirts from fed-up rock fans. By 1980, when the film was spoofed in Airplane! (1980), disco was already on the way out, and it was largely due to Saturday Night Fever, a film that had brought disco to unheard of heights of popularity, but which set it on a course of mass marketing overkill. A counter-culture movement had now become just culture, and what made disco to begin with had run its course. As Tony Manero himself realized: "Dancing can't live forever. It's a short-lived kinda thing."

Citations:
CITE A: 1001 Movies You Must See Before You Die
CITE B: IMDB trivia