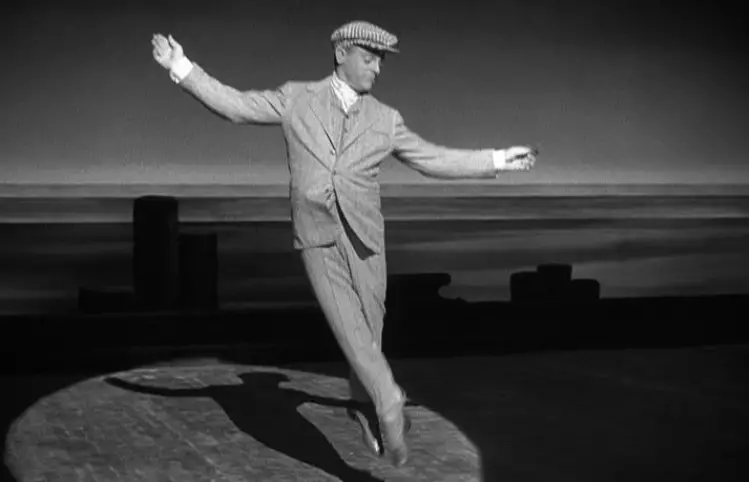 Director: Michael Curtiz
Producers: William Cagney, Hal B. Wallis, Jack L. Warner
Writers: Robert Buckner, Edmund Joseph, Julius J. Epstein, Philip G. Epstein
Photography: James Wong Howe
Music: George M. Cohan, Ray Heindorf, Heinz Roemheld
Cast: James Cagney, Joan Leslie, Walter Huston, Richard Whorf, Irene Manning, George Tobias, Rosemary DeCamp, Jeanne Cagney, Frances Langford, George Barbier, S.Z. Sakall, Walter Catlett

"It seems it always happens. Whenever we get too high-hat and too sophisticated for flag-waving, some thug nation decides we're a push-over all ready to be blackjacked. And it isn't long before we're looking up, mighty anxiously, to be sure the flag's still waving over us."
Released on Memorial Day, 1942, just months after America's entrance into WWII, Yankee Doodle Dandy was at once a patriotic statement, rallying cry and steady reminder of a nation's principles. This is precisely what Dandy did, providing the most red, white and blue the silver screen had ever seen, topping the year's box office charts and winning three Oscars along the way (for the first time, the statues were made of plaster to aid the war effort). The film ultimately lost Best Picture to another flag-waver in Mrs. Miniver (1942), which was such a hit that FDR ordered its closing dialogue to be printed onto leaflets and dropped over Nazi-occupied Europe. Today, the significance of Miniver has faded, moving from declarations as the "Greatest Movie Ever Made" to dropping off many a best list all together. Such a fate might have been Yankee Doodle Dandy's were it not for a magnificent, timeless lead performance from a one-of-a-kind James Cagney.
In his first and only Oscar-winning role, Cagney plays the complete opposite of the gangster types he played in The Public Enemy (1931) and White Heat (1949), a role much closer to his part in the Busby Berkeley musical Footlight Parade (1933). Here, he energetically plays Irish-American entertainer George M. Cohan, known in his lifetime as "the man who owned Broadway" and the first performer ever to receive the Congressional Medal of Honor.
The film opens and closes with this landmark honor, as Cohan arrives to the White House to meet FDR (shown from behind in Seinfeld Steinbrenner style) and closing with Cohan's surprised, gracious acceptance of the award. In between lies an extended flashback of Cohan's life story, very loosely based on the real thing. It begins with his 1878 New England birth, entering the world as "a real live nephew of his Uncle Sam, born on the 4th of July." In actuality, Cohan was born on July 3, but a little creative license hammers the point home — his life has always been synonomous with patriotism. His parents, Nellie (Rosemary DeCamp) and Jerry (Walter Huston), even considered naming him George Washington Cohan, but figured that "Washington may be too long for a billboard."
You see, as much as Cohan was raised in the stars and stripes, he was equally intrigued by the stars of show biz. Working the vaudeville circuit as a four-person family act, including sister Josie (played by Cagney's real-life sister Jeanne), Cohan learns both the fruits of his talents and the consequences of his arrogance. Ultimately, he molds his career into one of family loyalty, captured in his signature sign-off, vote the AFI's No. 97 Greatest Movie Quote: "My mother thanks you, my father thanks you, my sister thanks you, and I thank you."
Before long, Cohan, the brightest star of the bunch, is off on his own, skyrocketing to success, from his teeth-chattering romance with Mary (Joan Leslie, Sergeant York) to his rogue career and blackballing by theater brass. His big break comes in the film's most memorable sequence, his slick, seat-of-his-pants first meeting with future producing partner Sam H. Harris (Richard Whorf) and the simultaneous introduction of his altered lyrics to "Yankee Doodle." His modifications are a hit, and Cohan takes the stage for one of American history's most cherished numbers and one of film history's most famous moments: "The Yankee Doodle Boy."
Ranked of the AFI's 100 Greatest Movie Songs, "Yankee Doodle Boy" highlights a songbook of well-known Cohan hits, including "Give My Regards to Broadway," "Over There" and "You're a Grand Old Flag." Complementing these pieces is an Oscar-winning score by Ray Heindorf and Heinz Roemheld, and dance numbers choreographed by John Boyle, who had been Cohan's dance director for years and worked with Cagney to immitate Cohan's performing style.
That first meant singing in a spoken way (a la Brando in Guys and Dolls) and dancing in a unique combination of stiff-legged struts, heal kicks, bent-knee taps and wall kick-offs. It's important to remember, this is James Cagney here! The ultimate screen gangster proving his guts and versatility to take on a musical biography. Can you imagine Al Pacino or Robert DeNiro kicking off the wall like this? I dare you not to smile in awe as Cagney jubilantly tap-dances his way down a staircase in an unscripted adlib captured in a single shot by Curtiz.
Still, Cagney's best work comes outside the musical numbers, namely his bedside scene saying goodbye to his dying father, a moment so heartbreaking that director Michael Curtiz ruined a take because he was crying too loud. (A) Cagney's commitment to character was so good that Cohan's wife Agnes approached Coahn after a screening and said, "You were wonderful," thinking it was actually her Georgie up on the screen. (A)
While providing Cagney a grand stage to break out of his gangster box, Yankee Doodle Dandy is also a fine look at the early Broadway scene, portraying such figures as B.F. Keith's partner Ed Albee, Fay Templeton, Howard Dietz, Harold Goff and Eddie Foy, played by Eddie Foy Jr., and later by Bob Hope in the 1955 film The Seven Little Foys, in which Cagney appeared for a 10-minute dance number for no charge out of respect for Foy.
Still, more than anything, the film is a turn-of-the-century tale of the American Dream, answering charges that Cagney was a communist. His brother William, co-producer on the picture, told Cagney, "We have to make the damndest patriotic picture ever." (A) So they went straight to the well of Americana, opening the flashback in "the beginning of the Horatio Alger phase," molding Cohan's life into the rags-to-riches model that had become so popular at the time. These sentiments are reflected directly in the film, namely in Cohan's closing conversation with FDR:
COHAN: "Where else in the world could a plain guy like me come in and talk things over with the head man?"
FDR: "That's as good a definition of America as I've ever heard."
Yankee Doodle Dandy became a reminder of America's promise at a time it needed it most, and the cast would listen to FDR's legendary Pearl Harbor speech on a radio on set. While so many masterpiece films (The Deer Hunter, Born on the Fourth of July) make powerful anti-war statements, Yankee Doodle Dandy  joins Curtiz's other 1942 classic Casablanca (1942) as testaments to what Hollywood can contribute to a war effort — if a nation joins together behind a common cause. Cagney was his era's Cohan, and thus fittingly leaves FDR's office to join a parade of troops in stride to march off to WWII.
As they march, the troops chant the same Cohan's "Over There" a song written for the First World War, yet now applying just as well to the Second, with the film's final lines: "We'll be over! We're coming over! And we won't come back 'til it's over over there!"
Combine that with "Off the Record" and Yankee Doodle Dandy provides a real rallying cry: "I can't forget how LaFayette helped give us our first chance, to win our fight for liberty and now they've taken France. We'll take it back from Hitler and put ants in his Japants, and that's for the record!"
A film and a performance so colorful, Yankee Doodle Dandy was chosen by Ted Turner for colorization in 1985, a technology that was soon abandoned. Indeed, additional color is entirely unnecessary in this movie, which still dazzles all these years later. John Travolta will attest: "I watched it with a journalist from The New York Times right after September 11th, and we were just besides ourselves with the patriotism." (B)
So to the three C's — Cohan, Curtiz and Cagney — the scholars thank you, the moviegoers thank you, and I assure you, I thank you.

Citations:
CITE A: James Cagney: Top of the World DVD featurette
CITE B: Let Freedom Sing: The Story of Yankee Doodle Dandy DVD featurette