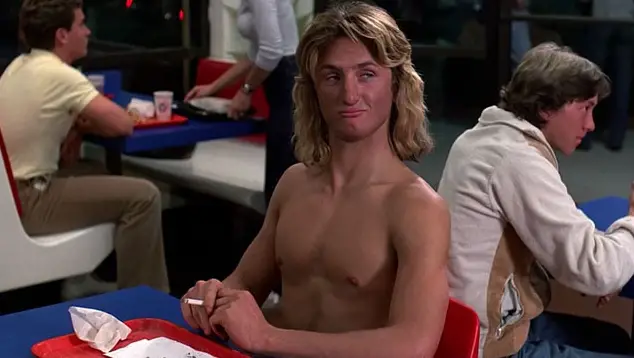 Director: Amy Heckerling
Producers: Irving Azoff, Art Linson (Refugee, Universal)
Writer: Cameron Crowe (screenplay from his book)
Photography: Matthew Leonetti
Music: Jackson Browne, Billy Squier, The Go-Gos, Oingo Boingo, Led Zeppelin, Jimmy Buffett, Sammy Hagar, Don Henley, Joe Walsh, Tom Petty
Cast: Sean Penn, Jennifer Jason Leigh, Judge Reinhold, Robert Romanus, Brian Backer, Phoebe Cates, Ray Walston, Scott Thomson, Vincent Schiavelli, Amanda Wyss, Forest Whitaker, D.W. Brown, Martin Brest, Nicolas (Cage) Coppola

If American Graffiti invented the "teen movie" in 1973, Fast Times at Ridgemont High brought the genre to what we recognize today, a smooth combination of touching and hilarious, heart and belly laughs. Three decades later, it's amazing the range of influence that's come from Fast Times: The Breakfast Club, Ferris Bueller's Day Off, Pretty in Pink, Dazed and Confused, American Pie, Mean Girls, Superbad.
Arriving the same year as Barry Levinson's Diner and Bob Clark's Porky's, the film represented a new take on the transition from carefree youth into adulthood, documenting the fleeting wild times in between. It's all covered here — teenage pregnancy, cafeteria convos, after-school jobs at the local mall, football games under Friday night lights, first cars, class clowns, pep rallies, school dances and the ever-present allure of driving your girl up to The Point. More than most contrived Hollywood fare, it all passes as real here, a credit to director Amy Heckerling, who juggles multiple plotlines without a hitch and shows the kind of comic sensibility she would later bring to Look Who's Talking (1989) and Clueless (1995), another high school classic in debt to Fast Times.
Based on the real-life experiences of Cameron Crowe, who adapted the script from his own semi-autobiographical novel, Fast Times pivots around six high schoolers and their two teachers, the ultra-strict U.S. history teacher, Mr. Hand (Roy Walston), and the ultra-weird biology teacher, Mr. Vargas (Vincent Schiavelli). The primary teen characters are Brad Hamilton (Judge Reinhold) and his 15-year-old sister, Stacey (Jennifer Jason Leigh). While Brad juggles jobs and contemplates dumping his girlfriend to enjoy some senior year freedom, Stacey passes herself off as 19 to get with a 26-year-old she met at the mall food court where she works. But after shedding her virginity with this guy in a baseball dugout, she never hears from him again, leaving her to confide in her friend, Linda Barrett (Phoebe Cates), as to what she's really looking for in a guy:
STACEY: "Linda, I finally figured it out. I don't want sex. Anyone can have sex. … I want a relationship. I want romance."
LINDA: "You want romance? In Ridgemont? You can't even get cable TV here, Stacey! And you want romance??"
In walks Mark "Rat" Ratner (Brian Backer), a movie theater usher from across the mall, who has low self esteem but a giant crush on Stacey. After a pep talk by hot shot mentor Mike Damone (Robert Romanus), Rat gains the confidence to ask her out. In the long run, he can't seem to overcome his nerves, and before long, Mike is going behind Rat's back to hook up with Stacey himself, resulting in an unwanted teenage pregnancy. What painful decisions will Stacey make? Will her brother be there for her? Will he find peace in his own teenage angst? And is there any hope for Rat? In between answering such questions, the film slips in appearances by the one and only Jeff Spicoli (Sean Penn), the burnout to beat all burnouts, the inspiration for every half-baked character to follow, a guy constantly showing up late to class because he's too busy bumming around with his two stoner buds and falling out of their Volkswagon van as pot smoke billows out the door.
No doubt, Crowe had several real-life folks in mind when penning these characters. But these are people we all know from our own lives in some shape or form. This is precisely why it works for us as audiences, because we can sniff the authenticity. It wasn't some Hollywood adult trying to recapture the teenage scene for box office bucks. It was a bonified teenager telling his tale, seeing as Crowe was a young teen when he first went to work writing for Rolling Stone, clout he used to publish his first novel Fast Times at Ridgemont High. Years later when he was tapped to adapt it into a movie, it would mark the screenwriting debut for a very successful career. Fast Times catapulted Crowe to write and direct Say Anything (1989), Jerry Maguire (1996) and Almost Famous (2000), the latter of which was a comedy meditation of his time at Rolling Stone. If that time was "almost famous," then "famous" came hand-in-hand with Fast Times.
Crowe wasn't the only one who found stardom. Fast Times at Ridgemont High provided career breaks for countless actors, including Jennifer Jason Leigh (The Hudsucker Proxy, Weeds), Judge Reinhold (Beverly Hills Cop, The Santa Clause), Robert Romanus (Fame, Facts of Life), Forest Whitaker (The Last King of Scotland, The Butler), Martin Brest (director of Beverly Hills Cop and Scent of a Woman), Phoebe Cates (Gremlins) and Nicolas Cage (Moonstruck, Leaving Las Vegas, National Treasure), who's credited as "Nicolas Coppola" in a fast food appearance so brief you'll miss it if you blink.
Still, the biggest career launched was undoubtedly Sean Penn, who followed his debut in Taps (1981) with his most iconic role. Fast Times propelled him to a most fruitful career, earning Oscar nominations in Dead Man Walking (1995), Sweet and Lowdown (1999) and I Am Sam (2001), before winning Best Actor twice, first as a grieving father in Mystic River (2003), thenas gay rights activist Harvey Milk in Milk (2008). But no matter how far Penn goes or how many Oscar nominations he earns, his career role will always be Spicoli, voted as high as #9 on Premiere's 100 Greatest Movie Characters. That's right, any conversation of history's greatest movie characters now includes James Bond, Norman Bates, Scarlett O'Hara, Vito Corleone, Indiana Jones…and Jeff Spicoli.
Penn absolutely steals the show in Fast Times, sporting a persona best articulated in his signature line: "All I need are some tasty waves, a cool buzz, and I'm fine." With this one role, Penn popularized the Southern Cali surfer dude accent, leaving a blueprint for Keanu Reeves and Alex Winter in Bill & Ted's Excellent Adventure (1989), and laying the groundwork for the "valley girl" gimmicks of Valley Girl (1983), Clueless (1995) and Legally Blonde (2001). His own cluelessness is the best part of the film, allowing for such exchanges with Mr. Hand: "Learning about Cuba and having some food." It was a niche that Matthew McConaughey used to find his own stardom in Dazed and Confused (1993), stealing the show with his own loser lines: "That's what I like about high school girls. I get older and they stay the same age."
Comparisons between Penn and McConaughey will no doubt spawn dorm room debates between Fast Times and Dazed and Confused as to which is the better movie. I choose to declare it a draw, insisting that Fast Times is the best depiction of teens in the '80s, Dazed and Confused the best depiction of teens in the early '80s, and American Graffiti the best depiction of teens in the early '60s. Underscoring this nostalgia are the respective soundtracks, a battle that to me Dazed and Confused wins hands down with a killer mix of "Sweet Emotion" (Aerosmith), "Free Ride" (Edgar Winter) and "School's Out for Summer" (Alice Cooper). Even so, Fast Times has a damn fine soundtrack, including "We've Got the Beat" (The Go Gos), "American Girl" (Tom Petty), "Somebody's Baby" (Jackson Browne), "Life in the Fast Lane" (The Eagles), "Sleeping Angel" (Stevie Nicks), "Kashmir" (Zeppelin) and "Goodbye, Goodbye" (Oingo Boingo).
Whichever you prefer, Fast Times often gets the nod over Dazed and Confused on many a best list, including #87 on AFI's 100 Laughs, perhaps because it came first and thus allowed for Dazed and Confused's existence. Intriguingly, Fast Times also made the Top 100 list compiled by the Alliance of Women Film Journalists, who said, "Jennifer Jason Leigh's lessons in the realities of romance are heart crushing," but no doubt also for Heckerling's place as one of the first female directors.
In no way is Heckerling in the same conversation as Ida Lupino, Sofia Coppola or Kathryn Bigelow, but she's a very capable talent similar to Penny Marshall (Big, A League of Their Own). Rewatching Fast Times again and again, her touches become all the more apparent — graffiti reading "Wasted Youth" as Stacey sneaks out into the car of an older guy; Stacey's POV shots as she has sex in the dugout with flashes of other random graffiti on the wall; the fantasy sequences of Spicoli's surfer dream and Reinhold's daydream of Phoebe Cates climbing out of that pool in a red bikini (borrowed by John Hughes in Christmas Vacation); the positioning of Stacey and Rat dwarfed by oversized menus, chairs, even salt and pepper shakers; the poignant detail shots of their nervously clenched feet as they sit together on Stacey's bed; the symbolic lost innocence as Rat pulls a stuffed animal out from under him as he makes out with Stacey; and the irony of Stacey and Linda talking about male potency while slicing a big beef stick.
Again, these aren't big things, but Heckerling deserves credit for taking it another step. As does Crowe, who deserves just as much credit for the film's substance. For a first-time screenwriter, his talent is on point. Notice the way Stacey and Linda read a magazine about partners climaxing "at the same time," and then Stacey repeating those same words to Mike Damone about undressing in the pool house. Note also how Crowe makes clever observation of everyday behavior, like the lecture from Mr. Hand: "There are some teachers in this school who look the other way at truants. It's a little game that you both play. They pretend they don't see you. You pretend you don't ditch." And above all else, notice the brilliant dialogue as Damone gives his five-step plan to pick up chicks:
DAMONE: First of all, Rat, you never let on how much you like a girl (Oh, Debbie, hi). Two, you always call the shots (Kiss me. You won't regret it). Three, act like wherever you are, that's the place to be (Isn't this great?). Four, when ordering food, you find out what she wants, then order for the both of you. It's a classy move (Now the lady will have the linguini in white clam sauce and a coke with no ice). And five, now this is the most important, Rat. When it comes down to makin' out, whenever possible, put on Side One of Led Zeppelin IV.   
Is there another movie that better captures the mind of the adolescent? The paradox of thinking you know everything but knowing nothing at all? The heart pangs of sifting through love and lust to decide which one is real? To this day, Fast Times at Ridgemont High remains the textbook on how to make a successful teen movie.