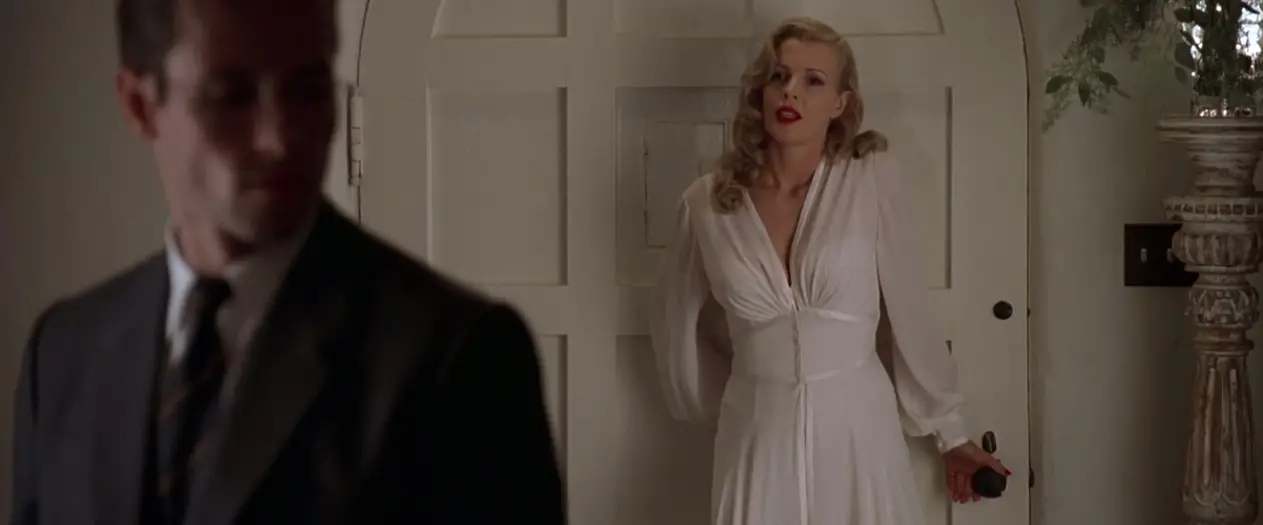 Director: Curtis Hanson
Producers: Curtis Hanson, Arnon Milchan, Michael G. Nathanson (Monarchy, Regency, Warner Bros.)
Writers: James Ellroy (novel), Brian Helgeland and Curtis Hanson (screenplay)
Photography: Dante Spinotti
Music: Jerry Goldsmith
Cast: Kevin Spacey, Russell Crowe, Guy Pearce, James Cromwell, Kim Basinger, Danny DeVito, David Straithairn, ?Graham Beckel, Paul Guilfoyle, Ron Rifkin, Matt McCoy, Paolo Seganti, Darrell Sandeen, Simon Baker

"Life is good in Los Angeles. It's paradise on earth. He he he. That's what they tell ya anyway. Because they're selling an image. They're sellin' it through movies, radio and television. In the hit show, Badge of Honor, the L.A. cops walk on water as they keep the city clean of crooks. Yep, you'd think this place was the Garden of Eden. But there's trouble in paradise. … Remember, dear readers, you heard it here first, off the record, on the QT and very hush-hush."

If any film ever dared the impossible task of equaling Chinatown as a complex mystery of corruption in 20th Century Los Angeles, it was L.A. Confidential. Perhaps this is because Confidential gets its Oscar-nominated score from Jerry Goldsmith, who gave Chinatown so much of its atmosphere. Or, perhaps it's because director Curtis Hanson, former editor of Cinema magazine, had directed his first major film, The Bedroom Window (1987), under Chinatown writer turned executive producer Robert Towne. The influences of Chinatown are all over Confidential — private dicks leading investigations at odds with the LAPD; dark-clad dames offering as much danger as they do delight; and an overarching shadow of high-end corruption, gorgeously rendered in Technicolor period visuals.
But like Who Framed Roger Rabbit? (1988) a decade before it, L.A. Confidential does enough to distinguish itself as its own animal, a formidable heir to the Chinatown throne, rather than an attempt at overthrowing the king altogether. And had it not arrived months before one of the most successful movie in history, James Cameron's Titanic (1997), it would have probably won the title of Best Picture 1997, as many still believe it should have.
Based on the third installment of James Ellroy's "L.A. Quartet" series of crime fiction novels, the plot concerns the blood and bullet holes splattered across the walls of an L.A. cafe. The incident is dubbed "The Nite Owl Massacre," where it "appears three men held up a coffee shop, the guy at the register pulled out a .38, so they killed him [and] then they took everyone else out back and they killed them, too." But the whole thing stinks from the get go, particularly with a former member of the LAPD turning up as one of the victims. Enter three different police officers, each digging at the truth from different angles.
There's Sgt. Jack Vincennes (Kevin Spacey), who seems to be more concerned with outside affairs, be it the money he makes for tipping off local paparazzi, or the prestige he gains as a consultant for the TV police drama Badge of Honor. There's Officer Bud White (Russell Crowe), a vigilante with brutish tactics but an eye for justice, particularly for any crimes against women, seeing as he witnessed his own father murder his mother. And then there's Sgt. Ed Exley (Guy Pearce), the son of a legendary cop, trying to live up to his dad's reputation, disliked by his fellow officers for his career-driven motives, and ultimately redeemed by his "Rolo Tomasi" philosophy.
Joining the fray are a veteran police chief, Capt. Dudley Smith (James Cromwell); a Walter Winchell-type tabloid reporter, Sid Hudgens (Danny DeVito); a mysterious millionaire, Pierce Patchett (David Strathairn), who operates an escort service of celebrity lookalikes, "whores cut to look like movie stars," while he clearly has "something bigger on the side;" and Patchett's Veronica Lake lookalike Lynn Bracken (Kim Basinger), who successfully seduces two of our three detectives in the process of offering up information.
Much of the script was based off real events — the Bloody Christmas incident where drunken police brutally beat up Hispanic prisoners; the arrest of real-life gangster Mickey Cohen sparking a gang war for control of the rackets; the LAPD Goon Squad which would kidnap out-of-town gangsters, beat them up and threaten to kill them if they ever tried to come back; Lana Turner dating gangster Johnny Stompanato; and the idea of a prostitution ring modeled after famous Hollywood actresses. In his memoir Hollywood: Stars and Starlets, Tycoons and Flesh-Peddlers, Moviemakers and Moneymakers, Frauds and Geniuses, Hopefuls and Has-Beens, Great Lovers and Sex Symbols, screenwriter Garson Kanin (Adam's Rib) describes a visit to a place called Mae's where a madam, dressed as Mae West, presided over a cast of replicas of Barbara Stanwyck, Joan Crawford, Carole Lombard, Marlene Dietrich and Ginger Rogers, among others. (B)
With just enough fact and fiction, enough dialogue to fill 80 speaking parts, and a twisting tale of crime, publicity, spins and scapegoats, L.A. Confidential was instantly recognized as a genius work of screenwriting, earning the Adapted Screenplay Oscar for Hanson and co-writer Brian Helgeland, who went on to direct the Jackie Robinson biopic 42 (2013). Today, the script is considered one of the greatest in history, voted #60 in the Writers Guilds' Top 101 Screenplays of All Time. Ellroy, who wrote the 1990 source novel, lauded the adaptation: "I understood in 40 minutes or so that it is a work of art on its own level. It was amazing to see the physical incarnation of the characters." (A)
It's these "physical incarnations" that really drive the film, as Hanson demonstrates a mastery of ensemble casting. Despite studio misgivings about casting two non-American unknowns in an American period piece, (B) Hanson stuck with Crowe (New Zealand) and Pearce (England), who both launched to future success. While Pearce went on to star in the psychological thriller Memento (2000) and the superhero blockbuster Iron Man 3 (2013), Crowe became an overnight sensation, earning Oscar nominations for The Insider (1999) and A Beautiful Mind (2001), while winning Best Actor in Gladiator (2000) as Maximus, one of the AFI's 50 Greatest Heroes of All Time.
Meanwhile, Spacey was inspired casting as Vincennes, bringing the right amount of offbeat sensibility to a character that, at the suggestion of Hanson, was played with a Dean Martin-like charm. Spacey himself was a rising meteor, fresh off two killer twist endings as the chilling serial killer in Se7en (1995) and as the ultimate trickster in The Usual Suspects (1995), a film that won him the Oscar. Between those two masterpieces, his Best Actor win for American Beauty (1999) and his lead role in the industry-rocking Netflix original series House of Cards (2012), it seems L.A. Confidential gets lost in the shuffle. What a mistake that would be, as Spacey is at the top of his game here.
To counter these three rising stars, Hanson cast several important veterans, including Danny DeVito (One Flew Over the Cuckoo's Nest, It's Always Sunny in Philadelphia), a perfect fit as a fast-talking paparazzi. He also cast James Cromwell, who shows a much darker side than his "that'll do" Farmer Hoggett in Babe (1995), and David Strathairn, who would go on to earn an Oscar nomination as Edward R. Murrow in Good Night and Good Luck (2005) and gain mainstream fame in The Bourne Ultimatum (2007).
Despite such a deep cast, only one actor was nominated for an Oscar, Kim Basinger, who took the role after Anjelica Huston and Julia Louis-Dreyfus turned it down. The supporting actress win was considered a steal over Julianne Moore (Boogie Nights), Minnie Driver (Good Will Hunting), Joan Cusack (In & Out) and Gloria Stuart (Titanic). No matter, Basinger is deliciously glamorous, bringing her character as close to classy as a hooker could get. The 43-year-old Basinger graced all the film's posters, her raw sexuality becoming one the film's top selling points.
And why not? Hanson's direction gives her a larger than life presence. Just watch her entrance, appearing as if a shadow in a liquor store, camera to her back, catching only the black cloak draped over her head. The image is perfect for a femme fetale, though her character never truly earns the evil of that status. Despite endangering the heroes and betraying them sexually, Basinger's Lynn remains one of about three characters who maintain audience sympathy in the end.
This treatment is telling, as Hanson embraces the world of noir with a cautioned reluctance. He no doubt flirts with the genre, with character betrayals, duels of false confidence and that classic motif of broken light beams seeping in through venetian blinds. He even prepared his actors by screening a series of Hollywood classics — Kiss Me Deadly (1955), The Killing (1956), The Bad and the Beautiful (1952), In a Lonely Place (1950), Private Hell 36 (1954) and The Lineup (1958). (B) Still, Hanson urged cinematographer Dante Spinotti to shoot the film with more natural light than a classic noir. (C) And when it came to the period visuals, Hanson urged production designer Jeannine Oppewall to keep the '50s feel "in the background." (D) His biggest atmospheric decision was to shoot in Technicolor, beginning a slight resurgence of the process later used in Bulworth (1998) and Pearl Harbor (2001).
With the parameters set, Hanson was ready to apply his own directorial vision. He was no stranger to the thrill of pacing, after directing Bad Influence (1990), The Hand that Rocks the Cradle (1992) and The River Wild (1994), also starring Strathairn. Just look at the way he intercuts shots of angry hands gripping the back of a chair harder and harder as the tension builds during an interrogation. Note also his almost Godfather-like attention to violent detail, whether it's a gunshot causing a man's tie to fly up in his face, or a gun blast through a closing elevator door. With such detailed imagery, we as viewers know exactly what happened without having to see it.
The film is filled with clever directorial touches — the brief use of slow-motion as Bud sees his dead partner, not enough to call attention to itself, but enough to subliminally impact the viewer; the pan from Basinger's porch to Crowe's eyes reflected in his rearview mirror; Cromwell's head dominating the frame as he looks down on Spacey; the suspense of an open doorway in the final shootout, as audiences can see a background reality that the foreground characters can't; a superimposed flashback of a girl with a Chinatown nose bandage (an irony of two rackets: her tennis racket alibi and her prostitution racket reality; and a shot of Pearce's face reflected off a double-mirror as he watches internal discussions of his own police promotion, an image that takes his own personal reasons for joining the force (stopping the criminals that always get away with it) and reflects them off his more selfish desires (climbing the rungs of the LAPD and racking up medals).
Still, of all the metaphorical touches, the most impressive is the first time we enter Lynn's home. The shot places Basinger's face next to an old film clip of Veronica Lake, which is suddenly passed over by the shadow of a fedora-wearing "client" and his words, "Hey, dollface." Moments later, she passes in front of a mirror, turns off the film projector and casts her shadow on the blank projection screen. This is the visual representation of the film's main idea, articulated by Lynn in this same scene: young girls come to Hollywood looking for stardom and through this lookalike hooker business they get to "act a little."
From impossible dreams to prostituting one's life. That's Hanson's take on Hollywood. He suggests that the dream of stardom is a false dream, obtained only through phoniness, sleaze and corruption. And what's worse, no one's exempt, not even the cops, who prostitute their original reasons for joining the force in order to gain personal glory — a struggle symbolized by Pearce, who's constantly removing his glasses, blinding himself in order to look tougher. Hanson wants us all to wake up to this blindness.

Citations:
CITE A: Michael Sragow. "City of Angles", Dallas Observer, September 11, 1997.
CITE B: IMDB Trivia
CITE C: Amy Taubin. "Confidentially Speaking: Curtis Hanson Makes a Studio-Indie Hybrid", Village Voice, September 23, 1997.
CITE D: Amy Taubi. "L.A. Lurid", Sight and Sound, November 1997.