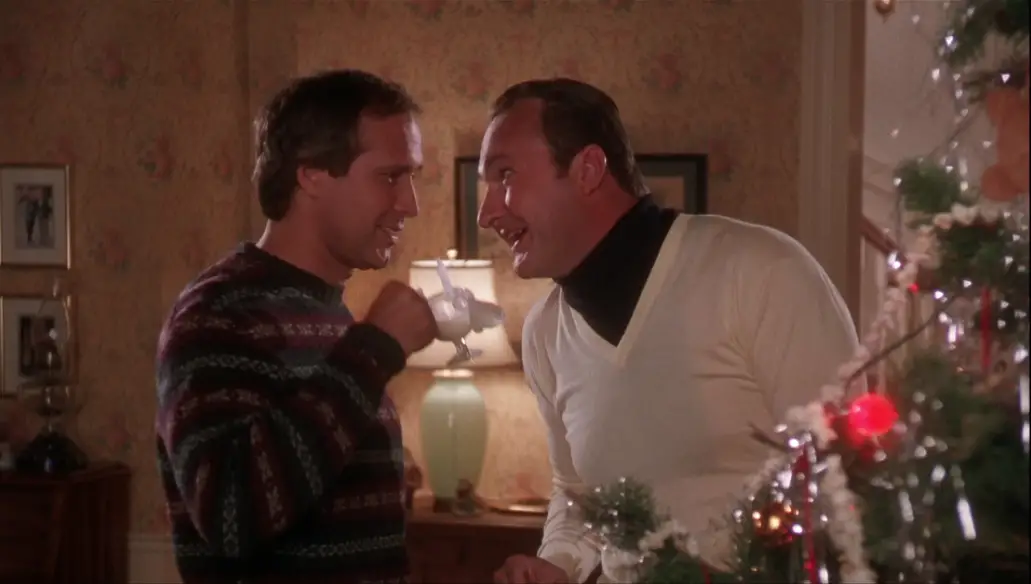 Directors: Harold Ramis (Vacation); Jeremiah Chechik (Christmas Vacation)
Producers: Vacation: Matty Simmons; Christmas Vacation: John Hughes, Tom Jacobson
Writer: John Hughes (screenplays)
Photography: Vacation: Victor Kemper; Christmas Vacation: Thomas Ackerman
Music: Vacation: Ralph Burns; Christmas Vacation: Angelo Badalamenti
Cast: Vacation: Chevy Chase, Beverly D'Angelo, Randy Quaid, Christie Brinkley, John Candy, Anthony Michael Hall, Dana Barron, Eddie Bracken, Brian Doyle-Murray, Miriam Flynn, Imgoene Coca, James Keach; Christmas Vacation: Chevy Chase, Beverly D'Angelo, Randy Quaid, Juliette Lewis, Johnny Galecki, John Randolph, Diane Ladd, E.G. Marshall, Doris Roberts, Miriam Flynn, Brian Doyle-Murray, William Hickey, Mae Questel, Nicholas Guest, Julia Louis-Dreyfus

Introduction
Most comedies will never show up on serious critics' all-time best lists with the likes of Citizen Kane (1941), Vertigo (1958) or 8 1/2 (1963). Yet these same films remain seen, and beloved, by the majority of the population. National Lampoon's Vacation (1983) and National Lampoon's Christmas Vacation (1989) are two of those films. Perhaps comedies like this are so over the top that they're deemed too ridiculous to be considered in a serious assessment of cinema's greats. After all, there is no way that this many terrible things can occur on one family vacation, or one family Christmas get together.
But those who assess films in this myopic way are missing out on a key ingredient in the cinematic lexicon. You know, "fun." If a genre film becomes a pop sensation and remains as such over time, some level of recognition is due. Vacation and Christmas Vacation are vulgar riots on their own — boasting the comic genius of Harold Ramis (Groundhog Day) and John Hughes (Ferris Bueller's Day Off) — while their censored TV versions have played an integral part in the family comedy experience for the last 40 years. As the original 1983 fans have passed their admiration on to their children, it's become an American right of passage for families to laugh at the ultimate doomed vacationers, the Griswolds, if only because it secretly makes their own dysfunctional family look that much more functional.

Vacation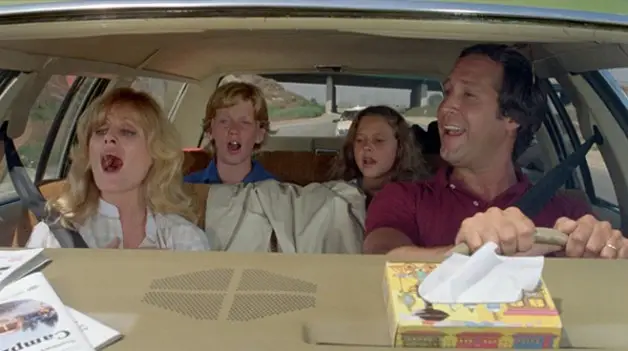 Everyone has had that one family vacation from hell, if not more. But no vacation from hell compares to the one engineered by Clark W. Griswold (Chevy Chase). Everything that could possibly go wrong does for Clark, ultimately snapping a man who more than anything strives to be a good dad. Clark carries with him the dream of many fathers — to make up for lost time spent at the office by orchestrating the ideal family vacation. His plan is to drive his family cross-country, from Chicago to California, en route to Walley World, the film's version of Disney World. Instead of Walt Disney there is Roy Walley, and in place of Mickey Mouse is Marty Moose. The theme park has become legendary for movie-loving Americans, not for its steep rollercoasters and dazzling park layout, but for the hellacious journey there.
The trip's first setback sums up Clark's ongoing problem. He wants the biggest and best, and he ends up with the worst. He wants everything on a grand scale, and he ends up with a grand nightmare. He wants to trade in his vehicle for a Antarctic Blue Super Sportswagon, and he ends up with a lime green station wagon. From there, it's all downhill, as the Griswolds face substandard motel rooms, surprise tag-along passengers and the occasional unplanned detour. Chase's understated humor holds it all together, knowing how to put the positive "see isn't this fun" spin on the grimmest of situations. At one point, the family misses an exit and winds up in a ghetto area of St. Louis, but Clark is right there to give some perspective. Speaking to his wife, Ellen (Beverly D'Angelo), he says, "Look at it this way, honey, this is a part of America we never get to see. … We can't close our eyes to the plight of the cities. Kids, you noticing all this plight?"
Such lines are the showcase for Chase's comic genius, not to mention the beauty of John Hughes' script. Clark is helplessly optimistic in the most dire of situations, a humorous character trait reminiscent of Joe Brown's "Osgood" in Some Like it Hot (1959). But Clark is not quite as one-dimensional, obviously frustrated deep down, but trying his hardest not to let it rub off on his family.
This is exacerbated by a road trip premise that opens endless possibilities for plot complications. The two most famous may be Clark chasing a mysterious blonde bombshell (Christie Brinkley) in the car next to him on the highway, leading to a late night hotel pool incident.
The funniest bit remains a police officer's discovery of a mishap with the aunt's ill-fated dog.
By the time they arrive at Walley World, we share the relief of having finally reached our destination with a slow-motion spoof of "Chariots of Fire." Of course, Hughes and Ramis have one final twist up their sleeves.
People functioning outside of their normal environment always makes for good comedy. And though these struggles are frustrating to the on-screen Griswolds, they are entirely amusing set to the film's reoccurring "Holiday Road" theme.
Like the theme, the film is lighthearted to the core, thanks in part to a supporting cast of Hughes favorites like John Candy (Planes, Trains and Automobiles, Uncle Buck, Home Alone), Anthony Michael Hall (Sixteen Candles, Weird Science, The Breakfast Club) and Eddie Bracken (Home Alone 2: Lost in New York), along with a show-stealing performance by Randy Quaid as the white-trash, loud-mouthed Cousin Eddie, a role that would expand significantly in Christmas Vacation.

Christmas Vacation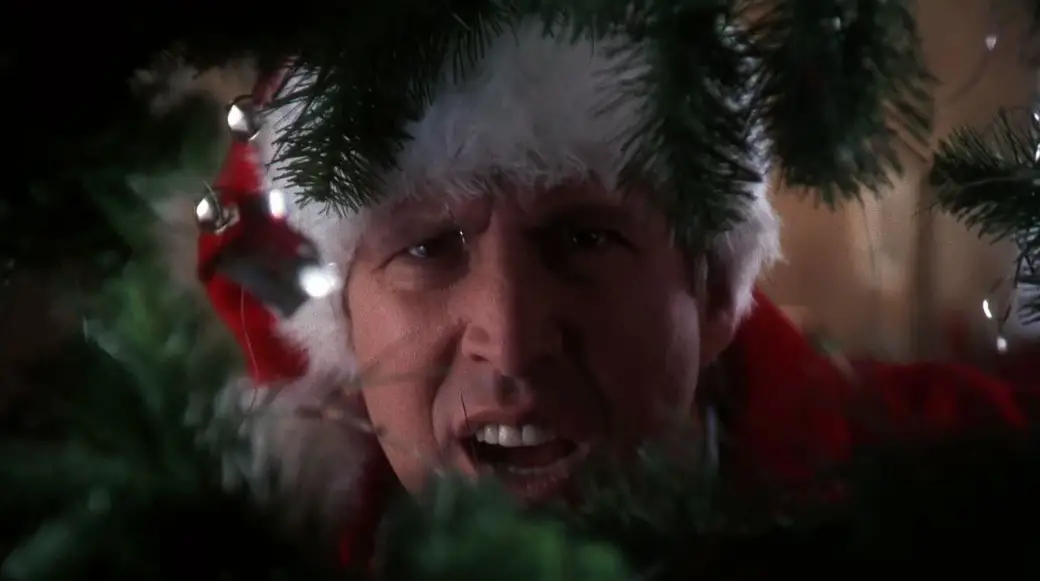 While the first sequel, European Vacation (1985), offered only one worthwhile scene ("Big Ben, Parliament"), the third installment was the best film in the entire series. Christmas Vacation returned complete script control back over to Hughes, allowing the film to feel more closely connected to the original project. The familiar mishaps and annoying family members were back, yet the story was fresh enough to function as its own entity. Rather than go on another vacation, the Griswolds invite their crazy relatives over for a "staycation" around the holidays.
The filmmakers were smart enough to bring back Cousin Eddie, who after disappearing in European Vacation, became an unexpected star of the Christmas rendition. Eddie's countless lines, delivered with Quaid's comic knack, are some of the most memorable: "You know that metal plate in my head? I had to have it replaced because every time Catherine reved up the microwave I'd piss my pants and forget who I was for a half hour or so."
Joining in on the fun are the parents of Clark and Ellen — Doris Roberts (Everybody Loves Raymond), E.G. Marshall (12 Angry Men), Dianne Ladd (Chinatown) and John Randolph (Serpico). Yet the true show-stoppers of all of the Griswold relatives are Uncle Lewis (William Hickey) and Aunt Bethany (Mae Questel), the absent-minded elders who score belly-laughs with remarks like "is your house on fire, Clark?" and "you couldn't hear a dump truck driving through a nitroglycerin plant." Also look for Julia Louis Dreyfus (Seinfeld) and Brian Doyle-Murray (Groundhog Day) in key supporting roles.
As for the Griswold kids, Russ and Audrey, they mysteriously change identities with each new film, rotating from Anthony Michael Hall and Dana Barron in the original, to Juliette Lewis (Cape Fear, What's Eating Gilbert Grape) and Johnny Galecki (Roseanne, The Big Bang Theory). But this fact becomes a joke in itself, watching to see who the new kids will be in the sequels, switching to Marisol Nichols (Big Momma's House 2) and Ethan Embry (Can't Hardly Wait) in Vegas Vacation (1997).
But regardless of the supporting cast, Christmas Vacation belongs to Chevy Chase. If the original Vacation made Clark Griswold a fan favorite, Christmas Vacation made him a comedy legend. Memorable scenes include his smartass Christmas greetings to co-workers and his flustered flirting with an attractive lingerie saleswoman.
Who can forget the near-death experience of finding a Christmas tree?
Who hasn't laughed at Cousin Eddie emptying his RV sewage?
Who can't relate to the Griswold turkey dinner?
And who hasn't seen the attack of the Christmas tree squirrel?
Still, the most quotable moment comes with Clark's profanity-laced monologue ripping his boss and asking "Where's the Tylenol?"
The full comedic effect of this scene is lost when edited for television on ABC Family, just like the brief nudity of a Psycho shower spoof in the original. But the censoring has no doubt proven essential in making the film a holiday classic, fitting since the original arrived the same year that Ralphie shot his eye out. Dare I say, Christmas Vacation cracks the Top 5 Christmas Movies of All Time: Christmas Vacation (1989), White Christmas (1954), A Christmas Carol (1951), A Christmas Story (1983) and It's a Wonderful Life (1946). You can quite literally say they had the "hap hap happiest Christmas since Bing Crosby tap-danced with Danny F*ckin Kaye."

Legacy
The series was so popular that it saw five installments: Vacation (1983), European Vacation (1985), Christmas Vacation (1989), Vegas Vacation (1997) and the TV movie Christmas Vacation 2: Cousin Eddie's Island Adventure (2003).
Yet, the franchise's biggest legacy is the number of times it's been referenced by other comedies. Chase and D'Angelo singing "Mockingbird" in the car inspired an identical moment with Jim Carey and Jeff Daniels in Dumb and Dumber (1994). Clark's mishaps with putting up Christmas lights inspired the annual gaffs by Tim "The Tool Man" Taylor in TV's Home Improvement (1991). The dead relative in the car bit inspired Alan Arkin's role in Little Miss Sunshine (2006). The use of an advent calendar to show the passage of time inspired a similar device in Bad Santa (2003). And the banter of crotchety old relatives inspired Alexander Payne's Nebraska (2013).
The mere mention of Harold Ramis brings memories of Ghostbusters (1984) and Groundhog Day (1993), while thoughts of John Hughes instantly recall The Breakfast Club (1985) and Home Alone (1990). But let's not forget about their contributions to National Lampoon's Vacation series. For dysfunctional family comedy, you really can't beat the Griswolds.