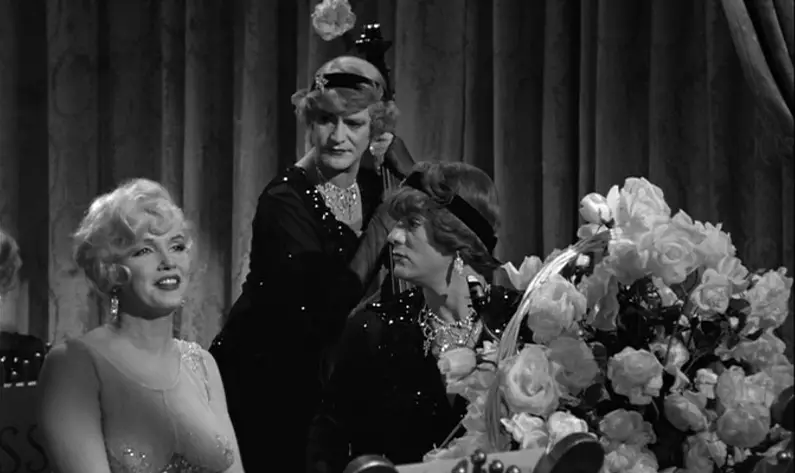 Director: Billy Wilder
Producers: Billy Wilder, I.A.L. Diamond, Doane Harrison (Ashton, Mirisch)
Writers: Robert Thoeren, Michael Logan (story), Billy Wilder, I.A.L. Diamond (screenplay)
Photography: Charles Lang

Music: Adolph Deutsch
Cast: Marilyn Monroe, Tony Curtis, Jack Lemmon, George Raft, Joe E. Brown, Pat O'Brien, Nehemiah Persoff, Joan Shawlee, Billy Gray, George E. Stone, Dave Barry, Mike Mazurki, Harry Wilson, Beverly Wills, Barbara Drew

Introduction
Naming the funniest film of all time is like naming your favorite sibling. While both are in the same room. Staring right at you. Eagerly awaiting your response. It's just too damn hard to choose. Yet most academics, when faced with such a question, will turn to the film that's become the default answer: Billy Wilder's Some Like it Hot (1959). The film has all the ingredients to please the most strict of judges — witty jokes coming at break-neck speed, endless comic situations, memorable buddy comedy by Jack Lemmon and Tony Curtis, the iconic gorgeousness of Marilyn Monroe, a keen director at the helm, and a real historical importance, shattering gender barriers by introducing cross-dressing to American film, paving the way for Dustin Hoffman in Tootsie (1982), Robin Williams in Mrs. Doubtfire (1993) and Martin Lawrence in Big Momma's House (2000).
Still, it's important to point out that while the film was named the AFI's No. 1 Comedy of All Time, it did not even place on BRAVO's 100 Funniest Films. The latter list appealed to a younger, more lowbrow audience, to which much of Some Like it Hot will soar over heads. Let's face it, we as a people have sadly grown accustomed to comedy whacking us across the face, either with physical gags or gross-out intentions. We have become frighteningly unable to laugh at something this subtle, this clever, this refined. Hopefully, Wilder's brand of comedy is something future generations will continue to appreciate, if not doubling over in laughter like so many have for decades. Some Like it Hot is a special little film. The more you see it, the funnier it gets. Most comedies work the other way around.

Plot Summary
The film was based on the German comedy Fanfaren der Liebe (1951), in which two musicians dress in drag to join an all-girls band and end up falling for the lead singer. But aside from the central plot elements, Some Like it Hot does not suffer from a lack of originality. Rather, it takes an already clever premise and injects some of the finest writing ever done.
This time, it's 1929 Chicago, and saxophonist Joe (Tony Curtis) and bass-player Jerry (Jack Lemmon) are the only two eye-witnesses to the infamous St. Valentine's Day Massacre. Hunted by the tommy-gun gangsters of mob boss Spats Columbo (George Raft), the duo decides their only hope is to dress in drag as "Josephine" and "Daphne" and join an all-girl band on a train from Chicago to a Florida beach resort. Hilarity ensues when: (a) both men fall for the band's voluptuous singer, Sugar Kane Kowalczyk (Marilyn Monroe); (b) Jerry a.k.a. "Daphne" is courted by one of the resort's elderly playboys, Osgood Fielding III (Joe E. Brown); and (c) Spats and crew show up at the resort for a bloody gangster conference.

Diamond is a Wilder's Best Friend
Voted the WGA's No. 9 Greatest Screenplay of All Time, the script was just the second collaboration between Wilder and I.A.L. Diamond, following Love in the Afternoon (1957), but it was their first of three shared Oscar nominations, setting up their win for The Apartment (1960) the following year. Word has it that the script was only half-finished by the time shooting began, but just like Casablanca (1942), you'd never know it. (A)
Not only does it contain enough sexually frustrating situations to drive a man crazy, its dialogue sizzles from start to finish. This one has it all: snappy comebacks ("We're up a creek and you want to hock the paddle"), clever putdowns ("He has an empty stomach and it's gone to his head"), masochist humor ("I'm a girl, I'm a girl, I wish I were dead, I'm a girl"), ironic historical foreshadowing ("Suppose the stock market crashes. Suppose Mary Pickford divorces Douglas Fairbanks. Suppose the Dodgers leave Brooklyn!"), airhead mockery ("Real diamonds! They must be worth their weight in gold!"), sharp analogies ("Like jello on springs") and sexy double entendres ("What do I do if it's an emergency?" "Pull the emergency break!"). Most writers wish they could write like that.
Still, the film's most famous line is its last, actually written the night before shooting wrapped. (A) Having exhausted all excuses as to why he can't be with Osgood, Jerry finally yanks off his wig and says, "I'm a man!" to which Osgood, without hesitation, opens his ear-to-ear mouth with matter-of-fact delivery, "Well, nobody's perfect." The line, voted No. 48 on AFI's 100 Movie Quotes, is the greatest ending line in movie history. It's a line where Wilder and Diamond admit their inferiority as males, suggesting that no matter how "perfect" a guy was, he can never achieve perfection because, after all, as Tammy Wynette said, he's just a man. Women can laugh at the line as self empowerment, while guys can laugh at it with humble self-deprecation.

Curtis & Lemmon: Cross-Dressing Stars
These gender-bending themes bring us to the two men who took the plunge, Curtis and Lemmon. Both men looked so hideous as females that they required Oscar-winning costumes and a switch to black-and-white film to cover it up.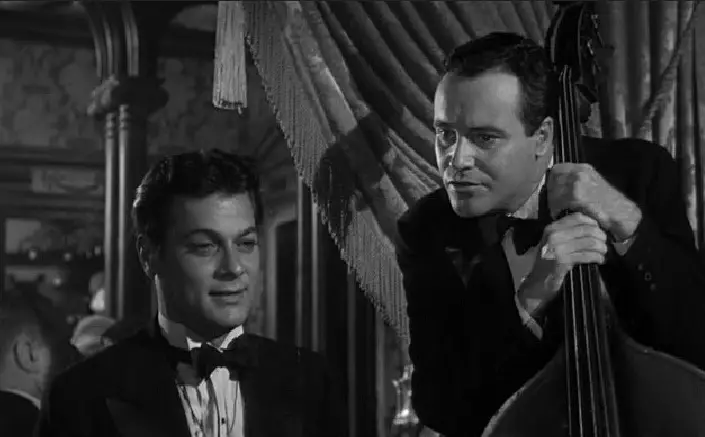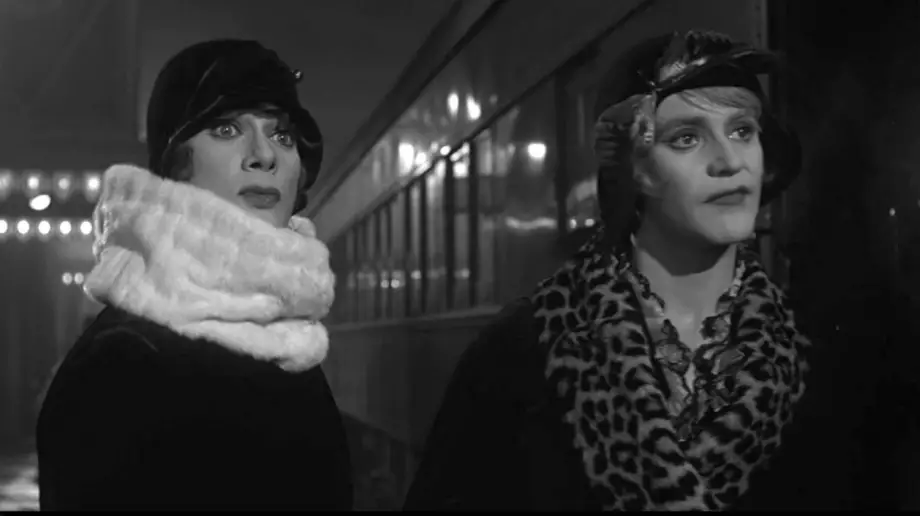 Of the two, Curtis is clearly more uncomfortable in women's clothing, because he's also the more manly, as seen in macho performances across Burt Lancaster in Sweet Smell of Success (1957) and across Kirk Douglas in Spartacus (1960). Not only does Curtis impersonate a woman in Some Like it Hot, he also woos Monroe by impersonating Cary Grant, who appeared that year in North By Northwest (1959) and also paired with Curtis that year in Operation Petticoat (1959). (B)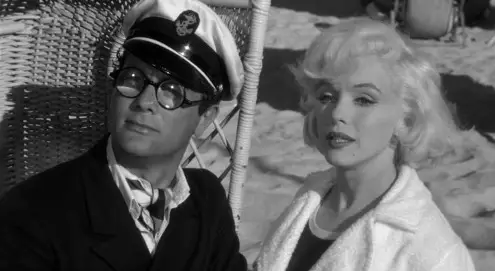 Still, the more memorable performance — and the more feminine — is that of Jack Lemmon, who delivers his career performance, ranking on Premiere magazine's Top 100 Movie Performances and Top 100 Movie Characters. While Lemmon had already won Best Supporting Actor for Mister Roberts (1955), Some Like it Hot was his first of seven Oscar nominations in leading roles, including a win for Save the Tiger (1973). It also began a great working relationship with Wilder, which carried into The Apartment (1960) the following year. When life gives you Lemmons, make comedy gold.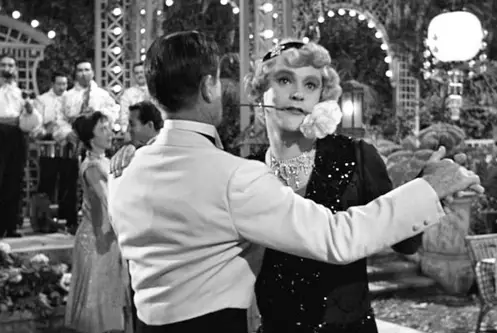 While Curtis' Joe never doubts his own heterosexuality, Lemmon's Jerry becomes almost interchangeable with Daphne after a night of ballroom dancing with Osgood. Who can forget Curtis coming into his room to see Lemmon, still decked out in women's garb, laying on the bed shaking maracas? Their exchange is priceless:
JERRY: "I'm engaged."
JOE: "Congratulations. Who's the lucky girl?"
JERRY: "I am."

The Magic of Marilyn
As good as these two leading performances are, the film would not have become as iconic without their third co-star, the eye candy, the one who was so beautiful it didn't matter how many times she flubbed her lines — Miss Marilyn Monroe. It's important to put her life into context upon seeing the film. She was orphaned and adopted, nearly smothered to death at age two, nearly raped at age six, married at age 16, divorced at age 20 and a Hollywood leading lady by age 26. (D) She was history's first Playboy covergirl in 1953; the bride of Joe DiMaggio in 1954; the bride of playwright Arthur Miller in 1956; and conducted affairs with both Jack and Bobby Kennedy, singing "Happy Birthday" to the president in 1962, the same year she was immortalized by Andy Warhol, fired from Something's Gotta Give for constant tardiness, and found dead of suicide.
You could say her life was the original E! True Hollywood Story, doomed to be repeated by Anna Nicole Smith and untold others. When such tragedies happen to brilliant minds like Kurt Cobain, there's a certain catharsis in knowing they were smart enough to articulate their own impending train wreck, while Monroe seemed to wander onto the tracks with no idea the train was coming. That doesn't make her story any less eternal. As Elton John sang in his "Candle in the Wind" tribute, "Her candle burned out long before her legend ever did." And God bless those who, like Elton, could "from the 22nd row, see her as something more than sexual, more than just our Marilyn Monroe."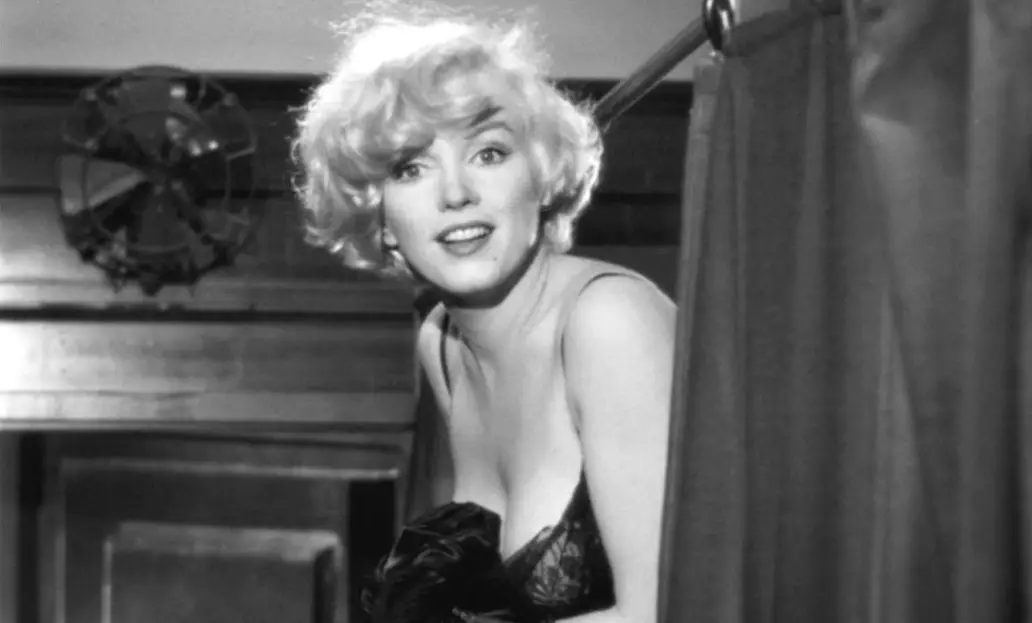 Some Like it Hot is quintessential Marilyn, showcasing the decade's biggest sex symbol in all her glory, despite her ditzy shortcomings (she's obviously reading cards as she talks to Curtis on the phone). What Marilyn lacked in wits, she made up in presence, inviting viewers to that curvacious body of her's with a breathless voice best described by director Sam Fuller: "Marilyn didn't speak, she purred." (C)
In Some Like it Hot, that persona creates the ultra-sexual and the ultra-vulnerable, playing a character not too far removed from herself — someone who's endured extreme emotional abuse, always getting "the fuzzy end of the lollipop," and turning to the bottle as a result. If anyone were to capture Marilyn's tragic existence it would be Billy Wilder, who directed her most famous image with the blown-up skirt of a steam grate in The Seven Year Itch (1955). Some Like it Hot provides a series of unforgettable scenes for America's most glamorous female icon — her butt-shaking entrance to muted trumpets at the train station ("Like Jell-O on springs") and her steamy seduction of Curtis on the yacht ("Your glasses are steaming up").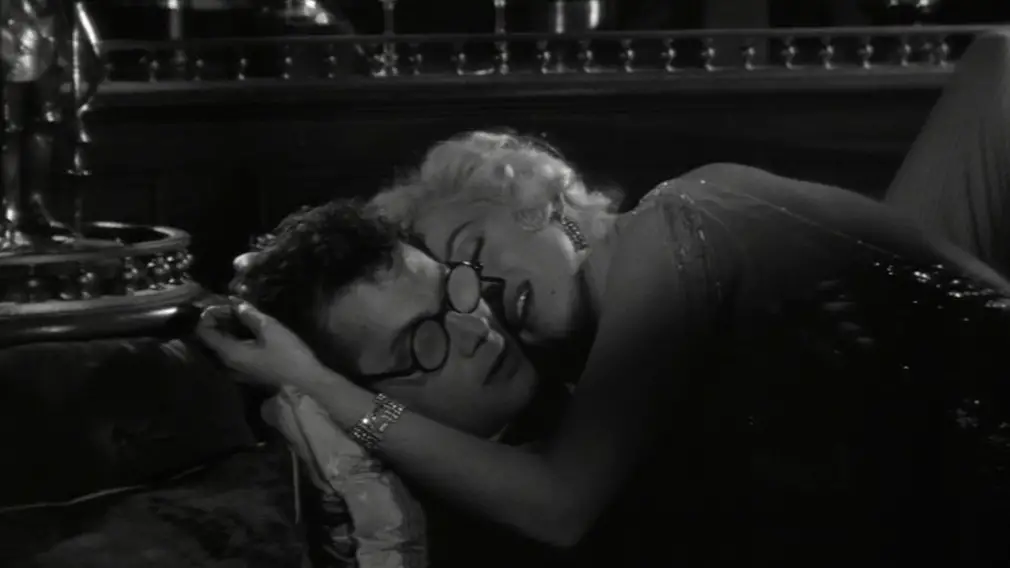 But as scholar David Thomson points out, we love her in Some Like it Hot because it's the Marilyn we'd like to remember — innocent, abused and trampled upon by men, rather than the one that was an equal-part sexual opportunist, sleeping her way to the top like the characters she played in All About Eve (1950) and Gentlemen Prefer Blondes (1953). (B) In the latter, she sings "Diamonds are Girl's Best Friend," which was a breathless precursor to her jazz club rendition of "I Wanna Be Loved By You" in Some Like it Hot, which has become a cultural staple with that legendary, lip-puckered scat of Betty Boop allure: "Boop-boop-e-doo!"
While Marilyn makes the scene her own, much credit belongs to Wilder's keen eye, spot-lighting Marilyn just down to her upper chest, keeping the most desired portion of her see-through dress in the shadows.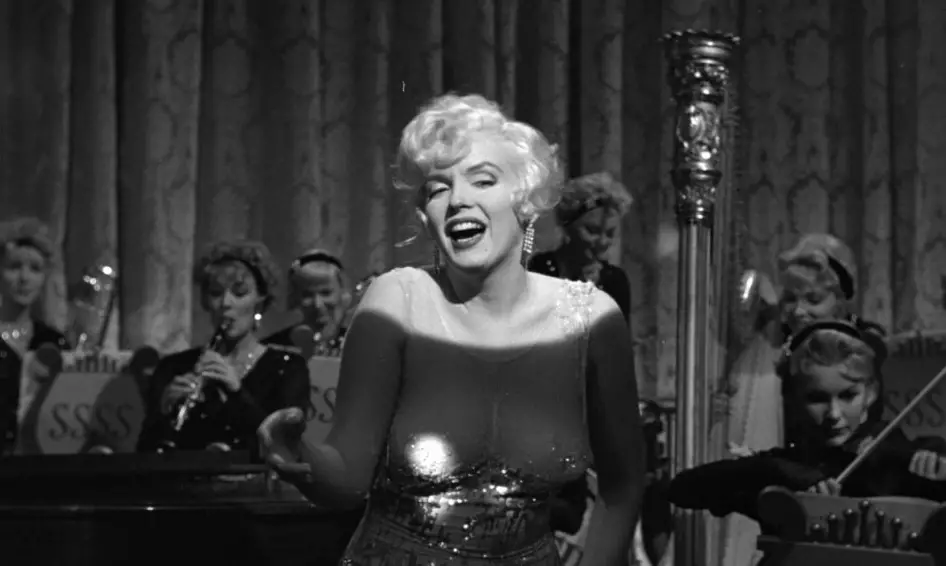 Throughout, Wilder shimmers with these touches: waiting until the exact right time to reveal the film's location and date with a coffin filled with booze.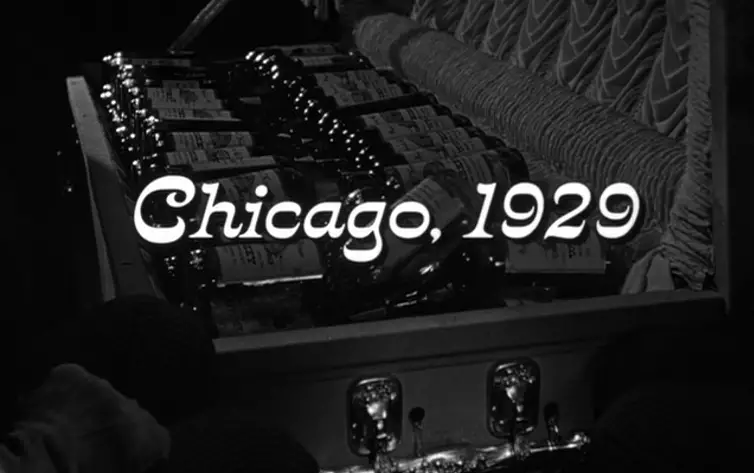 Wilder also makes one of the best uses of familiar image in movie history by introducing Spats Colombo with a shot of his distinctive shoes before panning up to his face. This "from the feet up" technique was also used by David O. Russell in American Hustle (2013). Note also how Wilder mocks the gangster pictures before him by casting the son of Little Caesar, Edward G. Robinson Jr., as one of the heavies, and Scarface's own sidekick, George Raft, who references his own signature coin flip.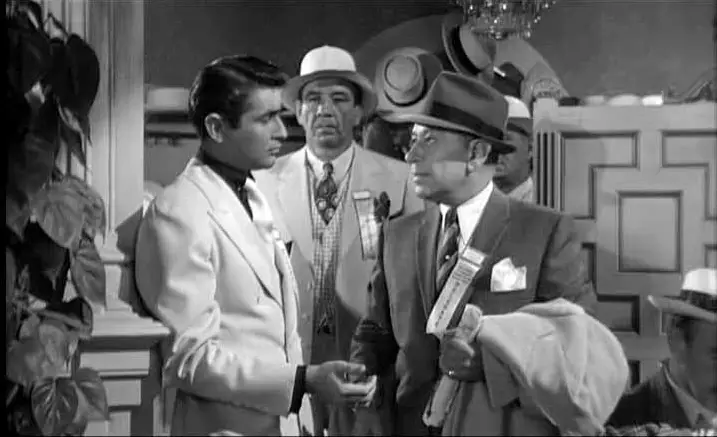 Wilder also makes creative use of long takes on elevator floor numbers.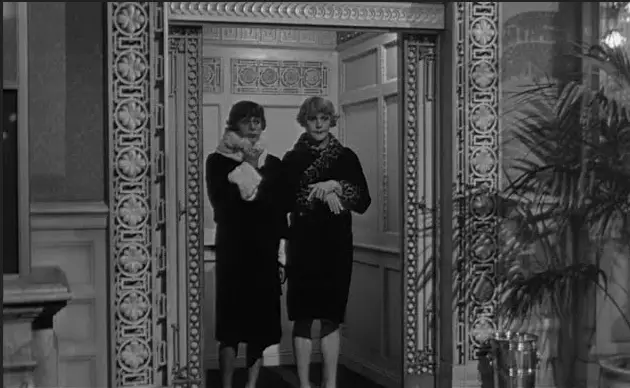 Most impressively, he uses rapid whip pans to seamlessly cut between: (a) Monroe and Curtis on the yacht, and (b) Lemmon and Brown doing the tango on the dance floor.

Legacy
Billy Wilder has made so many classic pictures across so many genres: noir thrillers like Double Indemnity (1944), human dramas like The Lost Weekend (1945), showbiz commentaries like Sunset Blvd. (1950), and romantic comedies like The Apartment (1960). And yet his most beloved film of all may very well be this cross-dressing comedy, shredding all conventions of gender that resurfaces each time Tootsie or Mrs. Doubtfire dons a wig for equal bits comedy and commentary.
"When you get letters from Portugal and from Nicaragua and also from North Carolina that this is the best thing they've ever seen in their lives, that makes me blush a little bit," Wilder admitted. (E)
Some Like it Hot continues to make us blush, with a sexual nature that is quite incredible today, much less for 1959. Wilder is a sneaky boy, packing innuendo at madcap speed. As Lemmon sees Monroe's garter-held flask, he asks, "How do you like the shape of that liquor cabinet?" Oh yes, some like it hot.

Citations:
CITE A: 1001 Movies You Must See Before You Die
CITE B: David Thomson, New Biographical Dictionary of Film
CITE C: Sam Fuller, "Don't Wave The Flag at Me," Pickup on South Street DVD booklet
CITE D: IMDB Biography
CITE E: AFI Top 100 Films countdown on CBS