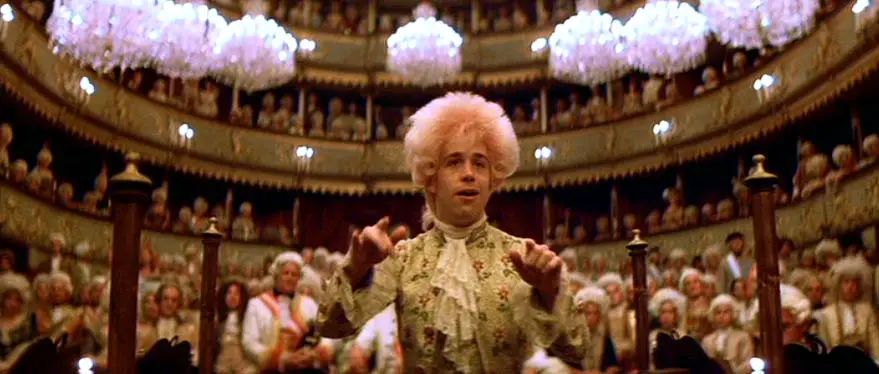 Director: Milos Forman
Producer: Saul Zaentz
Writer: Peter Shaffer (screenplay from his own play)
Photography: Miroslav Ondricek
Music: Wolfgang Amadeus Mozart
Cast: F. Murray Abraham, Tom Hulce, Elizabeth Berridge, Simon Callow, Roy Dotrice, Christine Ebersole, Jeffrey Jones, Charles Kay, Kenny Baker

"Amadeus, Amadeus. Amadeus!
Amadeus, Amadeus. Amadeus!
Amadeus, Amadeus!
Oh oh oh, Amadeus."
When one-hit-wonder Falco topped the pop charts with "Rock Me Amadeus" in 1985, it came just months after Milos Forman's Amadeus won the Oscar for Best Picture. The film — and the song — were 20th century revivals of 18th-century genius, exploring the mind and work of Wolfgang Amadeus Mozart, perhaps the greatest musical influence in the history of Western culture.
When it came time for Laurence Olivier to announce the Best Picture result, the acting legend shocked the Academy by skipping the nominees and immediately saying, "The winner is Amadeus." Nothing more needed to be said.
The film dominated the night with eight Oscars, including Best Actor (F. Murray Abraham), Director (Forman) and Screenplay (Peter Shaffer from his own play). Even the least of movie buffs know this, thanks to Last Action Hero (1993), where a young boy warns Arnold Schwarzenegger that Abraham can not be trusted: "He killed Mozart! … Amadeus! It won eight Oscars!"
Voted No. 73 on the WGA's 101 Greatest Screenplays, one spot ahead of Charlie Kaufman's Being John Malkovich (1999), Shaffer's tale follows Mozart's meteoric life, from enfante terrible to a young death at age 35. While his death was recorded as "severe miliary fever," the film explores rumors that Mozart was poisoned, introducing the idea of a jealous rival possibly having killed the boy wonder.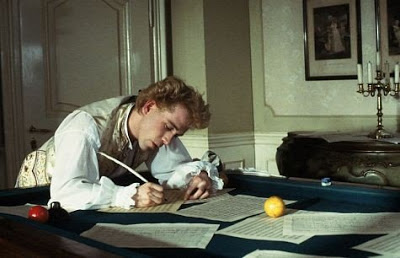 That rival is Antonio Salieri (Abraham), an accomplished Austrian composer who attempts suicide in the film's opening scene, screaming, "Mozart! Forgive your assassin! I confess, I killed you!" This leaves viewers to ponder the guilt one would carry if responsible for killing a musical genius and robbing history of years of great music (i.e. Mark David Chapman, who killed John Lennon).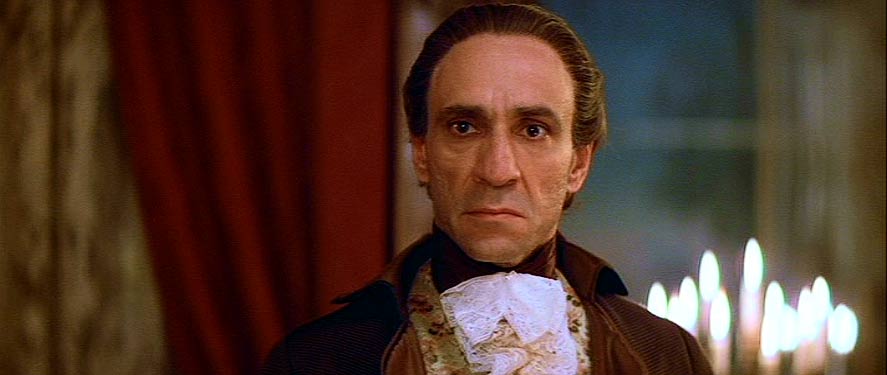 At this point in his life, Salieri is sore that God has kept him alive to see his own work disappear into history, while that of Mozart lives on in fame. Salieri's confession becomes the film's narrative, detailing in flashback his own rise as a musician, only to be overshadowed by the natural talent of Mozart (Tom Hulce), a musical prodigy the likes of which had never been seen.
Against expectation, the legendary figure is presented as immature, womanizing and ridiculous — all salt in the wound to a serious artist like Salieri. The dagger comes in 1781, when Mozart is invited to meet with the Emperor, an event for which Salieri slaves to prepare a "March of Welcome." Upon hearing the tune, Mozart hops onto the piano and, within seconds, transforms Salieri's piece into the "Non più andrai" march from his opera, The Marriage of Figaro — you know, the opera Andy Dufresne plays over the prison speakers in The Shawshank Redemption (1994).
At this point, Salieri falls into a deep spiritual crisis, devastated by his own inferiority, his own blocked route to immortality and, most of all, what he sees to be an unjust distribution of God-given talent. "Why would God choose an obscene child to be His instrument?" Soon, Salieri comes to believe God is mocking him through the miraculous Mozart, and in an attempt to turn the tables on God Himself, hatches a scheme to get one last great work out of Mozart just before killing him.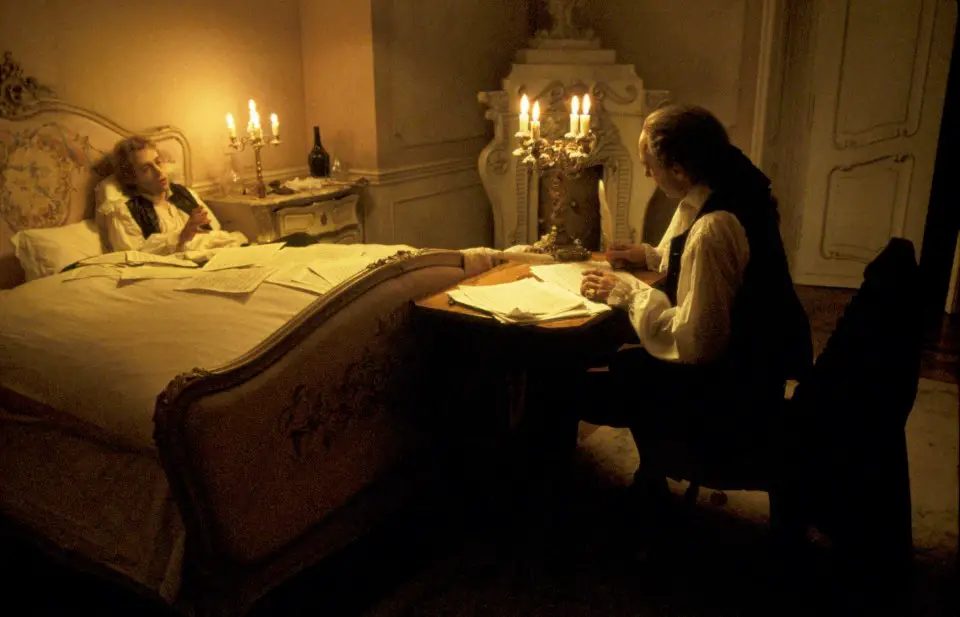 The tragic role is an obvious winner for Abraham, who plays a legendary screen figure filled with pride, envy, bitterness, self-loathing, God-hating and ultimate guilt. While his character was forced to play second fiddle to Mozart, Abraham took front and center, beating Hulce for Best Actor.
Hulce's casting was a shock to some, as he was best known at the time as Pinto from Animal House (1978). He flips expectations and plays the highbrow artist as a lowbrow imbecile, giggling and dirty-minded with pink-tinted wigs and an over-the-top laugh.
Such a portrayal reminds us that many of history's heroes may have in fact been idiosyncratic pains in the ass. Amadeus does its best to show all sides of Mozart, as both an artist ahead of his time and one hindered by his own excesses. Ironically, it's Hulce's lighthearted performance that gloriously saves the film from being pretentious, a welcome surprise for casual viewers who may be wary to sit through a three-hour biopic about classical music. In other words, the silly folly keeps the film as appealing to the average moviegoer as it does to the elite.
That said, the three-hour runtime and extended opera numbers may prove challenging for some viewers. As Salieri says to a bewildered Mozart, explaining the Emperor's yawn during his opera: "The poor man can't concentrate for more than an hour. You gave him four." The inaccessible proof is in the box office pudding. Amadeus never entered the weekend box office Top 5 — the same fate as The English Patient (1996) — and peaked at #6 in its eighth weekend. This may be because the film refuses to compromise its high brow radiance, nor should it. For each mainstream "yawn," there will be plenty of us, who call the work "marvelous," as Salieri does.
Perhaps Amadeus is as accessible as it can be. Those who wish to dismiss it as too long, too serious, too artsy — they're missing the point. Viewers should appreciate Forman's attempt to humanize his characters, his propensity for humor, his knack for tragedy and the smoothness at which he transitions from Mozart flashbacks to Salieri's latter-day confession, marrying the two in voice-over and music. This is best achieved during the recreation of history's first performance of Don Giovanni, with Salieri explaining the "beyond the grave" significance of the piece. We as viewers are transported inside the mind of Salieri, viewing Mozart as both an idol and a nemesis, but always dominant in those slightly low-angle shots of him conducting the orchestra, arms waving in front of a packed house.
Forman has had a long history with Oscar long before coming to Hollywood, earning Best Foreign Language nominations for his Czech dramedies Loves of a Blonde (1965) and The Fireman's Ball (1967). A few years later, he made his career masterpiece, One Flew Over the Cuckoos Nest (1975), winning Best Picture, Director, Actor, Actress and Screenplay — a feat only matched by It Happened One Night (1934) and The Silence of the Lambs (1991).
And yet, his most ambitious and assured film as a pure director is Amadeus, which harnesses an unrivaled pageantry that brings 1700s Vienna to life. The film is filled with the spaciousness of Oscar-winning sets, the lavishness of Oscar-winning costumes, and the precision of Oscar-winning makeup, used to create Mozart's ailing appearance, ailed in a way indicative of the time period. Still, beyond all the visual glory, Forman's greatest asset is the ever-present bliss of Mozart's music, each piece perfectly chosen for the scene it accompanies. Never before, nor since, has classical music been better applied to cinematic images.
Amadeus features no original score, because it already has something better — the original compositions of Mozart himself. For those wanting a lesson in some of the most beautiful music ever written, pop in this one, or better yet, buy the soundtrack. The music lays gently across your ears, fills up your soul and takes you to other places. Its music everyone will know, if not by title, then by sound. You're guaranteed to know "Symphony No. 25 in g minor, K 183, 1st movement."
You'll also recognize his "Eine Kleine Nachtmusik (Serenade), K 525, 1st movement."
I dare you not to feel the power of "Requiem Dies Irae."
Close your eyes and listen to "The Magic Flute."
Do the same for "Requiem Lachrymosa."
And prepare to be swept away by "Die Entfuhrun Aus Dem Serail."
Each of us will have a different favorite Mozart piece. But that's the beauty of music. It can touch each person in a different way, or it can touch  everyone collectively in the same way. Amadeus is a celebration of that fact, of music, of expression, of spirit, of life. The film is an opus of music, dramatic narrative and aesthetics, a true credit to the potential of cinema.
The contribution of Amadeus to film history is no little one. Just 13 years after its release, the American Film Institute placed it #53 on its original Top 100 list. However, in its 10th Anniversary list in 2007, Amadeus was nowhere to be found. Its fall does not speak to the film's lack of durability — it remains the same picture today as it was in 1984 — but it does speak to the film's decline in pop culture standing.
Still, Amadeus remains the very best of its kind, a work of profound inspiration and superb control. No matter how many musical biopics follow — Loretta Lynn's Coal Miner's Daughter (1980), Ritchie Valens' La Bamba (1987), Tina Turner's What's Love Got to Do With it (1993), Ray Charles' Ray (2004) or Johnny Cash's Walk the Line (2005) — one movie remains king of them all. As the tagline pronounced: "Amadeus. The man. The music. The magic. The madness. The murder. The mystery. The motion picture."