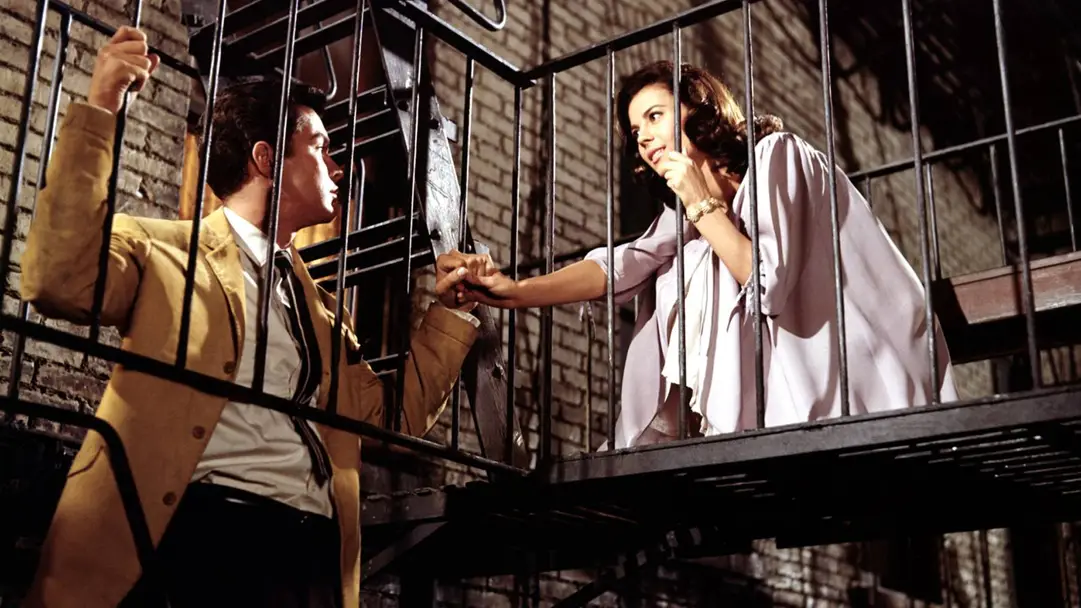 Directors: Robert Wise, Jerome Robbins
Producer: Robert Wise (Mirisch, Seven Arts)
Writers: William Shakespeare (play), Arthur Laurents (play), Jerome Robbins and Ernest Lehman (screenplay)
Photography: Daniel L. Fapp
Music: Leonard Bernstein
Cast: Natalie Wood, Richard Beymer, Rita Moreno, George Chakiris, Russ Tamblyn, Simon Oakland, William Bramley, Ned Glass, Tucker Smith, Tony Mordente, David Winters, Eliot Feld, Jose De Vega

"How many can I kill, Chino? How many? And still have one bullet left for me?"
By 1961, William Shakespeare's Romeo and Juliet had been the world's most beloved tragic love story for nearly 400 years. Who could have guessed that with the addition of a few switchblades, syncopated finger snaps and a catchy songbook that an entirely new cultural landmark would be born?
This is exactly what happened with West Side Story, Arthur Laurents' novel that became a 1957 Broadway production, debuting at New York's Winter Garden Theater, before becoming a smash success of a movie that won 10 Oscars, including Best Picture. To say that it has surpassed the pop culture impact of Romeo and Juliet would be a leap, but it is the American Film Institute's pick for the second greatest movie musical of all time, behind only Singin' in the Rain (1952).
The film relocates Shakespeare's archetypal story to the Upper West Side of Manhattan. Rather than the Montagues and the Capulets, we get two rival New York City gangs, the Polish-American Jets fighting turf wars with the Puerto Rican Sharks. Replacing Romeo is Tony (Richard Beymer), the best friend of Jet frontman Riff (Russ Tamblyn), but one who grows weary of the gang war when he falls for a girl from the other side, Maria (Natalie Wood), the brother of Shark-leader Bernardo (George Chakiris).
As the two gangs increasingly clash, Tony and Maria fall more deeply in love, dreaming of a forbidden marriage and hoping beyond hope that their love can bring peace between the two rival factions. Of course, the wheels of fate turn sharply, as the Jets and Sharks arrange a pivotal knife fight
The result of the knife fight leave Tony a wanted man by the Sharks, setting an unstoppable course of events in motion that lead the star-crossed lovers to a doomed fate of Shakespearean proportions.
Truly one of the great love stories of movie history (#3 on AFI's 100 Passions), West Side Story emits a tangible chemistry between its two leads. It's an amazing feat considering Beymer has all the charisma of a bowling ball (Elvis was originally approached for the part, but his manager refused). (B) Beymer's lackluster acting is saved by Tony's amazing voice, dubbed by the silky smooth pipes of Jimmy Bryant.
Also dubbed was the voice for Maria, contributed by famed soprano Marni Nixon, who provided the singing voices for such leading ladies as Deborah Kerr (The King and I) and Audrey Hepburn (My Fair Lady). Thankfully, Wood's acting is better than her male counterpart's, and here, exactly 20 years before her untimely death, she is more gorgeous than ever, selling a performance despite an obvious lack of Puerto Rican heritage.
Conversely, Rita Moreno was a native Puerto Rican, stealing the show as Bernardo's lover Anita and a worthy Oscar winner as the sole force carrying such legendary songs as "I Feel Pretty" and "America."
As for Bernardo, George Chakiris also won an Oscar, beating out Montgomery Clift, George C. Scott, Peter Falk and Jackie Gleason for Best Supporting Actor.
Of the rest of the cast, Russ Tamblyn is superb as Riff and Jose De Vega features prominently as the trigger-happy Chino. Part of the fun is seeing the "cool" names of all the gang members — Ice, Action, A-rab, Baby John, Snowboy, Tiger, Joyboy, Anybodys, Big Deal, Mouthpiece and Gee-Tar — a series of names no doubt influential on The Outsiders. Despite an array of memorable characters, Ernest Lehman's screenplay was the only one of the film's 12 Oscar nominations to go home empty handed. But such is fitting for a production largely based on pageantry and style.
The film was co-directed by Robert Wise and Jerome Robbins, who were both on the rise in Hollywood. While Robbins had recently choreographed the highly successful The King and I (1956), Wise was famous for having edited Citizen Kane (1941), before taking over the directing reins of Orson Welles' follow-up, The Magnificent Ambersons (1942), after Welles was fired by studio heads. It was a lucky break for Wise, who went on to direct classics across multiple genres, be it science fiction like The Day the Earth Stood Still (1951), or haunted house horror like The Haunting (1963).
While he never quite achieved the directorial genius of Welles, he helmed two of history's finest musicals in a span of just four years, West Side Story (1961) and The Sound of Music (1965), both of which won Best Picture and earned him Best Director. While some scholars discredit the work as "a chocolate box travesty" (A) — aggravated that Wise beat Fellini for La Dolce Vita (1960) — there's no denying West Side Story's unrivaled place in the genre.
The film marked the first time that the directing Oscar was shared by co-recipients, though justly so, seeing as much of the credit belongs to Robbins, who directed the stage version and served as choreographer on the film. Here, Robbins does a masterful job, bringing his Tony-winning Broadway steps to the screen. Is there a more famous bit of stagecraft than nimble gangster snapping to Robbins' choreography?
More importantly, the film also carried over the hit Broadway songs of Leonard Bernstein (music) and Stephen Sondheim (lyrics). Bernstein and Sondheim created a collection of instant genre standards, three of which ranked on the AFI's Top 100 Movie Songs.
"Tonight" ranked #59, featured as both a beautiful duet between two lovers, and a rousing ensemble piece of multiple characters singing in the round.
"America" ranked at #35, unfolding as both a celebration of the American Dream and a critique of its limits with a call-and-response structure: "Life is alright in America, if you're all white in America."
"Somewhere (There's a Place for Us)" ranked all the way at #20 with vocals belting to the highest of New York City skyscrapers.
Those three songs alone would be enough to make any movie musical legendary. But then West Side Story goes and adds a masterpiece like "Maria."
If that's not enough, we get the super famous "I Feel Pretty."
And just for good measure, we get the catchy tunes "Cool" and "Gee, Officer Krupke."
Stringing together these fabulous individual numbers is a top-notch, Oscar-winning score that's been delicious fodder for orchestras and marching bands ever since.
Commercially, the film's soundtrack reached #1 on the Billboard album charts, where it spent 54 weeks, longer than any other album in music history. The album would also win a Grammy for Original Cast Soundtrack and another for the Stan Kenton Orchestra, who released its own jazz interpretation. (C) The music would carry on through the next several decades, and with the help of a 1980 Broadway revival, the soundtrack was certified platinum by 1986.
Rounding out the experience are the film's Oscar-winning Art-Set Direction (Boris Leven and Victor A. Gangelin) and Oscar-winning costume design (Irene Sharaff). These visuals, from the gang jackets to the cityscapes, are all blatantly artificial, candy-colored and stylized, perfect for the heightened reality that exists in the realm of movie musicals. Fond memories of the film evoke a bright Technicolor palette, all captured beautifully in wide Super Panavision 70 by Oscar-winning cinematographer Daniel L. Fapp (The Great Escape).
For all this, West Side Story is more than a movie. It's a look, a feel, a sound. It's a cultural identifying point, where we Americans celebrate our own urban interpretation of Shakespearean tragedy, just as Shakespeare's Romeo and Juliet was a retelling of the ancient tale of Tristan and Isolde — all unique meditations on love and hate in their own right. American films rarely get more iconic, and movie musicals don't get any better than this, the original Gangs of New York (2002) and an interracial love story that predates Guess Who's Coming to Dinner (1967) by a full six years.

Citations:
CITE A: David Thomson, New Biographical Dictionary of Film
CITE B: 1001 Movies You Must See Before You Die
CITE C: "West Side Story (CBS Original Soundtrack)," allmusic.com