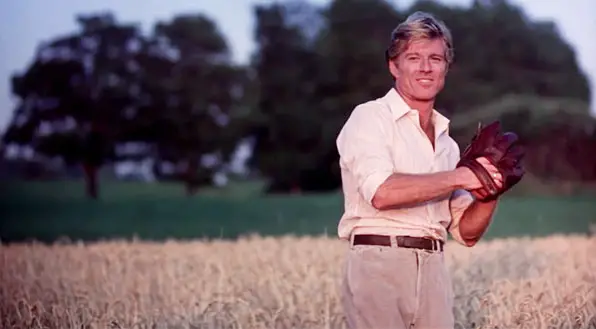 Director: Barry Levinson
Producers: Mark Johnson
Writers: Bernard Malamud (novel), Roger Towne and Phil Dusenberry (screenplay)
Photography: Caleb Deschanel
Music: Randy Newman
Cast: Robert Redford, Glenn Close, Kim Basinger, Robert Duvall, Wilford Brimley, Barbara Hershey, Robert Prosky, Richard Farnsworth, Joe Don Baker, John Finnegan, Alan Fudge, Robert Rich III, Jon Van Ness, Mark Atienza, Paul Sullivan Jr., Rachel Hall, Michael Madsen, Darren McGavin

Bottom of the ninth. Two outs. Two strikes. A baseball smashes through the glass bulbs of the outfield stadium lights. A short-circuit of electricity sends a shower of sparks pouring over the outfield grass. And Robert Redford, in slow motion to the triumphant horns of Randy Newman's legendary score, rounds the bases to accept congratulations from his teammates. The iconic culmination of The Natural made movie myth out of America's National Pastime, a myth that would become reality when Kirk Gibson gimped up to the plate as a pinch hitter in the '88 World Series, belting a game-winning homer off the game's best closer to set up Jack Buck's famous call: "I don't believe what I just saw!"
Some may say the same about The Natural, that its many mythic moments and overall story arc are too implausible of ever happening in the real world. After all, the film begins with a teenage farm boy, Roy Hobbs (Paul Sullivan Jr.), carving a magical bat out of wood from a lightening-struck tree, the same tree under which his father had died, and naming the bat "Wonderboy." From the very beginning, the film is larger than life, but it ties in plenty of real life echoes. As Hobbs grows into a adult (Robert Redford), he presents a familiar Ted Williams aspiration: "When I walk down the street, people will look at me and say, 'There goes Roy Hobbs, the best there ever was.'"
His legend begins to spread throughout the land when, in a friendly challenge, he strikes out Babe Ruth, known in the film only as "The Whammer," played by Joe Don Baker in a portrayal that sportscaster Bob Costas calls the best Ruth in any movie (save, of course, for The Babe playing himself in The Pride of the Yankees).
But just as Hobbs is about to sign with a major league club in Chicago, his promise comes crashing down when a seductive woman in black, Harriet Bird (Barbara Hershey), determines him to be the greatest who ever lived and — wishing to have an effect on history — guns him down before taking her own life. Fade to black.
When we pick back up, Hobbs is 35, recovered from his injuries, but no where close to his "natural" abilities. A broken down semi-pro player, he finally ekes into the majors on a signing blunder that brings him to the New York Knights, a transaction that surprises even the team manager, Pop Fischer (Wilford Brimley), who doubts Hobbs on account of his age: "Fella, you don't start playing ball at your age, you retire!"
Under the guidance of assistant coach Red Blow (Richard Farnsworth), Hobbs slowly works his way into the lineup, and in his first major league at bat, donning The Splendid Splinter's No. 9 from the left side of the plate, literally knocks the cover off the ball (this was later repeated in the children's baseball gem The Sandlot).
Soon, Hobbs is the talk of the league, carrying Wonderboy around in a trombone case and working to save the team from its greedy owner (Robert Prosky), while juggling attention from a fast-talking reporter (Robert Duvall), a bookie with a magic eye for money (Darren McGavin), and a sexy blonde (Kim Basinger), and his long lost high school sweetheart, Iris Gaines (Glenn Close), who holds a secret that will change his life.
Based off Bernard Malamud's 1952 novel, the script was tailored by the screenwriting team of Phil Dusenberry and Roger Towne, brother of legendary screenwriter Robert Towne (Chinatown). For romantics, sentimentalists and those willing to suspend belief, the entire thing is fascinating, as we are led to believe such things as Hobbs taking a bullet for Babe Ruth, whom Harriet initially planned to kill before Hobbs struck him out.
As over-the-top as it is, the fable works by showing a necessary restraint at times, mostly in capturing some of the greatest truths in both sports and life, particularly what it means to be a natural, to have "the gift," but also that the gift alone is not enough. "You've gotta develop yourself," his father says. "You rely too much on your own gift and you'll fail."
As with Field of Dreams (1989), this father-son connection to baseball is felt from start to finish, arguably the most poignant moment coming when Hobbs chokes up while speaking about his father, and immediately jumps to his love for the game: "I wish Dad could've…God, I love baseball," a moment which touched Hall of Famer Cal Ripken Jr., a Baltimorian like director Barry Levinson. (A)
As director, Levinson captures these themes by bookending his film with a pair of father-son games of catch, opening with Hobbs playing catch with his father, then closing with Hobbs playing catch with his son. Levinson's sure hand is apparent throughout the film, from the darkness which passes over the train when Harriet first touches Hobbs' hand, to the light that shines behind Iris in the stands, turning her into the "Lady in White."
Levinson is indeed a natural when it comes to storytelling. Note the shot of Hobbs' silhouetted image walking out through the tunnel, or any number of slow-motion sequences to create sports movie magic, namely in the finale. Hobbs' final at-bat is perfectly timed, inserting a quick shot of Hobbs' stomach ulcer bleeding through his jersey (foreshadowing Curt Schilling's real-life bloody sock in the 2004 World Series). Still, the biggest contribution to the legendary finale is the music of Randy Newman, who created a theme so well-known that one may find it hard to believe it actually came from this movie. With the exception of Chariot's of Fire (1981), it's the movie theme most synonymous with sporting excellence.
Newman's score earned one of the film's four Oscar nominations, including Best Supporting Actress (Glenn Close), Best Art Direction-Set Direction (for recreating the period visuals of 1939) and Best Cinematography (Caleb Deschanel). Reaction to the film was initially mixed, however, with some critics finding the film cliched and manipulative. Leonard Maltin called it "too long and inconsistent," and the famed team of Siskel and Ebert were split, with Siskel praising it and Ebert calling it "idolatry on behalf of Robert Redford." Still, the film remains an undeniable favorite for sports fans, coming in at #6 on both ESPN expert and fan polls of the greatest sports films of all time.
The toughest of critics may have preferred the book's original ending, a more plausible "Casey at the Bat" strike out, just like Rocky losing to Apollo Creed at the end of Rocky (1976). And yet, such an ending would have robbed us of the legendary music and mythic slow-motion of Levinson's final triumphant scene. So feel free to quote Jack Buck's famous call, "I don't believe what I just saw," because sometimes sports are just as magical as they are in the movies. And every spring, when baseball season rolls around, and fathers and sons sit down to watch a baseball flick together, you can still see fathers point to the DVD shelf and tell their sons the same thing Hobbs says the minute Wonderboy is destroyed, "Go pick me out a winner, Bobby."

Citations:
CITE A: DVD documentary, featuring Cal Ripken Jr.