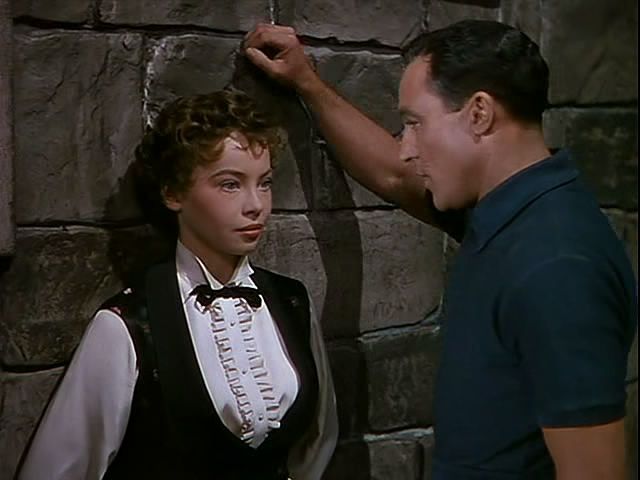 Director: Vincente Minnelli
Producers: Arthur Freed (MGM)

Writer: Alan Jay Lerner (screenplay)

Photography: Alfred Gilks

Music: George and Ira Gershwin

Cast: Gene Kelly, Leslie Caron, Oscar Levant, Georges Guetary, Nina Foch, The American in Paris Ballet


"Paris? No, not this city. It's too real and too beautiful. It never lets you forget anything. It reaches in and opens you wide, and you stay that way. I know. I came to Paris to study and to paint because Utrillo did, and Lautrec did, and Roualt did. I loved what they created, and I thought something would happen to me, too. Well, it happened all right. Now what have I got left? Paris. Maybe that's enough for some, but it isn't for me anymore because the more beautiful everything is, the more it will hurt without you."
Such is the predicament facing Jerry Mulligan (Gene Kelly), the titular American in Paris, an ex-G.I. who decided to stay in the city as a painter. Jerry has come to love the city for its culture, but now only sees it as a curse, thanks to a broken heart courtesy of a Parisian he can't quite understand, Lise Bouvier (Leslie Caron). Their relationship is reminiscent of Bergman and Bogie in Casablanca (1942) — two lovers who fall in love in Paris and share a musical standard as their love song, yet who also can not be together because outside factors prohibit it. Standing in for Paul Heinreid's Victor Lazlo in this case is Henri Baurel (Georges Guetary), who completes the love triangle of An American in Paris as both Jerry's good friend and Lise's fiance.
Here's the catch: Henri has told Jerry multiple times about his fiancee, without Jerry realizing it is his sweetheart, Lise. Likewise, Jerry has told Henri about his latest flame, without Henri knowing it is his fiancee. The complicated set-up makes for a most entertaining yarn, especially a scene in which the two swap love stories at a restaurant with their other pal, Adam Cook (Oscar Levant), who knows the whole truth and has a hard time not spilling the beans. The scene concludes with the now musical-staple "'S Wonderful ('S Marvelous)," a joyous number albeit with tragic contextual undertones.
So goes the entire music of the film. Any ominously looming plot points are masked by generally upbeat music by George and Ira Gershwin, from the bouncing title theme to the snappy "I Got Rhythm" (Sing it now: "I've got music, I've got my gal, who could ask for anything more?"). Gershwin tunes have been used in everything from Walt Disney's Fantasia (1940) to Woody Allen's Manhattan (1979), but in no film is it more integral and better applied than in Vincente Minnelli's An American in Paris.
Unlike most productions, the film-score relationship works backwards in this case. Rather than have composers score music to match a film, Minnelli created a film to match the music, which George Gershwin originally wrote as a symphony in 1928. As such, scenes are direct representations of the music, like Jerry and Lise dancing soft shoe to "Our Love is Here to Stay" along the banks of the Seine, an expressive number combining repressed feelings, obligation and Jerry's call for Lise to "live dangerously."
Anyone who has ever loved someone that logic dictates otherwise will fully relate with the decision facing Lise — whether or not to choose obligation over true love. It is a complex internal conflict for a first-time actress like Caron, who rises to the occasion in her ascension to her career role seven years later in Gigi (1958). Kelly, of course, had plenty more experience on screen, after musicals like The Ziegfeld Follies (1946) and On the Town (1949). Here, he is once again a delight, dancing around with a tablecloth on his head, tapping on top of a piano and reenacting planes, trains and Chaplin-mobiles to an adoring group of Parisian children.
In fact, it was Kelly who discoverd Caron in a French ballet troupe and suggested her to Minnelli. Caron's dance talents are astonishing from her very introduction, an unforgettable sequence in which she performs various styles to accompany Henri's narration. In choreography by Kelly (as in the rest of the film), Caron moves from classical ballet pointe to a seductive chair dance, back to classical pointe, on to the Charleston and then using a table to perform barre exercises. Lise's seamless flexibility will impress even the most experienced of dancers, as she rolls from a split into a straddle — twice — before continuing into a walkover, a wall split and on into another ballet piece with a most impressive turning sequence.
Not only does this dance montage showcase the dance talents of Caron, it also highlights Minnelli's mastery of his visual medium. To begin the sequence, he pans from Henri and Adam at a restaurant table to a wall mirror reflecting their conversation. Suddenly, the mirror frame becomes a picture frame, surrounding an image of Lise which then comes to life. When the dancing is done, Minnelli uses a five-way split screen to show each mood of Lise's personality simultaneously, before returning to the mirror shot of the men's conversation. Such stylized directorial touches continue throughout the film, from elaborate constructions — Levant interacting with himself in a concert dream sequence –to simple devices advancing the narrative — a pan from Kelly across a balcony overlooking the City of Lights to reveal another character's intent listening ear. Such work was enough to earn Minnelli an Academy Award nomination for Best Director, though the Oscar ultimately went to fellow master George Stevens for A Place in the Sun (1951).
Still, it was An American in Paris that got the last laugh, taking Best Picture over both A Place in the Sun and A Streetcar Named Desire. In all, Paris won six Oscars out of eight nominations, including screenplay, score, cinematography, costume design and set decoration. In hindsight, the screenplay ends in borderline-hokey fashion, while certain visual aspects register a bit peculiar, seeing as the entire film was shot non-location on MGM-constructed Paris vistas. Still, the film is an overwhelming aesthetic success, as An American in Paris remains as good an example of film-as-art as any to date.
Most notable in this regard is the film's 17-minute ballet dream sequence, where Kelly performs a meticulous, self-choreographed number around a Paris city that has been transformed into French impressionist paintings. The sequence — full of vibrant costumes, daring lighting, elaborate set pieces, countless extras and an enveloping fog — runs entirely without words, following only a motif of a single rose. Such extended, interpretive numbers are an artist's dream, but for non-musical fans, it may be a challenge. Before you bail on the movie, ask yourself: what does the rose symbolize? And if I were choreographing this sequence, how would I express character concepts through dance? You may just learn to appreciate An American in Paris all the more.
There's no doubt Singin' in the Rain (1952) will remain Kelly's most important and entertaining musical. But An American Paris left its own indelible mark on cinema, from 1997 horror films named in its honor (An American Werewolf in Paris) to 2014 Broadway adaptations, An American in Paris has remained in our public consciousness for good reason. It stands as one of those rare cases where celluloid briefly turns to canvas and filmmakers give way to personified brush strokes. At one point, Kelly describes the city in a way that just as easily sums up the film — "Paris is like love or art or faith. It can't be explained, only felt."