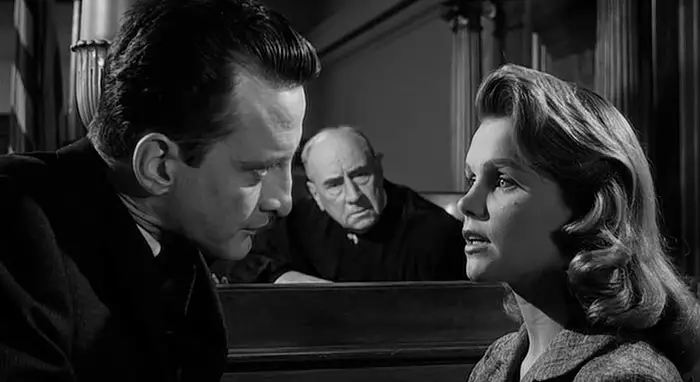 Director: Otto Preminger
Producer: Otto Preminger

Writers: John D. Voelker (novel), Wendell Mayes (screenplay)
Photography: Sam Leavitt

Music: Duke Ellington

Cast: James Stewart, Lee Remick, George C. Scott, Ben Gazzara, Eve Arden, Kathryn Grant, Arthur O'Connell, Murray Hamilton, Orson Bean, Joseph Welch

The courtroom is a cinematic goldmine for its many dramatic elements. The high stakes of someone's life on the line. The terminated life of someone else requiring proper justice. The sleepless nights and legal research that both sides have to dig through to prepare their case. The endless supply of surprise witnesses giving unpredictable testimony. The examination and cross-examination of these witnesses. The battles and objections between prosecution and defense. The rulings and overrulings of judges. The unpredictability of the jurors. And the final climatic reading of the verdict. It's all real and perfect for the movies.
In most cases, these elements file into a one-sided construct, placing audiences in favor of one particular side (either defense or prosecution) and allowing the drama to unfold as a function of the case. This tried-and-true approach has worked brilliantly from Inherit the Wind to A Few Good Men to Philadelphia. But there's also something to be said for a film like Anatomy of a Murder, which baits viewers into believing it's a standard courtroom drama, only to reveal itself as something much deeper with no easy answers. Even after the verdict has been read and the characters have happily moved on with their lives, viewers are left wondering whether their initial sympathies were correct, and more importantly, whether justice was actually served.
Based on a true 1952 trial by Michigan Supreme Court Justice John D. Voelker, who wrote the source novel under the pen name of Robert Traver, the film carries a genuine reality of the justice system, as well as an authenticity of location thanks to director Otto Preminger's decision to shoot entirely on real locations across Michigan's upper peninsula. Voelker used his insider knowledge of state legal history to sculpt a complex drama that finds small-time lawyer Paul "Polly" Biegler (James Stewart) defending Army Lt. Frederick Manion (Ben Gazzara) for the murder of tavern owner Barney Quill, who is suspected of raping Manion's beautiful wife, Laura (Lee Remick). Biegler and the Manions base their defense on a precedent set by an obscure 1886 ruling that allows for the possibility of "disassociated reaction" or "irresistible impulse," a.k.a. acquittal by temporary insanity.
But was the crime really an unconscious reaction of revenge, or was it a premeditated murder? Taking the possibilities even further, was it even a rape at all? Could it have rather been a jealous husband beating his wife and then killing the man she was having an affair with? All these possibilites are supported by the film, leaving the conclusions up for us to decide — perhaps disappointing for those who want concrete closure on first-time viewing, but allowing for a far more nuanced appreciation on repeat screenings.
What's obvious to all is the power of the performances. A year after his darkest role in Alfred Hitchcock's Vertigo (1958), Stewart's charming everyman spars with his juggernaut opposition, Assistant State Attorney General Claude Dancer, played by George C. Scott in an Oscar-winning, career-making role 11 years before his Best Actor win for Patton (1970). Together, Stewart and Scott are larger than life, playing to the crowd with wisecracks, while hammering the jurors with loaded questions. Their best stuff, of course, comes when they attack eachother, Scott pulling out all the tricks in the book and Stewart firing back: "You do it once more and I'll punt you all the way out into the middle of Lake Superior!"
Beneath these two forces is a brilliant ensemble led by Remick (The Omen), who dons dark shades, dangling bracelet and "glued-on" pants two year after A Face in the Crowd (1957) where Elia Kazan "played up her bouncing bossoms as a drum majorette marching toward a low-angle camera." (A) Rounding out the cast are Eve Arden (Mildred Pierce) as his wisecracking secretary; the Oscar-nominated Arthur O'Connell (The Poseidon Adventure) as Stewart's council; Murray Hamilton (Jaws) as Quill's bartender; Kathryn Grant (The 7th Voyage of Sinbad) as Quill's suspicious acquaintance Mary Pilant; and finally, Gazzara as the convincingly unstable Mr. Manion.
Also worth mentioning is the presiding judge, portrayed by real-life attorney Joseph Welch, a celebrity at the time for his involvement in the McCarthy case. (B) Such a contemporary reference will likely be lost on modern viewers, leaving only the impression of a non-actor lacking in comparison to some of the finest actors in Hollywood history.
This is just one instance of the film's time-capsule feel. At the time, the very idea of pleading insanity was an entirely new idea, heightening the film's edginess immensely. Even more risque was the film's explicit use of sexual terminology, namely dealing with rape and illegitimate children, shocking audiences at the time for its unprecedented use of the words "slut," "sperm," "contraceptives," "sexual climax" and, most scandalous, "panties," a word which the judge actually explains to the audience why they should not laugh. Though such aspects are clearly dated, they importantly show us just how far we've come since the '50s — from embarassed sexual beings to ones capable of open, adult communication — and Anatomy of a Murder played a huge part in that development.
Preminger had a long history of thumbing his nose at the Production Code. His film-noir Laura (1944) includes a gay character who gets naked off-screen, his comedy The Moon is Blue (1953) was released without the Production Code's Seal of Approval for using the word "virgin," and his drama The Man with the Golden Arm (1955) tackled the dangerous subject of heroin addiction. (C) As Senses of Cinema wrote: "The end of a Preminger shot often has a hallucinatory, fantastic power, as if the scene, suddenly vacated by the narrative, were exposed to the threat of the insignificant. This author relates the smashed clock at the end of Laura to the camera peering down at a garbage can at the end of Anatomy of a Murder." (C)
Upon release, the film was warmly received, earning seven Oscar nominations including Best Picture, Best Actor for Stewart, Best Supporting Actor for O'Connell and Scott, Best Cinematography for Sam Leavitt, Best Editing for Louis R. Loeffler, and Best Adapted Screenplay for Wendell Mayes. Sadly, like every other film from 1959, it was ultimately trumped by the Biblical epic Ben-Hur, which swept its way to 11 wins.
Regardless of Oscar acclaim, there's no denying the impact of Saul Bass' opening credit graphics (paper cutouts that would later inspire "Mad Men") or the Grammy-winning jazz score by Duke Ellington, who appears briefly in the film. Such elements help Anatomy of a Murder to stand out among other superb courtroom dramas of its day — 12 Angry Men (1957), Witness for the Prosecution (1957), Inherit the Wind (1960) and Judgment at Nuremberg (1961) — arguably the most sophisticated, realistic in the genre. UCLA law professor Michael Asimow called it "probably the finest pure trial movie ever made." (D) 
Its authenticity no doubt lies in its ambiguity. Isn't that life? In real life, real people, even good people, are flawed. We root for our hero Biegler in his underdog task of winning such a case, but we should also step back and examine his motives for even taking such a case (consider especially how he urges Manion to rethink "just how crazy you were"). Perhaps this charismatic lawyer, part of this bizarre legal system, has duped us the viewers every bit as much as he has the jurors. Perhaps we have all allowed a guilty murderer to go free.

Citations:
CITE A: Michael Asimow, UCLA Law School, February 1998), Picturing Justice, film review from a legal perspective, February 1998.
CITE B: 1001 Movies You Must See Before You Die
CITE C: Senses of Cinema
CITE D: David Thomson, Film Dictionary