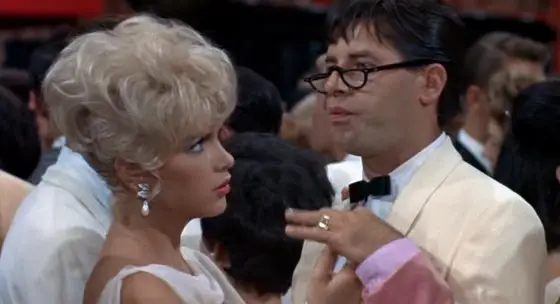 Director: Jerry Lewis
Producer: Ernest D. Glucksman

Writers: Jerry Lewis, Bill Richmond (screenplay)
Photography: W. Wallace Kelley
Music: Walter Scharf
Cast: Jerry Lewis, Stella Stevens, Del Moore, Kathleen Freeman, Med Flory, Norman Alden, Howard Morris, Elvia Allman, Milton Frome, Buddy Lester, Skip Ward, Richard Kiel, Les Brown

Jerry Lewis and Eddie Murphy are two of Hollywood's greatest comics and both will be forever linked for their equally hilarious versions of The Nutty Professor. Murphy's 1996 remake was not only popular, grossing $273 million worldwide and another $166 million for its sequel, The Klumps, it was also innovative with Oscar-winning makeup that allowed Murphy to play five roles in the same scene, launched the careers of Jada Pinkett Smith as Mrs. Purdy and Dave Chappelle as nightclub stand-up Reggie, and split our sides with unrivaled laugh factor as a granny taunted, "Come on, Cletus!" at a farting dinner table. However, if we're going to give credit where credit is due, we must tip our hat to Lewis for writing and directing the 1963 original, as well as executive-producing the remake.
In a comic send-up of Dr. Jekyll and Mr. Hyde, the film literally opens with a bang, as the bucktoothed, geeky Professor Julius Kelp (Lewis) explodes a chemistry experiment, rocking the university and landing him in hot water with the dean (Del Moore). His clumsiness continues to embarass him, especially in front of his knockout pupil, Stella Purdy, played by Stella Stevens (Marilyn Monroe, eat your heart out). Though Stella actually admires Kelp's intelligence, he cannot see beyond his failure to live up to his own idea of her desires. Thus, he concocts a potion to turn himself into Buddy Love, an alter-ego he fancies as "the world's greatest everything, the best dressed, the swingingest performer and one of the nicest guys in the whole world." In reality, he's rude as can be.
The premise makes for an intriguing character study and a versatile performance by Lewis, who plays multiple roles a year before Peter Sellers in Dr. Strangelove (1964). Some cite Lewis' Buddy persona as a jab at colleague Dean Martin, used to separate himself from his "Martin and Lewis" comedy team, which had broken up after their farewell appearance at the Copacabana in 1956 (they didn't speak to each other for another 20 years). (A) 
No matter the motivation, the film indeed provides a grand stage for Lewis' talents, pioneering the rubber-faced mannerisms that would later inspire Jim Carrey. The Nutty Professor showcases his skills as a comic, struggling to lift weights at the gym and doing a dorky "toe-tapper" at the prom, but also as an entertainer singing "That Old Black Magic" and several other tunes, as well as a cinematic craftsman self-directing for the fourth time.
The iconic moment of Kelp's transformation into Buddy Love highlights Lewis' directorial vision, featuring a high-angled shot capturing Kelp's contorting body as it rolls around the floor, staining his labcoat with spilt chemicals. Throughout the film, Lewis-the-director takes over: the long-take subjective shot as the people first get a look at Buddy Love; a shot of Lewis walking down a hallway and narrowly escaping two simultaneously opening doors; a series of pullbacks revealing a punch bowl and a prom date; the attention given to Kelp's transformation hangover, portrayed by loud, irritating sound effects; and a daydream sequence where Kelp imagines Purdy seducing him in various outfits (notice the timing of the students in the background, especially the girl in pink and the guy in tan).
Depending on your taste, modern-day viewers may conclude that the film lacks the laugh-out-loud moments of the Murphy remake ("Hercules! Hercules!"). Instead, you'll hopefully gain a certain appreciation of classic showmanship, an atmosphere which Lewis himself called a "Jekyll and Hyde comedy/musical." (B) Indeed, the film has the feel of Hollywood's Technicolor musical era, thanks to the charming visuals of The Purple Pit nightclub, the colorful costumes of Hitchcock-favorite Edith Head, and the big-band score of famous musician Les Brown. But perhaps more important than any of these elements is the film's basic message, summed up in Kelp's monologue in front of the entire university: "If you don't think too much of yourself, how do you expect others to?"
Reactions to the film, and Lewis career in general, have been split. Many Americans found him annoying, stupidly lowbrow and even "egomaniacal," sentiments expressed by many Americans at the time. (C) Others, however, deemed Lewis' work brilliant, especially the French who affectionately named him "Le Roi du Crazy" and surprisingly sang his praises in the highbrow magazine Cahiers du cinema.
Regardless, it's hard to ignore The Nutty Professor's influence. As a nastier version of Fred MacMurray's AbsentMinded Professor (1961), Lewis laid the groundwork for movies like Dr. Dolittle (1967) and Charly (1968), while providing the blueprint for such popular TV characters as Steve Urkel (who would similarly transform himself from nerd to stud on Family Matters) and the animated Professor Frink (who would mimmick Kelp's overbite and nasally voice on The Simpsons — "GLAVIN!"). The film also provided an early cameo by Richard Kiel (Bond henchman Jaws) as a bodybuilder, while its fictional Alaskan Polar Bear Heater became a real mixed drink.
Of course, the biggest impact remains Murphy's '90s remake, which brings us full circle. If you haven't seen the remake, do yourself a favor and "get your colon cleansed throughly." But also be sure to check out this gem of an original, not only to learn the roots of a widely-known character, but also to recognize Jerry Lewis for something other than a muscular dystrophy telethon. Educate yourself on one of pop culture's most international icons.
Citations:
CITE A: 1001 Movies You Must See Before You Die
CITE B: DVD commentary
CITE C: Dennis Schwartz, Ozus' World Movie Reviews from Rotten Tomatoes