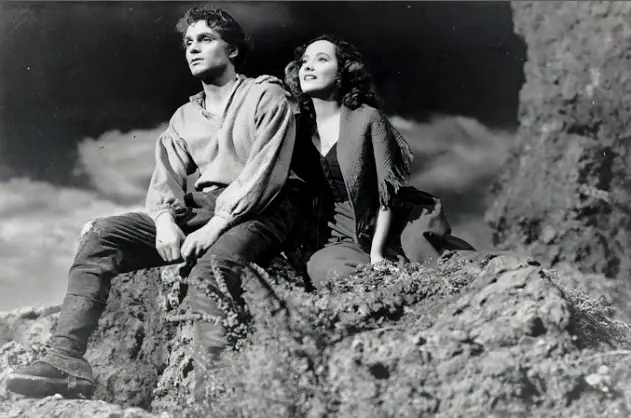 Director: William Wyler
Producer: Samuel Goldwyn (MGM)
Writers: Emile Bronte (novel), Charles MacArthur, Ben Hecht and John Huston (screenplay)
Photography: Gregg Toland
Music: Alfred Newman
Cast: Merle Oberon, Laurence Olivier, David Niven, Flora Robson, Donald Crisp, Geraldine Fitzgerald, Hugh Williams, Leo G. Carroll, Miles Mander, Cecil Kellaway, Cecil Humphreys, Sarita Wooto, Rex Downing, Douglas Scott

"The Greatest Actor in the World." Such was the tag on Laurence Olivier, a man whom English playwright Charles C. Bennett once praised for his ability to speak the lines of Shakespeare as if he were "actually thinking them." (A) Yes, Olivier was the king of Britain's National Theatre, but his transition to the big screen was for a while a struggle.
First under contract at RKO in 1931, he was fired as Greta Garbo's leading man in Queen Christina (1933) before returning to England to appear in Hamlet on stage in 1937. Two years later, he would receive his second chance at Hollywood stardom in William Wyler's Wuthering Heights. This was the film that finally broke him into the business, projecting his talents to the masses worldwide. The material appealed to his British stage sensibility, and within a year had opened the door to similar roles, as Mr. Darcy in Pride and Prejudice (1940) and Mr. De Winter in Hitchcock's Rebecca (1940).
For a while, Wuthering Heights often ranked among the best of the best, appearing #73 on AFI's original Top 100 in 1997, but curiously fell off the list during its revised list in 2007. Had Wuthering Heights originally appeared solely as a means of getting Olivier on the list, a need satisfied by the new list's addition of Spartacus (1960)? Perhaps. But even if Wuthering Heights is not AFI Top 100 material, it certainly belongs in the crust just beyond it, a sentimental favorite and a showcase of true acting talent.
Based on Emily Bronte's famous 1847 English novel — her first and only work — Wyler's Wuthering Heights was the first film version. Some scholars like David Thomson hated the fact that the film omitted much of the second half of the novel, depicting only 17 of the book's 34 chapters. He writes, "How could anyone who has read Emily Bronte take the movie Wuthering Heights seriously? And why would anyone pleased with the film read the book?" (C) Others consider it the definitive film adaptation, thanks to the sharp writing of Charles MacArthur and Ben Hecht, who had previously co-written the play The Front Page, along with the uncredited writing of John Huston (The Maltese Falcon).
The story revolves around the 19th Century Yorkshire manor Wuthering Heights, "a house as bleak and desolate as the wastes around it. Only a stranger lost in a storm would have dared to knock at the door." This is precisely what happens, as a lone traveler (Donald Crisp) staggers in from the cold for the night. Here, he not only meets the home's grumpy master, Heathcliff (Olivier), but what appears to be a ghost of past love haunting the home. It's only thanks to an elderly servant named Ellen (Flora Robson) that he comes to understand the reason for Heathcliff's torment.
Enter flashback mode and a tale of star-crossed lovers divided by fate, circumstance and social class. We're introduced to the mansion's original owner, Mr. Earnshaw (Cecil Kellaway), who agrees to adopt "gypsy" orphan Heathcliff as a stable boy, in addition to his own two children, bratty son Hindley (Hugh Williams) and sweet daughter Cathy (Merle Oberon). Despite being "siblings," Cathy and Heathcliff instantly fall for one another, sharing romantic moments along the English moors and dreaming of spending their lives together.
When Mr. Earnshaw dies, however, and the manor falls into the hands of Hindley, Cathy and Heathcliff decide they are too poor to run off together. Cathy begs him to leave Wuthering Heights and come back a rich man to save her at a later date. Around this same time, she meets an already-wealthy neighbor, Edgar Linton (David Niven), who proposes to her with promises of "another world" of luxury. When she actually considers the proposal, Heathcliff storms off and disappears to America, while Cathy expresses doubts at her wedding: "Cold wind went against my heart just then, the feeling of doom."
Doom is all that's left for the two ex-lovers, as Heathcliff soon returns with plenty of money and even more bitterness, buying the rights to Wuthering Heights and proposing to Edgar's sister, Isabella (Geraldine Fitzgerald), purely out of harsh revenge. Until the very last moment, with Cathy on her death bed, the two souls are left to torment eachother with every glance, every word, every kiss of a spouse they do not truly love.
The film's idea of love not as infatuation, but as a binding spiritual connection through time, separation and even death, is what draws so many romantics to the movie. In the AFI's 100 Passions countdown, Wuthering Heights was voted the #15 Greatest Romance of All Time, a claim that owes much credit to the two lead performances. It's a tragic chemistry where love is not always written on one's sleeve, but rather beneath the skin, in places that the characters themselves do not want to admit, places covered over by bitterness and stubborn hate.
Such emotions were perfect for Olivier and Oberon, who supposedly despised each other in real life. Each was lovesick with real-life longing overseas, Oberon for British director Alexander Korda; Olivier for his fiancee, then-British actress Vivien Leigh, who was visiting Olivier when she first met David O. Selznick and earned the role of Scarlett O'Hara in Gone With the Wind (1939). But it was Olivier's bitterness over Leigh not getting the lead in Wuthering Heights that caused for several eruptions on set, most amusingly when Oberon complained of Olivier's spit flying on her during dialogue, to which Olivier responded, "Why you amateur little bitch. What's a little spit for Chrissake between actors? You bloody little idiot, how dare you speak to me?" (B) 
Olivier later admitted he had been arrogant during the whole ordeal, but the off-screen fire between the two worked beautifully on-screen for torn lovers constantly at each other's throats. The unpleasant partnership had opposite effects on their careers. After an Oscar nomination for The Dark Angel (1935), Oberon had found a career role in Wuthering Heights, but never saw another nomination. Conversely, Wuthering Heights earned Olivier his very first Oscar nomination for Best Actor, nine years before he dominated the Oscars by starring and directing the Best Picture winner Hamlet (1948).
"It is really interesting to look back and realize we were witnessing a great actor adapt his art from stage to screen, even though we all suffered a bit from the growing pains," Oberon later said. (B)
It's hard not to think of Olivier without Oberon on that iconic hill, professing love to one another from a high rock on a ledge, surrounded by big skies and mountain mist. The atmosphere adds significantly to the emotion in a way that few movies scenes achieve. Of course, recreating the Yorkshire moors in California's San Fernando Valley was no easy task. Roughly 500 acres of hills had to be stripped of natural vegetation, replaced by 1,000 heather plants and an additional 15,000 pieces of tumbleweed coated to look like heather. (B) 
The intricacies of this massive production led to more massive clashes between massive egos. On top of the Oberon-Olivier scuffles were routine clashes between director William Wyler and producer Samuel Goldwyn, mostly over Wyler's insistence of shooting a relentless amount of takes from different angles, particularly Niven's first scene, which required 40 takes. (B) In the end, the film went 13 days over schedule and more than $100,000 over budget, but enjoyed great reception from critics .(B) Ironically, what Goldwyn had once called "a doubtful picture" became his favorite production, a claim he maintained throughout his career.
Wuthering Heights earned a total of eight Oscar nominations, but in the Academy's most competitive year (1939), it lost all but one — for Gregg Toland's cinematography. Shamefully, it would be Toland's sole win in a career that included John Ford's The Grapes of Wrath (1940), Orson Welles' Citizen Kane (1941) and Wyler's The Best Years of Our Lives (1946). Wuthering Heights was his fourth picture with Wyler, which meant Toland had the freedom to develop his soon-to-be-famous deep-focus photography, allowing simultaneously clear images of both the foreground and background, all shot in black-and-white expressionist tones. But while his depth of field covered the entire visual space, his lighting purposefully did not, using minimal light to create a candle-like effect, allowing small pockets of light in which actors could enter at precise moments of emotion. (B)
It was Wyler's job to harness Toland's visual expertise, and he does so beautifully, particularly in the scene where Cathy entertains Edgar's marriage proposal, with Heathcliff listening from an adjacent room. Here, the deep-focus photography is in full effect, shot from the perspective of the adjacent room, showing Heathcliff against a wall next to a doorway, and through the doorway showing Cathy and Ellen talking in the deep background. With both foreground and background simultaneously in focus, viewers are able to see the simultaneous reactions of the characters in the different rooms, though the lighting has its own say. Heathcliff is bathed in darkness, only illuminated in brief moments of light produced by the crashing lightning outside. Aesthetically, it's all very appealing, but such set-ups also serve a narrative purpose to showcase characters' reactions, as well as a symbolic purpose to show the distance between Cathy and Heathcliff and the bolts of emotion that light up the screen.
Wyler seems to enjoy these passageways, often using windows as complementary frames for his images. Note how he uses Edgar's window — the source of our lovers' problems –gazing through it several times, including one instance where we think we're inside the home, before pulling back to reveal a shot from outdoors. To Wyler, these passages are perfect windows for fate's curious watch, himself a storyteller like the narrator Ellen. Wyler further orchestrates this vision with long single-takes, including one that lasts 63-seconds as it moves about Edgar's party. Perhaps more than any of this, note how Wyler's low angle shots show the ceilings of Wuthering Heights, adding to the film's physical and emotional claustrophobia. Wyler's haunting, gothic tone is matched by the Oscar-nominated score of composer Alfred Newman, who used the film to embark on a span of 20 consecutive years of Oscar nominations from 1938-1957.
Somehow, in spite of all this, Wyler's work has never carried the auteur academic following of, say, Max Ophuls, who created a very similarly-themed film in Letter from an Unknown Woman (1948). Perhaps there's not as much connecting tissue between Wyler's vastly different works. But few directors can say they've helmed such massive successes across a 20-year span as Wyler did from 1939-1959, from Wuthering Heights (1939) to The Best Years of Our Lives (1946), from Roman Holiday (1953) to Ben-Hur (1959). Wyler was an orchestrator of large productions and a groomer of great acting talent. Olivier payed him the ultimate compliment: "If any film actor is having trouble with his career, can't master the medium and, anyway, wonders whether it's worth it, let him pray to meet a man like Wyler." (B)

Citations:

CITE A: IMDB Trivia
CITE B: TCM's The Essentials — Behind the Camera: Wuthering Heights, by Rob Nixon
CITE C: David Thomson, New Biographical Dictionary of Film