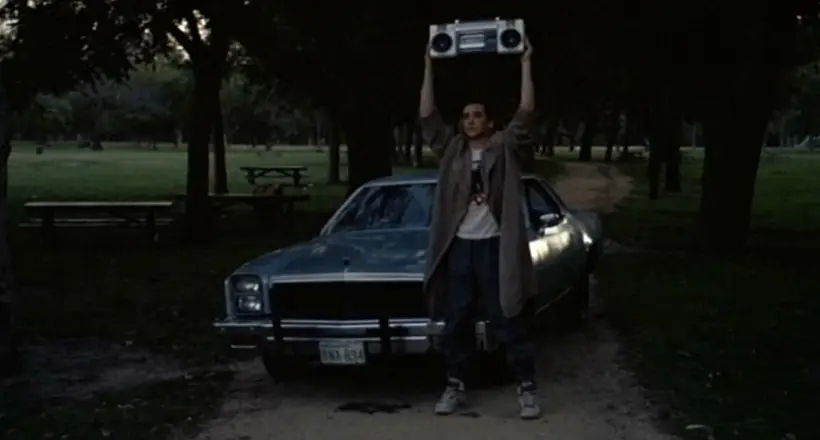 Director: Cameron Crowe
Producer: Polly Platt (Fox, Gracie)
Writer: Cameron Crowe (screenplay)
Photography: Laszlo Kovacks
Music: Peter Gabriel, Anne Dudley, Richard Gibbs
Cast: John Cusack, Ione Skye, John Mahoney, Lili Taylor, Joan Cusack, Amy Brooks, Pamela Segall, Jason Gould, Loren Dean, Glenn Walker Harris Jr., Charles Walker, Russel Lunday, Polly Platt, Gloria Cromwell, Jeremy Piven

For '80s teenage girls, nothing was more iconic or more heart-melting than the image of John Cusack standing outside his ex-lover's window with an anguished look on his face, hoisting a boombox over his head playing Peter Gabriel's "In Your Eyes." The whole thing lasts all of 80 seconds, but it's a scene that every teen movie has copied since, whether it's Ashton Kutcher singing "I'll Be There For You" to Amanda Peet on the guitar, or Heath Ledger singing "Can't Take My Eyes Off You" to Julia Styles on the high school bleachers.
While those films may lack in performance and in script, these are the exact areas where Say Anything shines, separating itself with believable performances by all involved and a knockout script from former Rolling Stone writer Cameron Crowe. Shortly after writing the source novel and screenplay for Fast Times at Ridgemont High (1982), Crowe made his directorial debut with Say Anything. The result was a film full of warmth, charm and touching honesty, catipulting the film to the forefront of the genre and launching Crowe to an Oscar nomination for Jerry Maguire (1996) and an Oscar win for Almost Famous (2000).
Cusack's romantic underdog is Lloyd Dobler, an optimistic if underachieving 19-year-old who's just graduated high school. He has no idea what he wants to do with his life, other than maybe some kickboxing and keeping tabs on his high school crush, Diane Court (Ione Skye), a beautiful straight-A student, graduation speaker and volunteer at her father's nursing home. In his eyes, she's perfect, "the peak of a pyramid," "a brain trapped in the body of a game show hostess."
All of his friends say there's no way a girl like Diane would go for a guy like Lloyd, but after one date, the two are crazy about each other. For the first time in her life, Diane feels like she belongs. Just then, the mailman delivers an acceptance letter for her to study in England on a competitive fellowship — the one thing her success-driven father (John Mahoney, Frasier) has been waiting for. Rather than be happy at her daughter's first love, he views Lloyd as a possible roadblock for her achieving her highest career potential and urges her to break up with him. Will Diane stick to her career path and go to England, or will she choose to stay with her newfound love? In the face of uncertainty, expectation, even scandal, can love truly conquer all?
"I remember reading the script," Mahoney said. "… I was talking to John Cusack and I said, "You've really got to read this.' He said, "No, I'm sick and tired of playing high school kids in love." I said, "No, John, it's so much more than that.'" (A)
Cusack eventually agreed, delivering his career performance while setting the tone for a cast that features not one weak performance. If he already had teen hearthrob appeal from Sixteen Candles (1984), The Sure Thing (1985), Stand By Me (1986) and One Crazy Summer (1986), Say Anything launched that appeal into the stratosphere, becoming the definition of desire for every teenage girl. Watch this one with your lady friend and prepare for countless "awww" moments — his nervous first call to Diane, his clearing a path for Diane to walk, his interaction with his toddler nephew "Little J-Man," his super-awkward explanation of things he does not want to do with his life, and his tearful talking into a recorder when he finds out that "love hurts."
The other side of that equation is the equally good Skye, who's totally believable as the young girl testing the waters of love, torn between her career and her happiness, between her head and her heart. Her performance is made all the better by Mahoney's complex father, a man who instills in his daughter the idea that she can "say anything" to him, even the details of her first sexual experience. What makes his character so complex is that he is so obsessed with building this relationship of candor, yet he himself can't hold up his end of the bargain. He deeply cares for his daughter, but to a selfish excess. And throughout the movie, Mahoney never takes it too far. You won't find better fatherly acting than in the kitchen just after Diane tells him that she loves Lloyd.
Rounding out the cast, look also for Joan Cusack in an uncredited role as Lloyd's sister (naturally); a young Jeremy Piven (Entourage) in one of his earliest roles; and Lili Taylor (Mystic Pizza) as Lloyd's slightly unstable confidant, Corey, a clear prototype for Lisa Kudrow's Phoebe (Friends) with her lousy guitar songs about a cheating ex-lover.
All these characters feel like real people and become instantly relatable to audiences. That's what a good movie does, and what a romantic comedy rarely does. In this light, Crowe is a master of his craft. Narratively, his script rarely goes where you think it will, while getting inside the DNA of first-time romance, exploring the difference between a scam and a date, between lust and love, between a "guy" and a "man," and between "a permanent part of one's life" and "a distraction."
Crowe's script offers legit quotables, both romantic ("I want it to hurt!") and hilarious ("I'm incarcerated, Lloyd!"), but his real talent is a superb eye for the little touches. Note how Lloyd checks himself in the mirror before dialing Diane's number; his position as "the keymaster" at the party; and the old woman's glance on the airplane as part of a cleverly tied-together ending similar to The Graduate (1967), only with the assurance that everything's going to be okay — Ding!
The icing on the cake is Crowe's song selection on the soundtrack, be it "Ricky Don't Lose That Number" on the car radio after Lloyd has left his phone number; the blaring of Aerosmith's "Back in the Saddle" at the party; and, of course, Peter Gabriel's "In Your Eyes" on that boombox, the perfect love song for a boy who — for the first five minutes of the movie — is floored by Diane's beautiful eyes. For a song so completely synonymous with the movie, it's hard to imagine that it almost didn't make it in.
"In one script, the song was Billy Idol's 'To Be a Lover,'" Crowe admitted. "By the time we shot it, the last song we wanted to hear was 'To Be a Lover.' Cusack was loving Fishbone, so he's actually holding up the boom box playing a Fishbone song, 'Turn the Other Way.' But it didn't work; it was like a crazed Fishbone fan. One day, I popped in a tape I made for my wedding and 'In Your Eyes' was on it. I raced to the editing room and put it up."
The magic was born.
But just because Crowe could envision it, didn't mean that the movie was in the clear.
"It was a whole deal about trying to get the [rights to the] song. "We heard that [it] was very personal to [Gabriel]," Crowe said. "[Gabriel said] he'd look at a tape of the movie. So we sent it to Germany where he was recording. I called him and he said, 'I can't let you use the song. I hope you understand." I was just about to hang up and I said, "Can you just tell me why?' He said, "Well, I just didn't think it worked when he took the overdose.' I said, 'What? Took the overdose?' And he said, 'Yes. This is the John Belushi story, right?' And I go, 'No! You're thinking of Wired! I'm the teen movie!' He goes, 'Oh, you're the teen movie! I haven't watched that yet. I'll watch it tonight.' He called back the next day and said, 'I love the movie.' (A)
Critics did, as well. Roger Ebert included Say Anything on his all-time "Great Movies" list, while Entertainment Weekly voted it the #1 Greatest Modern Movie Romance. Its absence from AFI's 100 Passions is an embarrassment, especially considering its stellar ranking on Rotten Tomatoes (98% as of February 2014). Name another rom com in the last 20 years that has done that!
This movie will never fade. Aside from Lloyd's t-shirt of "The Clash" and the fact that he's holding a boom box, this story about dating will never date. Nor will the dialogue. Nor the cute awkwardness. Nor those first-time feelings. This one will just keep getting better with time, its inherent truth continuing to prove itself with each passing year.
"Over the years, people have talked to me about three movies," Mahoney said. "The women all wanted to talk about Moonstruck, the men all wanted to talk about Tin Men, and the kids all wanted to talk about Say Anything….But as the years go by, less and less people talk about Moonstruck and Tin Men and virtually everybody talks to me about Say Anything." (A)
There's just something about this one. If you even remotely consider yourself a fan of romantic comedies, this is one is essential. Why does it work? I could say anything. But I'll leave it to Lloyd's explanation as to how he came to date Diane:
"How come it worked, like what are you?"
"I'm Lloyd Dobler."
Enough said.

Citations:
CITE A: Entertainment Weekly's Top 25 Modern Romances, written by Dave Karger, http://www.ew.com/ew/article/0,,252561_4,00.html