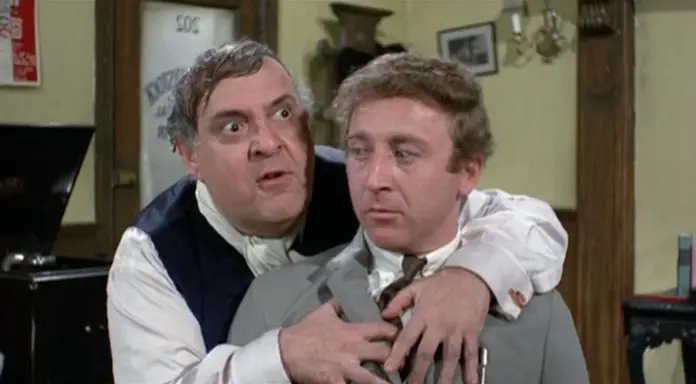 Director: Mel Brooks
Producer: Sidney Glazier
Writer: Mel Brooks (screenplay)
Photography: Joseph F. Coffey
Music: John Morris
Cast: Zero Mostel, Gene Wilder, Dick Shawn, Kenneth Mars, Lee Meredith, Christopher Hewett, Andreas Voutsinas, Estelle Winwood, Renee Taylor, David Patch, William Hickey, Barney Martin

When you consider the career of Mel Brooks, it's impossible not to crack a smile just thinking of his countless contributions — comedy routines like his "10,000 Year Old Man" with Carl Reiner, television sitcoms like the James Bond spoof Get Smart (1965) and hilarious movies like Blazing Saddles (1974), Young Frankenstein (1974), History of the World: Part I (1981), Spaceballs (1987) and Robin Hood: Men in Tights (1993).
Yet of all these popular favorites, the only film to ever win Brooks an Oscar was his debut effort, The Producers, earning Best Original Screenplay over Stanley Kubrick's 2001: A Space Odyssey (1968). Brooks should be proud — even a single Oscar is better than most comedy filmmakers, as comedians are often unfairly overlooked by The Academy. What makes the feat all the more impressive is that Brooks is one of the few to have ever won an Oscar, Emmy, Grammy and Tony. The Producers remains a worthy heir to Ernst Lubtisch's To Be or Not to Be (1942), the remake of which Brooks appeared in alongside wife Anne Bancroft in 1983. And while both films follow theater productions with Nazi overtones, The Producers offers one of the most genius movie premises in all of 20th century entertainment.
Max Bialystock (Zero Mostel) is a poor play producer, scraping by in New York City by romancing — and role playing — his way to the hearts of elderly women, who offer him hefty checks in exchange for one "last thrill on their way to the cemetery." Enter panicky accountant Leo Bloom (Gene Wilder, in an Oscar-nominated, starmaking role), who learns of Max's fraudulant practices and dreams up a hypothetical situation in which "under the right circumstances, a play producer could make more money with a flop than he could with a hit." All a producer would have to do is raise a boatload of money for an upcoming play, promising investors shares of the profits, then use only a fraction of the money to produce a terrible play and pocket the rest. To funders, the show's failure would simply mean a bad investment, but to the sneaky producers, it would mean a hoard of free cash. "Afterall, Internal Revenue Service isn't interested in a show that flopped. … If he was certain a show would fail, a man could make a fortune!"
This is only a hypothetical situation in Leo's mind, of course, but one which Max brings to reality by yanking Leo across town (in a sequence of whirlwind pans by Mel Brooks) and convincing him of the perks of living the high life. Their attempt to produce "a sure-fire flop" is simultaneously amusing and ridiculously hilarious. What better way to turn off the public than to create a tribute to the Third Reich, particularly a song and dance number called "Springtime for Hitler." To write the song, they even seek out a neo-Nazi named Franz Lebkind (Kenneth Mars, Young Frankenstein), who parades around New York in a German army helmet preaching history's misgivings toward his beloved hero: "Hitler was better lookin' than Churchill, he was a better dresser than Churchill, he has more hair, he told funnier jokes and he could dance the pants off of Churchill!" As disturbing a concept as it is, it's also shamelessly hilarious, bolstered by the fact that Brooks himself is Jewish, famously declaring, "I'm the only Jew who ever made a buck offa 'Hitler'!" (A)
The rest of the ride is just priceless, from Max's splurging on a Sweedish blonde receptionist (Lee Meredith), to their courting of "the world's worst director" (Christopher Hewett) to the open casting call for the lead role of Hitler ("Will the dancing Hitlers please wait in the wings! We are only seeing singing Hitlers!"). The lattermost plot device provides a stage for the goofy (and Robin Williams-like) Dick Shaw (It's a Mad Mad Mad Mad World), who plays Lorenzo "L.S.D." St. DuBois, the actor whose American Idol-acid-trip audition of "Love Power" nabs the role as a guaranteed way to screw up the play.
All this, of course, builds toward the opening night of the show, where the title number and its swastika choreography drops the jaws of the audience and has Max and Leo toasting their good fortune at the theater bar (with Christmas Vacation favorite Bill Hickey as their "good natured inebriate"). To their dismay, as the play progresses, everything that was supposed to be weak is interpreted by audiences as comedy, and "Springtime for Hitler" becomes Broadway's biggest hit, bigtime trouble for our criminal producers who can't pay back their investors.
If The Producers is not original screenwriting, nothing is. Mel Brooks introduces a completely new style of comedy, which Time magazine called "pell-Mel lunacy [and] wild, ad-lib energy." The script explodes all former ideas of taste and political correctness, or as Brooks himself put it: "My films rise below vulgarity" (A). But beyond comedy brilliance and original genius, The Producers is also a fine comentary on the eternal formula for showbiz success — that there is no formula at all. Just as Max is dumbfounded by the popularity of his sure-fire flop — "I picked the wrong play, the wrong director, the wrong cast. Where did I go right?" — the real showbiz world routinely scratches its head when all the right pieces do not ensure success.
In the case of The Producers, each element is perfect, from Brooks' writing/directing to the casting of the two leads. At the time, the box office draw was obviously Mostel, who had been a huge Broadway star (like his character Max) before being blacklisted in the McCarthy era (leading to his tragic role with Woody Allen in The Front). But while Mostel was the film's initial main attraction, its biggest hindsight draw is easily Wilder, as new generations yearn to see the origin of the man they so fondly remember from their childhoods in Willy Wonka & The Chocolate Factory (1971).
While Wonka is Wilder's career role, he is unbelievably funny in The Producers. Wilder had previously appeared in a small, but hilarious hitchhiking role in Bonnie and Clyde (1967), but his hysterical panic attacks in The Producers are the stuff comedy dreams are made of. When he freaks out, yelling, "I'm hysterical," Mostel splashes him with water, causing Wilder to say, "I'm wet! I'm hysterical and I'm wet!" Fed up, Mostel socks him in the face with a punch, to which Wilder hilariously complains, "I'm in pain! And I'm wet! And I'm still hysterical!"
Hysterical is right. Wilder's golden performance sparked a working relationship with Brooks that, six years later, would provide a pair of comedic performances in a single year that has yet to be equalled: Blazing Saddles (1974) and Young Frankenstein (1974). Fans of either of these films should instantly go back to The Producers to see the comedy that got the entire Brooks-Wilder ball rolling.
But the Gene Wilder fan club isn't the only thing keeping The Producers durable decades later. Its material remains so freshly funny that it was transformed by Brooks and Glen Kelly into a hit Broadway musical in 2001, running for 2,502 performances and winning a record-breaking 12 Tony Awards, including Best Musical (Brooks himself would take home three). The material was also remade for the silver screen in a 2005 film starring Nathan Lane, Matthew Broderick, Uma Thurman and Will Ferrell.

Citations:
CITE A: Mel Brooks, IMDB Bio