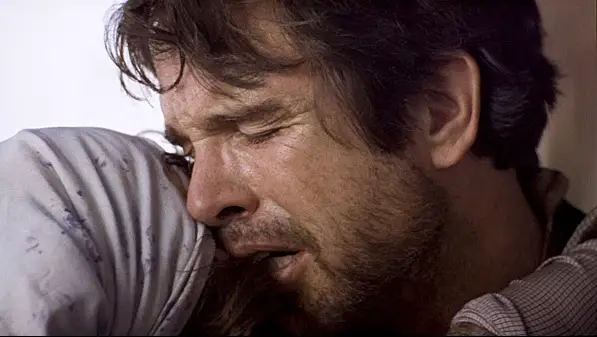 Director: Warren Beatty
Producer: Warren Beatty (Barclays, JRS, Paramount)
Writers: John Reed (novel), Warren Beatty and Trevor Griffiths (screenplay)
Photography: Vittorio Storaro
Music: Stephen Sondheim
Cast: Warren Beatty, Diane Keaton, Jack Nicholson, Edward Herrmann, Jerzy Kosinski, Maureen Stapleton, Paul Sorvino, Gene Hackman, Nicolas Coster, M. Emmet Walsh, Eleanor D. Wilson, Max Wright, George Plimpton, William Daniels, Dave King, Stefan Gryff, Roger Sloman, Stuart Richman

Introduction
For years, rarely was an actor so involved with his projects quite like Warren Beatty. The handsome younger brother of Shirley MacLaine was all over his films, not just starring (McCabe and Mrs. Miller), but writing (Shampoo), producing (Bonnie and Clyde) and casting. So in 1978, it was no surprise he decided to try out his directing chops, co-directing with Buck Henry (screenwriter of The Graduate) to direct the fantasy comedy Heaven Can Wait, which made Beatty the first person since Orson Welles on Citizen Kane (1941) to earn Oscar nominations as producer, director, writer and lead actor.
Three years later, he would repeat this feat with his solo directorial debut, Reds, a super ambitious project, part biopic, part history lesson, part political propaganda about the Communist Revolution in Russia. While an instantly touchy subject for the Reagan '80s, the audacious film showed great guts on the part of Beatty and gained him instant respect from Hollywood, which handed him the Oscar for Best Director and the top prize from the Directors Guild of America.
He would go on to direct just two more pictures, the deliciously stylized guilty pleasure Dick Tracy (1990), starring then-lover Madonna, and the biting political satire Bulworth (1998), which earned him a writing Oscar nomination. Yet after just four films to his director's credit, Beatty was awarded both the Irving Thalberg award (2000) and the AFI Life Achievement Award (2008), the latter given a night before Reds was declared the AFI's #9 Greatest Epic of All Time. What power of Reds, to forever alter a man's image, from movie star to elite visionary filmmaker.

Plot Summary
Based on Jack Reed's 1919 novel Ten Days that Shook the World, which also provided the title for Sergei Eisenstein's masterpiece of Soviet montage "October: Ten Days That Shook the World," Reds is a first-hand account of the Bolshevik Revolution. It follows Reed's life as a Communist journalist and writer, both in the U.S. and abroad in the streets of Petrograd. The film opens in 1915 Oregon, where Reed (Beatty) first meets feminist journalist Louise Bryant (Diane Keaton) outside of a Liberal Club meeting. Almost instantly, the two fall for one another, and Reed asks her to come with him to New York, where their political passions are spurred by their Greenwich Village peers: "You have to be a little bit of a rebel to ben artist of any kind. And everyone in Greenwich Village was a bit of a rebel." Here, Reed opposes World War I, supports the IWW labor union and brushes elbows with Socialist Party delegate Louis Fraina (Paul Sorvino), much to the chagrin of his newspaper editor, Pete Van Wherry (Gene Hackman), who says, "What the hell you wanna waste your time with a lot of Red propaganda that nobody's gonna parent?" Reed replies, "It's the truth. That mean anything to you?" Van Wherry then blasts us with brutal honesty: "Well who in the hell's to say what the truth is?"
Meanwhile, Bryant begins an affair with poet/playwright Eugene O'Neill (Jack Nicholson), attributing her infidelity to Reed's mixed-up priorities, which have pushed her out to "live in the margins." A big blowout sends her packing, and by 1917, she's living in Paris, but continuing to write him. Eventually, Reed tracks her down in Paris and invites her to join him on a trip to Russia, where they can boost both their careers by being "in the right place at the right time." With his pulse firmly on the zeitgeist, he predicts the Bolsheviks will revolt and take Russia right out of the war — "He knew he was on the threshold of history and he wrote it that way." When she obliges, the two rekindle their romance while becoming prominent reporters covering the power struggle between Lenin and Trotsky. They themselves become enthralled with the movement (objective journalism be damned).
By 1918, the two have returned to New York, where they plan to finally settle down, but are harassed by a paranoid U.S. government, which suspects sedition. By 1919, Reed is in Chicago, invading the U.S. Socialist Party to create the Communist Labor Party of America, of which he is named international delegate. As leader, he must visit Moscow, causing more strain with Bryant, particularly when he is thrown into a Finnish prison. From here on out, the rest of the film is Bryant trying to locate Reed, and Reed trying to get back to Bryant, a journey that causes him to realize his priorities and, with help of disillusioned revolutionary Emma Goldman (Maureen Stapleton), that his cause is a double-edged sword.

Power Performances
For decades, Reds stood as the last film to receive Oscar nominations in all four acting categories — since matched by the likes of American Hustle (2013). While the only win came for Stapleton as Best Supporting Actress, the other three performances — Beatty, Keaton, Nicholson — are arguably the more memorable. Originally, Beatty considered John Lithgow to play Reed because of their physical resemblance, but wound up casting himself. The choice found great chemistry with his then off-screen lover Keaton, a similar blurring of on-screen and off-screen romance as his pairing with Julie Christie in McCabe and Mrs. Miller (1971) and with Annette Bening in Bugsy (1991). But what does their chemistry represent? Are Reed and Bryant lovers, colleagues, spouses, political comrades, all of these?
If their relationship is so complex, it can only be because their individual characters are so strong. Beatty effectively plays a man torn between his cause and his personal life, while Keaton follows her Annie Hall (1977) comedic gem with the best dramatic performance of her career as the emotionally confused Bryant. Throughout the film, there are moments she absolutely commands the screen. Notice her face when she first sees Reed, her outbursts during their fights, her explanation to Gene that she and Jack got married, and her body language of emotional release just before her famous final embrace with Beatty at the train station. Unfortunately, Beatty and Keaton ran into the buzz saw of Hollywood elder statesmen, losing their Oscar bids to Henry Fonda and Katharine Hepburn for On Golden Pond (1981).

Passions & Obsessions
Regardless of accolades, the trio of Beatty, Keaton and Nicholson provides for a powerful love triangle, well worthy of its #55 spot on the AFI's 100 Passions. When you think of Reds, you think of two silhouetted bodies making love in the dark — causing the film's promoters to claim, "Not since Gone With the Wind has there been a great romantic epic like it," though the better comparison is Julie Christie and Omar Sharif in Doctor Zhivago (1965). As with Christie, Beatty's real-life relationship with Keaton wasn't built to last.
"Beatty's relationship with Keaton barely survived the shoot," Vanity Fair's Peter Biskind wrote. "It is always a dicey proposition when an actress works with a star or director — both, in this case — with whom she has an off-screen relationship. … Keaton appeared in more scenes than any other actor, save Beatty, and many of them were difficult ones, where she had to assay a wide range of feelings, from romantic passion to anger, and deliver slightly lengthy, complex, emotional speeches." (A) Executive producer Simon Relph added, "It must have been a strain on their relationship, because he was completely obsessive, relentless." (A)
Indeed, Reds was as ambitious and taxing a project a director could dream up — and then some. The three-hour epic cost $33.5 million to make — an extraordinary amount for the time. Originally planned for a 15-16 week shoot, the film took a whole year of production, shooting in five different countries, at times waiting for snowfall, as David Lean did in Zhivago, other times pausing for the rain in Spain. Not speeding up the process was the fact that Beatty shot like a mad man, refusing to stop the camera between takes and repeating the action multiple times. Paul Sorvino estimates he did as many as 70 takes for one scene; Hackman refused to shoot a 101st take on another scene; and Stapleton delivered 80 takes on a single scene before exploding at Beatty, shouting, "Are you out of your f*cking mind?" (A) When shooting wrapped, Reds required 65 editors, lead by Dede Allen and Craig McKay, to compress the roughly 2.5 million feet of film. Post-production finally completed more than two years after shooting began. (A)

Directorial Vision
When it was all said and done, Beatty had lost 30 pounds and was suffering from laryngitis. But what he got was one of the last great epics of its kind, joining Gandhi (1982) as some of the last films to feature intermissions. With his Oscar for Best Director, Beatty joins Robert Redford (Ordinary People), Woody Allen (Annie Hall), Kevin Costner (Dances with Wolves), Mel Gibson (Braveheart) and Clint Eastwood (Unforgiven, Million Dollar Baby) as one of the few stars to win Best Director Oscars while never winning as an actor. (C) The third Oscar for Reds went to cinematographer Vittorio Storaro, who had won the award two years earlier for Apocalypse Now (1979) and who would return with Beatty to shoot the candy colors of Dick Tracy. In Reds, Storaro employed the ENR variable silver retention development process for the first time in movie history, making for a silvery, steely-gray look that adds to Beatty's period piece illusion.
Not only does Beatty capture the feel of the early 20th century, he does it with a rare degree of directorial acumen. Notice the sexual tension of reaction close-ups as Beatty and Keaton share a suggestive dinner table conversation ("You got any children?" "Not yet, Mr. Reed") just before making love in the shadowy brush outside. Notice Keaton gripping and pumping the nose of a whiskey bottle as she and Nicholson undress each other with their eyes, and then, from across the house, look at each other through the symbolic "openings" of doorways (see John Ford's The Searchers). Notice how Nicholson appears out-of-focus in the background between Keaton and Beatty, and later to comic effect as Beatty reverses our sexual expectations as viewers, like Keaton's inquest, "Do you want to take it a step further? … Good, because I'd like you to take a look at my (art) work," to which Beatty replies, "I was just going to ask you if you had anything I could take a look at."
Outside of the sexual, Beatty is also innovative in other ways, introducing Reed's passion in a montage of speech so fast that Bryant can hardly write anything down; introducing Nicholson in a sepia-toned still photo within montage of other famous figures; not being afraid to cut a scene's dialogue mid-sentence; overlapping voiceover of Bryant's letters to show their volume; the tracking shots of the gruesome sights outside the train windows; the cross-tracking of a streetcar riding into a sea of marching revolutionaries; the extreme wide shots of a miniature Reed trudging through the snow; the wide shot of him slowly walking down the empty hallway after quitting the party; and the pacing of the famous scene at the Russian train station, the camera pushing toward the crowd as Bryant searches for Reed, then becoming her eyes in POV as she notices a broken window, sees a covered dead body and fears the worst.
Most memorable is his decision to intersperse his narrative with actual interviews of prominent real-life figures of the movement — doing for politics what When Harry Met Sally (1989) did for romance. These voices — credited as "Witnesses" — appear in several forms: between sequences as interviews, as voiceover narration and even voiceover music as witnesses sing songs like "Over There," "Yankee Doodle Dandy" and the film's recurring favorite "You Can't Come in Play in My Yard." This fusion of reality and melodrama is a credit to Beatty's filmmaking ability — and a testament to how personal the project was to him. In fact, Beatty began filming the interviews back in the early '70s before Reds was even an official project, but no doubt already weighing on his mind.

Legacy
And so we can say of Beatty exactly what a witness says of Reed's activist motives: "Why did he do it? Well, it's impossible to say why Edison invented or why Alcarche sang. He was definitely a stirrer of people. That was his theater." Can the same be said for Beatty? Perhaps, at least, for his mid-life aspirations. Beatty did not become truly involved in politics until the early '70s, at which point he never turned back, working for George McGovern in 1972 and for Gary Hart in 1984 — both failed attempts at the presidency. Reds was his realization of his own activist fire, his self-imposed duty to boost John Reed's historical importance and champion his socialist cause.
As such, the radical left-wing film, made for a majority left-wing Hollywood, will no doubt divide viewers along political lines. But whatever your politics, one must admire Beatty's audacity to even attempt such a project during the height of Reaganomics. It was proof that the era of McCarthyist Hollywood blacklisting was over — yet a film sporting the scars of what's actually possible. By the end of the film, Stapleton's Emma comes to the conclusion that Communism is "a system that cannot work," and Reed becomes somewhat cynical when his call for a "class war" is purposely misinterpreted to "Holy War" in a speech to the Middle East. What Beatty does here is walk a fine line between individualism and collectivism, best shown in Reed's blow-up at a Soviet leader:
"If you don't think a man can be an individual and be true to the collective, or speak for his own country and the international at the same time, or love his wife and still be faithful to the revolution, then you don't have a self to give! When you separate a man from what he loves the most, what you do is purge what's unique in him, and when you purge what's unique in him, you purge dissent. And when you purge dissent, you kill the revolution. Revolution is dissent!"
While Beatty clearly takes issues with aspects of capitalism, he concludes that he is thankful for an American democracy that allows for such dissent. As such, this system can't be all that bad. He just believes it can be perfected, raising a fascinating debate in our nation's ongoing struggle to balance free markets and social wellbeing. Sadly, for a film that raises a debate still so crucial to us all, Reds was only a moderate financial success. Because it was so long, the film could only be played once a night, instantly slicing box office revenues. And because it was so dense, it forfeited mainstream attention to Steven Spielberg's classic Raiders of the Lost Ark (1981).
Critically, though, Reds was a smash, losing Best Picture to the less-deserving Chariots of Fire (1981), but achieving enduring acclaim with a 94% on Rotten Tomatoes. Today, it is remembered as a flawed masterpiece, a top-heavy work where the first half is more engaging than the second. As Beatty himself described it, it's a "long, long movie about a Communist who died." (B) That's right. John Reed, a man whom few viewers had ever heard of in 1981. His job as director was to change that.

Citations:
CITE A: "Thunder on the Left" by Peter Biskind, Vanity Fair, 2006
CITE B: "Seeing Reds," Entertainment Weekly, retrieved 7/23/08