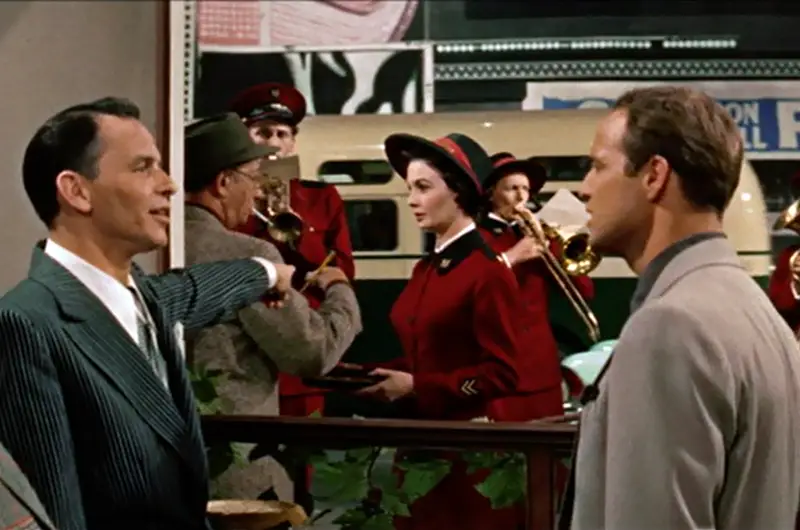 Director: Joseph L. Mankiewicz
Producer: Samuel Goldwyn
Writers: Joe Swerling & Abe Burrows (play), Damon Runyon (story), Joseph Mankiewicz (script)
Photography:Harry Stradling Sr.
Music: Frank Loesser
Cast: Marlon Brando, Jean Simmons, Frank Sinatra, Vivian Blane, Stubby Kaye

"The companionship of a doll is a pleasant thing, even for a period of time running into months. But for a close relationship that can last us through all the years of our life, no doll can take the place of aces back to back."
This is the advice given by wiseguy Sky Masterson (Marlon Brando) to his crap-game colleague Nathan Detroit (Frank Sinatra) in an early restaurant scene from Guys and Dolls, a tale of crooks, cons and courtship, all emanating from the bustling streets of Times Square. Like the Pacino-DeNiro showdown in Heat (1995), the diner scene is an iconic duel between two of the era's biggest stars. (A) More importantly, it sets up the film's central thematic debate — whether it's best to be a player or to settle down with true love.
Masterson and Detroit represent two opposite viewpoints. Despite being preoccupied with a gambling addiction, Detroit genuinely loves his girlfriend, Adelaide (Vivian Blaine), and argues that women are a necessity. Masterson, on the other hand, contests that women "are something to have around only when they come in handy, like cough drops." When Masterson finally asserts that "all dolls are the same" and easily wooable, Detroit pounces on the chance to win some much-needed dough to set up his latest crap shoot. He bets Masterson that he won't be able to get prim-and-proper missionary Sarah Brown (Jean Simmons) to go with him on an upcoming trip to Havana.
The story, a rather simple "opposites attract" set-up, came straight from the hit 1950 Broadway musical of the same name, directed by George S. Kaufman with music and lyrics from Frank Loesser. The play was so successful — 1,201 performances and five Tony Awards, including Best Musical — that Hollywood producer Samuel Goldwyn seized the opportunity of a film version. He brought in a top notch director in four-time Oscar-winner Joseph L. Mankiewicz (All About Eve), employed Loesser to compose two new songs for the film and signed up some big names for the parts. (B) Goldwyn initially wanted Gene Kelly in the role of Masterson, but when that fell through, the job went to Brando, who had worked with Mankiewicz in Julius Caesar (1953). When Grace Kelly and Deborah Kerr couldn't fit the film into their schedules, the role of Brown went to Simmons, and subsequently, the two leading parts had been filled by two non-musical performers.
As far as acting, the two fit right into their parts. The wholesome Brown was right up Simmons' alley, and for the ultimate man's man, who better than Brando? His charm in Guys and Dolls, suave hat-tilt and all, is something to see. As for their singing, it gets a bit awkward at times, as Brando and Simmons are both better in dramatic roles, like A Streetcar Named Desire and Spartacus, respectively. Not that it ruins the film by any means — the risk is actually quite admirable — but their singing voices definitely pale in comparison to the silky smooth Sinatra and the original Broadway cast member Blaine, who again proves sensational in carrying an exaggerated New York accent, all the while hitting every note.
No matter, it's the strength of the songs themselves that carry the film. Using the same hit songs from the stage, the film version of Guys and Dolls was bound to be a success. And, symbiotically, the film has in turn brought wider attention to this wonderful music written for the stage. Guys and Dolls features a string of show tunes standards, ranging from "Some Doll" to "Adelaide's Lament" to "Sit Down You're Rocking the Boat." Most famous it the snappy "Luck Be a Lady," a recurring theme throughout the movie that culminates in a sewer-set performance as the neighborhood cons prepare for the gigantic crap shoot. While Sinatra launched it to legendary heights on the music charts, it's Brando who gets the speak-sing duties here, cementing a number as the AFI's #42 Greatest Movie Song. Above all, the number belongs to choreographer Michael Kidd, whom Mankiewicz leaned on heavily while directing his first-ever musical.
Despite two distracting numbers by the Goldwyn Girls, the blocking is very impressive. Take the opening sequence, a stretch of film that viewers can rewind several times only to find more intricate interactions between the characters. If anyone, the focal point of the sequence would be Rusty Charlie (Danny Dayton), though we don't see him until midway through, in the background of a store, studying a horse-betting guide so intently that his eyes never leave the page. Viewers hardly notice him, as a pickpocket attempts to steal change from payphone coin slots in the foreground. Frustrated, the pickpocket exits as four men sit down in the phonebooths to place bets. When a police officer passes outside the window, the men simultaneously hide their betting intentions as Rusty exits the store, the camera now following him in a long-take pull-back. Meanwhile, the same pickpocket sneaks up from behind and goes for the theft, but Rusty transfers his wallet to his vest pocket before crossing a busy intersection, the cars breaking to avoid him. We continue to follow Rusty as he crosses paths with other familiar faces in a stolen watch bit, until he meets up with Benny Southstreet (Johnny Silver) and Nicely-Nicely Johnson (Stubby Kaye) for the charming three-part song, "Fugure for Tinhorns."
If studied closely enough, you'll admit that more careful direction is packed into the first seven minutes of Guys and Dolls than most films have in their entirety. But that was Mankiewicz, who twice previously in the decade won Oscars for Best Director. Blocking aside, it is Mankiewicz's overall tone that makes Guys and Dolls such a memorable work. He was able to mesh vibrant candy-colored visuals with a story of smooth-talking urbanities, a tone highly influential on the likes of The Sting (1973) and Dick Tracy (1990), while bringing Brando the humble racket beginnings of The Godfather (1972).
By the end, all of the characters have made personal breakthroughs. The cons have spilled their guts and confessed their wrongdoings, while Sarah has realized the self-righteous err of her evangelism. Through Sarah, Masterson finally understands the foolishness of his idea that "all dolls are the same." And the lovely couple of Nathan Detroit and Miss Adelaide have fully devoted themselves to one another, achieving her goal of "a home with wallpaper and bookends," while proving his quip, "That's New York. First they close my crap game, then they open my veins."

Citations:
CITE A: 1001 Movies You Must See Before You Die
CITE B: DVD Booklet