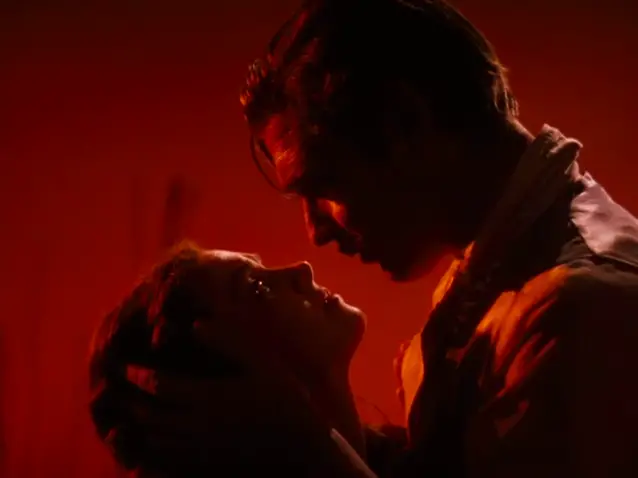 Directors: Victor Fleming, George Cukor, Sam Wood
Writers: Margaret Mitchell (novel), Sidney Howard (screenplay), Ben Hecht, Oliver H.P. Garrett, Jo Swerling, John Van Druten (contributing writers)
Producer: David O. Selznick (Selznick International Pictures)
Photography: Ernest Haller
Music: Max Steiner
Cast: Clark Gable, Vivien Leigh, Leslie Howard, Olivia de Havilland, Thomas Mitchell, Barbara O'Neil, Evelyn Keyes, Ann Rutherford, George Reeves, Fred Crane, Hattie McDaniel, Oscar Polk, Butterfly McQueen, Victor Jory, Ward Bond, Jane Darwell

Introduction
"The cause of living in the past is dying right in front of us."
The tale of Gone With the Wind starts and ends with one man, producer David O. Selznick. From the very start, he set the highest of standards — to create the biggest, most expensive, most glamorous Hollywood production that history had ever seen. A toxic mixture of genius, megalomaniac, showman and perfectionist, Selznick followed the now controversial advice of his father, a jeweler who had failed at the movie business: "Live beyond your means. It gives you confidence." (K)
In 1935, Selznick married Louis B. Mayer's daughter Irene and left MGM to start his own studio, Selznick International Pictures. "I'm 32 and I can afford to fail," he said. (K) The following year, Margaret Mitchell released her 1936 bestseller Gone With the Wind. When Selznick snatched up the motion picture rights for $50,000 (B), some labeled it "Selznick's Folly," thinking it was foolish for him to spend so much on a debut book from an unknown author. (C)
Immediately, the book took the country by storm as the best-selling novel in the history of literature, and Selznick's expectations were that much higher. It would take him three years of preparation and production to get the film out, in which time he poured a then-record $4 million into the film, shot half a million feet of footage (D), ordered numerous script rewrites (with infamous midnight memos) (A), and made his way through three directors, George Cukor, whom Selznick drove to quit, Victor Fleming, whom he hired over from The Wizard of Oz (1939), and Sam Wood, who filled in when Fleming took ill.
Three directors and fifteen screenwriters later, including F. Scott Fitzgerald, whom Selznick quickly fired, Gone With the Wind made its gala premiere in Atlanta on Dec. 15, 1939. It was a smash hit, earning a then-record 10 Academy Awards, including Best Picture (Selznick), Director (Fleming), Screenplay (Sidney Howard) and Actress (Vivien Leigh), while becoming the highest grossing film of all time, a title it still holds today with an adjusted gross of $1.6 billion.
Historians estimate that more people have seen Gone With the Wind than any other movie in history. "Gone With the Wind is still the reigning champion as far as all-time most popular movie," said box office analyst Paul Dergarabedian, who estimates the film has sold 200 million tickets throughout history. "In other words, there have been more butts in movies seats for that movie than any other film in history." (E)
Selznick had done it. The film had lived up to his massive goals. But it was no longer just Selznick's baby; it now belonged to the fans and historians, who had varying takes on Selznick's perfectionism. The very driving force responsible for the film's meticulous creation would become the perfect antagonist in tales of its legacy.

Plot Summary
The film is set in the most tumultuous of times, its title referring to the moment the Civil War erased a somewhat "mythical" Southern way of life, driving Ol' Dixie to disappear with the wind. In this atmosphere we find Tara, a gorgeous plantation in rural Georgia, 1864, inhabited by the O'Haras, Gerald (Thomas Mitchell), Ellen (Barbara O'Neil) and their three daughters, the toughest and most vivacious of which is young Scarlett (Leigh). A real vixen, beau magnet and shameless southern belle, Scarlett attracts all the guys in town, except for the one she so desperately desires, Ashley Wilkes (Leslie Howard), a member of the neighboring Twelve Oaks plantation. Not that Ashley isn't drawn to Scarlett; he's just already betrothed to Melanie Hamilton (Olivia d'Haviland), his sweet distant cousin and love of a lifetime.
When the war hits and Ashley leaves for battle, the conniving Scarlett offers to stay with Melanie in Atlanta, where she tends to wounded Confederate troops while awaiting Ashley's return, in hopes that she can someday win him over. When Yankee soldiers burn the city to the ground, Scarlett narrowly escapes, thanks to the help of Rhett Butler (Clark Gable), a charming cynic from Charleston who's had an eye for Scarlett since the moment he saw her. When he, too, grudgingly joins up for the Confederate cause, Scarlett is left to fend for herself, and makes her way back to Tara, only to find the plantation in shambles and her family in ruin.
Remembering her father's lesson — "Land is the only thing in the world worth working for … because it's the only thing that lasts" — she turns full attention to reviving Tara, vowing that she "will never be hungry again." While growing into a strong female leader and fending off the "carpetbaggers" of Reconstruction, Scarlett grows even closer to Melanie, making her relationship with Ashley all the more impossible.
A lumber business and loveless marriage later, Scarlett becomes single once again, at which time she finally agrees to marry Rhett, the only man for her, only she still doesn't know it. The two bicker and clash as they move into a lavish mansion, birth a child and squabble over Scarlett's hardly hidden affection for Ashley Wilkes. In the end, it's tragedy that allows Scarlett to see how much she truly loves Rhett, but by then it's too late. He's through with her, out the door, not "giving a damn," ready to see "if there's anything left in the world of charm and grace," while she's left clinging to the hope that "tomorrow is another day."

'Meet Your Scarlett O'Hara'
By the time the film opened, the novel-reading public already knew this story very well. In fact, everyone was talking about it. Though this presented the danger of certain audience expectations, Selznick basked in the popularity, playing up the hype by widely publicizing his talent search for the actress best suited to play Scarlett O'Hara. In the running were Bette Davis, Katharine Hepburn, Margaret Sullavan, Miriam Hopkins, Norma Shearer, Carole Lombard, Paulette Goddard and Barbara Stanwyck, all of whom Vogue magazine used to create a composite image of the ideal Scarlett. A national search, led by Cukor and several talent scouts, interviewed 1,400 candidates and conducted 90 screen tests at an estimated cost of $92,000, much more than the $10,000 it cost to cast the rest of the film's 59 principal characters combined. (B)
After all that money had been spent, Selznick still wasn't satisfied. He entered the first day of shooting, the great burning of Atlanta set piece, and still had no Scarlett (you'll notice the stand-ins covering their faces in the scene). But, with the backdrop of those flames flying high into the night, in walked a fiery Brit named Vivien Leigh, who was visiting the set with her lover Laurence Olivier, who was in Hollywood making Wuthering Heights (1939). Selznick's brother Myron yelled, "Hey, genius, meet your Scarlett O'Hara!"
Selznick had finally found the one: the green eyes, the narrow waist, the spunk, the sass. Leigh came well prepared, having read the book on her ship voyage across the Atlantic, as if she knew she was the one for Scarlett all along. Not only would she work the longest role in history, shooting 22 weeks with only four days off, she carried it all the way to an Oscar for Best Actress and made Scarlett O'Hara the stuff of legend, voted #3 on Premiere's 100 Greatest Movie Characters.

Clark Gable: 'Twinges of Sexual Urge'

As for Rhett, Selznick bypassed Mitchell's suggestion, Basil Rathbone, and went with the fan favorite, Clark Gable, the man you cast if you wanted to win Best Picture. Gable's films won three Best Pictures in a span of five years: It Happened One Night (1934), Mutiny on the Bounty (1935) and Gone With the Wind (1939).
It's said that Gable was not enthusiastic about the part, and refused to do a southern accent. Gary Cooper was even more passionate in turning down the part, saying, "Gone With The Wind is going to be the biggest flop in Hollywood history," and, "I'm just glad it'll be Clark Gable who's falling on his face and not Gary Cooper." (D) Safe to say, Gable made Cooper eat those words, finding in Rhett the role of his career.
He was the perfect man to play the charismatic smartass, full of "charm and grace." While Leigh was reportedly repulsed by Gable's bad breath (L), Carole Lombard became his third wife that year and Joan Crawford admitted she got "twinges of a sexual urge beyond belief" whenever she was around him. (G)
His famous final line, sticking it to Scarlett before walking off into the fog, made scorned men cheer, but his comedy is what really makes the performance, like his comment after Scarlett smashes a vase, "Has the war started?" or the knowing look on his face when he leans in to say, "And you, Mrs. Hamilton. I know just how much that means to you." He also serves as the moral compass of the film, a voice of reason pushing back against backward thinking. Surprisingly, Gable was upset for Best Actor by Robert Donat, who had so brilliantly played across Greer Garson in Goodbye Mr. Chips (1939). How bizarre in hindsight that, of all people, it was Gable's loss that presented the Oscar sweep.

Civil Rights and Civil Wars

In addition to Leigh, the film's other acting Oscar went to Hattie McDaniel as Scarlett's spunky servant Mammy, a role that paved the way for Octavia Spencer's win for The Help (2011) 52 years later. McDaniel's win was historic as both the first African American to be nominated for an Oscar and the first to win one, beating out co-star Olivia de Havilland and the talented Geraldine Fitzgerald (Wuthering Heights).
Perhaps the Academy patted itself on the back more than it should have. McDaniel's win was progress, but bittersweet progress. Remember, Atlanta authorities chose to remove McDaniel's photo from the film's souvenir program and on the night of the Oscars, she and her husband were relegated to a table for two in the back of the room, leaving a long walk to the stage. It showed just how far a walk African Americans still had to go.
"One of things which Selznick set out to do was get to the black press and let them see that we're making this movie and that we want to give important roles to African American actors and actresses," film historian Donald Bogle said. (K) Selznick specifically set out to match the record financial success of D.W. Griffith's Birth of a Nation (1915), but without the racial controversy. So, he scrapped a scene from Mitchell's novel that involved the Klu Klux Klan, while giving Gable lines where he is critical of the Confederate cause: "I think it's hard winning a war with words, gentlemen. … I'm saying very plainly that the Yankees are better equipped than we. … All we've got is cotton and slaves — and arrogance."
Even so, Gone With the Wind possesses its own subtle racism, a slave to the time in which it was made. Not only does Scarlett's father refer to blacks as "darkies," the script pushes a "wishful thinking" that African American slaves were either lazy or content in their sub-human existence. Take Butterfly McQueen's character Prissy, a cowardly, squeaky-voiced, dependent servant, similar to her role in Mildred Pierce (1945). Of course certain southern slaves grew close to their masters, but it's hard to believe the majority of them were as anti-abolitionist as the film suggests.
On the feminist front, Gone With the Wind is a bit more complex, offering Scarlett as a double-edged sword. On the one hand, she's a woman of great strength who can rise from despair, rebuild her life and manipulate others to her will. On the other, she's a gold digger, marrying for money, whining the whole time and ultimately getting her bitchy comeuppance by the man who forces her into sex and then leaves her in a pool of submissive tears. As Ray Romano joked, "I was glad, because she had been giving him crap for like four hours." (I) The film's "taboo" dialogue of women's petticoats is just as dated as the rear projection during the buggy ride and the painted backdrops to Scarlett's most melodramatic fist-raising moments.

The Ultimate Production

Despite the dated elements, Gone With the Wind's set pieces are just as mind blowing today as they were in 1939. Martin Scorsese to call it "the greatest production of the first half of the 20th century, no doubt about it," (F) a claim supported by Selznick's staged "burning of Atlanta." It was here, on the first day of shooting, Dec. 10, 1938, that Selznick had a bunch of old movie sets — King Kong (1933), King of Kings (1927) and The Garden of Alah (1936) — decorated as 1864 Atlanta and burnt to the ground. To this day, it remains the greatest fire scene in movie history, simply because it was entirely real, with real buildings crashing to the ground, shot with all seven of the only Technicolor cameras in existence at the time. The 500-foot flames looked so real that local residents phoned fire departments fearing that MGM Studios was on fire. (J)
The fire also served a more logistical purpose: clearing the 40-acre backlot behind Selznick Studios to make room for the film's elaborate sets. Production designer William Cameron Menzies and art department head Lyle Wheeler made 3,000 set design sketches for 90 sets with interiors authentically recreated by industrial designer Joseph B. Platt using a million feet of lumber. The production totaled 1,100 horses, 375 other assorted animals, 450 vehicles and 2,400 extras with more than 50 speaking parts.  (B) (C)
Costume designer William Plunkett had to design 5,500 separate wardrobe items, including 40 costumes for Scarlett alone. And because the film spans an 11-year period, Plunkett had to design for different fashion eras, from prewar hoop skirts to war-time poverty rags to the "bustle modes" of Reconstruction. (B)
The whole thing was captured on 449,512 ft. of film, finally edited to 20,300 ft. and boasting an unrivaled three-strip Technicolor brilliance that made Gone With the Wind the first color film to win Best Picture. In fact, Menzies received an honorary Oscar for his use of color, while R.D. Musgrave won a technical achievement Oscar for his coordinated use of equipment on the massive project. This is fitting, for when you think Gone With the Wind, these are the two things that come to mind — mass and color. You think of silhouetted figures moving across red-orange studio skies; big sweeping shots across thousands upon thousands of individual actors, all set to the most epic of musical scores.

Max Steiner's Masterpiece
To pick a "greatest score" of Max Steiner is a grueling task. The 24-time Oscar nominee and three-time winner practically invented the concept of the movie score with King Kong (1933). Yet when it came time for the AFI to rank its Top 25 Movie Scores, Steiner's Gone With the Wind ranked No. 2, behind only Star Wars (1977). That's right, name any other great score you can think of — Jaws (1975), The Godfather (1972), Lawrence of Arabia (1962). They all fall before "Tara's Theme." No doubt this influenced the similarly titled "Lara's Theme" for Doctor Zhivago (1965).
Gone With the Wind was one of two Oscar nominations for Steiner that year, having also been nominated for Dark Victory (1939). They both lost to Herbert Stothart's legendary music for The Wizard of Oz (1939). Since then, the score has been used so often in film highlight reels that you might think it's the default score for "movie masterpieces." It certainly has the grandeur to be used as such.

Cukor & Fleming: Dueling Directors
With all these pieces coming together at once, it's hard to judge the film's overall "direction" because it flies in the face of the auteur theory. In other words, the film cannot claim any sense of authorship because, frankly my dear, it's handled by three different directors. Still, it's fascinating to watch the different approaches of each, as Cukor played more affectionately toward Scarlett and Fleming offered more power to Rhett. You can almost feel the film transitioning between different styles, different visions, and thus it is a valuable source in discussing tone, even if its own shifts constantly. And so, this rare beast may actually be the one time in movie history where it's fair to say the producer has become the auteur, so obsessively monitoring every detail of the film.
The majesty of those dolly backs as a silhouetted Scarlett overlooks Tara.
The dissolve from a live rooster to a roasted Christmas bird.
Carefully choreographed camera movements across the dance floor as hoop skirts wipe the lens.
The shadow of Ashley and Melanie's door symbolically shutting across Scarlett's face, a concept that influenced both The Searchers (1956) and The Godfather (1972).
Cannon fire blowing holes through a stained glass window of Christ, then the words "Peace Be Within Thy Walls" written above a doorway as a wall shadow depicts a screaming man during an amputation.
The low-angle set-up during the chaos of Atlanta, the camera nearly trampled in the street.
Ernest Haller's low-key lighting during Melanie's childbirth, foreshadowing the work of the cinematographer Gordon Willis, a.k.a. "The Prince of Darkness."
The money box lid covering the camera, then shutting to reveal the shot.
Rhett carrying Scarlett up the passionate red staircase into the sexual shadows above.
The moody, dreamlike fog echoing Scarlett's own dream.
And arguably the most famous crane shot in movie history, beginning with Scarlett on the ground and rising up to reveal thousands upon thousands of wounded soldiers lying in the field, the camera pulling up high enough to move behind a waving Confederate flag. This technique, starting small then pulling back in a reveal, may have inspired Alain Resnais' horrific reveal of a mound of Jewish hair in the Holocaust documentary Night and Fog (1955).

Screenplay: Penning the Greatest Line in Movie History
The visual interpretation was everything fans of the book hoped it would be, the scope of its 1,037 pages miraculously converted to four hours on screen. I bet Harry Potter fans wish that those films were given such time and scope in their cinematic transfers.
Deserving much credit for the successful adaptation was screenwriter Sidney Howard, who worked with Selznick on the script for almost a year before dying in a farm accident. Sadly, it was before he could see a shot on screen, but the event made the plot's tragic twists ring all the more true. (B)
After Howard's death, Selznick brought in master screenwriter Ben Hecht, the go-to guy in 1939-1940, and paid him $10,000 to touch up the script. Still, the Oscar posthumously went to Howard for a script voted the WGA's #23 Greatest Screenplay of All Time, just ahead of Eternal Sunshine of the Spotless Mind (2004).
The reason for its high placement is obvious. In 2006, the script tied The Wizard of Oz (1939) for the second most entries on the AFI's Top 100 Quotes, more than any other film, except Casablanca (6):
"As God as my witness, I'll never be hungry again!" (#59)
"After all, tomorrow is another day!" (#31)
And, the #1 Movie Quote of All Time, "Frankly, my dear, I don't give a damn."

Pop Culture
In the post-Pulp Fiction era, it's hard to imagine just how shocking the word "damn" was to audiences in 1939. "Frankly my dear" not only popularized the use of curse words for biting dialogue emphasis, the phrase has become part of the American vocabulary, as has the term "gone with the wind."
The phrase obviously existed before the film, but it was the film that popularized it to the point of reference in songs ranging from Lynyrd Skynyrd to Bob Dylan, Celine Dion to Alabama, The Bee Gees to Kanye West.
Speaking of pop culture impact, least we forget Carol Burnett's classic spoof, standing in for Scarlett O, walking down the steps of Tara, wearing a curtain rod over her shoulders.

Legacy
The film has become cultural shorthand for "Classic Hollywood," one of the go-to posters for classic movie collectors. Cultural legacy often goes hand in hand with listology rankings, and here is no exception. The film is an AFI Top 6 pick 20 years running. It also stands at #2 on the AFI's 100 Passions, behind only Rick and Ilsa in Casablanca (1942), as "Rhett and Scarlett" have become the ultimate symbol of the love-hate relationship, thanks to Rhett's quote to her: "In spite of you, me and the whole silly world going to pieces around us, I love you. Because we're alike, bad lots, both of us, selfish and shrewd, but able to look things in the eyes and call them by their right names."
Curiously enough, the film even lands #43 on the AFI's 100 Cheers, I guess for Scarlett's indomitable spirit, returning home to find her past in ruin, falling down in tears, then picking herself back up and vowing that she will never be this low again. Her grit and determination  allow for the ultimate "have our cake and eat it too" ending, as Rhett gets to tell her off in grand fashion, while Scarlett gets to vow that she'll win him back tomorrow, the next day or years from now, whatever it takes.
I suppose some will love the film and some will hate it for the exact same reasons. Some will find closure in the "have it both ways" ending, while others will deplore it as utterly compromising. Some will view the grandiose melodrama as the pinnacle of the Hollywood system, while others will find it overblown, over-dramatic, and way too long, with a first half that is much more compelling than the second. After all, the film is one giant Civil War soap opera that runs four times the length of your average Young and the Restless.
Still, it holds a sort of cross-generational power between mothers and daughters who pass this one along. It's my great grandmother's favorite movie, my grandmother's favorite movie, one of my mother's favorites, yet an ex-girlfriend hated it, despite being an avid TV soap fan. What's a guy to do? Nothing, except understand how a movie this lavish, this epic, this ambitious can work differently on different people. Note that the film does indeed place in the IMDB Top 250, but that it's all the way down at #171, a far cry from AFI's #6 spot and from the box office #1 spot. Does this mean today's mainstream is gradually losing enthusiasm for this classic?
I'm reminded of the scene when Scarlett reprimands her sisters for badmouthing Tara: "Don't you ever say you hate Tara again! It's the same as hating Pa and Ma!" Perhaps the same thing can be said about Gone With the Wind and our love for melodramatic classics. If such melodrama were attempted today, it would be laughed off the screen. But since this was how business was done in 1939, it's considered a classic of the era. If we hate such films, it's like hating our millions of ancestors who so embraced them, like hating the roots of this very form of entertainment we love. And so we'll keep hearing "Tara's Theme" and nostalgically defend it, even if our generation will never fully grasp its initial effect, and if elements of its themes make our stomachs turn.
I suspect the popularity of Gone With the Wind will drop off slightly over the years, and judging by IMDB, perhaps it has already. Maybe that's what was meant by, "The cause of living in the past is dying right in front of us." Still, the film will always, and should always, be among every discussion of history's greatest films. Its legacy is too great, its culture so engrained, its record so unmatched. It's been called many things, the most successful movie of all time, the most popular, the most Hollywood, the "movie-est" of movies. Call it what you will, but call it a classic.

Citations:
CITE A: David Thomson's New Biographical Dictionary of Film, on Selznick
CITE B: DVD booklet
CITE C: filmsite.org
CITE D: IMDB Trivia
CITE E: NPR.com
CITE F: AFI Top 100, 10th Anniversary TV program on CBS
CITE G: David Thomson, New Biographical Dictionary of Film, on Gable
CITE H: David Thomson, New Biographical Dictionary of Film, under Whoopi Goldberg
CITE I: AFI Top 100 Movie Quotes broadcast
CITE J: "Making Of" documentary on DVD
CITE K: Turner Classic Movies documentary Moguls and Movie Stars: A History of Hollywood — "Brother Can You Spare a Dream?"
CITE L:  100 Years of Hollywood book