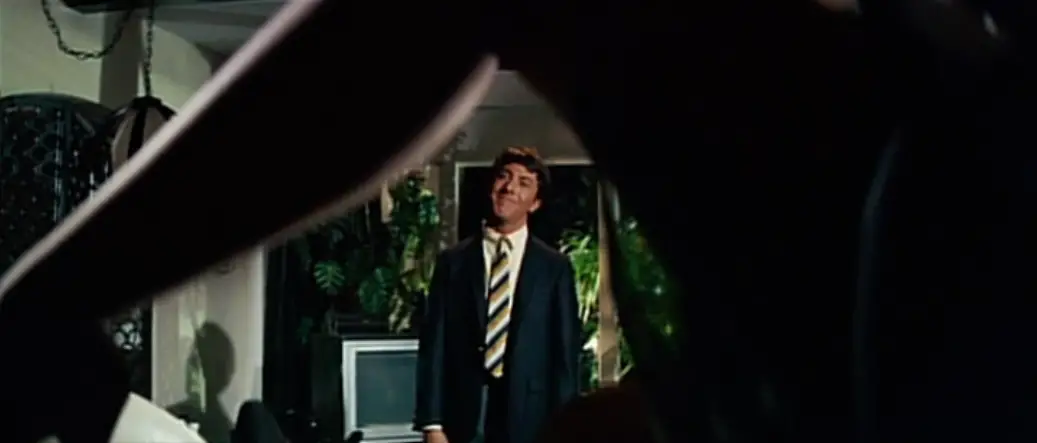 Director: Mike Nichols
Producer: Lawrence Turman (United Artists)
Writers: Charles Webb (novel), Calder Willingham and Buck Henry (screenplay)
Photography: Robert Sourtees
Music: Simon & Garfunkel
Cast: Dustin Hoffman, Anne Bancroft, Katherine Ross, William Daniels, Murray Hamilton

Introduction
"I've had this feeling ever since I've graduated, this kind of compulsion that I have to be rude all the time, you know what I mean? It's like I've been playing some kind of game but the rules don't make any sense to me. They're being made up by all the wrong people."
The power of The Graduate can be summed up in two images. The first is Benjamin lying in the pool, post-graduation, trying to decide what to do in life. We've all been there, that coming-of-age feeling of a "quarter-life crisis," uncertain about our future.
The second is the famous shot under Mrs. Robinson's leg. In one shot, The Graduate opened Hollywood's bedroom door, planting the seeds for phrases like "MILF" and "cougar" and paving the way for so many sex comedies to come, from American Pie to Desperate Housewives. If you think such material shocks audiences today, imagine the impact in 1967.

Together, this combo of coming-of-age politics and groundbreaking sexual revolution changed the course of movie — and American — history. The Graduate taught studio heads that great success could be had by making hipper films targeting younger audiences, marking a demarcation point from the "sword and sandal" epics of the '50s and early '60s. Director Mike Nichols played upon the generation gap, flattering youth by depicting adults as materialistic hypocrites, while leading Hollywood down a more socially-relevant path.
If you've never seen the movie, prepare yourself for some seemingly random scuba diving, extended montage lounging and an uncertain ending interpreted in two different ways by Joseph Gordon-Levitt and Zooey Deschanel in (500) Days of Summer (2009). While these elements can be challenging, I assure you they are not random. They are the keys to understanding one of the best displays of directing in movie history and will bring you a new appreciation for one of the most important movies ever made.

Plot Summary
No love triangle has ever been as awkward for characters or as intriguing for viewers as the one in The Graduate. Benjamin Braddock (Dustin Hoffman) is a young college graduate overwhelmed by the thought of his future; the wife of his father's business partner, Mrs. Robinson (Anne Bancroft), is an alcoholic, middle-aged temptress who seduces Benjamin into having an affair; and her sweet daughter, Elaine (Katherine Ross), genuinely falls for Benjamin, unaware that he's having an affair with her mother.
When Benjamin tries to call off the affair to date Elaine, Mrs. Robinson fights back, sending Elaine off to college at UC Berkeley. Believing Elaine might be his one true love, Benjamin hits the road to make amends. Can he catch her in time before she marries another man?

Screenplay
The script was based on a 1963 novel by Charles Webb, who truly put his money where his mouth was. Webb applied the book's anti-materialistic values to his own life, selling all the money he made from the movie, even his wedding presents, to work minimum wage jobs. While a horrible business decision, Webb believed what he was writing, and that authenticity bleeds from the story.
When it came time to adapt the book for the silver screen, the job went to screenwriters Calder Willingham and Buck Henry. Willingham knew good filmmaking, having written Paths of Glory (1957) for Stanley Kubrick and One-Eyed Jacks (1961) for Marlon Brando, and went on to write for Hoffman again in Little Big Man (1970). Meanwhile, Henry made a memorable cameo as the hotel desk clerk, before becoming one of the most coveted screenwriters of the '70s, reuniting with Nichols for Catch-22 (1970), winning the WGA Award for Best Original Comedy in Peter Bogdanovich's What's Up, Doc? (1972) and earning a second Oscar nomination for Warren Beatty's Heaven Can Wait (1978).
Still, none of those scripts matched their Oscar-nominated script for The Graduate. While it lost Best Adapted Screenplay to In the Heat of the Night (1967), Willingham and Henry got the last laugh, as their script ranked No. 13 in the WGA's Top 101 Screenplays of All Time, ahead of Lawrence of Arabia (1962), The Apartment (1960) and Pulp Fiction (1994).
The script landed two quotes on the AFI's Top 100 Movie Quotes. Ranking No. 63 was"Mrs. Robinson, you're trying to seduce me. Aren't you?"
Ranking No. 43 is arguably the best one liner in the history of movies: "Plastics." The line makes a mockery of adults, painting them as plastic phonies obsessed with material things. The reason it's such a great quote is not so much the line itself, but the awkward confusion it elicits from Benjamin: "Exactly how do you mean?"

Dustin Hoffman: A Star is Born
The role of Benjamin Braddock introduced a new kind of leading man. Gone were the hardboiled Bogarts, suave Cary Grants and slick James Deans. Here was a nebbish Dustin Hoffman, young, awkward and unsure. Director Mike Nichols plucked Hoffman from car commercials to replace the original choice Robert Redford, launching one of Hollywood's most storied careers.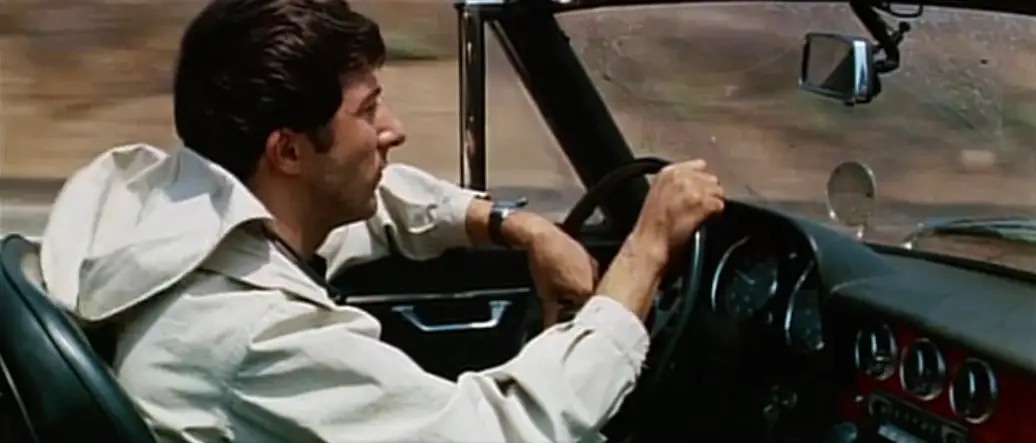 His awkward nervousness is priceless throughout the film. Watch as Mr. Robinson comes home, startling Benjamin, who stutters something to the effect of, "She told me to bring her home. So I, I brought her home." Note also his fumbling during the masterful hotel bar sequence.
The role earned Hoffman an Oscar nomination, losing to Rod Steiger for In the Heat of the Night (1967), an odd choice considering Sidney Poitier was the true lead as Mr. Tibbs. Even so, the smash success of The Graduate made Hoffman a hot commodity, earning two more nominations for Midnight Cowboy (1969) and Lenny (1974) before winning the Oscar for Kramer vs. Kramer (1979). The rest is history, including a nomination for Tootsie (1982) and a second win for Rain Man (1988).
Still, Hoffman remembers where he came from. During Nichols' AFI Lifetime Achievement Award, Hoffman had the highest of praises for his very first director: "It made a great career. And so I thank you for casting this short, 29-year-old, unknown actor with a prominent nose to play Benjamin Braddock." He also thanked Nichols for turning his apparent acting failures into improvised gold. At one point, Hoffman thought he ruined a scene, went to the back of the room and literally beat his head against the wall. Nichols kept the moment in the film, teaching Hoffman a valuable acting lesson: sometimes the unplanned is the best.

Here's to You, Mrs. Bancroft
Unlike Hoffman, Bancroft's career was rocking even before The Graduate, having won the Best Actress Oscar as Helen Keller's teacher in The Miracle Worker (1962) and Best Actress at the Cannes Film Festival for The Pumpkin Eater (1964).
While The Miracle Worker brought the only Oscar of her career, she will be forever remembered as the iconic Mrs. Robinson. Though Benjamin is the centerpiece, Bancroft's Mrs. Robinson may be the most fascinating character study, equal parts sexy and depressed. Bored with her husband (Murray Hamilton) and her life as an aging housewife, she desperately wants to return to her carefree youth, while holding a motherly role that won't allow it. Her strict opposition to Benjamin dating Elaine is partially because Elaine is her daughter, but mostly because Elaine represents all that she lost when she entered polite adult society: her youth, her freedom, her art degree, all of which she laments as the two lay side-by-side in the hotel bed.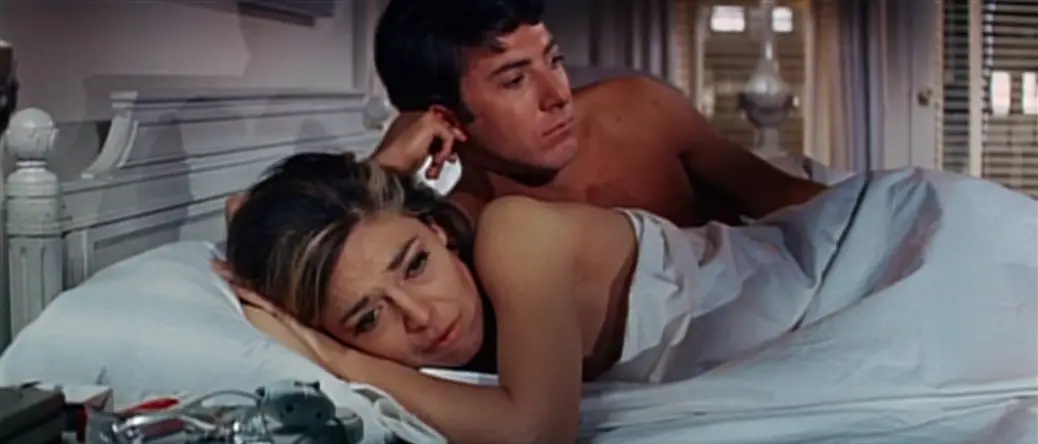 And yet, somehow Bancroft manages to mine comedy out of this depressed alcoholic figure. Such comedic timing is fitting for the wife of Mel Brooks, whom she married in 1961 and remained with until her death in 2005. I roar with laughter each time I see Bancroft's straight face to Hoffman's boob grab, or her delayed exhale after he kisses her with smoke still in her mouth.
The role of Mrs. Robinson won Bancroft the Golden Globe and a third Oscar nomination, losing to Katharine Hepburn for Guess Who's Coming to Dinner (1967). After The Graduate, she was offered the mother role in The Exorcist (1973), but had to turn it down when she became pregnant. She then earned her fourth Oscar nomination throwing a drink in the face of Shirley MacLaine in Turning Point (1977), played alongside John Hurt and Anthony Hopkins in David Lynch's The Elephant Man (1980) and earned her fifth and final Oscar nomination for Agnes of God (1985).

Supporting Cast
Playing the third side of the love triangle is the lovely and talented Katharine Ross. Across various film eras, my eyes have seen few that can compete with her youthful beauty. Ross' turn as Elaine Robinson won her a Golden Globe as Most Promising Newcomer (along with Hoffman in the male category) and earned her the only Oscar nomination of her career, losing to Estelle Parsons in Bonnie and Clyde (1967).  She was once again etched into film history as Etta Place in Butch Cassidy & The Sundance Kid (1969), but she never again saw the success she did in the '60s. Still, her career saw a few memorable efforts, including The Stepford Wives (1975), a Golden Globe win for Voyage of the Damned (1976) and Donnie Darko (2001).
Mr. Robinson played by Murray Hamilton, eight years before his greedy Amity mayor in Spielberg's Jaws (1975). Every time I see the Kinder boy's yellow raft ripped to shreds by the shark, I think of Mr. Robinson wanting to rip Benjamin to shreds on his own pool raft. Hamilton's best scene comes in the dark when he confronts Benjamin about the affair.
Benjamin's parents are superbly played by William Daniels and Elizabeth Wilson. Daniels won two Primetime Emmys for St. Elsewhere (1982) before playing Mr. Feeny in Boy Meets World (1993). Wilson worked with Nichols again in The Day of the Dolphin (1973) and Regarding Henry (1991).

Mike Nichols: Master Director
You'd think that it would be enough for Mike Nichols to have created the most famous shot in movie history, affectionately known as The Graduate Shot, using Mrs. Robinson's bent knee as a triangular framing device. Instead, Nichols turns in one of the greatest directing performances in movie history, and one of the best in helping young filmmakers understand the role of a director. Nichols won the Oscar for Best Director, beating out Arthur Penn for Bonnie and Clyde, Norman Jewison for In the Heat of the Night, Stanley Kramer for Guess Who's Coming to Dinner, Richard Brooks for In Cold Blood and (unnominated) Stuart Rosenberg for Cool Hand Luke. It was the only Oscar of a career that earned an AFI Lifetime Achievement Award.
The Graduate is a master directing piece right from the opening credits, where Benjamin rides to the left on an airport conveyor belt as everyone else follows the airport P.A. request, "Please stay to the right." The political implications are obvious, following Henry's own driving theme, "How do I get away from my mother and father and their Republican friends?" (A). Regardless of your own political stripes, you must respect the artist's efforts to express his own views.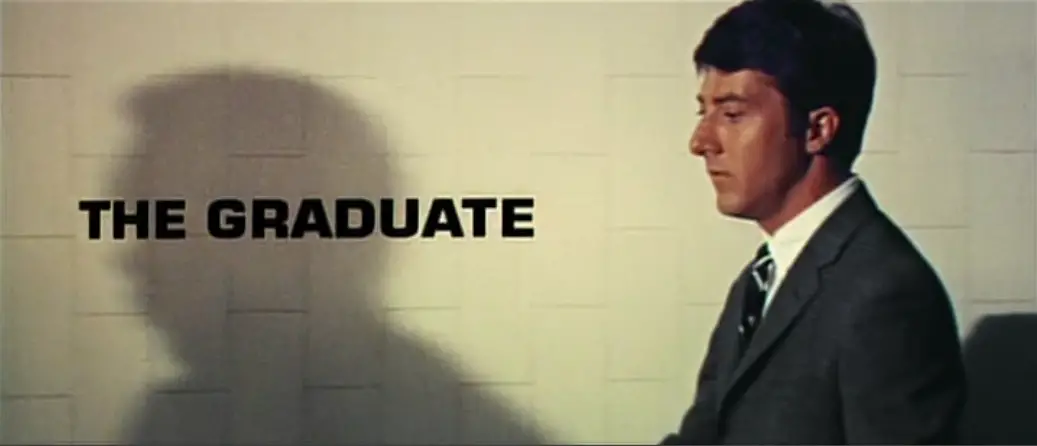 Black and White Stripes
After the symbolic opening, Nichols introduces us to the pattern of black-and-white stripes. They first appear as the vertically-striped wallpaper in Benjamin's room, resembling jailbars of his parents' black and white existence. Next, we see that the Robinsons have a black and white striped awning. Then, we see that Benjamin's own parents have a black and white striped awning, too. This is all in contrast to Benjamin's colorful, diagonally-striped tie.

Long Takes
From here, Nichols shows us his mastery of long takes. The first comes with Benjamin's head sitting against a fish tank (more on this in a bit). He stares expressionless at the camera, dreading going downstairs to his graduation party, as his father enters the frame and sits next to him, invading his space.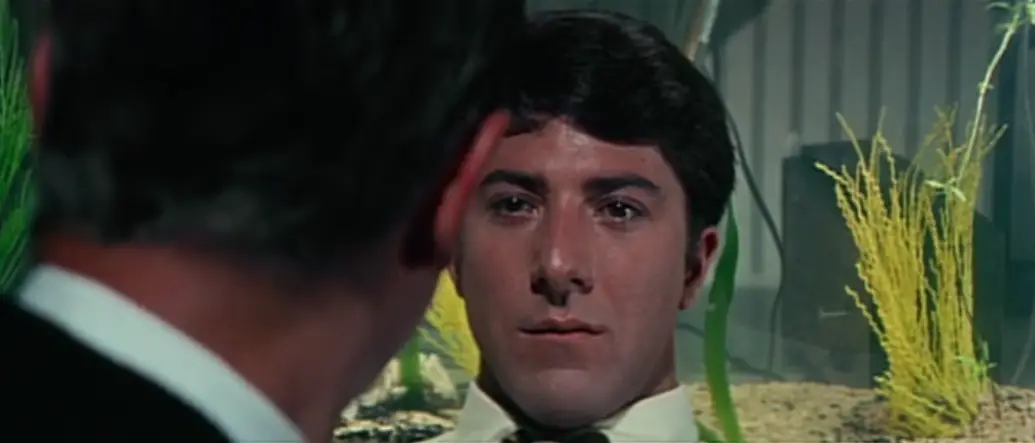 Just then, Benjamin's mom enters and completely blocks the frame, covering the entire screen.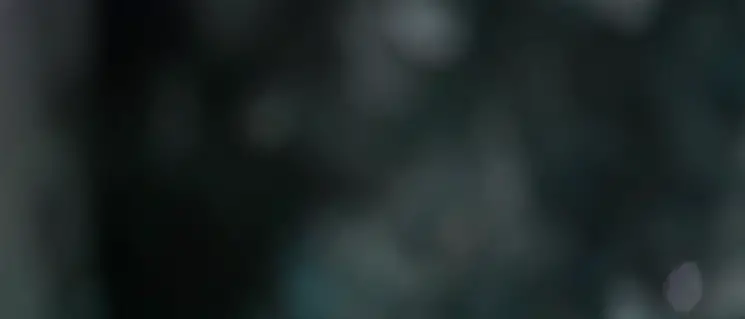 The blocked frame becomes so uncomfortable that the camera has to escape, pulling back with Benjamin and his parents as they exit the bedroom and enter the hallway. As the three make their way down the stairs to meet their guests, the camera settles on a portrait of a sad clown in the hallway. Nichols cuts directly to Hoffman's fake smile, mirroring the face of the clown in the previous shot. I can't help but think of "Tears of a Clown" by Smokey Robinson & The Miracles, which went all the way to #1 on the Billboard Top 100 in 1970.
Nichols cuts from this long take to another one downstairs, as Benjamin is swarmed by family friends. Note how they all intrude upon the frame and invade his space.
During the sequence, Nichols allows the camera to pause just long enough to catch Mrs. Robinson smoking in the background, eying Benjamin up, foreshadowing her cougar lust for him.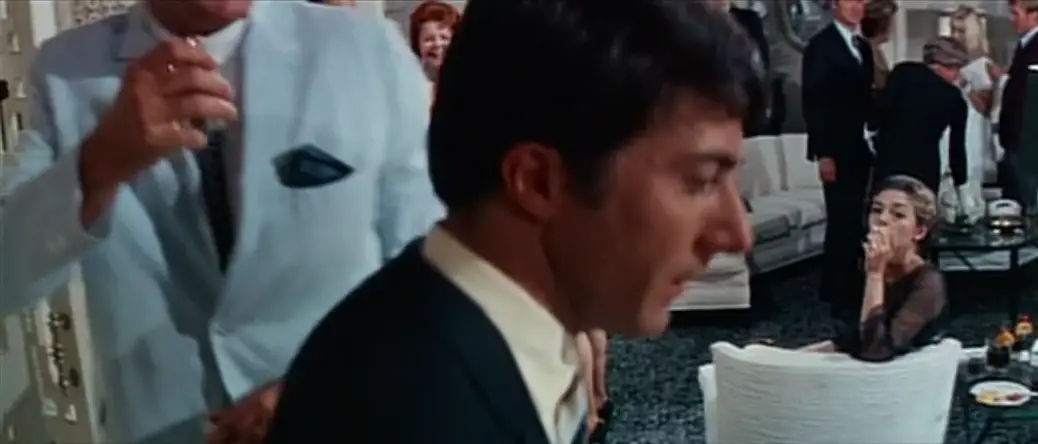 Later, after Mrs. Robinson pitches the affair, Nichols uses another long take to express Benjamin's guilt as Mr. Robinson comes home. Nichols starts with a shot glass large in the foreground with the rest out of focus, until Benjamin runs downstairs and grabs it. The camera pulls back as Mr. Robinson enters. Mrs. Robinson comes downstairs to join them with Ben symbolically between the Robinsons. As Mr. Robinson puts his arm around Ben and says, "You have yourself a few flings this summer. I bet you're quite a lady's man," the camera moves over to catch Mrs. Robinson's face.
'Key' to the Film: The Scuba Gear
The directing concept that puzzles most first-time viewers may actually be the most important: Benjamin's parents forcing him to wear scuba gear for his birthday. Not only does it allow for inventive, half-submerged shots (influencing Jaws), it allows for the symbolism of his parents shoving him underwater.
The scene might appear random at first glance, but if you pay close enough attention, you'll unlock its secret. Let's go back to Benjamin's bedroom at the start of the film, as he sits expressionless by his fish tank. Note the scuba diver aiming his gun at Benjamin's head.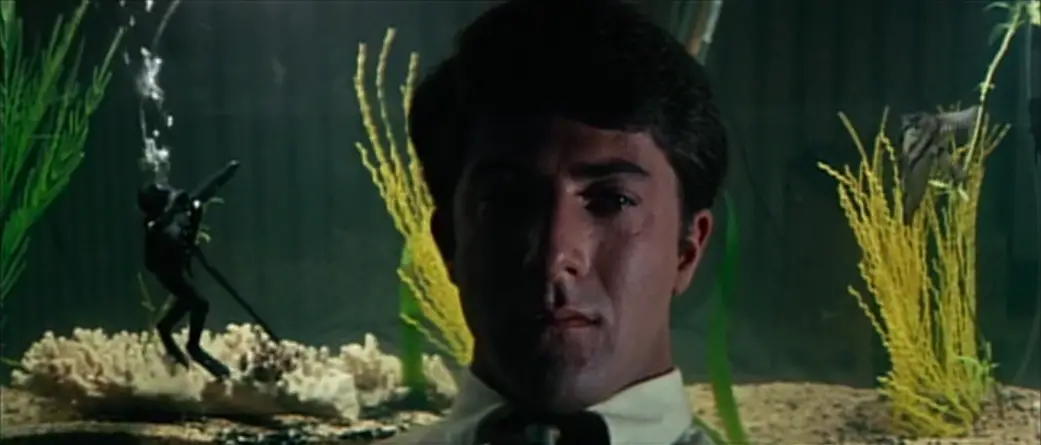 Moments later, Mrs. Robinson enters the room and asks Ben to drive her home. As she tosses him her keys, they land directly on the scuba diver. The symbolism is simple: the scuba diver is the key to the movie.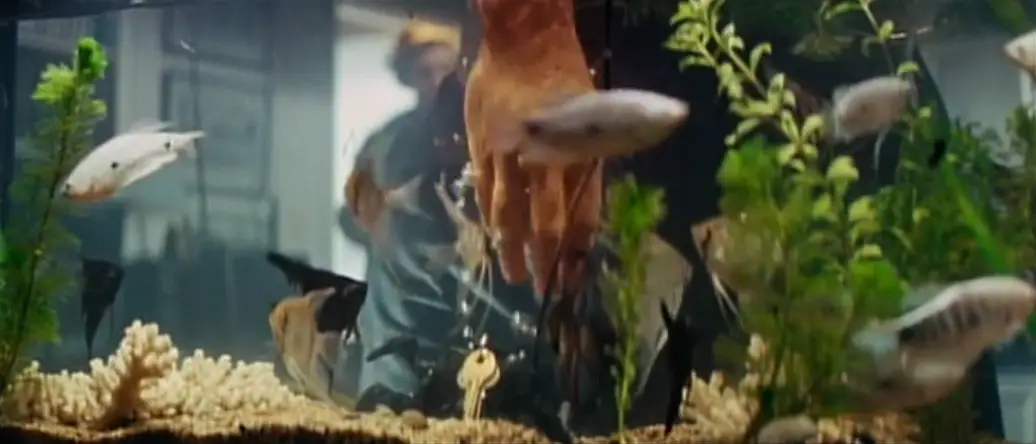 With this in mind, the scuba diving scene makes perfect sense. As the underwater camera pulls away, Benjamin becomes small in the background, quite literally becoming the size of the scuba diver figurine in his fish tank. If you've ever tried to move around in water, you get the analogy. The weight of the real world is on him, and the "water pressure" is enough to drown him.
Bridge Over Troubled Water
This "troubled water" theme persists throughout the film. After the poolside "plastics" comment, Benjamin goes back upstairs and stares down at the pool from his window.
Later, he has to run through the rain when he admits the truth to Elaine. How fitting for a future "Rain Man," where Barry Levinson uses an empty pool to symbolic effect.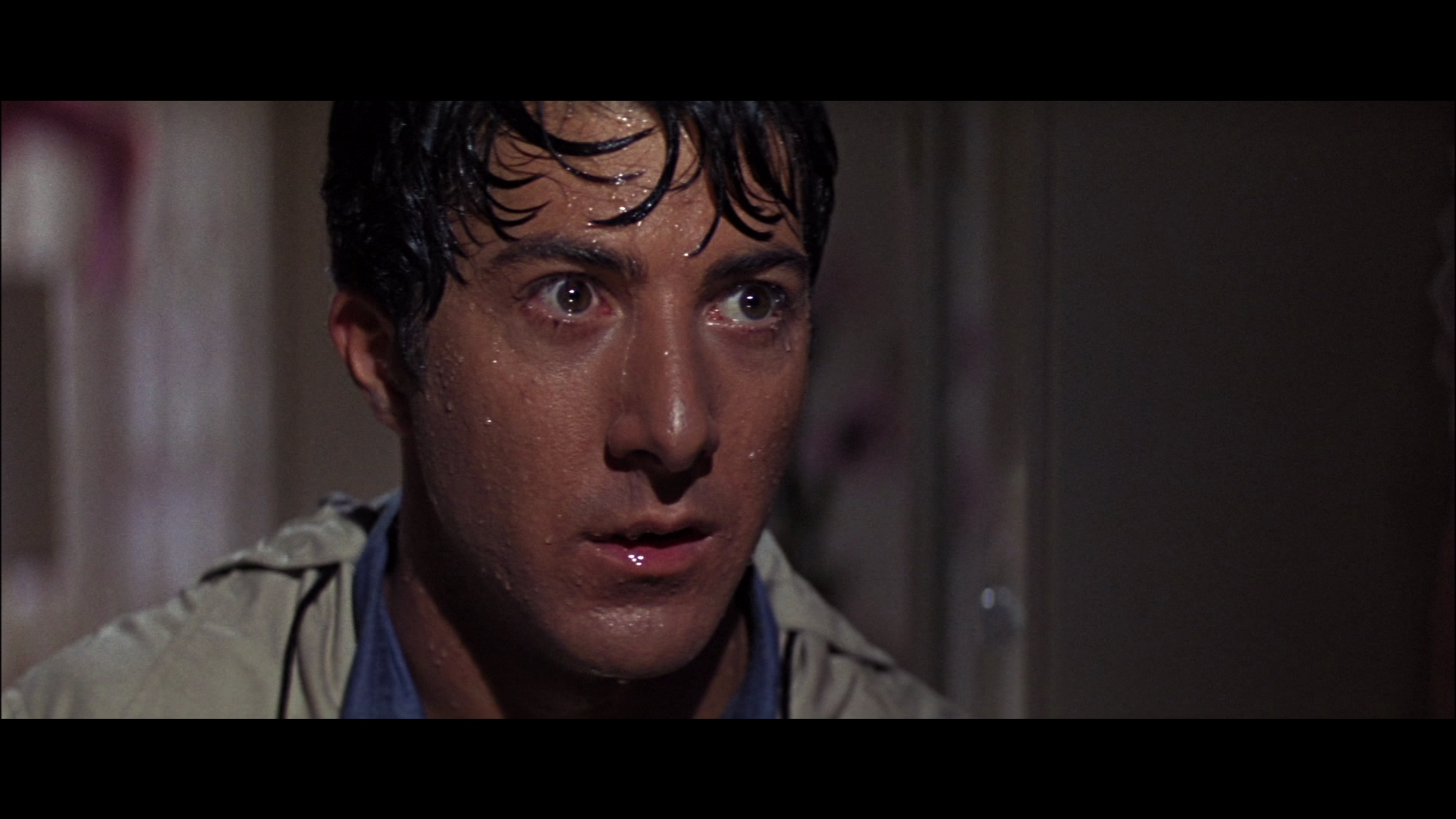 Water returns as Benjamin sits on the fountain at UC Berkeley with an American flag in the foreground.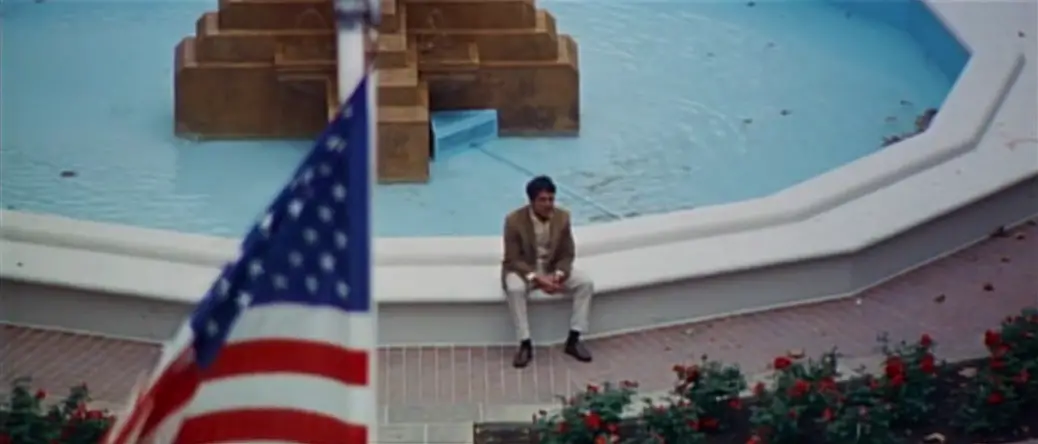 Later, Ben drives across the Golden Gate Bridge, recalling Simon & Garfunkel's song "Bridge Over Troubled Water." At this point, Ben's future is still uncertain, so the water appears in the shot.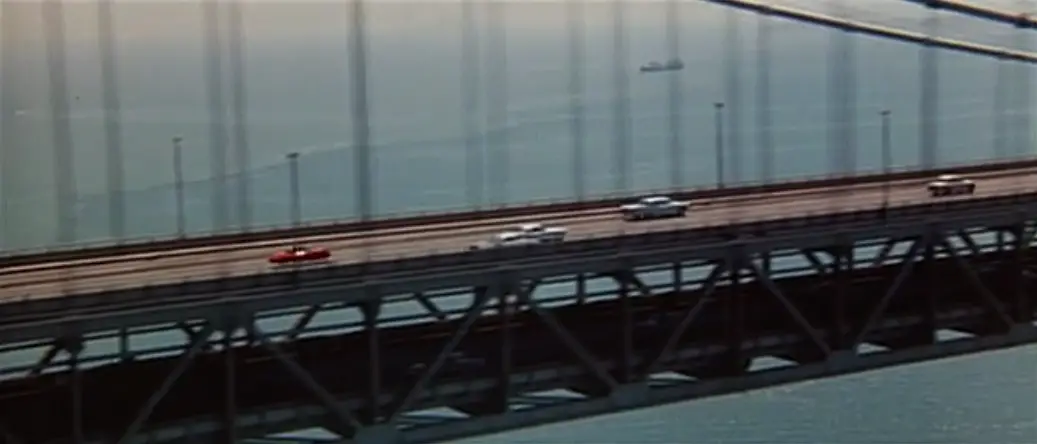 The angle of the bridge drastically shifts once Ben finally decides to stop Elaine's wedding. Chasing after his love with a clear mission, we get a dead-on shot looking forward, seeing only the bridge and no more troubled water. It's a powerful moment, his red car speeding out of the darkness of a tunnel and into the light, cuing the chorus of "Mrs. Robinson."
Precision Transitions
The best example of Benjamin escaping this "troubled water" also displays Nichols' genius use of transitions. Few films have better displayed the director-editor relationship, as Benjamin jumps out of the water onto a pool raft, only to cut to him landing on top of Mrs. Robinson in a hotel bed. It may be the most genius cut I've ever seen, meshing a daring directing style with the symbolic theme of sexual freedom.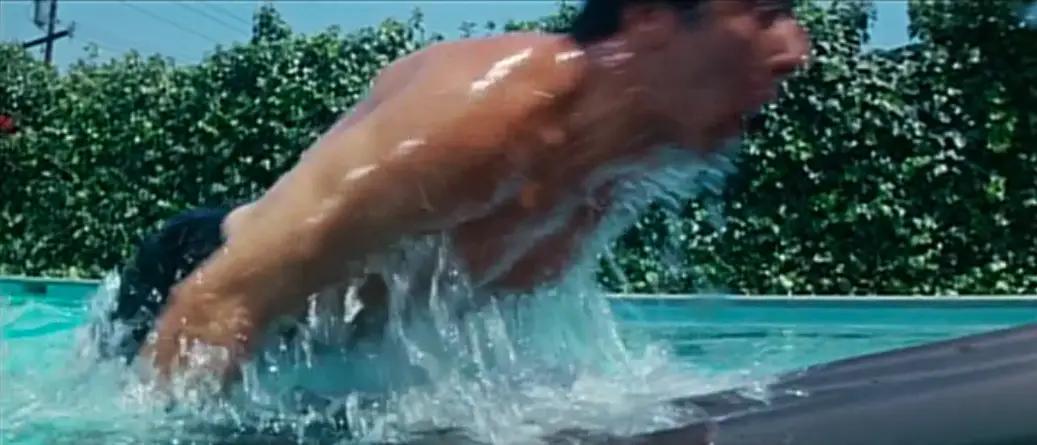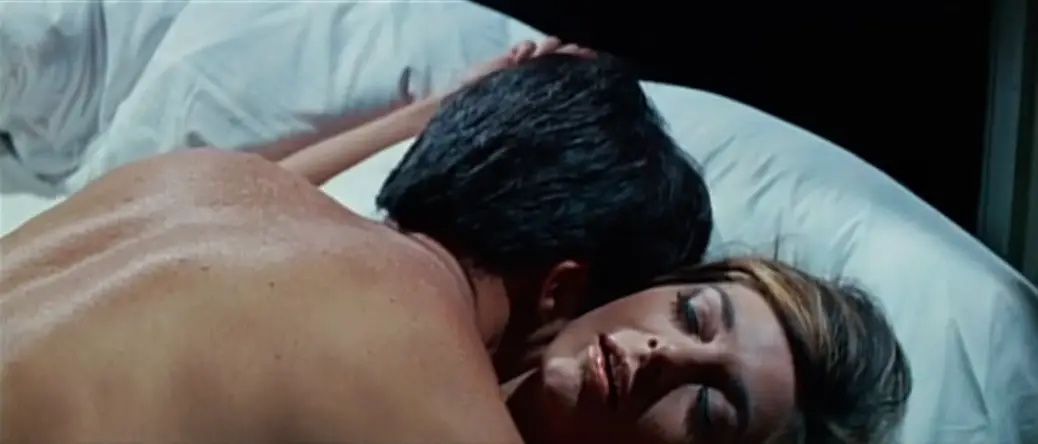 As he lays on top of Mrs. Robinson, he hears his dad's voice. Confused, Benjamin turns and looks at the camera, as we cut to a shot of his dad looking down on him in the pool.
The raft-to-bed edit is the culmination of an entire montage full of clever transitions, transporting Benjamin from his home to the hotel room, using black backgrounds behind his head (black pillows, headboards, etc.) to mask the transition. Such transitions were mimicked by the Coen Brothers with a television trick in Fargo (1996) and M. Night Shyamalan using floral patterns behind Bruce Willis to cut between wallpaper and his pillow.
Another telling transition links Mrs. Robinson to her daughter Elaine. It starts with Mrs. Robinson watching TV's The Newlywed Game, where the host asks a contestant a hilariously ironic question: "What is your wife's most unusual habit?" The shot of Mrs. Robinson's face dissolves into her younger self, Elaine, riding in Benjamin's car to the sound of a roaring engine.

Reflections
Nichols also makes genius use of various reflections. My favorite is Mrs. Robinson's reflection in the restaurant table when she first arrives for their hotel rendezvous.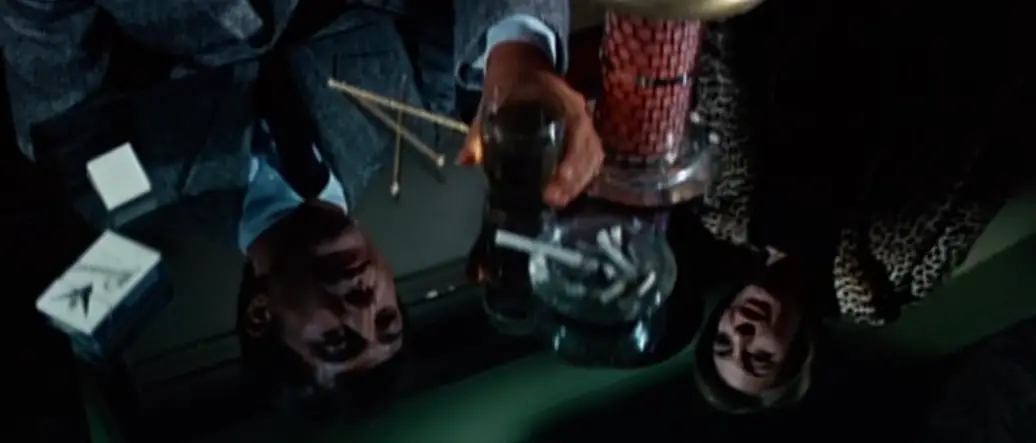 More symbolic is Mrs. Robinson's reflection in the glass of Elaine's portrait. As Benjamin whips his head around, Nichols fires a barrage of nude flashes of Mrs. Robinson, not quite as subliminal as Fight Club (1999).

Symbolic Racks and Zooms
The next time we enter Elaine's bedroom, Benjamin desperately tries to admit his affair with her mother. Nichols shows an innocent Elaine in the foreground as an out-of-focus Mrs. Robinson appears through the cracked door in the background. The camera "rack focuses" to Mrs. Robinson's defeated face, then racks back to Elaine as she herself realizes the truth.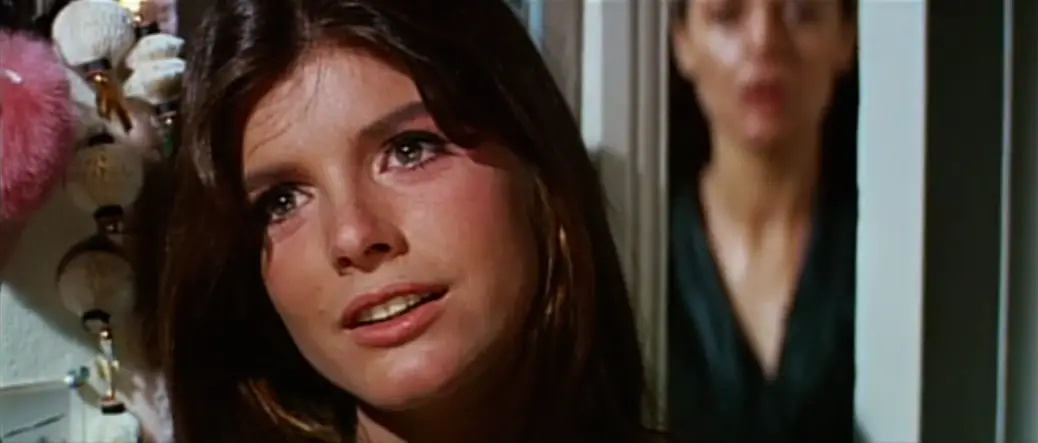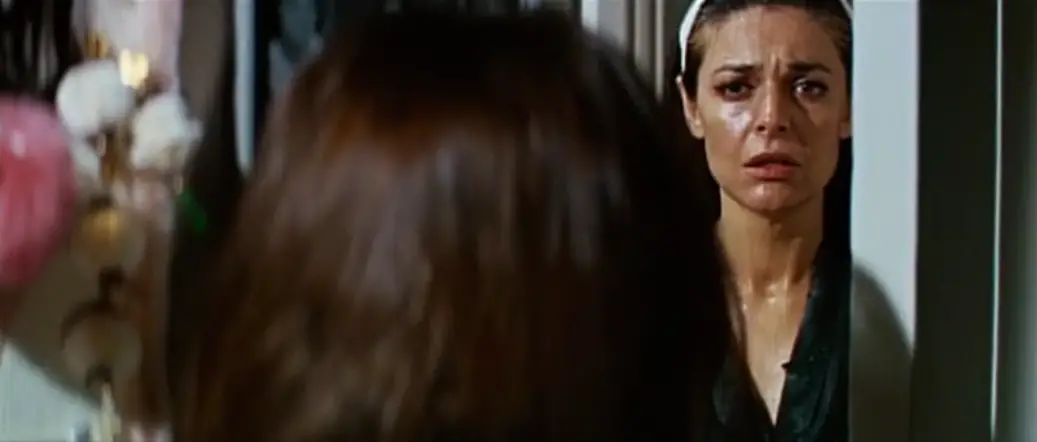 This leads to one of the film's most brilliant shots. After Elaine screams and kicks Benjamin out of her room, Nichols shows a medium close-up of Mrs. Robinson, expressionless and make-up running down her face. As she says, "Goodbye Benjamin," Nichols zooms out to leave Mrs. Robinson a small, ashamed figure deep in the frame. It's one of the greatest uses of symbolic depth of field since Orson Welles in Citizen Kane (1941).
'Jesus Loves You More Than You Will Know'
The comparisons between Mrs. Robinson and Elaine culminate at the church as Mrs. Robinson says, "It's too late!" to which Elaine yells, "Not for me!" Mrs. Robinson slaps her not because she's being rebellious, but because deep down she knows Elaine is right.
Few things are as symbolic as two young lovers locking their strict religious parents into a church using a giant wooden crucifix. Atheists will cheer the moment as a call for John Lennon's, "No religion, too," while it will likely piss off strident Evangelicals. More progressive Christians may view it as a shift from a rigid, literal interpretation of the Bible in favor of Christ's message of love. Is the crucifix Ben's final statement against the establishment, or a protective sword for true righteousness singing "Jesus loves you more than you will know?"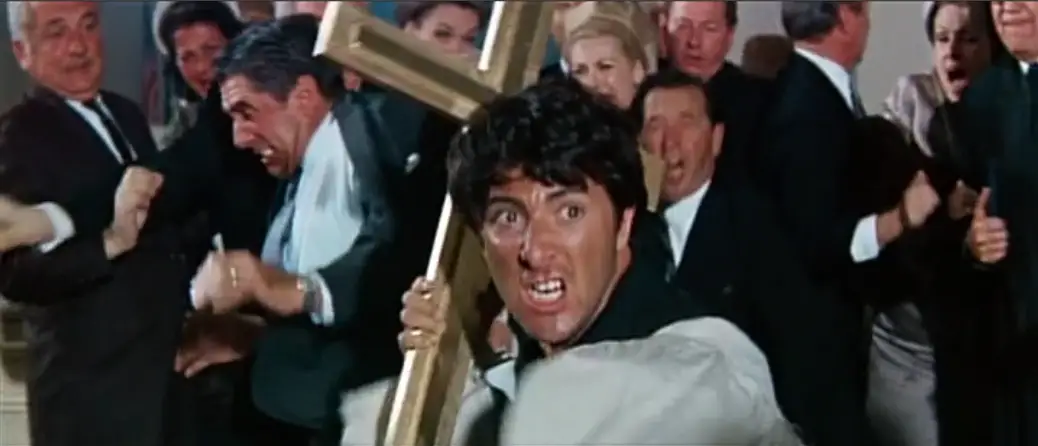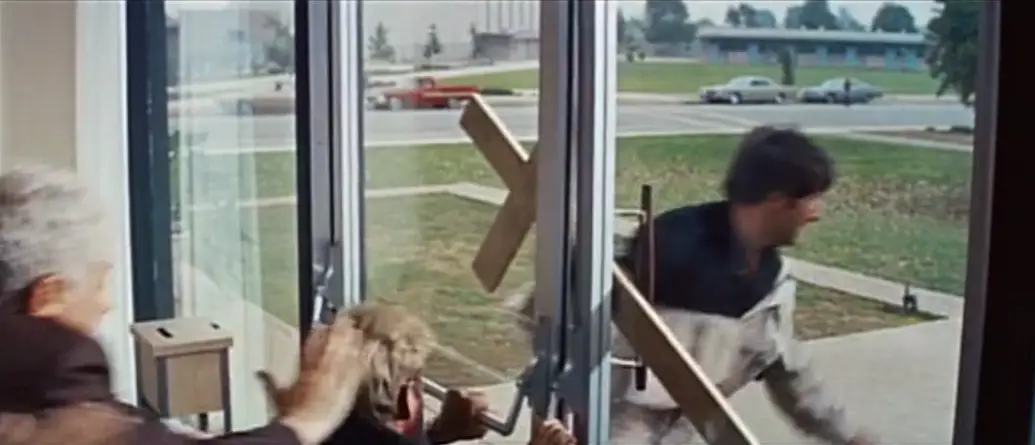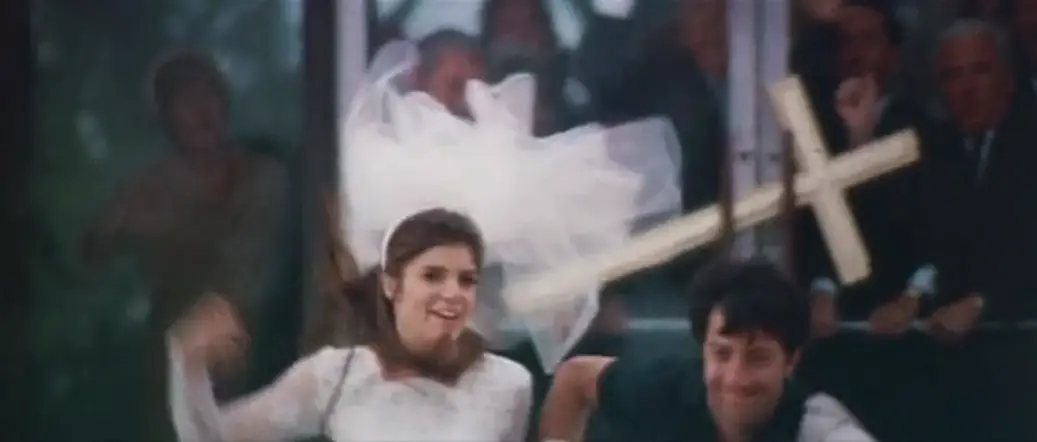 As Ben and Elaine escape the church, they hop onto a bus, trading smiles and worried faces, unsure about what to do next. As the bus rides off into the distance to "The Sound of Silence," we wonder whether the young lovers have made a huge mistake and whether their liberation attempt will fall on deaf ears, "like silent raindrops fell, echoed in the wells of silence."

Wall-to-Wall Soundtrack
Every soundtrack today owes credit to The Graduate, the first time a band provided a wall-to-wall soundtrack for a movie. Simon & Garfunkel's success launched a decade of killer soundtracks, from Cat Stevens' Harold & Maude (1971) to the Bee Gees' Saturday Night Fever (1977). You can still hear their influence each time an Elliot Smith sings on a film like Good Will Hunting (1997).
"Mrs. Robinson" topped the Billboard charts and earned Simon & Garfunkel a Grammy for Record of the Year. The song appears in various forms throughout the film, including a vocal rendition, a whistling tune and a hard-strumming guitar. The AFI ranked it the No. 6 Greatest Movie Song of All Time, ahead of classics like "When You Wish Upon a Star," and behind only "Over the Rainbow," "As Time Goes By," "Singin' in the Rain," "Moon River" and "White Christmas."
The soundtrack also includes the duo's 1966 hit "The Sound of Silence," used during the opening credits, during an Act Two sex montage and during the end credits. As Simon & Garfunkel sing, "Hear my words that I might teach you / Take my arms that I might reach you," Nichols offers his social message to his audience.
Rounding out the soundtrack is "Scarborough Fair." The movie repeatedly asks if we're going there, while ingraining its album title in our heads: "Parsley, Sage, Rosemary and Thyme."

Pop Culture
The film was a smash hit at the box office, grossing the equivalent of $967 million today. Adjusted for inflation, that makes it the 21st highest grossing movie of all time, a bigger box office smash than The Godfather (1972), Forrest Gump (1994), The Avengers (2012) and The Dark Knight (2008).
It went on to become one of the most referenced movies of all time in our pop culture lexicon, starting with a famous ad by the Peace Corps, re-enacting the opening graduation party.
In 1992, the Lemondheads scored an alternative rock hit with their cover of "Mrs. Robinson."
That same year in Robert Altman's The Player (1992), Buck Henry pitches a sequel set 25 years later where Ben and Elaine are married and Mrs. Robinson has had a stroke.
Pulp Fiction (1994), recreates the popping toaster from The Graduate's scene where Ben tells his parents about his wedding plans.
In Nichols own film The Birdcage (1996), Albert returns to the apartment only to get his toothbrush, saying it's all he'll need where he is going. It's a clear reference to The Graduate, where Ben's only piece of luggage is a toothbrush when he stays at the hotel with Mrs. Robinson.
The Graduate also provided a blueprint for Wes Anderson's Rushmore (1998) in how to make a coming-of-age story about a young man and an older women, all set to a rock soundtrack. The scuba scene also inspired a running underwater gag in Anderson's films.
Perhaps most memorably, Simon & Garfunkel's "Mrs. Robinson" plays in the background to Stifler's Mom in American Pie (1999).
Stifler himself appears in a scene in Old School (2003), where a drowsy Will Ferrell falls into a swimming pool, cuing "The Sounds of Silence."
The vertical stripe technique is repeated by Jay Roach in Meet the Parents (2000), as Ben Stiller feels trapped by Robert DeNiro's CIA tactics.
Rob Reiner's Rumor Has It… (2005) starred Jennifer Aniston as a woman who learns her family was the inspiration for "The Graduate," and that she might be the offspring of the affair.
In Shrek 2 (2004), Shrek bangs on the glass and screams "Fiona" much like Benjamin yelling "Elaine" while banging the glass in The Graduate wedding scene.
The Graduate is referenced heavily in (500) Days of Summer (2009), where Joseph Gordon-Levitt and Zooey Deschanel disagree over the film's ending. He thinks it's a happy ending, while she cries.

Legacy
As evidenced by all of the pop culture references, The Graduate remains one of the great examples of a popular film done artfully. Thankfully, it's getting the acclaim it deserves.
The film ranked No. 36 on TV Guide's Top 50, No. 55 on Entertainment Weekly's Top 100 and No. 50 on Rolling Stone's 100 Maverick Movies. It also made Vanity Fair's Top 50, AMC Filmsite's Top 100 and the IMDB Top 250. Unfortunately, the film fell from No. 7 on the AFI's original Top 100 list down to No. 17 in its 10th Anniversary list, bringing On the Waterfront down with it from No. 8 to  No. 18. If it somehow climbs back into the Top 10 in the future, it would be fine by me.
Critics can name me a list of art masterpieces, while mainstreamers can name me a list of popular favorites. But both will be hard pressed to name a film this artistic that caught on so wildly with the mainstream imagination.
Beyond the best lists and pop culture references, The Graduate's true legacy is how it changed the world. The film remains a snapshot of a generation's feelings during a tumultuous period, the ripple effect of which continues to be felt. In a way, the entire nation graduated with Benjamin and Elaine, and continues to search its way, asking "where have you gone Joe DiMaggio" like a bunch of Mrs. Robinsons, our collective faces morphing from joyous smiles to uncertain fears like two young kids on a newlywed bus headed for the horizon.

Citations:
CITE A: AMC's "Movies that Shook the World" documentary