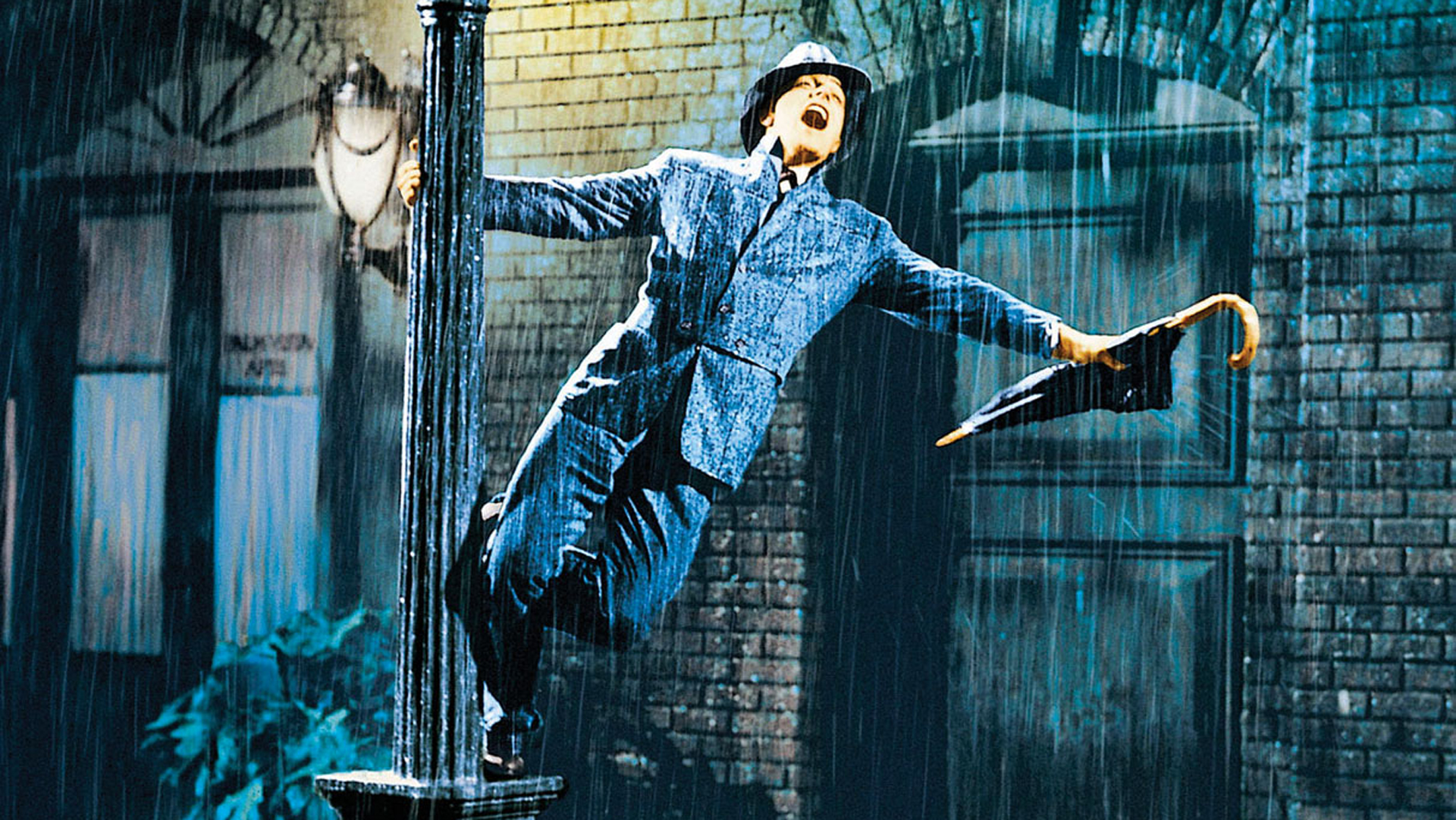 Director: Stanley Donen, Gene Kelly
Producer: Arthur Freed (MGM)
Writers: Betty Comden, Adolph Green (screenplay)
Photography: Harold Rosson
Music: Lennie Hayton
Cast: Gene Kelly, Donald O'Connor, Debbie Reynolds, Jean Hagen, Millard Mitchell, Cyd Charisse, Douglas Fowley, Rita Moreno

Introduction
"Now you could study Shakespeare and be quite elite /
And you can charm the critics and have nothin' to eat /
Just slip on a banana peel, the world's at your feet /
Make 'em laugh, Make 'em laugh, Make 'em laugh!"
Such lyrics prove why Singin' in the Rain is one of the most revered movies of all time – across both sides of the film spectrum. It at once charms the elite critics — voted No. 5 on the AFI Top 100 and No. 20 on the Sight & Sound critics poll — while equally entertaining the masses, who vote it No. 85 on the IMDB Top 250. You don't know how many times I've heard colleagues say, "I can't stand musicals, but you know, that Singin' in the Rain is alright." Imagine what those of us who love musicals think.
The film is more than just a movie musical; it's a musical about a musical, and a movie about movies. Granted, it wasn't the first in this regard, from Busby Berkeley's Footlight Parade (1933) to Preston Sturges' Sullivan's Travels (1941) to Billy Wilder's Sunset Blvd. (1950). It also wasn't the last, followed by Vincente Minnelli's The Bad and the Beautiful (1952), Federico Fellini's 8 1/2 (1963), Robert Altman's The Player (1992) and Michel Hazanavicius's The Artist (2011), which owes much credit in terms of plot and style. Any of these films could take the title of either most artistically significant (8 1/2) or most entertaining (Sullivan's Travels), but none walks the line better than Singin' in the Rain, the height of the MGM Technicolor musical era.
Plot Summary
Don Lockwood (Gene Kelly) and Lina Lamont (Jean Hagen) are the world's two biggest silent film stars in 1927. The Lockwood-Lamont duo is the biggest cash cow for Hollywood's (fictional) Monumental Studios. Yet across town, an upstart studio called Warner Brothers is about to release The Jazz Singer, history's first talking picture. Though many deem talking pictures a short-lived fad, The Jazz Singer is a surprise smash hit. This causes other studios to scramble to make their own talkies, and Monumental Studios decides to turn its latest Lockwood-Lamont picture, a swashbuckler called The Dueling Cavalier, into a talking picture. Unfortunately for the studio, the idea is better in theory than in practice.
A whole host of problems arises, namely the fact that Lina's speaking voice is "excruciating." Hard on the ears and heavy on Bronx accent, Lina's whiny voice causes studio heads to cringe, realizing that their famous silent duo is doomed once audiences hear the audio. The project is eventually pulled, leaving Don heartbroken, thinking he has been bypassed by his craft, and even worse, that he was never a true actor to begin with.
It takes a couple of friends, Cosmo Brown (Donald O'Connor), his old vaudeville partner, and Kathy Selden (Debbie Reynolds), an aspiring actress, to lift his spirits. Together, they stay up all night and come up with an idea to save Don's career — why not transform The Dueling Cavalier into a musical with Kathy's voice dubbed over Lina's? The studio heads jump at the idea, and the transformation begins. That is until Lina's jealousy threatens to ruin the whole thing.
Screenplay: Silents vs. Talkies

The screenplay, by Betty Comden and Adolph Green, follows the same general storyline as Once in a Lifetime (1932), adapted from Moss Hart and George S. Kaufman's play about Hollywood's transition from silents to talkies. (D) Even so, Comden and Green's version was recently voted the WGA's #65 Greatest Screenplay of All Time. That's incredibly rare for a musical, a genre that mostly relies on song lyrics.
Here, the greatness is the film's brilliant depiction of the awkward and frustrating transition from silent to talking pictures. Not only did actors have to speak into microphones and worry about pronunciation ("rrround tonesss"), directors were more limited in blocking the actors. They had to come up with innovative ways of placing microphones on the soundstage, attaching them on everything from props to costumes, leading to a hysterical scene where the director repeatedly yells, "Quiet please! Roll 'em!"
The whole thing recalls the lament of Sunset Blvd.'s Norma Desmond: "Back then we didn't need to talk. We had faces." It was a real problem that ended the careers of Charlie Chaplin, Buster Keaton, Mary Pickford and Douglas Fairbanks, and we can see why through Lina's struggle with the words: "I caaaaan't stand 'em!"
Performances
Jean Hagen's performance deservedly earned her an Oscar nomination for Supporting Actress. She was the favorite to win, but was upset by The Bad and the Beautiful's Gloria Grahame (Violet Bick in It's a Wonderful Life). Hagen is absolutely hysterical, as lovably annoying an antagonist as any in the movies.
Even funnier is Donald O'Connor, who won a Golden Globe for Best Actor in a Musical/Comedy and whose support of Gene Kelly rivals that of Danny Kaye for Bing Crosby.
Debbie Reynolds was not yet 20 and had never danced before when she was selected as Don's love interest. Little did she know her amateur dancing would share the screen with such musical legends as Rita Moreno (West Side Story) and Cyd Charisse (The Band Wagon).
Still, there's no doubt that Gene Kelly steals the show, cementing his legend after a decade of lead roles in MGM musicals: spinning with Judy Garland in For Me and My Gal (1942); nominated for an Oscar with the animated Jerry the Mouse in Anchors Aweigh (1945); strutting around New York in sailor suits with Frank Sinatra in On the Town (1949); and doing his trademark slow turn by the Seine in An American in Paris (1951). The lattermost finally gained Kelly the recognition he deserved, winning Best Picture and an Honorary Oscar for his "versatility as an actor, singer, director and dancer, and specifically for his brilliant achievements in the art of choreography on film."
He truly was a quadruple threat. Critic David Thomson wrote that Kelly sang "with that pleasant note of strained voice." (A) But what he lacked in pure singing talent, he made up for tenfold in charm and dancing chops. While their dance styles were very different, Fred Astaire deeply admired his friendly rival Kelly: "You know, that Kelly, he's just terrific. That's all there is to it. He dances like crazy, he directs like crazy. I adore this guy. I really am crazy about his work." (B)
The Music
Kelly and co-director Stanley Donen chose to shoot many of the dance numbers in long single-takes, making the choreography all the more impressive. They benefited greatly from the musical numbers by Arthur Freed (lyrics) and Nacio Herb Brown (music), as well as the Oscar-nominated musical score by Lennie Hayton, who had won previously for Donen and Kelly's On the Town (1949) and later with Hello, Dolly! (1969).
I suppose the film loses originality points because many of the songs were used in prior MGM musicals. The film's only original pieces are "Fit as a Fiddle" and "Moses Supposes." The former carries an opening montage of Don and Cosmo's vaudeville days, where Kelly and O'Connor perform synchronized taps while treating their fiddles like yo yo's. The latter is a tongue twister watching Kelly and O'Connor tap dancing their way to terrorizing a voice coach.
If those songs have you smiling from ear to ear, "Make 'Em Laugh" is a riot. A reworking of "Be a Clown" from The Pirate (1948), the song is a hilarious one-man show voted #49 on AFI's 100 Movie Songs. O'Connor is unreal, performing tricks with his hat, swimming across a moving 2×4, tussling with a headless dummy, contorting his face like rubber, throwing himself on the ground with reckless abandon, spinning on the ground like Curly of The Three Stooges, and doing backflips off various studio flats. It's numbers like this that earned Singin in the Rain' a No. 16 spot on the AFI's 100 Laughs.
One can imagine how intimidated Reynolds must have been to dance with these two in "Good Morning," a cheery number you've heard even if you've never seen the movie. Originally appearing in the Judy Garland-Mickey Rooney film Babes in Arms (1939), it's the Singin' in the Rain version that landed No. 72 on the AFI's 100 Movie Songs. You'd never know Reynolds was a rookie, as she hangs with the masters.
"I think we rehearsed that number at least six weeks easily," Reynolds said. "And I probably rehearsed that number three months, because I had never danced, so to dance with Gene Kelly and Donald O'Connor, I was thinking, how did I do that?" (C)
The most touching numbers come when Kelly and Reynolds share the screen alone. Their duet "You Are My Lucky Star" has previously been performed in Broadway Melody of 1936 (1935) and Babes in Arms, but here Kelly makes us feel as if he's singing it to Reynolds for the first time.
Most touching is the beautiful ballad "You Were Meant For Me," first performed in The Broadway Melody (1929) and Hollywood Revue of 1929 (1929), but never more beautiful than here, as Kelly serenades Reynolds on an empty studio stage. It simply does not get more romantic than watching a resourceful Kelly woo his love by rounding up various stage elements — a fog machine, a fan, a ladder, sunset backdrops and overhead lights pumping out "500,000 kilowatts of stardust."
Most artistic is "All I Do Is Dream of You," first appearing in Sadie McKee (1934), and "Broadway Rhythm," first appearing in Broadway Melody of 1936 and Babes in Arms. The former is a collage of fashion models and a sensory overload of visuals, art direction and wardrobe.
The latter is part of the film's giant set piece, the "Broadway Melody Ballet." Similar to the dream sequence in An American in Paris, Kelly describes Don's rise through show business via dance, reprising the chorus "Gotta Dance," while spoofing classic movies like George Raft's coin-flipping in Scarface (1932). The sequence may drag on too long for some viewers, but scholar David Thomson says part of the point is to parody the genre: "Remember that moment when Kelly's buildup dissolves into the 'Broadway Ballet' sequence — a good ten-minute exercise — only for the producer, Millard Mitchell, to say, 'I can't quite visualize it.'" (A) Either way, it's worth it for no other reason than the arrival of Cyd Charisse.
As Kelly slides on his knees to pick up his hat, he finds it dangling from the green high heel of Charisse. A slow pan up her long, sumptuous leg stops our hearts, and the two proceed to put on a clinic dancing across an endless purple backdrop, as the white fabric of Charisse's dress flows poetically in the breeze. She never speaks and is only on screen for a few minutes, but she steals the number. Not surprisingly, within a year, she had a lead role across Astaire in The Band Wagon (1953).
Still, the film's most famous number is, of course, the title song, ranking No. 3 on the AFI's 100 Movie Songs, behind "Over the Rainbow" and "As Time Goes By." Originally appearing in MGM's Hollywood Revue of 1929 (1929), the number is pure celluloid joy, with Kelly twirling umbrellas down a rainy MGM studio street, tightrope-walking a curb, splashing in puddles and hanging on a lamppost in one of the most iconic poses in movie history. The moment is the peak of the Golden Age of Arthur Freed MGM musicals, made all the more impressive by the fact that Kelly had a 103-degree fever and had to remember the complex choreography for extended single takes. "It's all enormous detail," Donen said, "down to where the puddles are going to be, when he splashes in them, on what beat." (C)
Pop Culture Impact
This song alone has been the source of countless pop culture references. It was reinterpreted for horrific effect during the rape scene in A Clockwork Orange (1971).
Scenes of Kelly and Reynolds would be repeated with Fred Astaire and Charisse in Silk Stockings (1957), dancing across a number of empty studio sets. In Crimes and Misdemeanors (1989), Woody Allen's character watches Singin in the Rain "every few months to keep my spirits up."And in Seinfeld, Elaine struts into Monk's Diner singing "Good Morning."
In Moulin Rouge! (2001), Ewan McGregor poses like Gene Kelly with an umbrella during the Elephant Medley. Austin Powers spoofs it an extended portion of the opening credits sequence of Goldmember.
Most fascinating, R&B star Usher re-enacted Kelly's dance step-for-step in the TV tribute "Movies Rock."
Legacy
From the legendary musical numbers to the charming performances, it's easy to see why Sight & Sound said the film was "impossible to watch without a smile on your face." In 2002, it ranked No. 10 on the Sight & Sound critics poll, beating out Kurosawa's The Seven Samurai (1954), Ford's The Searchers (1956) and Godard's Breathless (1959). It's since fallen to No. 20, which is still above Antonioni's L'avventura, Coppola's The Godfather, Dreyer's Ordet and Kar-Wai's In the Mood for Love.
Its No. 5 spot on the AFI's Top 100 is equally as impressive, beating out such classics as Gone With the Wind (1939), Lawrence of Arabia (1962), Vertigo (1958) and Schindler's List (1993). Which brings us back to the AFI's claim that Singin' in the Rain it's the greatest musical ever made. That's a bold statement considering the competition — West Side Story, The Wizard of Oz, The Sound of Music, Grease, Mary Poppins, Chicago, Cabaret, etc. But when you stop and think about it, you're hard-pressed to find a musical with a better combination of humor, drama, romance, art, direction, choreography, fancy footwork, lovable faces, memorable songs, and a fascinating yet historically educational plot.
All this combines to work toward one admirable goal: to make light of life. There's a famous quote by soul singer Vivian Green that says, "Life is not about waiting for the storm to pass. It's about learning to dance in the rain." When Gene Kelly laughs at the dark clouds, so dark up above, he's turning a negative into a positive, looking at life in a new way. What a glorious feeling.

Citations:

CITE A: David Thomson, New Biographical Dictionary of Film
CITE B: IMDB Trivia
CITE C: AFI's 100 Years 100 Movies: 10th Anniversary Edition
CITE D: Tim Dirks, Filmsite.org