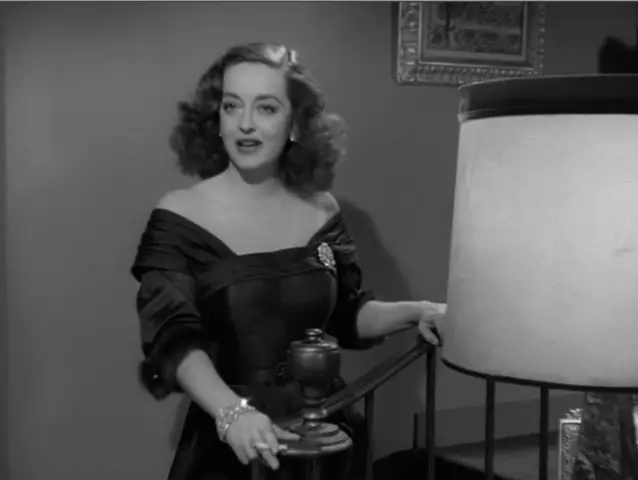 Director: Joseph L. Mankiewicz
Writer: Joseph L. Mankiewicz (screenplay), Mary Orr (story)
Producer: Darryl F. Zanuck (20th Century Fox)
Photography: Milton R. Krasner
Music: Alfred Newman
Cast: Bette Davis, Anne Baxter, George Sanders, Celeste Holm, Gary Merrill, Marilyn Monroe, Thelma Ritter, Hugh Marlowe, Gregory Ratoff, Barbara Bates, Walter Hampden, Randy Stuart, Craig Hill, Leland Harris, Barbara White


The Rundown

"The show must go on."
"No dear, Margo must go on."
Bette Davis was Hollywood royalty, so respected that she was named the very first female president of the Academy of Motion Picture Arts and Sciences. She was also so independent that she resigned when the Academy wouldn't let her open the 1942 Oscars to the public and donate the proceeds to British war relief. After her resignation, studio head Darryl F. Zanuck said she would never work in Hollywood again. But there he was, eight years later, signing her to play the lead role of Margo Channing in All About Eve. It was a risky project, untouched for years by studios who were uneasy about its unflattering presentation of showbiz as a world of opportunistic, backstabbing scum. No business like it, indeed.
The film was fittingly released the same year as Sunset Blvd., where Billy Wilder cast just as cynical a lens on the film industry. Thus 1950 will forever stand as the year that show business was its most self-reflexive and its most self-critical. While Sunset Blvd. usually ranks slightly higher on best lists today, it was All About Eve that dominated in 1950, garnering a record 14 Academy Award nominations (tied with Titanic for the most in history) and winning six, including Best Picture (Zanuck), Best Director (Joseph L. Mankiewicz), Best Screenplay (Mankiewicz) and Best Actor (George Sanders).

Plot Summary
Based on "The Wisdom of Eve," a Cosmopolitan short story and radio play by Mary Orr, the film opens at an awards show honoring Broadway star Eve Harrington (Anne Baxter) with theater's highest honor, the Sarah Siddons Award. Sitting around the banquet are all of Eve's closest associates, the most important of whom is Margo Channing (Bette Davis), a Broadway legend who treats mink coats as if they were panchos and who at age 40 fears her best days are behind her. (G) Joining her is boyfriend and theater director Bill Sampson (Gary Merrill), famous playwright Lloyd Richards (Hugh Marlowe), his wife Karen Richards (Celeste Holm), producer Max Fabian (Gregory Ratoff) and snarky theater critic Addison DeWitt (George Sanders).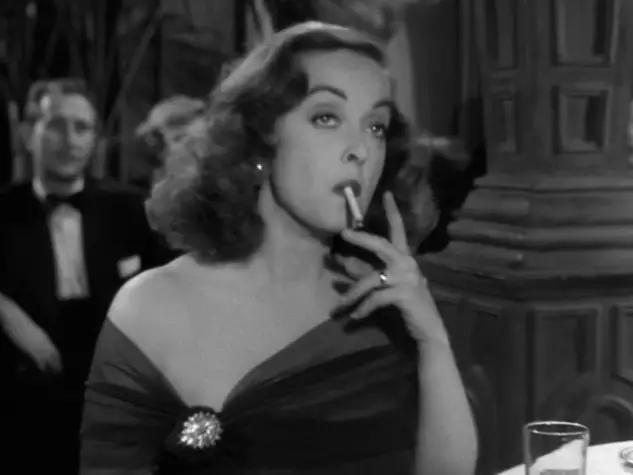 The unenthused reactions of these characters hints that all is not okay, while DeWitt introduces himself in cocky narration: "To those of you who do not read, attend the theater, listen to unsponsored radio programs or know anything of the world in which you live, it's perhaps necessary to introduce myself." He then proceeds with the promise to tell us "all about Eve."
What follows is an extended flashback, explaining everything leading up to this award ceremony, beginning the night Karen first meets Eve, standing outside one of Margo's plays on the streets of Broadway. Rain-soaked and penniless, Eve is Margo's biggest fan, having followed the tour all the way from San Francisco to New York and attending all the shows in standing room only. As Eve says, "If I didn't see the play, I wouldn't have anywhere else to go."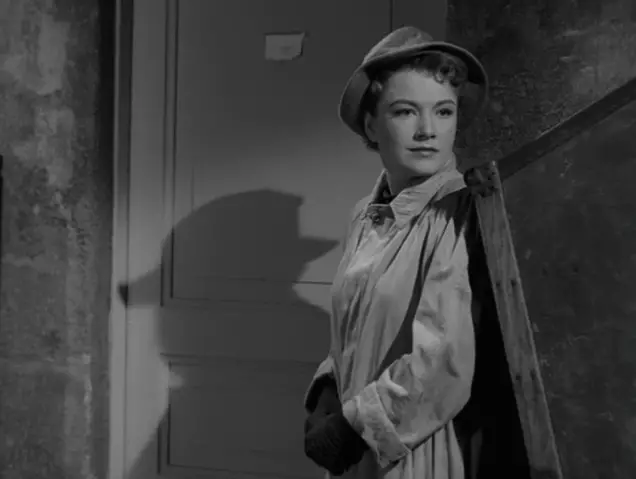 Admiring Eve's ambition and devotion, Karen takes Eve under her wing and offers to introduce her to Margo backstage, where she also meets Karen's husband Lloyd, Margo's lover Bill and Margo's dresser Birdie (Thelma Ritter). Of course, Eve is thrilled to meet her idol, and after initial resistence, Margo comes to enjoy Eve stroking her ego. She adopts her as a sort of protege intern, much to the shagrin of Birdie, who suspects Eve has more than adolation in mind. Soon, Margo gets to feeling the same thing, recognizing Eve as a serious threat to her own aging career.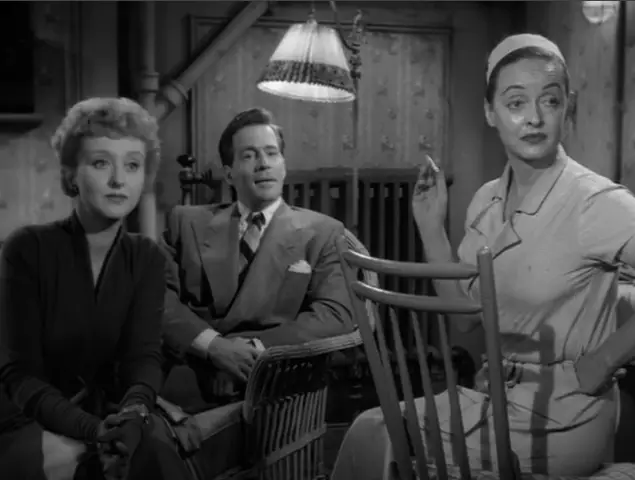 Eve works her way up to become Margo's understudy, and seizes the moment when Margo misses a performance, thanks to a practical joke by Karen meant as a necessary "boot in the rear." With Margo stranded on the side of the road, Eve fills in and earns rave reviews from the very critics she personally invited to the show, most importantly Addison DeWitt. On a power streak, Eve decides she must also overtake Margo's personal life, courting her main man Bill.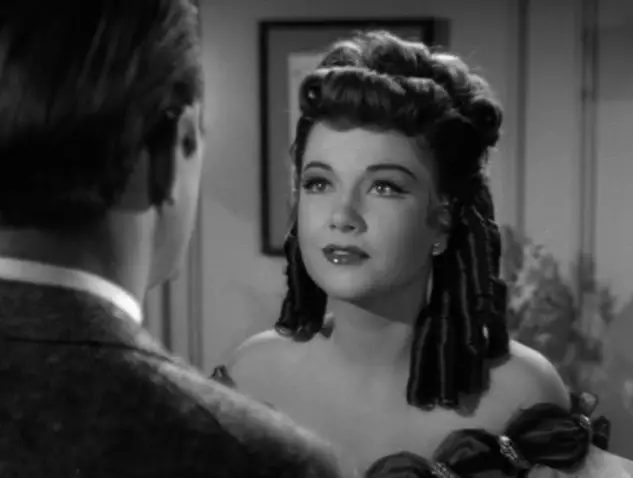 Her coup de grace is to blackmail Karen into getting the part of Cora in Footsteps on the Ceiling, a play Lloyd wrote specifically for Margo. Turns out it doesn't matter, as Margo has decided to marry Bill and no longer wants the part: "I've finally got a life to live. I don't have to play parts I'm too old for just because I've got nothing to do with my nights." Thus Eve gets the part, but her own undoing is upon her. Turns out DeWitt is every bit as conniving as Eve, digging up dirt on her naughty little past and using it to blackmail her as his mistress: "I'm Addison DeWitt. I'm nobody's fool, least of all yours." Having exposed her, DeWitt gets her to admit that she belongs to him, though we know he'll drop her the minute a new starlett comes along, one in a new crop of eager understudies waiting anxiously in the wings.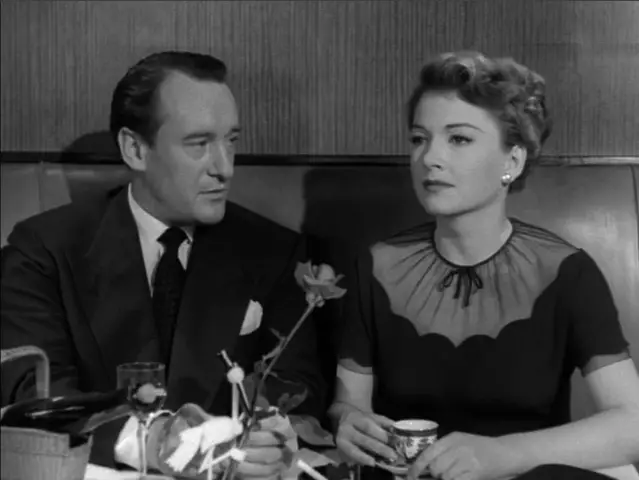 Screenplay
The Oscar-winning script allowed Joseph Mankiewicz to climb out from under the shadow of his older brother, Herman, who had earned an Oscar for writing one of the all-time great scripts in Citizen Kane (1941). Ironically, Joseph had to compete at the Oscars against the man who had once replaced Herman as theater critic for The New Yorker, Charles Brackett, who co-wrote Sunset Blvd. To weigh two such masterful scripts the same year must have been impossible. Luckily, by 1950 rules, both took the gold, with Eve winning Best Screenplay and Sunset Blvd. winning Best Writing: Story and Screenplay.
For those who like to play such games, Eve holds the title for the better writing, ranking #5 on the WGA's 101 Greatest Screenplays, two spots ahead of Sunset Blvd. Think about that for a second. In all the scripts that have ever been written, this is one of the the five best. Alas, the shadow of the older brother remains, for one spot ahead of Eve at #4 is Herman's Kane.
Like Kane, All About Eve revolutionized the sort of non-linear, fratured narrative structure to which we've become so accustomed. It was one of three phenomenal examples of fractured narratives that year, joining Wilder's Sunset Blvd. and Akira Kurosawa's Rashomon. Like Pulp Fiction (1994) and others to follow, Eve begins with its ending, then loops back around to that same scene at the end. How clever that the scene featured both at the beginning and the end is an award ceremony, where the person giving the acceptance speech may actually be hated by all those she's thanking!
We dive into this idea in one long extended flashback, where voiceovers from various characters unravel the story in a way that we think we know who we are rooting for. But by the time the film's third act arrives, we have totally different sentiments for the film's characters, and that is the true brilliance of the script. We watch Margo go from snobby heel to sympathetic victim, and Eve from naive innocent to conniving bitch. It's only natural that, smack dab in the middle of that journey, we side with Bill as he tells Margo to grow up:
BILL SAMPSON: Darling, there are certain characteristics for which you are famous onstage and off. I love you for some of them and in spite of others. I haven't let those become too important. They're part of your equipment for getting along in what is laughingly called our environment. You have to keep your teeth sharp, all right. But I will not have you sharpen them on me — or on Eve. … So when you start judging an idealistic, dreamy-eyed kid by the barroom benzedrine standards of this megalomaniac society, I won't have it. Eve Harrington has never by word, look, thought or suggestion indicated anything to me but her adoration for you and her happiness at our being in love. And to intimate anything else doesn't spell jealousy to me. It spells out paranoiac insecurity that you should be ashamed of.
If you think that monologue oozes beautiful prose, Mankiewicz has plenty where that came from. His best dialogue comes in those moments where Margo levies her own verbal jabs: "Everybody's got a heart. Except some people;" "Nice speech, Eve. But I wouldn't worry too much about your heart. You can always put that award where your heart ought to be;" "We are all busy little bees, full of stings, making honey day and night. Aren't we honey?"
For such crackling dialogue, Entertainment Weekly called All About Eve "a smooth sip of champagne with a sprinkle of arsenic." Davis so loved the dialogue that she broke her reputation for always rewriting scripts and didn't touch one word Mankiewicz had written. (G) It's easy to see why in scenes like this brilliant three-way exchange showing Bill's sympathy toward Eve, Eve's shrewdness in copying Margo, and Margo's biting interjections:
EVE: Is there anything else I can do?
MARGO: Thank you, Eve. I'd like a martini, very dry.
BILL: I'll get it. [To Eve] What'll you have?
MARGO: A milkshake?
EVE: A martini, very dry.
This same party scene provides the film's most famous line, as Davis provides a new common phrase for trouble in the air: "Fasten your seatbelts. It's going to be a bumpy night." The line has since evolved into "a bumpy ride," but it's one we've all used, most of us not even knowing its origin. The sheer popularity of the line landed it as high as #9 on the AFI's 100 Movie Quotes.

Bette Davis Returns
The cattiness owes much to Davis, who unleashes the same fangs she sunk into Joan Crawford off screen, while flashing those famous eyes in several knowing looks to Ritter. Her best moment may come without dialogue entirely, as she storms down the theater aisle and swings the edge of her mink coat right over Max Fabian's face. As film historian Tony Maietta said, "Bette Davis was not so much an actress as she was a force of nature. And woe to those who got in her path when she was on a mission." (H)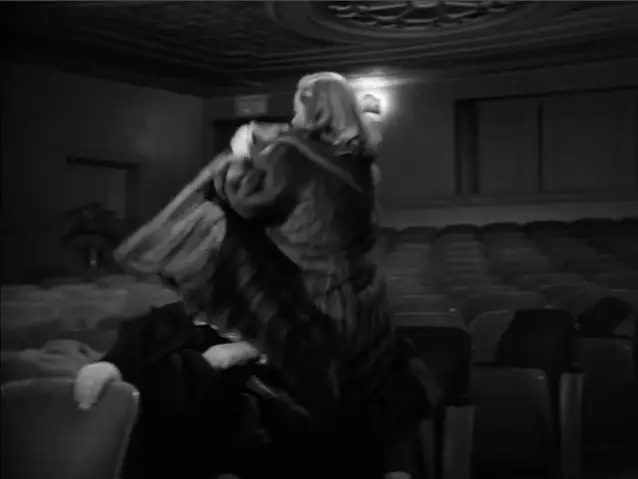 Still, her fiery moments are only part of the equation. She's just as powerful delivering Mankiewicz's most tender stuff, like this moment of self-realization shared with Karen in the backseat of a broken-down car:
MARGO: Funny business, a woman's career. The things you drop on your way up the ladder so you can move faster. You forget you'll need them again when you get back to being a woman. There's one career all females have in common, whether we like it or not — being a woman. Sooner or later we've got to work at it, no matter how many careers we've had or wanted. And in the last analysis, nothing's any good unless you can look up just before dinner or turn around in bed and there he is. Without that you're not a woman.
Davis felt forever in debt to Mankiewicz, calling him a "genius" and "the man responsible for the greatest role of my career. He resurrected me from the dead." (B) Death had never been so hard earned. From 1934-1944, Davis had launched a streak of eight Oscar nominations, starting with Of Human Bondage (1934), where her initial snub was overridden by an outpouring of support demanding a write-in vote. Once on the ballot, she was considered a shoe-in, but was upset by Claudette Colbert for It Happened One Night (1934) — the same Colbert whom Mankiewicz originally wanted to play Margo Channing, until she broke her back on the set of Three Came Home. (E) Davis finally got her Oscar the following year for Dangerous (1935) and earned her second with her magnificent performance in Jezebel (1938). Nominations continued for Dark Victory (1939), The Letter (1940), The Little Foxes (1941), Now Voyager (1942) and Mr. Skeffington (1944).
At this point, her career began to falter with box office flops, terrible material and an infamous clash with Jack Warner, causing her to leave Warner Bros. after 18 years. (G) Enter Mankiewicz and All About Eve, who cast a 42-year-old Davis for the role of a lifetime. Not only did it allow her to play a role near and dear to her heart — that of fading superstar — it introduced her Gary Merrill, whom she fell in love with on set and married later that year.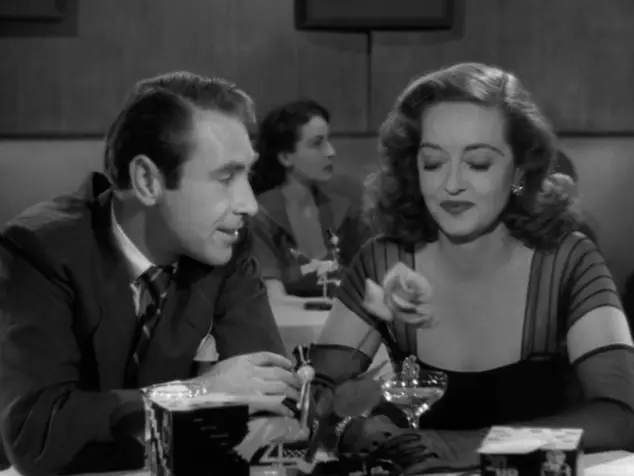 It was a tour de force comeback, ranked by Premiere magazine as one of the Top 5 acting jobs ever done and turning Margo Channing into the #11 Greatest Movie Character of All Time. While Davis won the Best Actress prize at Cannes, she lost the Oscar to Judy Holliday for Born Yesterday (1950). One has to smile at the thought of Davis sitting there at the Oscars, staring up at Holliday exactly the way Margo does Eve, knowing that she and she alone deserved the award.
Two more Oscar nods came for The Star (1952) and What Ever Happened to Baby Jane? (1962), but in both she played washed up movie queens — a role Eve had invented for her. It was no surprise that in 1977, she became the first woman to win the AFI Lifetime Achievement Award, and in 1999, the AFI named Davis the #2 female star of all time, behind only Katharine Hepburn. If you need any motivation to watch All About Eve, psych yourself up to watch one of Hollywood's greatest stars, appearing in her greatest role.

All About Casting
One could easily argue that Eve boasts the greatest cast in the history of movies. Davis was just one of five — count 'em — five actors nominated for Oscars, a record shared only by Mrs. Miniver (1942), From Here to Eternity (1953), On the Waterfront (1954), Peyton Place (1957), Tom Jones (1963), Bonnie and Clyde (1967), The Godfather Part II (1974) and Network (1976). Of those five acting nominations, a record four went to actress, making All About Eve one of film's great showcases for female talent.
Reigniting the rivalry between Margo and Eve, Baxter pressured the Academy to put her in the Best Actress category alongside Davis. This split the vote enough for Judy Holliday to slide in for the win with Born Yesterday (1950). (E) It was Baxter's second and final nomination, just four years after her win for The Razor's Edge (1946). Zanuck had originally wanted Jeanne Craine for the part, but Mankiewicz pushed hard for Baxter, whom he said had just the right "bitch virtuosity." (G) To these eyes, her performance has patches that are overdramatic and thus date the film. Still, in a weird way, it kind of works, if only because her character is that phony. Either way, Baxter created the AFI's #23 Greatest Villain of All Time and was able to stand her ground next to Davis, who like in the film, was an established star by the time Baxter even got to Hollywood.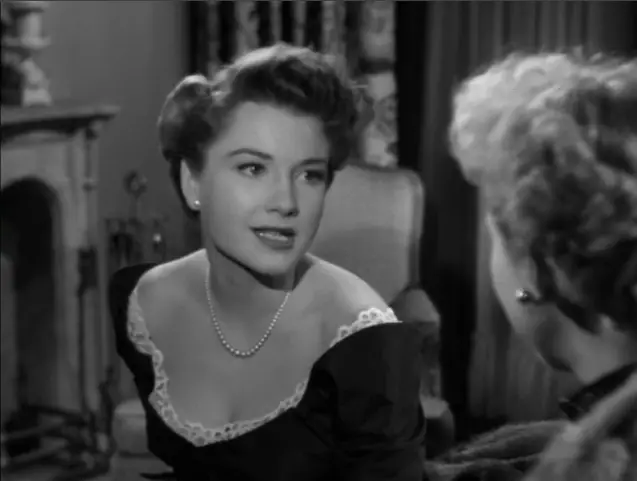 Baxter came from a good crop, the granddaughter of Guggenheim architect Frank Lloyd Wright, and was a fitting cast for an aspiring stage actress. After all, she had made her stage debut in Seen But Not Heard at age 12, getting fabulous reviews from the Broadway critics. By age 17 she had signed a contract with 20th Century Fox, and at 19, she was acting in Orson Welles' The Magnificient Ambersons (1942). Yet no matter how big a star she became — big enough to play Queen Nefretiri in De Mille's The Ten Commandments (1956) — she always kept a love for the theater. So when All About Eve was turned into the 1970 musical Applause, and Lauren Bacall left the cast after winning a Tony, it was the courageous Baxter who stepped in to play the role of Margo Channing — a choice critic David Thomson called "one of life's braver attempts to match art." (A)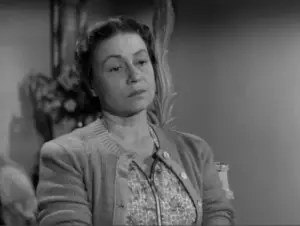 In the supporting actress category, Eve brought nominations to two more talented actresses — Thelma Ritter and Celeste Holm.
Ritter is superb as Davis' dresser and is given almost as many great lines as Davis: "What a story! Everything but the  bloodhounds snappin' at her rear end."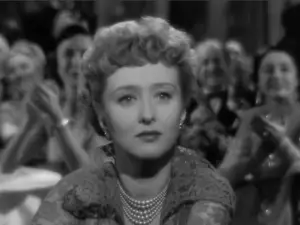 She has to be one of the most enjoyable character actors of the 1950s, earning her first of six Oscar nominations and following Eve with Pickup on South Street (1953) and Rear Window (1954).
As for Holm, it was her third nomination in four years, starting with her win for Best Picture winner Gentleman's Agreement (1947). She had actually just left Fox after a heated contract dispute with Zanuck, who was forced to eat crow and rehire her when Mankiewicz insisted she play Karen.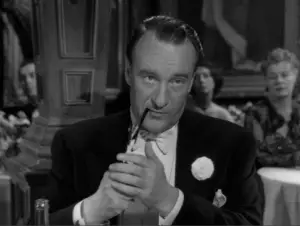 Ironically, it was the film's only male nomination that actually won the Oscar, the power performance amidst all the cat fighting, that of George Sanders, whose voice many will recognize as the tiger Shere Kahn in The Jungle Book (1967). When Sanders won the Oscar, he started weeping and said, "I can't help it. This has unnerved me." (D) It was a display of emotion that was the antithesis of his Addison DeWitt, a sneering man with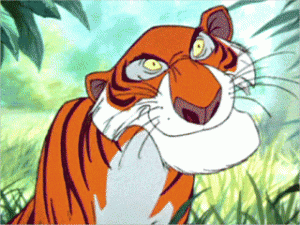 high-brow eloquence. Never has there been an actor who entertained us so much by looking so cynically down his nose — a cynicism that led to real-life tragedy. When Sanders was found dead in a Barcelona hotel in 1972, his suicide note said it all — Dear World, I am leaving because I am bored. I feel I have lived long enough. I am leaving you with your worries in this sweet cesspool. Good luck. (A)    
Tragically, Eve is often remembered as the "three suicide movie," for the deaths of Sanders (the drug Nembutal), Barbara Bates (carbon monoxide) and the film's most famous supporting actress, Marilyn Monroe (conspiracies remain that the overdose may have been accidental or murder). (C) All About Eve was an important step for Monroe, who the very same year appeared in The Asphalt Jungle (1950) and took part in her first and only Academy Awards as a presenter the night Eve took Best Picture. (D)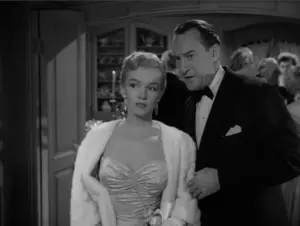 Ironically, Zanuck had fired her two years prior for being "unphotogenic." (G) How preposterous. Her role as the ditzy blonde who comes to a party on DeWitt's arm was short but memorable. If not good acting, it's at least a self-depricating nod to her own airheadedness, mined perfectly for comedy. It's a commentary on her own career the way she allows Sanders to mock her, saying she trained at the "Copacabana School of Dramatic Arts."

Broadway is Dark Tonight
In such a way, Mankiewicz uses his characters to express his own sardonic views on the theater industry. As Eve first looks out from backstage at an empty theater and says, "You can breath it can't you? It's a magic perfume," Mankiewicz both admits his own romanticism and acknowledges that the perfume can be toxic. When DeWitt offers Eve words of wisdom — "We all come into this world with our little egos equipped with individual horns, and if we don't blow them, who else will?" — we can see the underlying danger of blowing them too loudly.
Note also the cynicism in Bill's line, "Real diamonds in a wig; the world we live in," DeWitt's "We're a breed apart from the rest of humanity, we theater folk," or Max Fabian's, "Let the rest of the world beat their brains out for a buck. It's friends that count. And I got friends." It seems Mankiewicz despises the theater, most apparent in Bill's critical, albeit somewhat overwritten, monologue:
BILL: "The theater! The theater! What book of rules says the theater exists only within some ugly buildings crowded into one square mile of New York City? Or London, Paris or Vienna? … You wanna know what the theater is? A flea circus, also opera, also rodeos, carnivals, ballets, Indian tribal dances, Punch and Judy, a one-man band — all theater. Wherever there's magic and make believe and an audience, there's theater."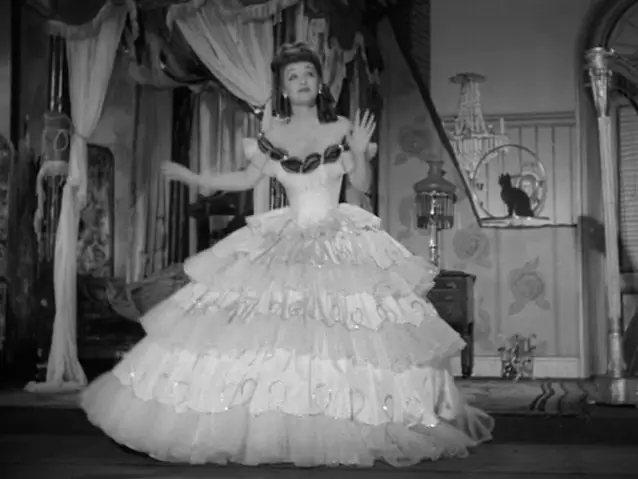 New York Times critic Walter Goodman praised the film as both a "witty, mature and worldly-wise satire" and a "dazzling and devastating mockery" of theater politics. Most of all, Goodman applauded Mankiewicz for sinking his fangs into a subject dear to his heart.
"Mr. Mankiewicz had been sharpening his wits and his talents a long, long time for just this go," Goodman writes. "And now, with the excellent assistance of Bette Davis and a truly sterling cast, he is wading into the theater's middle with all claws slashing and settling a lot of scores…with this cutlass-edge derision of Broadway's theatrical tribe…he let himself go and didn't know when to stop. Mr. Mankiewciz has gathered up a sage of theatrical ambition and conceit, pride and deception and hypocrisy, that just about drains the subject dry." (D)

Mankiewicz: The Director
Mankiewicz left his Wilkes-Barre roots in 1928 to go to Berlin as a correspondent for The Chicago Tribune. There, he got his first taste of film, working on subtitles for UFA. A year later, he returned to America and joined his brother Herman out in Hollywood, where he worked on dialogue, titling and story adaptation, before working his way up to a lead writer at Paramount. Soon he was the producer of MGM classics like Fury (1936), Three Godfathers (1936), The Philadelphia Story (1940) and Woman of the Year (1942). Finally, in 1943, he moved to Fox, and after the war, he began directing. (A)
By the end of the decade, Mankiewicz was one of the most accomplished filmmakers of his day. The Academy gave him double Oscars two years in a row for writing and directing A Letter to Three Wives (1949) and All About Eve (1950), a feat that has never been matched. While the writing and directing Oscars seemed to go hand-in-hand, it was the writing that was always the more worthy of the two.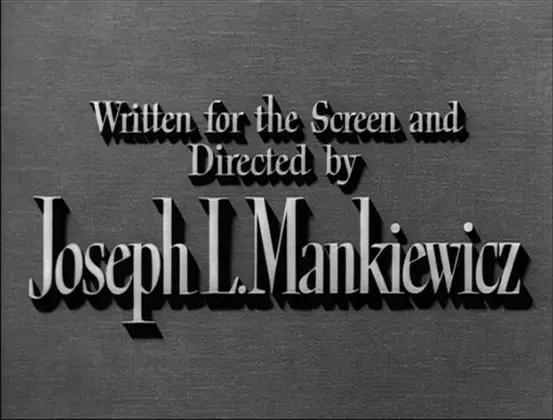 Mankiewicz was one of the greatest writers Hollywood ever knew, and thus Eve often gives way to the script entirely. Not that it matters to viewers, who are so engrossed in Mankiewicz the writer. But in judging Mankiewicz the director, one has to say he falls just short of that upper echelon. There are flashes of it, entire stretches even, but overall All About Eve is more about the script, facilitated by a director that limits the amount of chances he takes. As scholar David Thomson writes, "Tidiness, his greatest asset in the eyes of Hollywood, was his gravest handicap artistically. It limits Eve and Five Fingers to smart entertainments." (A)
Still, Mankiewicz's directing was enough to win the Special Jury Prize at Cannes and land #14 on Rolling Stone's 100 Maverick Movies — a list filled with daring filmmakers. After close analysis, there may be more flourishes of directorial prowess than initially thought.

Freeze Frame
When film buffs discuss the evolution of the freeze frame, many point to Francois Truffaut's The 400 Blows (1959) and George Roy Hill's Butch Cassidy & The Sundance Kid (1969) for having the guts to end their films on a frozen image. Others point to films like Martin Scorsese's GoodFellas (1990), for freezing the frame at the outset of the picture. For me, the earliest freeze frames that come to mind are from Frank Capra in It's a Wonderful Life (1946) and Mankiewicz in All About Eve.
In Eve, the freeze frame comes just as Eve reaches for her award. It's important that we freeze before she grabs it, as it indicates that what we are about to witness is everything Eve had to do to get that award. When we return to this same freeze frame at the end of the film, it naturally unfreezes and the award ceremony unfolds. Only now, we know the truth about all the people Eve had to throw under the bus to get there. Now that's a freeze frame that's far beyond a cool gimmick. This one has meaning.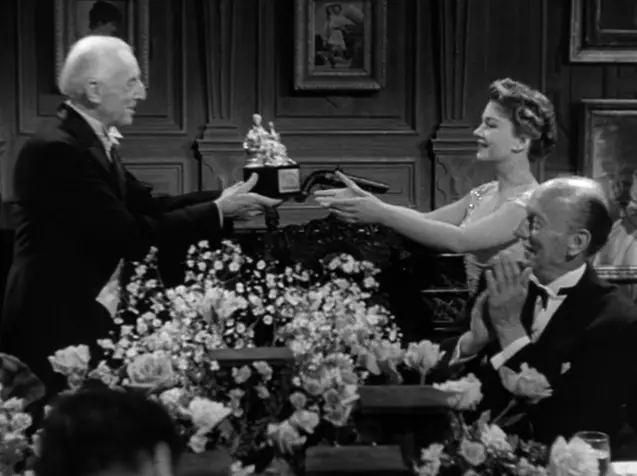 Single Take: Fireplace Mischief
Mankiewicz also demonstrates how to effectively use the "single take" technique. As Karen hatches her scheme to strand Margo on the side of the road, she sits down in front of a fireplace with her back turned to the camera. Voiceover narration reveals her inner thoughts. But instead of cutting around to a front close-up of Karen's face, Mankiewicz holds the shot from across the room behind her, showing her head in front of the crackling fireplace. The fire becomes a hint to her mischief in this scene, an anomaly to her otherwise kind character. In all, the "single take" lasts one minute at 27 seconds.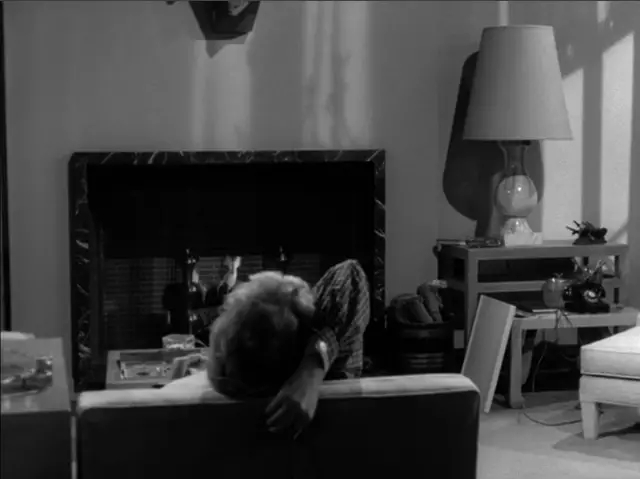 Stairways to Success
Mankiewicz continues his understanding of mise-en-scene through the use of stairs — and their shadows. In the scene where Karen hears a stranger's voice in the alley, she whips around to see Eve for the first time. Note that she's looking through the small opening between the stairs of the theater's fire escape, symbolizing Eve's use of Karen to climb the rungs of success. This echoes Margo's line: "Funny business, a woman's career. The things you drop on your way up the ladder so you can move faster."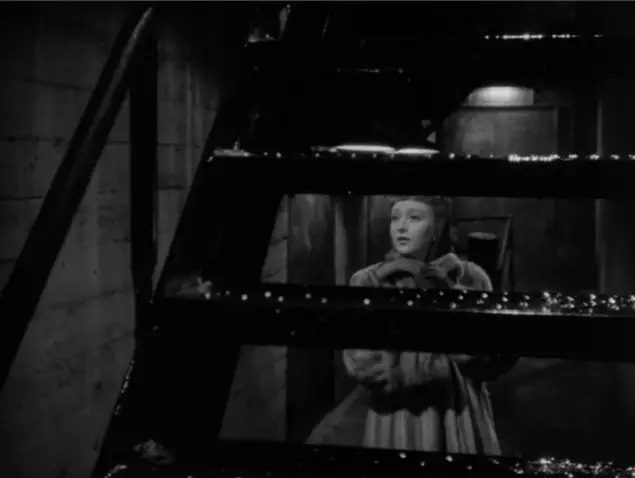 In the reaction shot that immediately follows, Eve emerges out of the shadows of the staircase. As her face moves from light to dark then back to light again, Mankiewicz symbolizes her duality. Hats off to cinematographer Milton Krasner.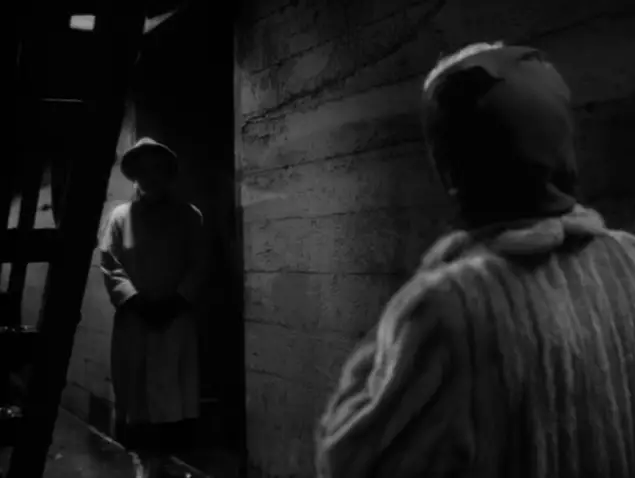 Mankiewicz uses stairs once again during the party scene as Eve sits on a staircase with Karen, Bill, DeWitt and Marilyn Monroe's character. Once again, the shadows of the spiral railing envelop them all. More importantly, Eve shares the same bottom step as Monroe as DeWitt says, "I can see your career rising in the east, like the sun." As Mankiewicz immediately cuts to a reaction shot of Eve, we realize he has once again symbolized Eve's desire to climb the ladder of showbiz success.

Reactions
Eve's reaction above is but one of many telling reaction shots throughout the film — a mixture of reaction close-ups and over-the-shoulder (OTS) shots. Mankiewicz starts his film with a series of reaction shots during the Sarah Siddons Award ceremony. Strung together in montage, the collage of close-ups gives us insight into all the characters' thoughts toward Eve.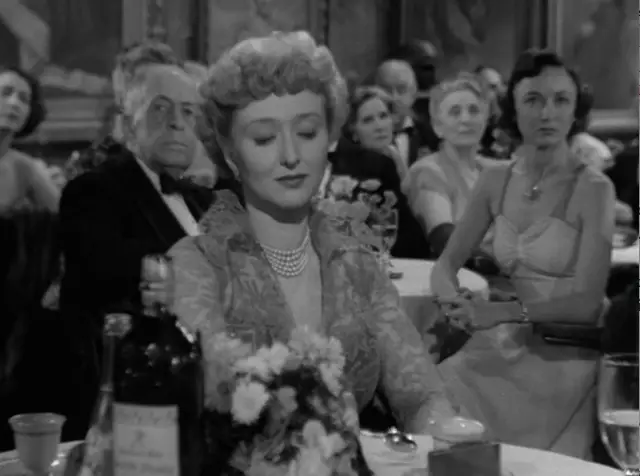 As for over-the-shoulder shots, check out the scene where Eve first enters Margo's dressing room. As she shares her backstory of half-truths, all the characters are seated, listening intently, with one exception. Mankiewicz provides an over-the-shoulder shot from Birdie's perspective, highlighting the fact that she's the only one standing — not believing one bit of Eve's story.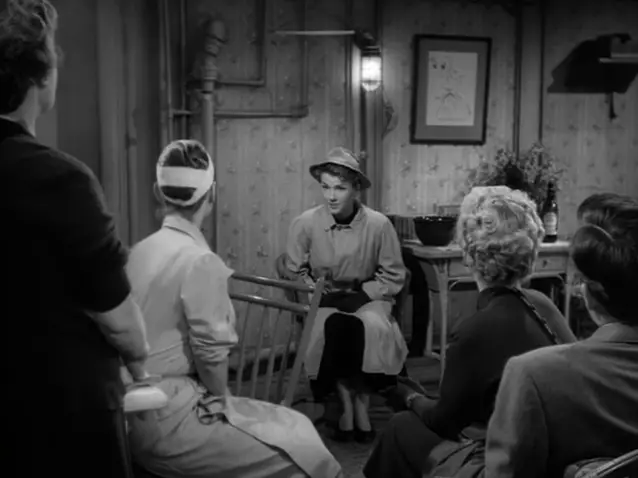 Later, check out the over-the-shoulder shot of Eve watching Margo curtsy on stage. They say a picture tells a thousand words, and this image sums up the entire movie.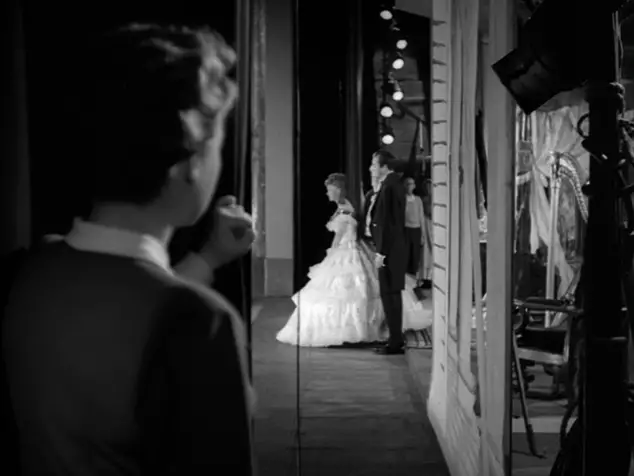 Compare this to when Bette Davis catches Eve posing with the dress. It's an identical over-the-shoulder shot, only with the characters reversed.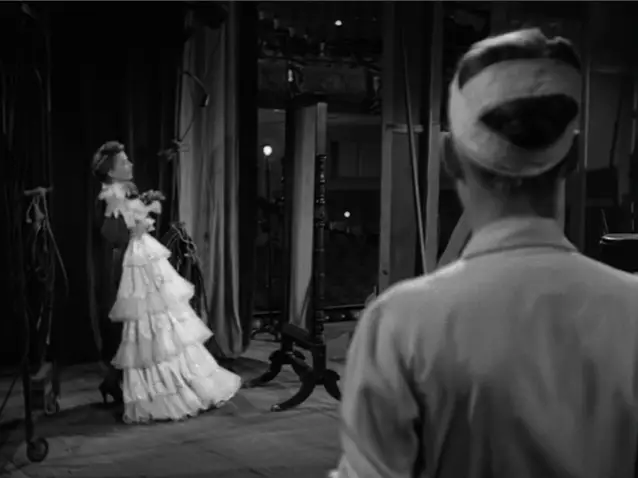 Reflections
The above shot of Eve checking herself out in a mirror is but one of several uses of reflections throughout the film. When Birdie apologizes to Eve in Margo's dressing room, note that Margo is looking into a mirror with Eve's reflection next to her. Margo has been brought into Eve's story, unlike Birdie, who storms off and slams the door.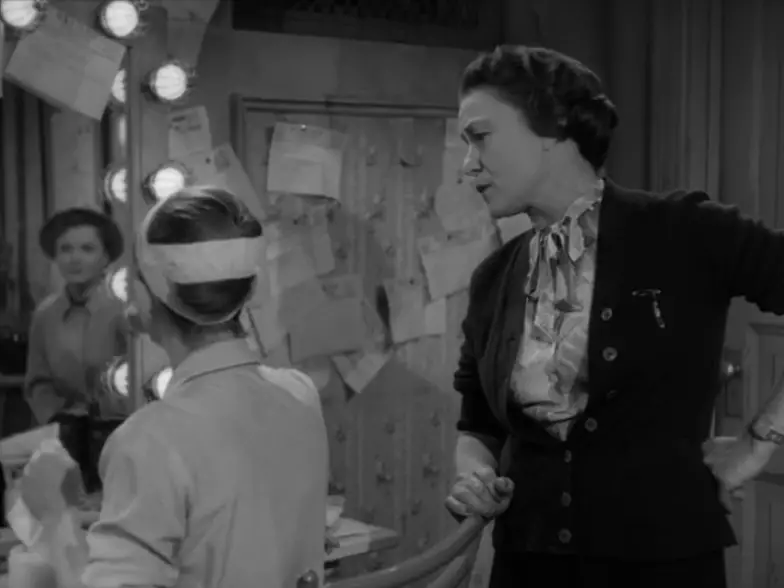 Likewise, it's no coincidence that in the film's final scene, Eve's understudy, Phoebe (Barbara Bates), is first revealed to Eve in a mirror. What better way to say that this young woman and Eve are the same women of ambition?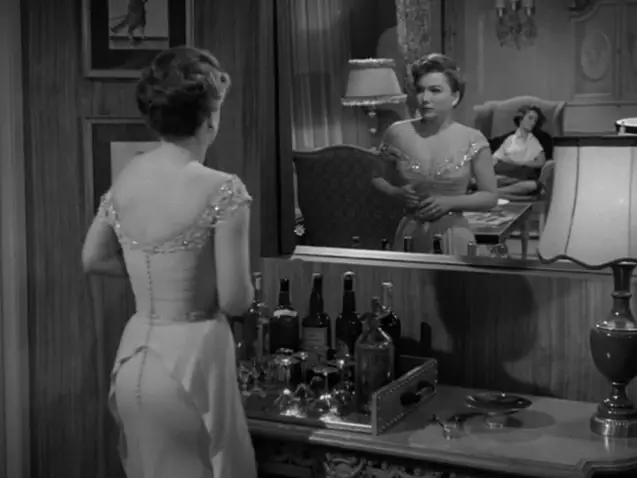 Above all, the film's most brilliant moment may be its last, as Eve's new assistant stands in front of a three-paned mirror, holding Eve's trophy and wearing her wardrobe the way Eve once did with Margo. The multiple mirror reflections recall Orson Welles' tricks in Citizen Kane (1941) and The Lady from Shanghai (1947) and say so much about the many faces of Eve; the many faces of ambition.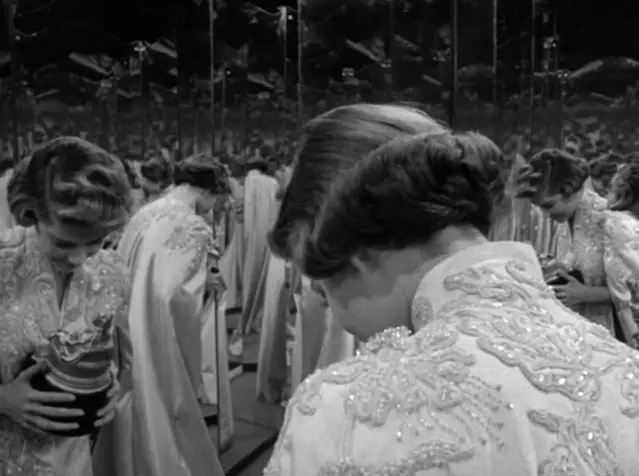 Soundtrack
This final scene at the mirror brings out the best in Alfred Newman's musical score. Those gut-wrenching violins. The score earned Newman the 28th of 45 career Oscar nominations, tied with John Williams for the second most in history (both behind Walt Disney). Seeing as Newman had already won four previous Oscars, the statue instead went to Franz Waxman for one of the greatest film scores of all time in Sunset Blvd. While Waxman's score is clearly superior, Eve's is superb.

Pop Culture
The pop culture impact of Bette Davis alone has been tremendous, as Kim Carnes topped the Billboard charts with "Bette Davis Eyes" in 1981. While the song makes no direct reference to the film, Carnes must have had images of All About Eve looping in her head.
As for Eve-specific pop culture, look no further than the fact that the fictional Sarah Siddons Award became a real award in 1952. Just two years after Mankiewicz dreamed up the award, prominent Chicago theater patrons created the Sarah Siddons Society, a non-profit named after actual Welsh actress Sarah Siddons (1775-1831) but hugely inspired by the award ceremony in Eve. The group's 1967-68 Actor of the Year award fittingly went to Celeste Holm, and in 1973, both Anne Baxter and Bette Davis won; Baxter for playing Margo in the Eve stage adaptation Applause; Davis as an honorary award. (E) More than 20 years later, the two were still going at it.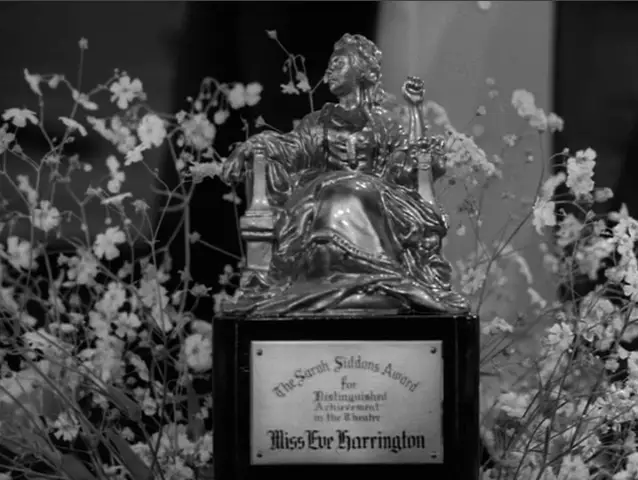 The Eve adaptation Applause also hit the TV airwaves, starring Lauren Bacall. It was remade again for TV as Country Gold (1982), staring Loni Anderson and Linda Hamilton.
As the years go by, the film continues to seep into our pop culture, mostly thanks to Margo's "fasten your seatbelts" line. Anthony Hopkins has his ventriloquist dummy say the line in Richard Attenborough's Magic (1978); Robin Williams says it both as Mork in Mork & Mindy (1979) and as the voice of Batty in FernGully: The Last Rainforest (1992); the shrunken head quotes it in Harry Potter and the Prisoner of Azkaban (2004); and Jesse Eisenberg says it in Zombieland (2009).
Aside from quoting that particular line, TV began using puns on the title to name episodes of shows like After M*A*S*H (1983), L.A. Law (1992), Roseanne (1995), Will & Grace (2002), ER (2005) and American Dad! (2005). Most memorably, The Simpsons episode "All About Lisa" (2008) features Lisa as Eve Harrington to Krusty's Margo.
The Carol Burnett Show (1973) spoofed it in the "Salute to Movie Bad Girls" sketch. In an episode of Clarissa Explains it All (1993), a new kid at school named Eve idolizes Clarissa and takes her place at the school newspaper. Sure enough, Melissa Joan Hart says, "Fasten your seatbelts, it's going to be a bumpy night." In Gilmore Girls (2002), Lorelai makes up a fake conflict between two bag boys and calls one of them "Eve Harrington;" in Nip/Tuck (2004), a clerk tells Christian to rent All About Eve; in Gossip Girl (2008), Laurel threatens to expose Jenny's "Eve Harrington ways;" and the "Ambiguously Gay Duo" mention the film in a 2007 episode of SNL.
If you're in on the joke, such references are amusing. But if you haven't seen All About Eve and instead hail the clever title of Bradley Cooper and Sandra Bullock's All About Steve (2009), that's a problem.

Legacy
All About Eve is listed in just about every best list known to man, be it Entertainment Weekly, Rolling Stone, The Village Voice, Vanity Fair, TV Guide and the National Society of Film Critics. Even in the elite Sight & Sound poll, All About Eve received four votes, including those of directors Lewis Gilbert (Alfie) and Susan Seidelman (Smithereens), who both named it their favorite film of all time. When it comes to the AFI Top 100, All About Eve has fallen a few rungs, though it still places a high #28.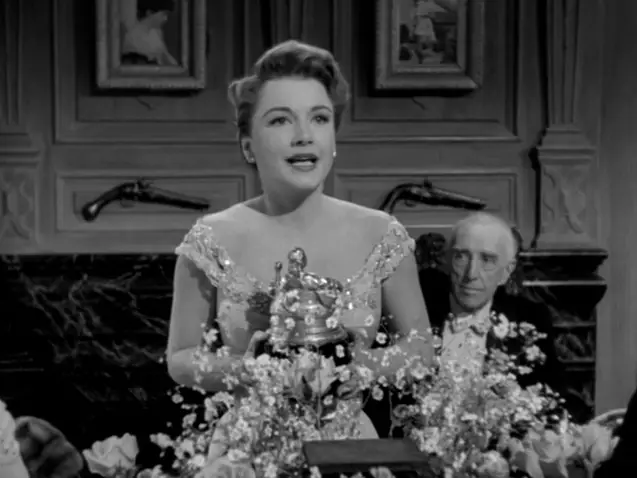 It seems Eve has lived up to its own critic's standard, fulfilling the first part of DeWitt's theory: "There are, in general, two types of theatrical producers. One has a great many wealthy friends who will risk a tax-deductible loss. This type is interested in art. The other is one to whom each production means potential ruin or fortune. This type is out to make a buck." Eve did both, sweeping the Oscars, while becoming one of the Top 10 grossing movies of the year. Today it ranks #85 on IMDB's fan poll because it toes the line of art and entertainment better than most, commenting on profound themes with utmost accessibility. In short, it's one of the "classics" you can recommend to a modern-day friend without a massive disclaimer.
Whether critic or public, Eve succeeds because it speaks to such a universal truth — the old lion's fear of being overthrown by the young. As much as Bill tries to assauge Margo of this fear — "Many of your guests have been wondering when they may be permitted to view the body" — she can't help obsess over it — "It hasn't been laid out. We haven't finished with the embalming. As a matter of fact, you're looking at it — the remains of Margo Channing, sitting up. It is my last wish to be buried sitting up."
The fear is real, not just for actresses, but for anyone feeling the sting of wrinkles. Thus All About Eve is one of the great cyclical films, with the cycle of opportunity overlapping the cycle of insecurity. That cycle is renewed in the film's final image, where Eve's new protege stands in front of that mirror, holding Eve's trophy and wearing her wardrobe — the way Eve once did with Margo. How beautiful the notion of what goes around comes around. If All About Eve shows us anything, it's how plentiful the supply of fame's 15 minutes and how willing the DeWitts are to foster the turnover. To Mankiewicz, it's one long continuum of has-beens and dreamers, filing through theater's eternal revolving door. As Karen so poignantly tells Eve: "Nothing is forever in the theater. Whatever it is, it's here, flares up, burns hot, and it's gone."

Citations:
CITE A: David Thomson, New Biographical Dictionary of Film
CITE B: WGA 101 Screenplays, via moviediva.com
CITE C: Tim Dirks, filmsite.org
CITE D: Piazza and Kinn, The Academy Awards: Complete Unofficial History
CITE E: WGA 101 Screenplays, via Los Angeles Times, 7/25/1999
CITE F: DVD booklet
CITE G: DVD Special Feature: AMC Backstory: All About Eve
CITE H: Turner Classic Movies documentary: Moguls and Movie Stars: A History of Hollywood, segment "Brother Can You Spare a Dream?"